Mining Industry Apps
View


To receive your own edition of the print version of E&MJ
Go here





Autonomy Takes Center Stage at MINExpo 2016



The vibe at MINExpo 2016, which took place September 26-28 at the Las Vegas Convention Center, was fairly predictable, but the leap in technological advancements, especially in the area of autonomous mining, was quite surprising. More than 44,000 people attended the world's largest mining exposition, according to the U.S. National Mining Association (NMA). That attendance figure was down 15% from four years ago, and it's understandable considering the current state of the mining market. The general consensus on the show floor was that traffic levels weren't as slow as many had anticipated.
The NMA organized an opening session with several executives, who discussed the current state of the mining market. On stage were two precious metals miners (gold and silver), a copper miner, a coal miner and.... read more



Steve Fiscor, Editor in Chief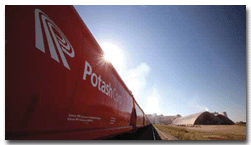 PotashCorp and Agrium Merger Will Create Dominant Crop Nutrient Supplier
Potash Corp. of Saskatchewan (PotashCorp) and Agrium Inc. have agreed to combine in an all-stock merger of equals that if completed will create the world's largest integrated crop nutrient company and Canada's third-largest natural resources company. A new parent company, yet to be named, will be formed to own both companies. PotashCorp shareholders will own .... read more

Kinross Provides Updates on Bald Mountain, Tasiast and Maricunga
Kinross Gold gave updates on the operating status of its Bald Mountain mine in Nevada, Tasiast mine in Mauritania, Maricunga mine in Chile: At Bald Mountain, Kinross has received a record of decision (RoD) from the U.S. Bureau of Land Management .... read more

Top
Freeport Selling Gulf of Mexico Assets
As part of a corporate effort to focus more closely on copper production, Freeport-McMoRan's oil and gas subsidiary, Freeport-McMoRan Oil & Gas, has entered into an agreement to sell its Deepwater Gulf of Mexico assets to Anadarko Petroleum for total cash consideration of $2 billion and up to $150 million in contingent payments. The contingent payments would be received over time as Anadarko realizes future cash flows in connection with Freeport's recently completed third-party production..... read more

Top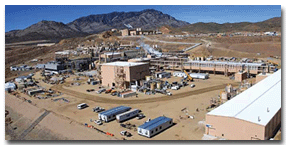 Molycorp Emerges From Bankruptcy, Leaves Mine Behind
Molycorp Inc. and certain of its affiliates emerged from Chapter 11 bankruptcy protection at the end of August. The newly reorganized company, now known as Neo Performance Materials, includes Molycorp's downstream rare earths processing and distribution facilities, but does not include its Mountain Pass, California, rare earths mine and processing facilities, which were placed on care and.... read more

| | |
| --- | --- |
| AROUND THE WORLD - USA & CANADA | |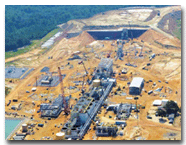 OceanaGold Studying Underground Mine to Complement Haile Open Pit


OceanaGold has announced the results of a preliminary economic assessment (PEA) of a potential underground mining operation at its Haile gold mine in Lancaster County, South Carolina. Open-pit mining operations at Haile are currently nearing startup, with fi rst ore to be delivered to the mill at the end of 2016. "The Haile underground PEA demonstrates the technical viability of an underground operation with strong economics that.... read more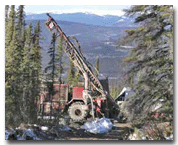 ITH Downsizes Development Plan for Livengood Gold Project


International Tower Hill Mines (ITH) has reported the results of a prefeasibility study (PFS) of an optimized configuration for its Livengood gold project 70 miles northwest of Fairbanks, Alaska. Engineering optimization studies incorporated in the PFS evaluated several scenarios, ultimately selecting a project that will process 52,600 st/d and produce a total of 6.8 million oz of gold over a 23-year mine life. The new Livengood development plan is significantly downsized from a 100,000st/d project considered in a 2013 feasibility study, which.... read more

Top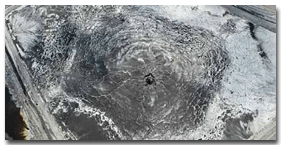 Sinkhole Drains Stack Pond at Florida Fertilizer Plant


On September 15, fertilizer producer Mosaic Co. announced that a 45-ft-wide sinkhole had mostly drained a phosphogypsum stack pond into a regional aquifer system which underlies an area of about 100,000 mi2 (260,000 km2) in the southeastern United States. However, the plume was contained to the New Wales facility's property, near the central Florida city of Mulberry, and the damage.... read more

| | |
| --- | --- |
| AROUND THE WORLD - Latin America | |

Study Supports Restart of Aurizona Mine in Brazil


Luna Gold Corp. has reported the results of a prefeasibility study (PFS) of a potential restart of operations at its Aurizona gold mine in northeast Brazil. The mine has been on care and maintenance since August 2015. The PFS mine plan would continue mining in the existing Piaba open pit, deepening the pit and mining harder rock types that will be amenable to treatment in an upgraded processing plant following installation of. . . . read more
Iamgold to Add Resources in Suriname


Iamgold has signed an agreement with the government of Suriname to acquire an interest in the Saramacca property approximately 30 km southwest of the company's Rosebel gold mine and mill in the country. The terms of the acquisition included an initial payment of $200,000, allowing Rosebel's exploration team access to the property and to data from previous exploration activity. Provided Iamgold is satisfied. . . . read more

| | |
| --- | --- |
| AROUND THE WORLD - Australasia | |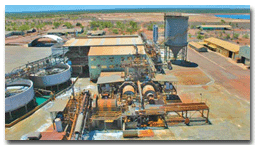 Red River Refurbishing Thalanga Processing Plant


Red River Resources has begun early-stage refurbishment work on the processing plant at its Thalanga zinc redevelopment project in Queensland, Australia. The project is located approximately 60 km west of Charters Towers in central Queensland and 200 km southwest of the port of Townsville. The plant has been on care and maintenance since 2012. Red River acquired the project from Kagara Ltd., which was . . . . read more

Top



Clean TeQ Considering NSW Scandium


Clean TeQ Holdings reported that a feasibility study of its Syerston scandium project 370 km west of Sydney, New South Wales, indicates the potential to produce 49.2 mt/y of scandium oxide (Sc2O3) over an initial mine life of 20 years. The current global supply of Sc2O3 is 10 to 15 mt/y at prices ranging from $2,000 to $3,000/kg. Steady-state cash operating costs for the Syerston project are estimated at $444/kg. Clean TeQ anticipates that wider availability. . . . read more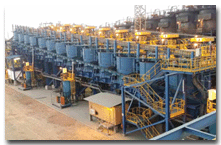 Nevsun Ships First Zinc Concentrate From Bisha
Nevsun Resources sold and shipped the first zinc concentrate from its Bisha mine in Eritrea in early September. The 10,000-metric-ton (mt) lot was loaded at the Port of Massawa and sailed on September 7. The concentrate was sold on the spot market, attracting multiple offers and highly competitive treatment charges, according to the company. Nevsun completed construction of the new zinc concentrator at Bisha operations and began commissioning. . . . read more

Top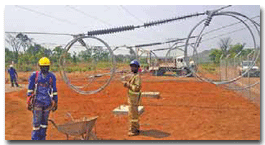 Ivanhoe Supplying Hydropower to DRC Grid
An Ivanhoe Mines project to upgrade power supply to the national grid in the Democratic Republic of Congo (DRC) began supplying an initial 11 MW from the Mwadingusha hydropower plant in mid-September. Work at Mwadingusha is part of a program planned to eventually overhaul and boost output from three hydropower plants— Koni and Nzilo 1 in addition to Mwadingusha. The program is being conducted by Ivanhoe Mines…. read more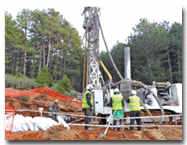 Alacer Contemplates 2-Stage Development for Gediktepe


Alacer Gold has reported positive results for a prefeasibility study of its 50% owned Gediktepe polymetallic project 190 km south of Istanbul, Turkey. Alacer will own Gediktepe on a 50/50 basis with its joint-venture partner, Lidya Mining, upon completion of a claw-back right exercised by Alacer. Lidya Mining is the operator. Gediktepe is a polymetallic orebody that contains economic values for gold, silver, copper, and zinc. A sulphide deposit overlain by oxide ore. . . . read more


Top
Philippine Audit Suggests Suspension for 20 Mines
Almost 75% of the mining industry in the Philippines has been found deficient after an environmental audit, with 20 mines recommended for suspension unless they can respond to shortcomings within days. If the additional mines recommended for suspension are halted, it would bring to 30 the number closed, 18 of them nickel producers. Most of the operations cited are nickel mines. Environment Undersecretary Leo Jasareno told reporters at a briefing in Manila that the nickel mines already closed, together with. . . . read more


| | |
| --- | --- |
| THIS MONTH IN COAL | |
Universal Commissions Second Mine in South Africa


Universal Coal announced that the first phase of its New Clydesdale Colliery (NCC) has been successfully commissioned. In 2014, the company opened the 2.8-million-metric-ton-per-year (mt/y) Kangala coal mine. The second mine positions Universal as multimine coal operator producing both domestic and export coal for South Africa. IchorCoal NV holds a 30% interest in Universal. Located in the Witbank basin, NCC. . . . read more

Arch Emerges From Chapter 11


After eight months, Arch Coal has completed its financial restructuring and has emerged from Chapter 11 bankruptcy. The producer has claimed $300 million of cash on its balance sheet as it begins again, along with debt of $363 million, consisting of a new term loan and capital leases. Officials noted that its total debt is only 7% of what it was pre-restructure. Arch, which continued to operate throughout the bankruptcy process, began trading on the New York Stock Exchange once again October 5 under the ticker symbol ARCH. "This marks the beginning of a new era for Arch Coal. . . . read more

Top
Ramaco's Brook Operation Moving Forward
The Wyoming Environmental Quality Council (EQC) has voted unanimously to permit Kentucky-based Ramaco to develop its Brook mine north of Sheridan, Wyoming, despite objections to the plan. Company CEO Randall Atkins told the Associated Press that the mine should begin production early next year and that it will be moving quickly with the remainder of Brook mine's permitting. "We're very pleased that the EQC agreed with our conclusions there were not any substantial damages to the surface owners," he said. The planned operation has met some pushback from landowners. . . . read more
| | |
| --- | --- |
| FEATURE - Nordic Mining 2016 | |

Nordic Mining: Incentive for Innovation
Producers are viewing today's tough conditions as an incentive to explore the feasibility of introducing new operating systems

By Simon Walker, European Editor

Using a nautical metaphor, to say that mining and exploration in the Nordic countries is in the doldrums is perhaps as apt as it gets at the moment. Operating in respected, stable fiscal and legal environments comes at a price, which, in this case, relates to higher labor and social costs. Add on the challenge of maintaining operations in remote, sometimes sub-Arctic locations, and it becomes easy . . . . read more

| | |
| --- | --- |
| FEATURE - Nordic Mining Technology 2016 | |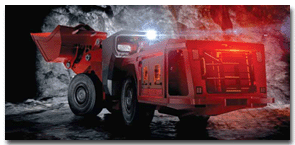 Nordic Mining Technology


Suppliers unveil autonomous, emissions-free equipment for miners and new technology for processing plants

By Steve Fiscor, Editor-in-Chief

Suppliers from the Nordic region are largely responsible for a great deal of the advances in mining equipment and mineral processing technology. Their ability to drill through and crush hard rock ores earned them a great deal of respect and they continue to improve with time. More recently, it seems the focus has turned to autonomy and environmental sustainability for the mines, and improvements in recovery and reliability for the mills. All of this is a concerted effort to improve... read more

Top
| | |
| --- | --- |
| FEATURE - Conveyors | |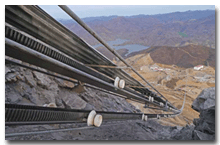 Taming the Terrain


Innovative suspended conveyor systems allow high-speed, continuous material transport in areas where tough topography may be too difficult for conventional haulage

By Russell A. Carter Walker, Managing Editor

If there's such a thing as a common denominator in a widely diversified, global industry like mining, it most likely would be a universal interest in cutting costs—and in recent years, the meaning of "costs" has expanded from a simple dollars-and-cents calculation to include less easily quantifiable expenses such as a mine's carbon footprint, its impact on local power, water and other possibly scarce resources, and its responsibility to minimize mining-related social, cultural. . . . read more


For more companies with products in the Conveyors market -
Go Here
| | |
| --- | --- |
| FEATURE - MINExpo 2016 Review | |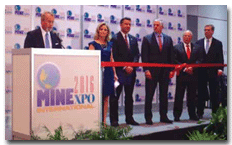 MINExpo 2016 Highlights Advances in Mining and Processing Technology


Despite a soft market, miners converge on the Las Vegas convention center to see the latest gear, learn about the market and make new connections

The U.S. National Mining Association's (NMA) MINExpo INTERNATIONAL 2016 trade show and convention, held September 26–28 at the Las Vegas Convention Center, drew more than 1,900 exhibitors and covered more than 840,000 ft2 to showcase the latest mining equipment and technology. The quadrennial event attracted more than 44,000 attendees from more than 130 countries. Nevada Gov. Brian Sandoval; Denise Johnson, MINExpo chair and group president for resource industries at Caterpillar; Kevin Crutchfield.... read more

Top

| | |
| --- | --- |
| APPS | |
Current and active 'Apps' from the mining market.
TRUST THE NUMBERS

- The Sandvik 365 app.

In the world of mining, success is all about the numbers. You need hard facts and concrete data to be able to make the best decisions for your operation. That's why we created the Sandvik 365 app. Explore it now.
Get the App - Go Here


Grindex

- Toolbox

Grindex Toolbox, for hand held devices, provides a range of features to support a quick and easy selection of Grindex pumps as well as identification of Grindex original spares.
With this app you get a very convenient access to the wide range of Grindex offerings.
The application offers several powerful and easy to use functions: Pump selection, Spare parts identification, Cart function and Grindex Pumps school
All major languages are supported.

Get the App - Go Here


E&MJ - Engineering and Mining Journal



Engineering & Mining Journal (E&MJ) is the voice of the international mining community providing in-depth editorial to mining companies and the mining industry..

Get the App - Go Here


Dyno Nobel

- Explosives Engineers Guide

Dyno Nobel's Explosives Engineers' Guide equips explosives engineers with the full range of blasting tools on mobile devices. Access key blasting calculators, product information, unit conversions and more- worldwide even in remote locations.

Get the App - Go Here


John Deere - Go Push



1050K crawler app offering features that will make your life easier when using a John Deere crawler. Whether you're an operator, site foreman, or fleet manager--this 1050K crawler app will help you make sure your John Deere crawler moves more dirt for less money while maximizing operator comfort.

Get the App - Go Here

For more details on our Apps listing or details on how to list your App - Go Here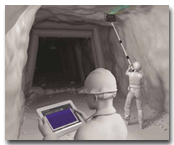 Ground Penetrating Radar for Underground Applications


Reutech Mining has introduced a compact and convenient ground penetrating radar system that is claimed to be more user-friendly than comparable products currently available. The Sub Surface Profier (SSP) is described as a low-cost, lightweight GPR designed specifially for the challenges of the underground mining environment, weighing less than 4.5 kg with a patented, compact ergonomic design that allows one-handed operation by one person in much the same way. . . . read more

Vibrating Grizzly Feeder Features Robust Design, Safer Upkeep


Superior Industries' Freedom vibrating grizzly feeder (VGF) is available in configurations to feed up 1,400 tons per hour (t/h). According to the company, it has engineered several key differentiating features into its design, including a much more robust pan section for improved impact resistance and durability, and grizzly cartridges designed to bolt into the feeder's frame—one set of bars is applicable for fl at or 5° applications, so owners . . . . read more

Economical Mine Door is Easy to Install


The EcoVent door from American Mine Door is specifically designed as an alternative to traditional reusable underground doors. According to the company, the new design offers improved safety and durability while addressing an industry challenged with tighter operating constraints and reduced budgets. EcoVent mine doors use a patented opposing wing design that utilizes equalized air pressure so doors will not slam closed—significantly reducing the potential . . . . read more

Top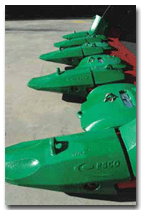 S4 Bucket Protection System Expands its Range


ESCO Corp. recently unveiled its newest Nemisys product, the N95 cast lip system, which extends the range of the Nemisys system and provides additional features that improve safety, inventory management and productivity. ESCO's Securelift lifting system is now incorporated into the lip shrouds, providing mining crews with a more complete, purpose-built solution for handling worn parts. Integral shroud locks reduce the amount of replacement parts that need to be ordered, lowering inventory effort and costs. The system also offers weight savings over competitive and legacy systems . . . . read more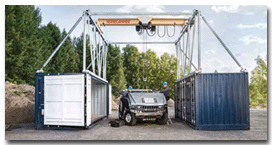 Portable Crane System Uses Shipping Containers for Base


Konecranes has developed a system that mounts its popular CXT electric overhead traveling crane on a steel frame and two standard ISO shipping containers to create a powerful, adaptable, fully mobile crane, the CXT Explorer. The CXT Explorer is a standard industrial crane that can be taken almost anywhere, and can be assembled, ready to lift, in just a few hours .... read more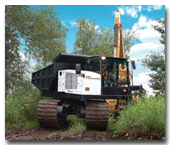 Rough-terrain Dumper Carries Big Payloads With Stability


Prinoth, a leading manufacturer of tracked vehicles, has released the newest model in the Panther series, the T14R rotating dumper. The T14R is designed to allow continuous rotation of the upper portion of the vehicle independently from the undercarriage. With its 13,200kg (29,100-lb) payload capacity, it is claimed to have the largest payload of any vehicle in its category. The rotating separation of the vehicle allows . . . . read more
New Tire Fill Formulations Protect Wheel Rims


Accella Tire Fill Systems announced availability of its newest TLC tire and rim protection line, designed specifically for mining equipment. Accella, makers of the patented TyrFil polyurethane liquid fi ll, now offers its TLC line in four formulations: HT, Pro, Extreme and Tundra. TLC acts as a coolant, conditioning the wheel and coating the inside of rims to protect them from rust and deterioration. According to the company, the new tire and rim protection offering was determined by independent fi eld testing to deliver superior resistance against corrosion even in the most extreme weather conditions . . . . read more

Top
Power Transmission Belts are Stronger, Smaller, Quieter


Continental has introduced three new power transmission belts for the mining industry: The Hy-T Wedge, SilentSync and Conti Synchrochain Carbon. The Hy-T Wedge has a new EPDM compound offering a broader operating temperature range and improved heat resistance. It also has new optimized tooth profile that improves flexibility and reduces belt fatigue to improve life. SilentSync has an exclusive tooth profile that reduces noise up to 19 dB compared with other straight tooth synchronous products. The sprockets use a flangeless design that is self-tracking . . . . read more
NOVEMBER 7-10, 2016: International Mining and Resources Conference, Melbourne Convention and Exhibition Center, Melbourne, Australia. Contact: Web www.imarcmelbourne.com
NOVEMBER 16-19, 2016: International Mining and Machinery Exhibition (IMME), Eco Park, Rajarhat, Kolkata, India. Contact: Confederation of Indian Industry; Web: www.immeindia.in
JANUARY 29-FEBRUARY 1, 2017: ISEE 43rd Annual Conference for Explosives and Blasting Technique, Orlando, Florida, USA. Contact: Web: www.isee.org
FEBRUARY 6-9, 2017: Mining Indaba, Cape Town, South Africa. Contact: Web: www.miningindaba.com
MARCH 5-8, 2017: Prospectors & Developers of Canada, Toronto Convention Center, Toronto, Canada. Contact: Web: www.pdac.ca
APRIL 11-14, 2017: 25th International Mining Congress and Exhibition of Turkey- IMCET 2017, Antalya, Turkey. Contact: UCTEA Chamber of Mining Engineers of Turkey Contact: Web: www.imcet.org.tr/
APRIL 30-MAY 3, 2017: Canadian Institute of Mining (CIM), Montréal, Quebec, Canada. Contact: Web: www.convention.cim.org/en/Montreal/2017/Home.aspx
MAY 9-11, 2017: Arminera Centro Costa Salguero in Buenos Aires, Argentina. Contact: Web: www.arminera.com.ar
For a full calendar of mining industry conferences and events - click here
| | |
| --- | --- |
| WHO'S MOVING WHERE | |

Barrick Gold Corp. appointed George Bee as senior vice president for Lama and Frontera district development. After leaving Barrick, he became president and CEO of Andina Minerals, before moving on to become CEO at Jaguar Mining. Mark Hill was also appointed as chief investment officer. He will join the company's Executive Committee, as well as its Growth Group, and will oversee an evaluations team, who will independently scrutinize proposed expenditures before they go to the Investment Committee. He rejoins Barrick after four years at Waterton Global Resource Management, where he is currently a partner and head of mining.
McEwen Mining Inc. appointed Xavier Ochoa as COO. He replaces COO William Faust . Ochoa joins McEwen having previously held senior executive positions with other multinational mining companies. Most recently, he held the position of mine general manager at Goldcorp's Cerro Negro operation in Santa Cruz, Argentina.

Anglo American appointed Stephen Pearce as finance director, following René Médori's decision to retire. Pearce will join Anglo American and its Group Management Committee on January 30, prior to joining the board as an executive director and taking over as finance director on April 24. Pearce has been CFO of Fortescue Metals Group Ltd. since 2010.

Dominion Diamond Corp. appointed Matthew Quinlan as CFO. Most recently, Quinlan was managing director and co-head of global mining investment banking at CIBC World Markets.

Vena Resources Inc. appointed Bill Williams, a recently elected director, as CEO. Martin Walter will continue in the position of president. Williams is a former CEO and president of Orvana Minerals Corp.
David Massola has rejoined Fortune Minerals as vice president of finance and CFO.

Wellgreen Platinum Ltd. Goldgroup Mining Inc. appointed Anthony Balic as the CFO and corporate secretary. Sam Wong, the previous CFO and corporate secretary, will take on the position of director of finance during a transition period. Balic was previously the director of finance of Goldgroup.

Paul Neufeld , joined Gensource Potash Corp. as a project manager with overall responsibility for executing the feasibility study for the first small-scale project at the company's Vanguard area.
About - providing an abreviated version of the current print edition of E&MJ, WOMP is distributed throughout the world to decision makers in the global mining industry, the last week of every month.

Subscribe to E&MJ - To receive your own copy of the print edition of E&MJ, click here , and complete your details. E&MJ is available free of charge to qualified readers.

Contact - if you have views, opinons or comments or editoral that you would like to submit, we would be delighted to hear from you - click here

Next Issue - the next issue of Womp will be distributed on November 24th, along with the regular news and suppliers information, it will carry features on Dispatch systems, Shafts and Raises, Gravity Concentration and Iron Ore - click here

Top