OceanaGold Studying Underground Mine to Complement Haile Open Pit
---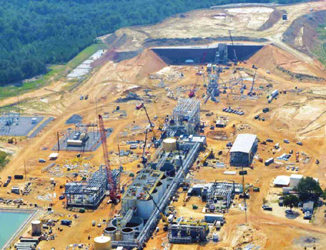 The $380 million Haile mine, shown here during its plant construction phase, is
expected to begin production from its surface operations early in 2017.
(Photo: OceanaGold)


OceanaGold has announced the results of a preliminary economic assessment (PEA) of a potential underground mining operation at its Haile gold mine in Lancaster County, South Carolina. Open-pit mining operations at Haile are currently nearing startup, with first ore to be delivered to the mill at the end of 2016.

"The Haile underground PEA demonstrates the technical viability of an underground operation with strong economics that has the potential to complement the current plan for the Haile gold mine," OceanaGold President and CEO Mick Wilkes said. "We are now working on an optimization study that will incorporate the results of the Haile underground PEA and the extensive drilling data that we have collected this year. The optimization study will determine the optimal mine design for both the open pit and underground while utilizing updated commodity price assumptions for reserves. We expect this study to be completed by the middle of next year."

Current Haile mill throughput is planned at 7,000 short tons per day (st/d). Gold production is scheduled to average 126,700 ounces per year (oz/y) over a mine life of 13.25 years.

The underground PEA is modeled on mineralization located beneath Haile open-pit reserves. Oceana anticipates that mill feed will be a blend of open-pit and underground material. The PEA includes consideration of plant modifications to increase throughput rates to 9,120 st/d.

Average annual production of 80,000 to 100,000 oz/y of gold from underground from 2019 to 2025 would complement gold production from the open pit.

Work on the Haile underground PEA focused on identifying potential mining methods, a high-level capital and operation cost estimate, and potential cash flow generation. Open stoping with rock backfill was chosen as the most appropriate mining method, on the basis of relatively high recovery and productivity and low cost. Mining has been assumed to progress bottom-up, with the design including a sill pillar at the midpoint of the Horseshoe resource and two concurrent mining phases at Horseshoe.

The PEA estimates that total preproduction capital expenditures required for underground development and the procurement of underground equipment would be approximately $53 million, with life-ofmine sustaining capital cost requirements of approximately $45 million. Oceana expects that a modification to Haile's mining permit would be required before commencement of underground operations.

Upon completion of the optimization study, which is expected in the middle of 2017, the company expects to provide a more comprehensive technical update on the Haile gold mine.
---
As featured in Womp 2016 Vol 10 - www.womp-int.com