ITH Downsizes Development Plan for Livengood Gold Project
---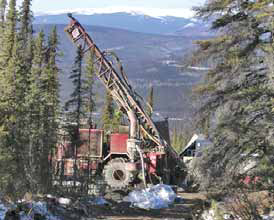 Exploration drilling at the Livengood gold project, 70 miles
northwest of Fairbanks, Alaska.
(Photo: International Tower Hill Mines)


Potash International Tower Hill Mines (ITH) has reported the results of a prefeasibility study (PFS) of an optimized configuration for its Livengood gold project 70 miles northwest of Fairbanks, Alaska. Engineering optimization studies incorporated in the PFS evaluated several scenarios, ultimately selecting a project that will process 52,600 st/d and produce a total of 6.8 million oz of gold over a 23-year mine life.

The new Livengood development plan is significantly downsized from a 100,000- st/d project considered in a 2013 feasibility study, which targeted production of 7.9 million oz over a mine life of 14 years. The new configuration reduces initial capital costs by 34% to $1.84 billion, process operating costs by 28% to $7.48/ st, and all-in sustaining costs by 16% to $1,263/oz of gold produced, all as compared to the 100,000-st/d project.

"We are pleased that our optimization study has resulted in lower capex and opex costs projected over a 23-year mine life," ITH CEO Tom Irwin said. "Livengood's fundamentals are compelling, with a substantial gold resource, favorable jurisdiction, proximity to infrastructure, and great lever- age to the gold price. We are committed to advancing our basic engineering and metallurgical work to further de-risk the project and prepare for future permitting."

The Livengood project configuration evaluated in the PFS remains a conventional, owner-operated surface mine that will utilize large-scale mining equipment in a blast-load-haul operation. Mill feed will be processed through a 52,600-st/d comminution circuit consisting of primary and secondary crushing, wet grinding in a single SAG mill and single ball mill, followed by a gravity gold circuit and a conventional carbon-in-leach circuit.

Results to date indicate that further work is warranted to continue to optimize the project, such as improved resource modeling that could potentially enhance head grades and improvement to the mine plan to reduce capex and opex. Metallurgical tests completed to date indicate that there are further opportunities to improve overall gold recovery. Subject to available financing, work will continue to optimize flowsheet and reagent consumption to maximize recovery, confirm the grind/recovery relationships, and refine the process opex.

ITH is also continuing to advance environmental baseline work in support of future permitting to better position the project for a construction decision when warranted by market conditions.

The Livengood project is connected by an existing paved highway to the city of Fairbanks. Project construction would include a lined tailings management facility and an administration office/shop/ warehouse complex. Project development would also include construction of a 50- mile, 230-kV electrical transmission line to the mine site from existing grid power near Fairbanks. The total power demand is estimated at 55 MW.
---
As featured in Womp 2016 Vol 10 - www.womp-int.com