PotashCorp and Agrium Merger Will Create Dominant Crop Nutrient Supplier
---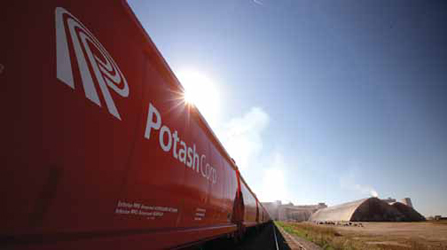 Saskatchewan-based PotashCorp operates six potash mines, accounting for about 20% of world potash
capacity. Agrium operates one mine and has a retail distribution network encompassing more than 1,400
facilities worldwide. When combined, the new company will have about 20,000 employees (Photo: PotashCorp)


Potash Corp. of Saskatchewan (Potash- Corp) and Agrium Inc. have agreed to combine in an all-stock merger of equals that if completed will create the world's largest integrated crop nutrient company and Canada's third-largest natural resources company. A new parent company, yet to be named, will be formed to own both companies. PotashCorp shareholders will own approximately 52% and Agrium shareholders 48% of the new company.

The companies expect the transaction to close in mid-2017, subject to the satisfaction of customary closing conditions, including receipt of regulatory approvals, Canadian court approval, and approval by the shareholders of both companies.

PotashCorp is headquartered in Saskatoon, Saskatchewan, and is the world's largest producer of potash and one of the largest producers of nitrogen and phosphate. The company has five potash mines in Saskatchewan and one in New Brunswick, which account for about 20% of world potash production capacity.

Agrium is headquartered in Calgary, Alberta. The company produces nitrogen, potash, and phosphate fertilizers and has a retail distribution network of more than 1,400 facilities and more than 3,800 crop consultants, who provide advice and products that help customers increase yields and returns on hundreds of different crops. The company owns and operates one potash mine in Saskatchewan.

The combined company will have close to 20,000 employees and a pro forma enterprise value of about $36 billion. On a 2015 pro forma basis, the combined company would have had net revenue of approximately $20.6 billion.

The companies anticipate that the merger will generate up to $500 million in annual operating synergies, with approximately $250 million of these synergies to be realized by the end of the first year after closing and the full run-rate achieved by the end of the second year.

PotashCorp President and CEO Jochen Tilk said, "Our merger creates a new premier Canadian-headquartered company that reflects our shared commitment to creating value and unlocking growth potential for shareholders. The integrated platform established through our combination will greatly benefit customers and suppliers, and support even greater career development opportunities for employees."

Upon closing of the transaction, Tilk will serve as executive chairman and current Agrium President and CEO Chuck Magro will serve as CEO of the new company. The company will have its registered head office in Saskatoon and corporate offices in both Saskatoon and Calgary.
---
As featured in Womp 2016 Vol 10 - www.womp-int.com