MINExpo 2016 Highlights Advances in Mining and Processing Technology
Despite a soft market, miners converge on the Las Vegas convention center to see the latest gear, learn about the market and make new connections
---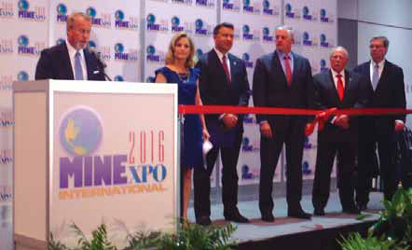 From the left: Kevin Crutchfield, Contura Energy; Denise Johnson, Caterpillar; Nevada Gov. Brian
Sandoval; Phillips S. Baker, Hecla Mining Co.; Douglas Hardman, J.H. Fletcher & Co.; and Hal Quinn,
NMA, opened the show with a ribbon-cutting ceremony. An estimated 44,000 people attended the
three-day event.

The U.S. National Mining Association's (NMA) MINExpo INTERNATIONAL 2016 trade show and convention, held September 26–28 at the Las Vegas Convention Center, drew more than 1,900 exhibitors and covered more than 840,000 ft2 to showcase the latest mining equipment and technology. The quadrennial event attracted more than 44,000 attendees from more than 130 countries.

Nevada Gov. Brian Sandoval; Denise Johnson, MINExpo chair and group president for resource industries at Caterpillar; Kevin Crutchfield, CEO of Contura Energy; Phillips S. Baker, president and CEO of Hecla Mining Co., Douglas Hardman, vice chairman, J.H. Fletcher & Co.; and Hal Quinn, president and CEO of NMA, opened the show with a ribbon-cutting ceremony. "The 44,000 people participating in MINExpo this week are a testament to the significant role that mining plays in the U.S. and around the world," Quinn said. He explained that, in the U.S., mines accounted for more than 565,000 direct jobs, which provided about $100 billion in payroll in 2015.

Thousands of people attended the opening session. The theme was the Global Outlook for Mining and Fox News analyst Nina Easton moderated a panel of executives, which included a U.S. copper miner, Red Conger with Freeport McMoRan; a U.S. gold miner, Gary Goldberg with Newmont Mining Corp.; a U.S. silver miner, Baker from Hecla; a U.S. coal operator, Crutchfield from Contura Energy; and a U.S. mining equipment manufacturer, Ted Doheny with Joy Global. The discussion touched on everything from technology to industry disruption to the difficulties with the public policy environment for mining. As one would expect, the coal operator, who had recently emerged from bankruptcy, and the equipment maker were the least optimistic. Riding a wave of higher prices, the precious metals miners were cautiously optimistic. In general, they offered a realistic outlook for commodity markets for 2017 and beyond, which was positive.

At two awards luncheons, the NMA also recognized 26 mining operations for exemplary and innovative service in mine safety, reclamation and environmental performance, and community outreach. In a year when so many wondered how challenging industry trends would impact the event, all of the exhibitors E&MJ spoke to said they were pleasantly surprised with the turnout.

What follows are brief highlights collected from E&MJ's editors as they covered the show floor. Over the course of the next six months, these topics will be discussed in more detail.

Aramine Debuts Battery Powered Miniloader
At the French pavilion in the South Hall, Aramine unveiled the L120B miniLoader for narrow vein applications. The 24- kW, battery-powered machine is capable of operating in drifts as narrow as 2.3 m2. Equipped with a 0.5-m3 bucket, the 0.93-m-wide machine has a 1.1-metric- ton (mt) payload capacity.

Atlas Copco Focuses on Automation
Under the slogan "The Future of Mining is Now," the Atlas Copco stand showcased the company's latest equipment, geared toward increasing efficiency and lowering the total cost of operation. The recent advances made by Atlas Copco in automation are considerable and some have been described as game-changers for the industry. Among those that were demonstrated included next-generation automation for surface drilling with innovations such as Automatic Rod Changing, smart Auto Navigation, and the next generation of Auto Drill for rotary Pit Viper drills that uses bit information to make changes to drilling performance in real time. For underground miners, the company discussed the recent improvements to the Scooptram automation system with multimachine capabilities that gives full control of loading operations. Through the mine data network, up to 35 Scooptram loaders can be connected and controlled from one or several control rooms.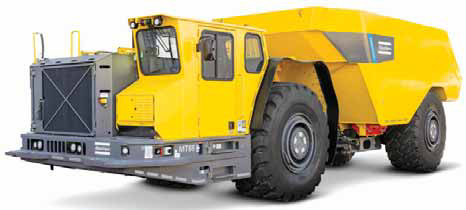 Atlas Copco's Minetruck MT65 is an articulated underground truck with a 65-mt load capacity.


The company also highlighted Certiq, a telematics system that gathers, com- pares and communicates vital machine performance data together with other tools to improve workflow and monitor and manage fleets.

The two newest products in the Pit Viper family of rotary drill rigs were unveiled. The first was the Pit Viper 231— the latest rig for single pass drilling in the 6- to 9-7/8-in. (152- to 250-mm) hole range; followed by the updated, fully autonomous PV-275, which offers largehole drillers greater value and lower operating costs, according to Atlas Copco.

Atlas Copco introduced the underground Minetruck MT65, the Boomer S2 underground drill rig and the Easer raiseboring machine. With a 65-mt capacity and an efficient powertrain, the MT65 promises to dramatically increase productivity. The truck is designed to maximize uptime thanks to its service- friendly design and easy access to daily checkpoints. Comprehensive safety features, a comfortable work environment and a proven control system that enables smart solutions, all contribute to increased production and improved underground haulage.

According to Atlas Copco, no other rig in its class can match the productivity of the new Boomer S2 drill rig at such low operational cost. The rig is said to work harder and longer with strengthened components and increased parts protection resulting in minimal internal wear, faster drilling and overall durability.

The rig's newly introduced COP MD20 rock drill is said to be 10% faster in blast and bolt hole drilling than comparable rock drills on the market, while at the same time Atlas Copco's dampening technology improves drill steel economy and increases drill uptime.

Easer, the Atlas Copco mobile raiseborer, operates in the same way as a traditional raiseborer, but can be easily moved to wherever it is needed in the mine. In addition to making the work safer and more efficient, all moving and lifting is done with a remote control crane. The rig is wheel mounted, making it exceptionally easy to move, and for fast and easy setup, no concrete platform or site preparation is necessary.

When it comes to rock drilling tools, Atlas Copco Secoroc introduced new products as well as updates for existing solutions. These included bits for rotary and Downthe- Hole (DTH) drilling, the new Azure and Discovore exploration bits, and the Powerbit top-hammer range for surface drilling. A Powerbit version for underground drilling is also slated for launch soon.

Boart Longyear Makes it 'Hands Free'
Boart Longyear introduced the LF160 drill rig and FREEDOMLoader, which the company said features totally hands-free rod handling. The combined rig and loader require no intervention from the drillers assistant to trip in and align the rods or connect to the top drive head, thus offering greater freedom to drill by reducing the risk of hand and back injuries while handling rods. The FREEDOMLoader features a remote control panel, "which allows drillers to move to and work from a safer location and away from the risks of moving rods," Boart Longyear said. It can also cycle 6-m rods in the same amount of time as a manual cycle, meaning enhanced safety is achieved without compromising productivity.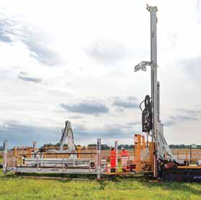 The LF160 drill rig and FREEDOMLoader from
Boart Longyear features totally hands-free rod handling.

The company reported the combination also features a forward-tilting head design, a clamping device that maintains constant pressure at any hole depth, a wireline winch located in the front of the mast and inside the rotation barrier, depth capacity of up to 1,800 m of NQ, the choice of a Tier 3 or 4 final engine, and either a crawler or truckmount configuration.

Caterpillar: New Trucks and Technologies
At a pre-show briefing held for the trade press, Caterpillar mining executives emphasized that, despite the company's recently announced pullout from the underground room-and-pillar and surface track drill equipment sectors, it remains firmly committed to serving the global mining industry. To highlight this commitment, it presented a variety of new and upgraded surface-mining products ranging from the 794AC high-capacity rigid hauler to a latch-free dipper system for large mining shovels. Also offered for the underground market was the R1700K LHD, the Rock Straight "longwall for hard rock" mechanized cutting and transport system, and the 22-mt-payload AD22 underground truck.

The new 794 AC hauler, according to Cat, is designed and built to minimize total costs. As a true 291-mt (320-ton) truck, it accommodates additional weight allowances for options and body liners— so the truck can be fitted for improved durability without significant negative effects on production. Mechanical availability of the 794 AC during extensive mine- site testing has averaged 90% or better from the introduction and has continued to improve. The drive system is designed to power the larger Cat 795F AC, which has demonstrated drive train component life of more than 30,000 hours.

Cat said its LatchFree Dipper System is the first successful solution to the most common cause of rope shovel downtime. The system replaces the standard maintenance- intensive latch assembly with a durable steel link assembly mounted to the dipper back. The key to the design is the geometry of the locking mechanism. The unique arrangement makes it possible to locate the components away from the abrasive flow of material. The system is available for Cat's electric rope shovels with dipper capacities as large as 49 m3 (65 yd3).
Cat's new 794AC shares AC drive system characteristics with the
larger 795AC.


The R1700K delivers a payload of 15 mt, 20% more than the previous model and supporting efficient three-pass loading of the 45-mt-capacity Cat AD45B Underground Truck. After rigorous field testing is completed in 2017, the R1700K will be commercially launched in 2018. It will be powered by a C13 ACERT diesel, available in EPA Tier 4 Final/EU Stage IV and in Tier 3/Stage III emissions compliance configurations.

MineStar Detect object detection systems are now offered for additional Cat machines and virtually all brands of mobile surface mining equipment. Previously unsupported Cat machines as well as other brands of machines can now be equipped with the cameras, radars and in-cab displays that deliver increased site awareness to mobile equipment operators. Object detection kits are available with one to four cameras and up to eight radars.

Also offered is a new Proximity Awareness collision avoidance system for surface vehicles. Part of the MineStar Detect capability set, the system uses peer-topeer communications and is claimed to provide fast, reliable communications between vehicles, presenting collision avoidance information to operators without the need for a robust radio network covering the site. The onboard hardware can be fitted to light vehicles and to any brand of surface mining equipment.

Cummins Ignites TCO Initiatives
Cummins introduced several initiatives aimed at reducing engine TCO (total cost of ownership) and streamlining engine health monitoring and diagnosis. Among them is its Data Enabled Mining Solution— a new prognostic capability that allows Cummins to monitor engines and deliver accurate, real-time operating information, enabling a quicker and more focused response to potential issues. Customized maintenance and operations solutions can reduce costs by providing operational data visibility such as driver behavior and idle mapping.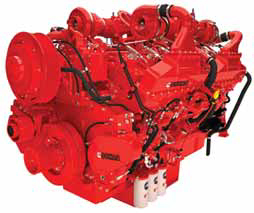 Cummins Fuel Saver upgrades are currently available on the
QSK60 (shown here) and QSK50 engines.

The Data Enabled Mining Solution operates over cellular networks, and in the near future, satellite communications systems. The system is able to stream real-time, high-frequency data, which, when coupled with support from the expertise in the company's solutions center, allows monitoring of an entire fleet, 24/7.

Cummins' fuel consumption reduction initiative, called Fuel Saver, is currently available for QSK50 and QSK60 engines, with plans to extend it to other high-horsepower engines. It offers a number of options to reduce fuel consumption for mining trucks by 1%-5% annually, which equates to an average annual saving of $6,000 to $30,000 per vehicle. The fuel-economy improvement also generates an equivalent percentage reduction in CO2 emissions of approximately 10 kg (22 lb) CO2 per gallon of fuel saved.

Zach Gillen, Cummins executive director– mining business, said, "The improvements are achieved through base engine modifications, fuel system upgrades and electronic calibration changes. Our technicians will offer a tailored solution based on the customer's specification to achieve the best possible savings. They are available for Tier 1 and Tier 2 engines in service now."

Cummins said it is also able to reduce engine-servicing costs through application of the latest in air, lube, fuel, hydraulic and water filtration technology, along with proprietary coolants. According to the company, field studies have successfully validated TCO improvements of more than 60%, extending service intervals to a minimum of 1,000 hours.

Flanders' Freedom Package for Haul Trucks
A leader in electric motor and drive technology, Flanders discussed the advances it has made with its Freedom package. Recently, the company has expanded the offering to haul trucks and underground coal transporters in addition to draglines, shovels and drills. The Freedom package is an open-architecture control and automation platform that allows mine operators to integrate new components and assemblies into a machine's master control system, which allows modifications to upgrade performance.

Flanders recently completed a DC to AC upgrade for Komatsu 830E haul trucks operating at a coal mine in Wyoming's Powder River Basin. Through the upgrade, they were able to enhance safety with improved traction control, which keeps the truck moving in the desired direction even under unfavorable conditions, such as ice, mud, snow, etc. After the upgrade, the operators had the ability to operate the trucks at a 33% higher topend speed, which improves cycle times. A new dynamic braking resistor and AC variable speed blower motor offers increased reliability and longer life of components.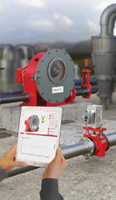 Flowrox's Malibu platform is a
3-D interface to equipment
such as the company's SMART
pump sets.


The company also discussed its Invision monitoring system that gives mines actionable Big Data insights on the health of its machines. Early warning systems alert maintenance technician before issues escalate toward catastrophic failure. By being able to better schedule maintenance, the system manages work orders proactively.

Flowrox Oy: Smart SolutionsmValves IIoT-Ready
Flowrox Oy's Smart Solutions technology, including industrial and slurry pumps and valves equipped for the Industrial Internet of Things (IIoT), enables "process conditions, equipment status and performance to be monitored on a handheld device," the company reported.

The Flowrox Malibu platform, a 3-D smartware interface, connects plant performance and equipment, such as the Flowrox SPVE, "the first pinch valve in the world capable of complex analytics and IIoT-ready," Flowrox said. "Malibu is easy to operate, enabling access to all product-related information, documentation, online monitoring and preventive maintenance tools."

Products include but are not limited to SMART pump sets, which are equipped with intelligent instrumentation, motor diagnostics and controls for continuous measurement and feedback, Flowrox said. "SMART sleeves and other embedded instruments provide vital information about the operation, condition and health of components," the company said.

Hard-Line Highlights Teleremote Ops
Hard-Line unveiled its Teleop Auto upgrade by featuring an Aramine LHD running at the Norcat Underground Training Centre in Sudbury, Ontario, live from MINExpo in Las Vegas. Visitors to the booth could operate the scoop remotely from the show floor.

This upgrade provides full autonomous driving features and can be modified to work with any brand of machine, both new and old, said Hard-Line Marketing Manager Avryl Evans. The system has been field tested at Hard-Line's own facilities for the last two years and now has been tested in an actual environment with great success, Evans said. She added that there is a lot of interest in automation and the company manufactures every piece of machinery for this product.

Joy Global Unveils New Equipment and Services
Joy Global displayed the new P&H 77XD blasthole drill, the Joy 22HD hybrid-diesel LHD, and the Joy 4LD hard rock loader. MINExpo 2016 also marked the commercial launch of the P&H 2650CX hybrid shovel. The latest rock breakers and CPAs from Montabert were also on display, as well as Genuine Joy service products and consumables in the booth's mock Service Center. Several interactive elements al- lowed attendees to experience other areas of Joy Global's product lines, including a continuous miner simulator with Oculus Rift technology; an augmented reality table highlighting smart material handling options; and a Joy longwall visualization system with 3-D graphics.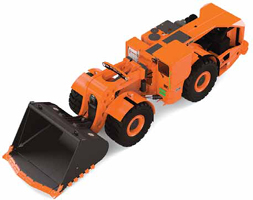 Joy Global's 22HD (pictured here) and the smaller 18HD are
equipped with an all-electric, smart driveline.

At an event held on the first day of the show, Joy Global unveiled the Joy 22HD hybrid- diesel LHD. It features the Switched Reluctance (SR) Hybrid Drive technology Joy Global acquired from Le Tourneau. The 22HD and the smaller 18HD are the first LHDs equipped with an all-electric, smart driveline. These LHDs also feature the new Kinetic Energy Storage System (KESS) to enable the storage and reuse of braking energy, reducing overall fuel consumption by 30%. KESS supplements engine power by more than 50% to improve machine acceleration, reduce the effects of engine turbo lag and dramatically improve cycle times. The SR Hybrid driveline is designed for more than 20,000 hours before rebuild. The machines' rugged steel frames and ball and socket joints are constructed to withstand challenging hard rock mining applications.

The 77XD blasthole drill can be configured for diesel or electric, single- or multi-pass, and rotary and hammer drilling. It's designed to deliver up to 10% maintenance and repair cost advantage, according to Joy Global. The 4LD hard rock loader is a robust machine designed to stand up to challenging narrow vein mining conditions and provide 25% more breakout force. The 2650CX hybrid shovel is an innovative new machine offering a 25% reduction in fuel consumption and up to 15% reduction in total cost of ownership. Miners were offered an opportunity to operate one using a training simulator on the stand.

Komatsu: Going Totally Autonomous
It's difficult for vendors—at a show where the world's largest, most spectacular mobile equipment is exhibited—to stand out from the crowd, but Komatsu definitely succeeded with the introduction of its "Innovative Autonomous Haulage Vehicle," a futuristic, cabless, 230-mt-payload rigid-body truck designed specifically for autonomous haulage operations.

Unlike its 930E and 830E autonomous models, Komatsu developed the IAHV exclusively as an operator-less vehicle designed to maximize the advantages of unmanned operation. Komatsu said that by eliminating the traditional operator's cab, distributing payload weight equal to the four wheels when the vehicle is loaded or unloaded, and adopting all-wheel drive, retarder and steering systems, the IAHV can travel equally efficient in both forward and reverse, eliminating the need for time-wasting K-turns and backing at loading and unloading sites. Komatsu also expects that this concept will improve productivity at mines where existing unmanned haulage vehicles face challenging conditions, such as slippery ground due to frequent rain/snow fall as well as confined spaces for loading.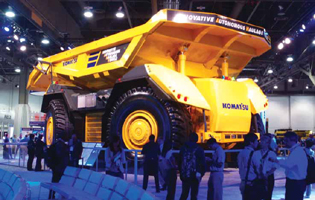 Komatsu's IAHV hauler is designed to travel equally efficient in forward
or reverse direction.

Major specifications for the IAHV include a nominal gross vehicle weight of 416 mt; gross power output of 2,014 kW (2,700 hp); maximum speed of 64 km/h; turning radius of 15.9 m; external dimensions of 15 m (length) by 8.5 m (width); and tire size of 59/80R63. Komatsu plans a market introduction in the near future. A video illustrating the vehicle's mode of operation is available at: www. youtube.com/watch?v=SNelRmmPpls&- feature=youtu.be.

Komatsu also announced the commercial release of its conventional, 400-mt-payload 980E-4 haul truck. The 980E-4, according to the company, provides an optimal match in large-scale mining applications with big-bucket mining shovels (55-99 yd3) such as its PC8000 as well as P&H's 4100XPC and 4800XPC, loading in three to five passes, depending on bucket size and material density. The new truck features expanded dump body capabilities, using high-tensile strength and abrasion-resistant steel materials to optimize payload capacity while resisting damage and wear. Available as an option, for the first time on any of its production trucks, are Komatsu Smart Rims, which allow easy removal and installation of tires without removing the rims, saving time and reducing the impact of tire changes on downtime.

Komatsu previewed the 930E-5 haul truck, which is scheduled for release in the second half of 2017. The 320-mt-payload hauler is powered by a 2,700-hp, SSDA16V160- 4 Tier 4 Final engine, offering up to 5% less fuel consumption—yet, according to the company, still providing a high level of commonality between it and Tier 2 engines. The new model also uses DEF and SCR technology instead of mufflers for improved noise reduction.

On the shovel side, the company announced the North American commercial release of the PC4000-11 hydraulic mining shovel. Best matched with 150-240 ton trucks, the -11 can be configured as a shovel or backhoe, depending on the application. It is powered by a Tier 4 Final, 1,875-hp, 16-cylinder SDA16V160E-3 Komatsu engine with selective catalytic reduction (SCR) and time-saving engine oil management systems.

Regarding Komatsu's pending acquisition of Joy Global Inc., Tetsuji (Ted) Ohashi, president and CEO of Komatsu Ltd., said, "Our customers are sharing very positive feedback about the agreement. Some have approached us at MINExpo to congratulate us on our decision," Ohashi said. "We are working closely with Joy Global and relevant authorities to move the process forward." The companies are working to finalize the transaction by mid-2017.

Liebherr Introduces New Equipment to North America
The motto for Liebherr's stand was "Experience the Progress," and it essentially discussed the progress the company had made since the last MINExpo. In addition to a new diesel engine components and ground engaging tools (GET), the company displayed four types of large machines: haul trucks (the new T 236 and the T 284) a dozer, a hydraulic excavator and a crane. They closed a gap in the hydraulic excavator line with the introduction of the 200- mt class R 9200, which is designed to be pass-matched with 140-ton haul trucks. An electric version is available as well. The unit on display was fitted with the Liebherr's advanced 12.5-m3 bucket and GET.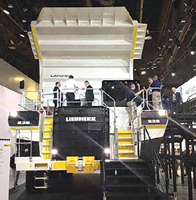 Liebherr says its T 236 is the first diesel electric truck
in class to incorporate an oil-immersed braking system
with four-corner retarding capabilities.

The 100-ton T 236 haul truck takes advantage of Liebherr's electric drive system. With its high take-off torque and continuous power to ground capability, the T 236 is less sensitive to grade and payload variations. The T 236 is the first diesel electric truck in class to incorporate an oil-immersed braking system with four corner retarding capabilities, providing reliable braking technology.

The latest generation of Liebherr's T 284 was also on display. Offering one of the highest payloads in the industry, it features the Litronic Plus AC drive system. With intelligently designed systems and components, Liebherr sees the T 284 as a platform for future advances in haul truck technology. A special feature is its Tier 4-ready MTU engine.

The company's new 70-ton dozer, the PR 776 Litronic crawler tractor, was also on the stand. It debuted at Bauma in Munich, earlier this year. And it is the largest hydrostatically powered crawler tractor in the world, according to Liebherr. After the show, this unit will be placed into operation at a U.S. gold mine.

This was the first MINExpo for the company's components division. Some of the components and systems on the show include a new D9812 2,700-hp diesel engine, the new FAT 325 electric travel drive, and a fully integrated energy storage system for mobile and stationary applications based on double layer capacitors.

Liebherr has also developed an advanced software tool to minimize downtime by maximizing troubleshooting efficiency. The Troubleshoot Advisor detects the cause of breakdowns on mining trucks and excavators and proposes repair procedures according to the results of diagnostic tests. This software is currently supporting the service teams in 20 countries.

Modular Enhances Collision Awareness, Truck Spotting
Modular Mining Systems unveiled its fourth generation collision awareness system, available as a standalone product or integrated with Modular's DISPATCH Fleet Management System. The new Collision Awareness System (CAS) monitors and notifies operators of potential vehicle-to-vehicle collisions based on intelligent path-prediction and pattern recognition algorithms, helping to increase drivers' situational awareness when operating heavy or light vehicles in the mine. The system uses a high-speed, low-latency peer-to-peer communications technology developed specifically for safety applications in the automotive industry.

According to the company, the system addresses many of the most common vehicle collision scenarios, including forward path (front-to-rear and head-on), take-off, speed limit violations, overtaking and intersections. Two levels of alarms notify operators of potential hazards; if an operator doesn't take corrective action after the first notification, a more urgent, audible warning will sound. When integrated with Modular's DISPATCH Fleet Management System, alarms may be routed to the mine controller and recorded for reporting purposes.

Modular also highlighted its new Guided Spotting system, which employs advanced guidance technologies, including GPS, to assist truck operators in efficiently spotting at load and dump locations. One of the main benefits of the system, ac- cording to Modular, is that it enables operators with limited experience to match the performance of experienced operators, facilitating the use of more efficient loading and spotting procedures to reclaim lost productivity without sacrificing safety.

MTU Mining Engine Range: Totally Tier 4
Rolls-Royce's MTU engine division displayed a 12-cylinder MTU Series 2000 diesel engine which meets the U.S. EPA Tier 4 emission standards. The product portfolio includes 12 and 16-cylinder versions of the MTU Series 2000 engine for mining applications that cover a power range extending from 783 to 1,163 kW and will be available for EPA Tier 4. They meet the U.S. standards using exhaust gas recirculation technology (EGR), two-stage turbocharging and common rail injection. A 12-cylinder MTU Series 4000 engine for EPA Tier 4 also was on display. Available in 12-, 16- and 20-cylinder versions, this series covers a power range from 1,150 to 3,000 kW. The Series 4000 engines, like the Series 2000 engines, meet U.S. EPA Tier 4 emission standards by means of EGR, two-stage turbocharging and a common rail injection system. Exhaust gas aftertreatment is not necessary.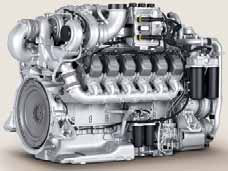 All versions of MTU's Series 2000 engines for mining
applications can be provided in Tier 4-compliant
emission-control configurations.


MTU noted that its ValueCare service operators an extensive service portfolio designed to extend the service life of engines. ValueCare, in addition to fast response replacement parts supply and consumables such as coolants, engine oil and filters, also includes maintenance contracts designed specifically to meet the needs and requirements of the individual customer. MTU additionally provides remote services to support the effective operation of the customer's systems and optimized maintenance services by making operational data and analysis available to customers on a web-based portal.

Polydeck Goes Modular
Polydeck showcased several new screens, including Metaldex, PanelLite, VST and DMax. Metaldex is Polydeck's new line of modular AR500 steel sections in a range of apertures that fit their PipeTop II stringer system. This is a new product offering the same fastening system, said Matt Donovan, marketing manager for Polydeck.

PaneLite is Polydeck's lighter series of screen panels with a strong composite insert that reduces panel weight by nearly 2 lb/ft2, Donovan said.
Polydeck displays three new types
of screening media panels for a wide
range of applications.

VST is a dewatering panel that is specifically used in coal. This patent pending design incorporates slots at opposing 45° angles creating a zigzag flow, which increases retention time, providing increased drain rates per square foot, and reducing the amount of material getting stopped in the panel.

DMax is Polydeck's series of extreme open area screen panels that utilize a modified insert configuration that allows more apertures. The configuration was a slight modification to Polydeck's existing design, which makes it slightly weaker, but creates more of an open area, Donovan said.

Sandvik Upgrades the Underground Drilling Experience
Sandvik said it can significantly improve a customer's drilling experience with its new AutoMine compatible underground drilling offering. Based on Sandvik AutoMine technology that has been in use for more than 10 years in numerous underground mines, users are now able to significantly upgrade their operation's productivity and safety. The company's range of new intelligent rigs, led by the DD422iE development jumbo, will soon include long hole drills and bolters. New 3-D scanning technology can make drilling and even bolting more efficient by bringing in new tools and methods for continuous quality control. Blasting quality, overbreak and underbreak analyses together with continuous mine mapping increase overall drill and blast process efficiency significantly. Combining this with the its OptiMine information management platform, said Sandvik, provides a powerful tool for creating true transparency and integration of underground mining operations.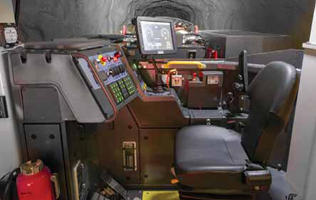 Sandvik's DU412i incorporates a completely new design, taken from the
popular Sandvik 400 range of center articulated, carrier-mounted ITH drill rigs.

Siemens' Drive System Outperforms Standard Induction Motors
Siemens' new electric powertrain system for underground mining vehicles, currently in development on a 60-ton articulated underground haul truck application, features propulsion and auxiliary inverters, established control hard- and software as well as optional energy storage solutions, the company reported.

The proton exchange membrane fuel cell system motor (PEM Motor), typically connected to the wheels with a planetary- type gearbox, achieves a higher efficiency of up to 97% in operating-speed range compared to the efficiency of standard induction motors of similar size, Siemens said. With these components working together, the haul truck's braking energy can be intelligently harnessed and stored for electric propulsion.

More than 1,000 Siemens mining-duty powertrain systems are deployed globally in the open-pit mining market, which includes all-electric excavators and various haul truck applications, Siemens reported.

SSAB's Abrasion-resistant Solutions
SSAB used MINExpo to promote its Duroxite overlay products. By welding chromium or complex carbides on top of mild steel or Hardox wear plate, they have created an extremely wear-resistant compound. No special equipment is needed to install Duroxite. Welding, bolting and stud welding are the most common installation methods. A coal operator installed Duroxite on its discharge chute and extended wear life from a week to six months, and immediately noticed an improvement in uptime.
Superior's Double Tube Roll construction gives the idler increased rigidity for
higher load ratings.

Superior Displays Crusher and Conveyor Equipment
Superior Industries used MINExpo to showcase its Patriot cone crusher, an expanded line of mine duty idlers and its line of Exterrra belt cleaners. With models that range from 200 to 500 hp and production rates up to 805 t/h (730 mt/h), the Patriot cone crusher represents Superior's first foray into crushing technologies for bulk processing applications.

Superior's DT Idler is designed with a ¼-in.-thick wall for added durability. Double tube (DT) construction gives the idler increased rigidity for higher load ratings. This design has a 20% higher load rating than CEMA, for improved service life. The inner tube insulates the bearing from vibration, reducing misalignment and increasing the life of the bearing. As the outer shell wears, the inner tube maintains the structural integrity of the roller. The DT models are available in belt widths up to 120 in. and are equipped with bearing sizes up to 60 mm. Superior said it had already tested this double- tube product line at some of the largest iron ore mines in the world.

Designed for large mining class pulleys, the Exterra mine-duty primary belt cleaner solves issues associated with maintaining constant tension as well as installations in tight areas. Superior's Set For Life (SFL) technology maintains constant, accurate tension during the life of the blade. Operators set the tension during installation and never have to adjust it again. The belt cleaner's three-piece pole is lighter and easier to manage during installation, especially in tight chute applications. Additionally, the scraper blade is segmented into 6-in. chunks, allowing it to wear evenly.

Toyo Pumps is Now Hevvy Pumps
Toyo Pumps launched the HNS series of submersible pumps at the show. These products offer a fully integrated pressurized sealing solution, the Plenum54. This technology—creating a pump that is capable of generating positive pressure in the seal chamber—was three years in the making, according to President Justin van de Velde. According to the company, the positive pressure technology and tailored slurry seals make the pumps last longer and pump more aggressive slurries than other submersible pumps. "No one else in the world has this," said van de Velde. "The real star of this show is the pressurized seal."

The company has also changed its name to Hevvy Pumps and is going global, he added.
Victaulic's new Knife Gate Valve
is claimed to be the first knife
gate valve that can be rebuilt
while still connected.


Victaulic Valves are Rebuildable in Place
Victaulic's new Series 795 Knife Gate Valve is the industry's first knife gate valve designed to be maintained in-line without having to remove the entire valve from the pipeline, resulting in up to 95% savings in downtime and more than 60% savings in annual maintenance costs, the company said. It is also the first installation-ready valve made with an integrated coupling design allowing the valve to be directly installed on the pipe. This design reduces labor hours, but also protects against potential safety hazards, the company said.

"This is the first knife gate valve that can be rebuilt while still connected," said Scott Sargent, product manager for Victaulic. He added that once it's installed, it never has to be removed.

Michael Prince, project engineer for Victaulic, said swapping out parts usually takes anywhere from four to eight hours with a normal knife gate valve, but with their new product, this has been reduced to 15 minutes. "They [customers] didn't realize maintenance could be faster," he added.

Victaulic also displayed the Refuse-to- Fuse HDPE pipeline system, which it said is simpler than traditional fusing methods— installing up to 10-times faster, reducing labor costs and schedule times. The system is suitable for plain end and grooved HDPE pipelines, and can be used above ground, below ground and in buried systems. Installation is easy with two or four bolts, reducing labor time and minimizing safety hazards. Couplings can be readily disassembled and removed from the pipe, and then easily reassembled. Victaulic also now offers the latest line of BERMAD hydraulic control and air valve offerings to the North American mining industry.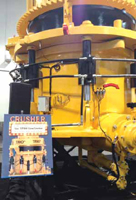 The design of Weir Minerals' Trio
TP900 cone crusher enables it to
provide a higher reduction ratio
while providing better-shaped material.


Weir Improves Trio Cone Crusher Performance
Weir Minerals launched the Trio TP900 cone crusher, which is part of the Trio TP series of crushers launched globally earlier this year. The Trio TP900 cone crusher operates at a higher pivot point and thrower than its predecessor, providing higher reduction with better-shaped material, according to Weir. This is the first machine in this line of products, said Kurt O'Bryan, global product manager for crushing and screening at Weir Minerals. He believes this will make Weir the No. 1 supplier of communition equipment in five to 10 years.
---
As featured in Womp 2016 Vol 10 - www.womp-int.com