| | |
| --- | --- |
| | To receive your own edition of the print version of E&MJ - Go Here |




Mining Deals Proceed with Interesting Twists



As 2012 winds to a close, several announcements surprised the mining industry. No, it wasn't another executive deciding to pursue a new career path. Although this year might be remembered as the year of the revolving door for mining CEOs. In the last month three deals were announced that were somewhat unforeseen and each of them included an unexpected turn of events.

The first was the Glencore Xstrata merger. For much of the year, questions surrounded whether shareholders would approve the transaction. Ultimately they did, but they did not approve the proposed management compensation plan for Xstrata CEO Mick Davis and his team, which built the company from modest means over the course of 10 years. Now, Davis will shepherd the transition for six months until he hands the reins to Glencore CEO Ivan Glasenberg. The compensation plan......... read more



Steve Fiscor, Editor in Chief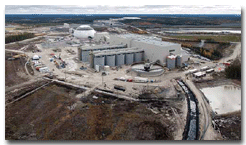 Canada's Largest Gold Mine Nearing Production
Detour Gold began commissioning the first mill production line at its Detour Lake open-pit gold mine in northeastern Ontario in October 2012 and expects the first ore to be fed to the circuit before the end of the year. The first gold pour is scheduled for January 2013. When Detour Lake reaches design production rates in 2013, it will be Canada's largest gold mine. Gold production at Detour Lake........ read more
Glencore-Xstrata Merger Approved; Retention Package Rejected


At meetings held on November 20, shareholders of Glencore International and Xstrata approved an all-share merger of the two companies, ending a tortuous process that began in February 2012. The merged company will be known as Glencore Xstrata plc and will have a market capitalization of While approving the merger, Xstrata shareholders rejected a controversial $223- million retention pay package designed to keep about 70 top Xstrata managers with the merged company. Xstrata Chairman Sir John Bond strongly supported the retention package, and when it failed, he said he....... read more

Top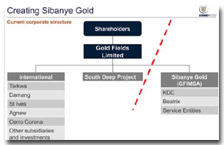 Gold Fields Spin-off Plan: Two Distinct, Focused Companies


Gold Fields Ltd. announced on November 29 the proposed creation of a new South African gold mining company, Sibanye Gold Ltd., that will control Gold Fields' KDC and Beatrix gold mines in South Africa as well as various service companies. Gold Fields will retain the balance of its portfolio of assets, including the developing South Deep gold..... read more

Top
PwC Reports on Australian and Canadian Miners


In separate reports published in November 2012, PricewaterhouseCoopers reviews and analyzes the financial results over the past year of the 50 largest mining companies listed on the Australian Stock Exchange (ASX) with market capitalizations under A$5 billion (the Australian Mid-Tier) and the 100 largest junior mining companies listed on Canada's TSX Venture Exchange (TSXV). The companies included in both reports are based on market capitalizations as of June 30, 2012. The countries and the industry sectors covered in the two reports differ, but the..... read more
| | |
| --- | --- |
| AROUND THE WORLD - USA & CANADA | |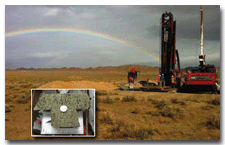 New Studies Advance Nevada Copper Projects


Nevada Copper and Entrée Gold have released the results of separate project studies for work they are progressing on their respective Pumpkin Hollow and Ann Mason mine development projects near Yerington, Nevada. On November 19, 2012, Nevada Copper announced positive results for a new feasibility study for its 100%-owned Pumpkin Hollow copper project located 8 miles southeast of Yerington that...... read more
Hecla Readying Lucky Friday for Restart


Hecla Mining reported in early November 2012 that it expects to complete rehabilitation of the Silver Shaft at its Lucky Friday mine in the Coeur d'Alene district of northern Idaho by the end of the year, with production expected to resume in the first quarter of 2013. The U.S. Mine Safety and Health Administration ordered the Silver Shaft closed in January 2012 for removal of built-up material in the shaft. The order was pursuant to an investigation that followed a December 14, 2011, rock burst in the mine.... read more

Top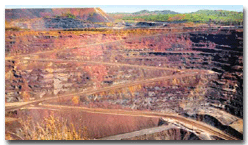 Cliffs to Reduce Iron Ore Production


Cliffs Natural Resources announced on November 19 that it is delaying portions of its Bloom Lake mine Phase II expansion in Quebec and idling some production at two of its U.S. iron ore operations, Northshore Mining in Minnesota and the Empire mine in Michigan. "These production decreases are driven by increased iron ore pricing volatility and lower North American steelmaking utilization rates," the company said. At Bloom Lake.... read more

| | |
| --- | --- |
| AROUND THE WORLD - Latin America | |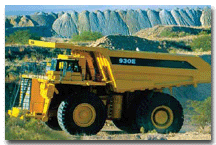 Minera Panama Selects Equipment Vendors and Plant EPC Contractor


Inmet Mining announced its 80%-owned subsidiary, Minera Panama, has selected the mine mobile equipment vendors and the detailed engineering, procurement, and construction (EPC) contractor for the processing plant for the Cobre Panama open-pit copper project in the Donoso district of Panama. Equipment supply contracts have been awarded to P&H Mining Equipment for rope shovels; Komatsu Holding…… read more
Pascua-Lama Schedule Unaffected by Stoppage


Barrick reported on November 11 that it voluntarily halted pre-stripping activities on October 27 in the open-pit area of its cross-border Chile/Argentina Pascua-Lama gold-silver project after observing increased dust in the area. The dust had been exacerbated by stronger than normal winds, and Barrick halted pre-stripping to allow implementation of additional dust mitigation and control measures. Regulatory authorities in Chile subsequently issued an order to halt pre-stripping until dust-related health and safety…. read more

| | |
| --- | --- |
| AROUND THE WORLD - Australasia | |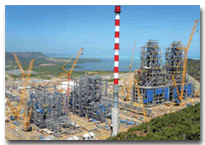 Koniambo Nickel Ready for Production Start


Xstrata Nickel, the industrial partner in the Koniambo nickel project in New Caledonia, announced on November 23 that construction of the first production line (Line 1) of the project's smelter is complete. The necessary support services and operational infrastructure were undergoing pre-operational testing and commissioning. The company anticipates that the first metal will be tapped from Line 1 in January 2013. Xstrata Nickel holds a 49% interest…. read more



Rex Minerals Targeting South Australia Copper Mine


Australian junior company Rex Minerals has released a prefeasibility study (PFS) for its Hillside copper-gold project on the Yorke peninsula in South Australia. The PFS describes an open-pit mine supplemented by underground mining that would produce 70,000 mt/y of copper and 50,000 oz/y of gold in a copper-gold concentrate over a minimum mine life of 15 years. Additionally, the tailings from the Hillside copper-gold circuit would be treated to recover 1.2 million mt/y of high-quality (67% Fe) iron ore concentrate …. read more

Top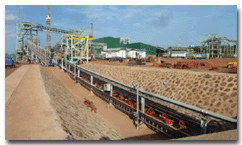 Perkoa Zinc Project to Begin Concentrate Production


Blackthorn Resources reported in November that the Perkoa zinc project in Burkina Faso would produce its first concentrate in mid- December. The project is a joint venture between Glencore International (50.1%), Blackthorn (39.9%), and the Burkina Faso government (10% free carried). It will be the first large-scale, underground, base metals mine in the country. A total of 3,655 m…. read more

Strikes End at Anglo American Platinum
Anglo American Platinum reported on November 15 that striking workers at its Rustenburg, Union and Amandelbult operations in South Africa had accepted the terms of a company offer and returned to work. The strikes were the last to be settled among major South African precious metals producers following three months of disruptive labor disputes. Employees at Gold Fields KDC East mine had returned to work November 6, and all three Gold Fields mines in South Africa were back in production at that time.…… read more

Top
| | |
| --- | --- |
| THIS MONTH IN COAL | |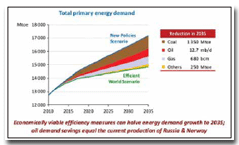 Coal Exporters and Buyers Meet in Istanbul


The 32nd Coaltrans World Coal Conference was held at the Lutfi Kirdar Convention and Exhibition Center on the European shore of Istanbul, Turkey, October 14-16. The setting was impressive; overlooking a sparkling blue Bosporus reflecting a cloudless sky, the attendees gazed across at the shores of Asia, beyond which lie their hopes for the future growth of their business. Coaltrans was visiting Istanbul for the first time since 1997 and found a country transformed …. read more

| | |
| --- | --- |
| FEATURE - Ground Control | |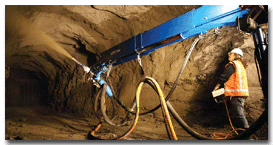 Support in Many Forms
Maintaining roof-support integrity is essential in any mine. we look at today's support options from the expert supplier's viewpoint.

By Simon Walker, European Editor

Rock support, a critical area of mining practice, will gain further importance as mines get deeper with higher rock stresses. Support systems that provided adequate protection in the past will need to be modified and upgraded in order to fulfill their future role, with new combinations of technologies required to satisfy safety demands. As an example, rock bolting practice has developed markedly over time, with current systems giving greater protection while requiring less labor for installation. Similarly, shotcrete support is becoming increasingly mainstream……. read more


For more companies with products in the Concrete - Equipment and Products market -
Go Here
| | |
| --- | --- |
| FEATURE - Blasting Technology | |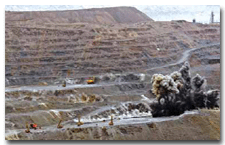 Software Solutions for Better Blasting


Computerized tools for designing, recording and analyzing a blast offer 3-D visualization of terrain profiles, patterns and other parameters

By Russell A. Carter, Managing Editor

Surface-mine blasting technology has advanced at a steady pace, and improvements such as electronic blasting systems with vastly expanded delay-timing ranges and detonation capacities, new explosive products and user-friendly blast-design software offer increasingly high-tech means to improve blast effectiveness. At the same time, drill rig performance and drill-string tool design have been continually refined by equipment vendors to provide the right tool for the job in almost any imaginable production drill-and-blast scenario.... read more

Top

For more companies with products in the Blasting Accessories & Equipment market -
Go Here
| | |
| --- | --- |
| FEATURE - Tailings | |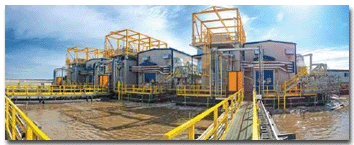 Oil Sands Miners Advance New Technologies for Tailings Management


Producers are moving to commercial-scale projects after years of pilot-scale testing

By Russell A. Carter, Managing Editor

If the word "massive" hadn't existed in the English language, it would have had to have been invented to adequately describe conventional open-pit mining of oil sands in Canada's Alberta province. It's a high-stakes play with steep entry costs and capital-intensive operational requirements, where ultraclass loading and haulage equipment is needed to maintain high rates of production from sprawling mines, under variable and often extremely adverse weather conditions. The most familiar…... read more


For more companies with products in the Mineral - Processing Equipment market -
Go Here
| | |
| --- | --- |
| FEATURE - Conveyor Systems | |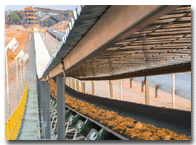 Conveyor Project Links New Lumwana Pit to Process Plant


A 15-month project provides 5,100 mt/h of copper ore at Africa's largest copper mine

Tenova Mining & Minerals announced in late November that its bulk materials handling and equipment company, Tenova TAKRAF Africa, formerly Bateman Engineered Technologies, successfully executed its contract for the design, supply and installation of the conveyor system that feeds copper ore from the newly developed Chimiwungo pit at the Lumwana copper mine (LCM), to the existing process plant. LCM is an open-cast mine in the North West province of Zambia, situated 220 km west of the Copperbelt and 65 km west of the town of Solwezi. It is considered Africa's largest copper mine. With the development..... read more

Top


For more companies with products in the Conveyors market -
Go Here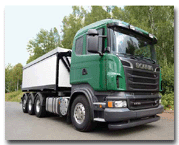 Hidden Haulers


The various types of mining-class haul trucks are familiar to anyone with even a passing interest in the surface mining sector. Depending on regional and local custom, rigid-body haulers, multi-trailer road trains, ruggedized construction-type offroad dump trucks or articulated carriers are generally the most noticeable types of production equipment in a pit as they move ore and waste along their assigned routes. However, the trip from bench face to mill is, for ore, sometimes only …. read more

Containerized Data/Telecom Packages Offer Quick Setup


MeshBlox, a Queeensland, Australia-based engineering company, specializes in providing prefabricated, ready-to-deploy data and communications infrastructure for rapid commissioning in harsh or remote environments. The company recently announced a new unit shipment into Rio Tinto's Hail Creek surface mine in Queensland's Bowen Basin coal district. "Overnight, Hail Creek now has a full data center with seven racks of ICT and process control systems, power autonomy…… read more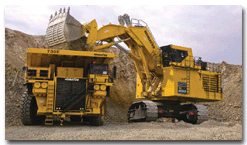 Komatsu's New, Pass-matched AC-drive Truck and Hydraulic Excavator


Komatsu America says its new 730E (AC) mining truck with AC electric drive technology builds on the success of its 730E DC drive model, but is designed to meet the demands of today's mining environment as well as the challenges of the future. Because miners are moving to smaller ore bodies in more remote locations, the new truck was built to be quickly deployed into difficult projects…. read more

Top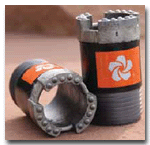 Diamond Bit Line for Shallow Holes


Boart Longyear has launched the GTUMX diamond coring bit as the latest addition to its Ultramatrix (UMX) line. The GTUMX is designed for shallow holes and conventional drilling for both exploration and geo-technical applications. According to the company, the ability to drill faster with high penetration rates and to outperform existing bit technology in a wide range of ground formations makes the GTUMX ideal for customers seeking an affordable alternative to their current bit selection .…… read more

Tool Carrier Offers Greater Breaking Power, Stability


Brokk AB has unveiled its model 100 alltool carrier, featuring a more compact design and 35% greater breaking power than the model 90. The 100's low-profile configuration, featuring a three-piece boom design, is less than 4 ft tall and offers a lower center of gravity for greater stability. A new load-sensing hydraulic system with improved hydraulic capacity helps generate superior breaking power when paired with the included Atlas Copco SB152 breaker. Maximum horizontal…. read more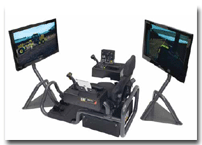 Grader Simulator Provides Authentic Training Experience


Simformotion, a developer of heavyequipment simulator training solutions, recently released its new Cat Simulators M-Series motor grader system. The new motor grader simulation trainer is set in a construction environment where operators can learn the same machine applications found on actual worksites. Training experience is delivered through the use of authentic controls combined with simulated applications. The M-Series motor grader…. read more

Free Apps for Shaft Alignment Calculations


Fixturlaser, a manufacturer of laserbased shaft alignment systems, has developed three free mobile device apps for shaft alignment personnel: Align Terms, Laser Dials and Therm Align. Align Terms is a reference app for machine shaft alignment that enables lookup of shaft alignment terms and access to instructional videos. Laser Dials is an app to convert shaft alignment measurements between rim and .…. read more

Top
Metso Delivering Largest HPGR Unit for Morenci Copper, Bulk Handling System for Brazilian Phosphate


Metso is set to provide an HRC-3000 high pressure grinding roll (HPGR) for Freeport-McMoRan Copper & Gold's Morenci copper mine in Arizona, USA, which will be the largest machine of its kind, according to the company. "Operating costs are increasing throughout the industry, with power being a key component, and our customers are looking for more efficient technology to achieve the best returns in these circumstances," said Andy Lingenfelter….read more

The Sandvik Journey - The First 150


To help celebrates the groups 150 yeasrs anniversary, Sandvik AB has published The Sandvik Journey - The First 150 Years. Written by the award winning and experienced company historian, Ronald Fagerfjäll - the book takes the reader on a fascinating journey through 150 years of industrial history and provides an insight into the Sandvik journey in the fields of technology and product development and the business challenges the company has faced. A copy is available…. read more
FEBRUARY 24–27, 2013: 142nd SME Annual Meeting and Exhibit and CMA 115th National Western Mining Conference, Denver, Colorado, USA. Contact: Society for Mining, Metallurgy & Exploration; Tel: 303-948- 4200; E-mail: meetings@smenet.org; Web: www.smenet.org/meetings
MARCH 3–6, 2013: PDAC 2013, International Convention, Trade Show & Investors Exchange-Mining Investment Show, Toronto, Canada Contact: Prospectors & Developers Association of Canada; Tel: 416-362-1969 ext. 1; Fax: 416-362-0101; E-mail: convention@pdac.ca; Web: www.pdac.ca
APRIL 15–21, 2013: bauma 2013, Munich, Germany. Contact: Messe München GmbH; Tel: 49 89 949-11348; Fax: 49 89 949-11349; E-mail: info@bauma.de; Web: www.bauma.de
APRIL 16–18, 2013: Minex Central Asia 2013, Astana, Kazakhstan. Contact: Arthur Poliakov; Tel: 44 (0) 207 520 9341; E-mail: admin@minexforum.com; Web: www.minexasia.com
APRIL 16–19, 2013: 23rd International Mining Congress and Exhibition of Turkey, Antalya, Turkey. Contact: IMCET; Tel: 90 312 425 10 80; Fax: 90 312 417 52 90; E-mail: imcet@maden.org.tr; Web: www.imcet.org.tr
MAY 5–8, 2013: CIM 2013 Convention, Toronto, Ontario, Canada. Contact: Canadian Institute of Mining, Metallurgy and Petroleum; Tel: 514-939-2710, ext. 1311; E-mail: mbell@cim.org; Web: web.cim.org/toronto2013
MAY 7–9, 2013: Arminera, Buenos Aires, Argentina. Contact: Viewpoint SA; Tel: (011)4814-3833/4816-5818; E-mail: info@viewpoint.com.ar; Web: www.arminera.com.ar
MAY 11–13, 2013: Indaba 2013, Durban, South Africa. Contact: Witch & Wizard Creative (Pty) Ltd.; Tel: 27 (0)11 467 5011 / 5024; Fax: 27 (0)11 467 5350; Web: www.indaba-southafrica.co.za
For a full calendar of mining industry conferences and events - click here
| | |
| --- | --- |
| WHO'S MOVING WHERE | |

Kinross Gold Corp. has appointed Tony S. Giardini executive vice president and CFO.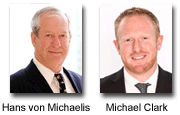 Goldgroup Mining Inc. has appointed Dustin VanDoorselaere vice president of operations. The company also appointed Chester F. Millar chairman of the company. Dr. Hans von Michaelis has been appointed CEO and president, and will continue to serve on the board of directors. Michael Clark has been appointed CFO.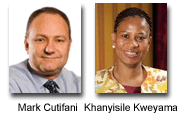 The Chamber of Mines of South Africa has elected Mark Cutifani, CEO of AngloGold Ashanti, president of the Chamber of Mines following the end of Dr. Xolani Mkhwanazi's term of office. Khanyisile Kweyama, executive director of Anglo American South Africa, was elected vice president of the Chamber of Mines.

Copper Mountain Mining Corp. announced that Jim O'Rourke , CEO, has been inducted into the Canadian Mining Hall of Fame. Candidates for induction into the Canadian Mining Hall of Fame must be individuals who have demonstrated outstanding lifetime achievements to the benefit of the Canadian and/or world mineral industry. He was selected under the category of "Building a Corporation," which relates to his commitment and dedication to the mining industry during his long and successful career. O'Rourke played a key role in the development of four mines in the province of British Columbia and has been involved with the mining industry for nearly five decades. His long list of noteworthy projects has injected billions of dollars of investment income and capital expenditures into the country, resulting in significant economic and social prosperity for many Canadian citizens.

Eriez recently announced that Dan Norrgran passed away in October. He was hired in 1985 as a technical representative in the sales department, coming from Anaconda Minerals in Tucson, Ariz., where he served as technical manager!beneficiation applications and supervisor of the Mineral Beneficiation Laboratory. Prior to that, he worked with the U.S. Bureau of Mines in Twin Cities, Minn., as a minerals engineer. He participated in the engineering development of high intensity magnetic separators and developed a novel process for treating silver-manganese ores with high-intensity magnetics. He was a prolific writer, authoring dozens of technical papers on magnetic separation advancements which were published in professional trade journals around the world. Dan was employed at Eriez for 27 years, most recently serving as manager of the Minerals & Materials Processing Division. He was a respected member of several professional associations including the Canadian Institute of Metallurgy, the International Minerals Association and the Society of Mining Engineers, where he served as National Committee chairman. In 2004, he received Eriez' highest honor Person of the Year.

LOESCHE ThermoProzess GmbH has appointed Michael Nisch director of sales of Thermo Process Technology.

Normet UK has appointed Sergio Matias technical manager for underground construction and mining.

J.H. Fletcher & Co. has appointed Lenny Novak sales director of industrial minerals.
About - providing an abreviated version of the current print edition of E&MJ, WOMP is distributed throughout the world to decision makers in the global mining industry, the last week of every month.

Subscribe to E&MJ - To receive your own copy of the print edition of E&MJ, click here , and complete your details. E&MJ is available free of charge to qualified readers.

Contact - if you have views, opinons or comments or editoral that you would like to submit, we would be delighted to hear from you - click here

Top