Komatsu's New, Pass-matched AC-drive Truck and Hydraulic Excavator
---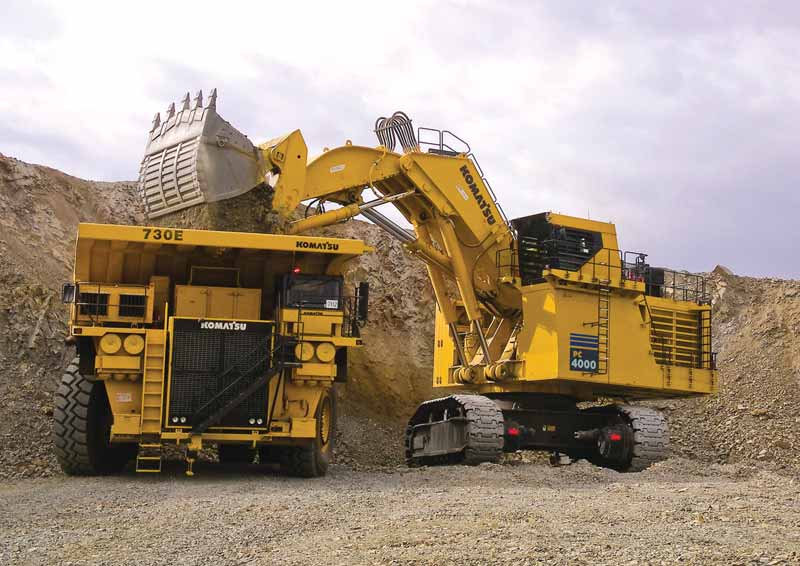 XX

Komatsu America says its new 730E (AC) mining truck with AC electric drive tech-nology builds on the success of its 730E DC drive model, but is designed to meet the demands of today's mining environ-ment as well as the challenges of the future. Because miners are moving to smaller ore bodies in more remote loca-tions, the new truck was built to be quickly deployed into difficult projects and then moved to the next opportunity as necessary. According to Komatsu, its bolt-together design makes field assem-bly and disassembly less complicated and reduces the need for skilled techni-cians in the site erection process. In addition, the 730E (AC) is designed with an easily removable powertrain module and has fewer hoses, bearings, pumps and wear components than similar com-peting trucks, further reducing the time needed for on-site maintenance.

The 730E (AC) is equipped with KOMTRAX Plus (formerly VHMS) technol-ogy, which sends machine operating information to a secure web site utilizing wireless technology. Without any addi-tional IT expense, data such as operating hours, component trends, machine uti-lization (including idle time and fuel con-sumption) and production information are relayed to the web application and made available on-line for analysis. In real time, the KOMTRAX Plus fleet mon-itoring system monitors machine avail-ability, allows for remote diagnosis of machine issues, and provides additional information to drive business efficiency. The new truck is slated for limited release in 2013, followed by full production in 2014.

Komatsu also announced the introduc-tion of its new PC4000 hydraulic excava-tor, with an operating weight of up to 879,800 lb (400,000 kg) and a bucket capacity of 29 yd 3(22 m3). The machine's standard Komatsu SDA16V160E-2 diesel engine has a rated power of 1,875 hp (1,400 kW), meets EPA Tier II emissions standards and features a time-saving oil management system as standard equip-ment. Electric drive models are also avail-able. Recommended for use with trucks ranging from 150- to 240-ton payload capacity, the excavator provides (backhoe) break-out force of 250,000 lb (1,155 kN) and (loading shovel) crowd force of 300,000 lb (1,330 kN). Its hydraulic cylinders are protected by the attachment's steel structure. A wide range of wear pack-ages and buckets are available to suit vari-ous densities and applications, and differ-ent track shoes can be ordered to meet specific ground condition requirements.
---
As featured in Womp 2012 Vol 12 - www.womp-int.com