Features

Underground Drilling: Best Practice, Better Tools
For both production and development drilling precision is crucial............read more

Vale Inco Tracks Ore with RFID Tags
Stobie mine monitors ore grade from the muck pile to the mill... read more

Sandvik's Cassette Concept Setup Can Solve Crusher Downtime Dilemma
Christian Ottergren, explains this novel but effective concept.......read more

Thickened Tailings Offer Effective Disposal Alternatives
As standard industry methods for tailings disposal receive......read more






To update your details or renew your current print subscription or to receive your own edition of the print version of E&MJ -

CLICK HERE

Galore Creek Places the Spotlight on Feasibility Studies - The lead news item for E&MJ this month covers the decision to suspend operations at Galore Creek based on escalating costs. Basically the owners, NovaGold and Teck Cominco, determined that capital costs would increase to C$5 billion or a 127% cost overrun. The study was completed during 2006, the decision was made to proceed, and less than two years later the joint venture partners were forced to pull the plug. The bad news for the mining business is that some suspect that this is the first of what could be a string of similar announcements. What makes this announcement so puzzling, especially to those that weathered more difficult periods for mining, is that this comes at a time when metal prices are at a zenith. But, so too are costs and then there's the added........ read more

Steve Fiscor, Editor in Chief

South African Platinum Supply Falls Short - Six months ago one of the world's major refiners of platinum, Johnson Matthey, predicted a global surplus of the metal for 2007 due to supply increases outstripping demand. The global surplus was set to increase further from a small 65,000 oz in 2006.
Now the organization, which tracks platinum group metal (PGM) markets closely, expects an overall platinum deficit of 265,000 oz this year. The reason is that, while demand has grown as anticipated, South Africa's PGM mines, which supply ......... read more
Teck Cominco, NovaGold Pull the Plug on Galore Creek - NovaGold Resources and Teck Cominco sent ripples of surprise—and concern— throughout the industry when they announced on November 26 that they were suspending construction activities at the Galore Creek copper-gold-silver project in northwestern British Columbia after a review indicated vastly higher capital costs and a longer construction schedule for the project.
These two factors, combined with reduced operating margins as a result of the stronger Canadian dollar, made the project—as currently conceived and permitted— uneconomical at current....... read more

Top
BioteQ Commissions Copper Recovery Plant in China - BioteQ Environmental Technologies has initiated commissioning of a new plant at the Dexing mine site in China, as part of a joint venture with Jiangxi Copper. The $4.2-million plant, according to the company, will recover copper, using BioteQ's proprietary ChemSulphide process, to produce a saleable metal product and clean water that can be discharged to the environment. The project partners share equally in the capital and operating costs, as well as the metals recovered .... read more
PotashCorp Continues Expansion at Rocanville - PotashCorp of Saskatchewan announced in November plans for a 2-million-mt mine and mill expansion at Rocanville, Saskatchewan, that will raise the company's total annual potash capacity to 15.7 million mt by the end of 2012, which is three years earlier than previously announced. By leveraging off the existing facilities and infrastructure at Rocanville, the company expects to complete the project in....read more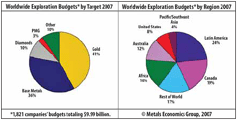 Exploration Spending Continues to Set Records - A recent report from Metals Economics Group (MEG) indicates that the nonferrous exploration budgets of 1,821 companies increased to $9.99 billion in 2007—the fifth consecutive yearly increase since the bottom of the cycle in 2002 and the highest total since the study series began in 1989. MEG estimates that the budgets of the companies covered by the study (using a $100,000 cutoff) account for more than 95% of worldwide commercially oriented nonferrous expenditures. When the remaining 5% is added, estimated spending for commercial nonferrous metals exploration reaches $10.5 billion...... read more

Top
Barrick to Acquire Arizona Star - Barrick Gold Corp. said it entered into a support agreement with Arizona Star Resource Corp. under which Barrick agreed to make an offer to acquire all of Arizona Star's common shares. At the time of the agreement, the offer price represented a 27% premium over Arizona Star's 20-day volume weighted average trading price on the TSX, and valued Arizona Star at approximately C$773 million on a fully diluted basis. The Barrick offer was unanimously approved by the board of directors of Arizona Star, and all of the directors and officers of the company reportedly have entered into a written ... read more
Freeport to Proceed with Climax Moly Mine Restart - Freeport-McMoRan Copper & Gold (FCX) plans to proceed with the restart of the Climax molybdenum mine near Leadville, Colorado. The initial $500-million project involves the restart of open-pit mining and the construction of new milling facilities. Annual production is expected to approximate 30 million lb of molybdenumbeginning in 2010 at estimated cash costs of $3.50/lb. The project, according to Freeport, is designed to enable the consideration of a further large scale expansion of the Climax mine. FCX will evaluate a second phase of the Climax project which could potent..... read more

Diavik Gets Funding Approval for Underground Mining Phase - Diavik Diamond Mines announced in late November that its co-owner, Rio Tinto, approved a $563-million investment in the underground mining phase of the Diavik mine. The additional funding, which brings the total investment to date in the underground mine to $787 million, will be funded by the two Diavik joint venture partners—Rio Tinto (60%) and Harry Winston Diamond Corp. (40%). Under the current life of mine plan, diamond production from underground would begin in 2009 and continue beyond 2020. Open-pit mining is expected to cease in 2012, at which time Diavik would become an all-underground.... read more

Top

Xstrata's Raglan Nickel Sees Growth in Resources - Xstrata Nickel reported that exploration results at its Raglan operation in northern Quebec have confirmed Zone 5-8 as the largest mineralized zone in Raglan's history, adding an estimated 4.5 million mt of inferred resources in 2007, up from the 2 million mt of resources previously announced. In August, Xstrata Nickel announced plans to increase mine production at Raglan to over 2 million mt/y of ore. Work is currently under way to increase production to 1.3 million mt/y by .... read more

Anglo American Taps Bechtel for Los Bronces Expansion - Bechtel Corp. announced on December 7 that it has been awarded an engineering, procurement and construction contract to execute Anglo American's Los Bronces development project. Work on the $1.7 billion project started immediately following the announcement, according to Bechtel, and the project is scheduled to be completed in December 2010 with production commencing in January 2011. The project is expected to result in a mine life of more than 30 years …… read more

Goldcorp Boosts Peñasquito Project Capacity - Goldcorp in early December provided details of a plan to expand mill throughput by 30% at its Peñasquito project in Mexico to 130,000 mt/d ore and to accelerate the project production schedule. This expansion follows a 48% increase in proven and probable reserves announced in June, 2007. The revised plan for the project also calls for an increase in estimated capital cost completion to $1.49 billion, up significantly…. read more

Top

Cardero Advances Peru Iron Projects - Cardero Resource Corp. recently issued an update of activity on its key iron ore projects located in the Marcona iron district of Peru. Vancouver, Canada-based Cardero said that advanced engineering/prefeasibility- level studies had been initiated at the Pampa El Toro iron sands and scoping level studies were being planned for the Pampa de Pongo iron deposit.
Cardero Iron Ore Co., Cardero's iron ore subsidiary has purchased a magnetic separation pilot plant from Eriez Magnetics which will be installed…. read more


Jubilee Agrees to Xstrata Takeover - Xstrata plc and Australian nickel miner Jubilee Mines NL announced a bidding agreement intended to provide an all-cash offer by Ithaki Australia Pty Ltd., a whollyowned subsidiary of Xstrata plc, to acquire all of the issued and outstanding shares of Jubilee through an off-market takeover offer. The offer is for A$23/share, valuing Jubilee at approximately A$3.1 billion (US$2.9 billion). It will be financed through Xstrata's existing credit facilities and cash on hand. "This is a great offer…. read more


Braemore Completes Nickel Testwork - Braemore Resources said it has successfully completed a program of testwork at Outotec's research facilities in Pori, Finland, for the extraction of nickel from the BHP Leinster tailings dams in Western Australia. According to the company, the continuous pilot plant hydrometallurgical testwork allowed the optimization of process parameters and demonstrated the first production of nickel sulphate solutions as well as sulphate solutions of by-product base metals, copper, cobalt and zinc. The program also allowed for the first production of high purity nickel metal through electrowinning…. read more

Top

Centerra Gets License to Mine Satellite Deposit at Kumtor - Centerra Gold's Kumtor mine, located in the Kyrgyz Republic, has received a mining license for its nearby Sarytor deposit, according to a recent announcement by the Toronto, Canada-based company. The Sarytor deposit is approximately 4.5 km southwest of the Kumtor mill and has about 300,000 contained oz of gold in probable reserves which are included in Kumtor's total 4.7 million contained oz of proven and probable reserves…. read more


Philex to Partner with Freeport Subsidiary - The entry of one of the world's largest copper producers, Freeport McMoRan Copper & Gold, into Philex Mining's Sibutad project is expected to lead to the exploration of a potentially huge copper resource in Zamboanga del Norte, Philippines. Philex announced early this month that it signed an agreement with PDEPI (Phelps Dodge Exploration Philippines. Inc.), an indirect 40% owned subsidiary of Freeport.
Apart from restoring a pilot gold operation of Philex at Sibutad, Freeport McMoRan—more well known for its copper operations—is reportedly also interested.…. read more



Nevsun, Eritrea Reach Development Agreement on Bisha Project - Nevsun Resources announced in mid-December that its Eritrean venture company, Bisha Share Mining Co., concluded a mining agreement with the government of Eritrea which reportedly covers the customary provisions governing future development and operation of the Bisha goldcopper- zinc project. Nevsun also said that BMSC has applied for a mining license that the government advised would be issued soon…. read more


Petra Acquires Cullinan Diamond Mine - Petra Diamonds Ltd. has entered into an agreement with De Beers Consolidated Mines to acquire the Cullinan diamond mine in South Africa, an operation that has yielded many of the world's most spectacular diamonds.
The Cullinan kimberlite pipe located east of Pretoria was discovered in 1903 and has been mined for many years as a block cave mine. De Beers is of the opinion that it is the second largest indicated diamond resource in the world by in-situ value (estimated by De Beers at 193.1 million carats)…… read more

Top
ArcelorMittal Announces Greenfield Progress - ArcelorMittal recently announced that it has been allocated steam coal blocks for the first phase of its Indian Greenfield projects in Jharkhand and Orissa. ArcelorMittal plans to build integrated steel plants in Jharkhand and Orissa each with a total annual capacity of 12 million metric tons (mt) at a combined investment of approximately US$20 billion. The projects would be developed in two phases of 6 million mt each…. read more

Miners Killed in Ukraine Mine Explosion - A methane blast ripped through a coal mine in eastern Ukraine on November 18, killing at least 63 miners in the ex- Soviet nation's worst mining accident in years, the Associated Press reported. More than 360 miners were rescued but 37 others remained trapped inside the mine—one of Ukraine's largest and deepest—with a raging fire hampering efforts to save them. The explosion occurred around 3 a.m. more than 3,300 feet deep inside the Zasyadko mine in the regional capital Donetsk. Authorities evacuated 367 miners and 28 were hospitalized. The accident…... read more

Top

NWR Announces Investment Program - New World Resources N.V. (NWR) has announced plans for a major capital investment program of approximately €300 million at its wholly-owned subsidiary OKD a.s., the Czech Republic's largest hard coal mining company. The capital investment program involves the acquisition of 10 new longwall mining systems and 12 new sets of gateroad development equipment for OKD's mining operations and is expected to be purchased and rolled out in phases over the coming 24 months.…... read more


Hillsborough Provides Quinsam Mine Update - Hillsborough Resources Ltd. Recently provided an update on thermal coal production at its wholly-owned Quinsam mine. The full year of production to end December 31, 2007, is now forecast to be 715,000 metric tons (mt) run-ofmine yielding 472,000 mt of clean product, all of which is committed to customers. For 2008, Hillsborough is budgeting production of 630,000 clean product mt from the current.…... read more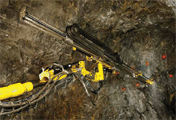 Underground Drilling: Best Practice, Better Tools
For both production and development drilling precision is crucial for blasting and drill string cost control is essential for good economy

Getting the blast right is the starting point for a successful mining operation, which means the blastholes must be drilled as accurately as possible. Operating cost considerations dictate that this process should also be cost effective. For years now the major drilling equipment manufacturers have been engineering rigs, drills and drill tool systems that can achieve these objectives in a wide range of applications. Leading companies have also studied the best practices that will deliver the best results from this equipment. Here we outline……. read more


Vale Inco Tracks Ore with RFID Tags
Stobie mine monitors ore grade from the muck pile to the mill By Steve Fiscor, Editor-in-Chief

Tracking ore from the face, through the mine's haulage network, and to the concentrator, is a complex task. Large sublevel caving operations sometimes store months of production in ore passes. As the muck is removed from the draw point, it's merged with muck from other sources, making the chore of marking the ore even more difficult. Traditionally, a geologist visits the sublevel drift prior to the blast and determines the amount of dilution in the ore. A set of ore grade slips are filed and recorded into an ore modeling system and the mine has a rough idea of what it has stored where and what's moving through the main haulage. This...... read more

Top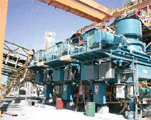 Sandvik's Cassette Concept Setup Can Solve Crusher Downtime Dilemma
Christian Ottergren, VP-Crushing & Screening, explains this novel but effective concept to E&MJ's Kyran Casteel

Formulating an effective crusher maintenance program can be challenging, particularly when such a program has to address the issues of downtime in operations that typically work on a 24/7 basis and access to a machine in a continuously working environment. One very interesting approach to this challenge is Sandvik's "cassette crusher" system. Developed in the late 1990s, the concept comprises installation of a fully operable crusher with new wear parts that is mounted so that it can be swung into the space previously occupied by an identical machine which can then be serviced and have new wear and other parts replaced as required. Furthermore…... read more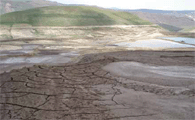 Thickened Tailings Offer Effective Disposal Alternatives
As standard industry methods for tailings disposal receive mounting economic and social scrutiny, paste may become an increasingly attractive option
By Frank Palkovits

If you're feeling squeezed by environmental and social pressures to find better ways to deal with tailings and waste rock, you're not alone. Consider: • Today, it is difficult if not impossible to get permission to use a lake or wetland for tailings disposal. Even if it is permitted, there usually must be compensation. Marine disposal is rarely even considered, because of international opposition..... read more

Top

Outotec Expands Australian Service Center - Minerals processing technology specialist Outotec announced that it is further expanding its Australian service center, which is one of an integrated network of more than 10 similar Outotec centers. The Australian center is focused on key areas such as process audits and optimization, preventative maintenance, upgrades, spare parts management and training…. read more

TK Fördertechnik Jaw Gyratory Crushers Gain Ground - The ThyssenKrupp Fördertechnik crushing team at Ennigerloh, Germany, reports increasing recognition of the benefits of its unique jaw gyratory crushers. One of the firm's first metal mine customers, North Parkes in Australia, which installed its first unit in 2003, is adding a new crushing station approximately 550 m below the surface. The BK63-75 crusher is designed to run at an average capacity of 900 mt/h copper ore to provide a final product size of .…… read more

Metso Continues Profitable Growth Trend -Overall, Metso Corp. recorded improved third quarter results in 2007, as compared with July–September 2006. Net sales increased by 24% and totaled €1,452 million (€1,169 million in Q3/06). Organic growth was good in all business areas but strongest in Metso Minerals, which contributed 42% of net sales. Total earnings before interest, tax and amortization (EBITA) were €157.3 million or 10.8% of net sales. However, Metso Minerals' EBITA margin decreased…. read more

Top

New Wheel Dozer is Largest in Product Line - Caterpillar says its new 854K wheel dozer—which replaces the 854G and is the largest of its type in the product lineup— incorporates innovations to lower engine emissions and boost fuel efficiency, improve reliability and serviceability, and optimize operator efficiency and comfort. The 854K retains many G series features, including the impeller clutch torque converter for superior operator control and optimum power to the ground, lockup clutch for direct drive efficiency, and STIC control system for reduced steering and transmission control effort. Operating weight is .…… read more

Conveyor Return Idler Guard Improves Worker Safety - ASGCO's lightweight SAFE-GUARD return idler guard is designed to prevent injuries from conveyor-related pinch points and to catch the return idler if it should fall. The original SAFE-GUARD line, which works with CEMA B, C, and D series idlers up to 7-in. diameter, was recently expanded to include CEMA E and F return rollers. The transverse support of the new heavy-duty SAFE-GUARD is angled to provide a more robust design that prevents bending and is sized to fit over CEMA E and F return roller brackets. Both the mounting brackets…. read more

Cutting the Cost of Drying Compressed Air - Sullair's new SRC cycling air dryer is designed to reduce the cost of drying compressed air. The SRC dryer is furnished in 10 models, ranging from 150 to 1,000 scfm. Standard on SRC-250 to SRC-1000 models, Sullair utilizes a reliable and energy-saving scroll compressor. Other standard features on dryer models SRC- 400 to SRC-1000 include a unique zero-loss drain integrated into the heat exchanger to collect condensate. The SRC-150 through SRC-200 cycling air dryers are equipped with simple analog…. read more

Mine Planning Software for Stratified Minerals - Gemcom Software International Inc. has released Minex 5.2, a software package that supports the geology and mine planning needs of mining companies working stratified deposits. Underground and openpit mining operations use Minex to support surveying, mine planning and scheduling. The system integrates key functions like borehole data management, geological modeling, mine planning and design, allowing its users to make fast, effective…. read more

Top

Commodity Supply Chain Management - Pit to Port.net Version 4.3.0 is the latest release of a software-based management information system for companies operating export and/or domestic bulk materials supply chains. The system, according to developer QMASTOR, allows management to plan, record, track, optimize, account, reconcile and report the tonnage, quality and value of bulk materials across the supply chain. Pit to Port synchronizes the operations, logistics, marketing and commercial functions providing a clear and transparent view of supply chain operations. Developed to be commodity.….read more

Weba Chutes Save in Western Australia- Rio Tinto's Paraburdoo mine extension project in Western Australia has reported significant savings in maintenance and operating costs following installation of two transfer points by South African company Weba Chute Systems. Productivity at the mine has risen sufficiently that Weba Chute Systems is negotiating forfuture deliveries that could ultimately replace all the transfer points. The two main transfer points already replaced handle up to 300-mm material on the incoming…. read more
JANUARY 17-20, 2008: IME 2008 Exhibition and 2nd Asian Mining Congress, Kolkata, India. Contact: The Mining, Geological & Metallurgical Institute of India; Tel: 91(33) 23573482; Fax: 91(33) 22435653; E-mail: mgmi@cal2.vsnl.net.in; Web: www.indianmining.com

FEBRUARY 5-6, 2008: Conference on Minerals Engineering, Luleå Technical University, Luleå, Sweden. Contact: Bertil Pålsson, Mineral Processing Division, LTU; Tel: 46 920 491314 Fax: 46 920 97364; E-mail: Bertil.Palsson@ltu.se

MAY 14-15, 2008: The Canadian Mining & Industrial Expo 2008, Sudbury, Ontario. Contact: Darren Ceccarelli; Tel: 705-929-7469; Fax: 705-525-0626; E-mail: dac@vianet.ca; Web: www.dacshows.com

JUNE 9–11, 2008: MASSMIN 2008–5th International Conference & Exhibition on Mass Mining, Luleå Technical University, Luleå, Sweden. Contact: Prof. E Nordlund; E-mail: info@massmin2008.com; Web: www.massmin2008.com

JULY 22-24, 2008: Queensland Mining & Engineering Exhibition 2008, Mackay, Queensland. Contact: Reed Exhibitions; Tel: 02 9422 2955; Fax: 02 9993 8342; Web: www.qme.reedexhibitions.com.au

SEPTEMBER 22-24, 2008: MINExpo 2008, Las Vegas, Nevada, USA Contact: Hall Erickson; Tel: 800-752-6312; Fax: 630-434-1216; E-mail: minexpo@heiexpo.com; Web: minexpo.com

For a full calendar of mining industry conferences and events - click here

Rio Tinto plc and Rio Tinto Ltd. announced that, following the acquisition of Alcan Inc., Yves Fortier, currently chairman of the board of Alcan, and Paul Tellier, currently a non-executive director of Alcan, have been named non-executive directors.

James R. Daley recently joined Skelly and Loy, Inc. as the vice president and manager of the firm's Monroeville, Pa., office. He will also serve as federal government market coordinator..

Top

Rolf J. Persson has been appointed managing director of Alimak Hek. He replaces Nils-Erik Häggström, who has been named group business area manager-industrial.

Resources Inc. has appointed Jim Mustard president. Peeyush Varshney has resigned as president but will remain chairman and CEO.

Scott Ellis has been named director of capital projects permitting at ENSR.

The Mining Association of British Columbia named Ronald Caldwell the 2007 recipient of the British Columbia Lieutenant Governor's Award for Public Safety.

Black & Veatch has named Ed Walsh executive vice president and director of business lines for its global energy business.

Chris Gause has been promoted to UGC sales manager for the Admixture Systems business line of BASF Construction Chemicals, LLC. The company also announced that Mike Rispin has been appointed global head of mining for UGC International.
About - providing an abreviated version of the current print edition of E&MJ, WOMP is distributed throughout the world to decision makers in the global mining industry, the last week of every month.

Subscribe to E&MJ - To receive your own copy of the print edition of E&MJ, click here , and complete your details. E&MJ is available free of charge to qualified readers.

Contact - if you have views, opinons or comments or editoral that you would like to submit, we would be delighted to hear from you - click here

Top