To update your details or renew your current print subscription or to receive your own edition of the print version of E&MJ -

CLICK HERE

Mining Growth Accelerates in China and Miners Cheer - Working in the mining industry, or any industry for that matter, during high times can be exciting. Everyone has to work as hard—if not harder—than they do during lean times, but the positive nature of the business makes the additional workload seem a little more rewarding, especially for engineers who enjoy building new long-term projects. Naturally, when any group of mining professionals gather, the conversation inevitably turns to the question: How long will this bull market last? No one knows the answer, but right now China holds most of the cards.
Last month, the Shanghai Composite Index slipped for the second time this year and rattled markets worldwide. On April 19th, the index dipped 4.5%, which was not nearly as great as the 8.8% on Feb. 27th. The market reacted to an announcement from China's statistic's bureau saying ........ read more

Steve Fiscor, Editor in Chief

Alcoa Extends R&D to Russia, India, and China - Alcoa announced in late February 2007 that it is establishing an Innovation Center of Excellence with leading universities in Russia to work on research and development projects focused on innovative mining, refining, and smelting technologies. The Center of Excellence will have facilities at Moscow State University in Moscow, St. Petersburg State Mining Institute in St. Petersburg, and Ural Polytechnic University in Ekaterinburg. The initiative....... read more

BHP Billiton Inaugurates Spence Copper Operations - BHP Billiton CEO Chip Goodyear officially opened the company's new Spence copper mine in the Antofagasta region of northern Chile on March 25, 2007. The $1-billion, open-pit, solvent extraction/ electrowinning (SX/EW) project is scheduled to reach its design capacity of 200,000 mt/y of copper cathodes during the third quarter of 2007. Spence is the first large-scale, Greenfield mining project to be developed in Chile in six years and the first large SXEW project constructed globally since 2000. The project delivered its first ore to the crushers....... read more

Top

Lundin on Acquisition Trail - Over the course of a week in early April 2007, Lundin Mining announced agreements for separate, friendly acquisitions of Rio Narcea Gold Mines and Tenke Mining. On April 4, Lundin and Rio Narcea announced an agreement whereby Lundin will purchase, for cash, all outstanding Rio Narcea shares and warrants for C$5 per share and $1.04 per warrant. The offer values Rio Narcea at about.... read more

Hecla Completes Hollister Project Sale to Great Basin Gold - Hecla Mining Co. subsidiary, Hecla Limited, announced in April the completion of sale of Hecla's interest in the Hollister Development Block gold exploration project in Nevada, USA, to its former partner in the project, Great Basin Gold, for $60 million including $45 million in cash and $15 million of Great Basin Gold common stock. The number of shares of Great Basin Gold stock transferred to Hecla was 7,930,214, which carried a value of $18.6 million as of the close of market on April 18, 2007. Hecla had spent approximately $30 million over the past two years developing the underground ramp....read more

Uranium One Buying Shootaring Canyon Mill - sxr Uranium One, during late February 2007, entered into a definitive agreement with U.S. Energy Corp. and its affiliate, Crested Corp., to purchase the Shootaring Canyon uranium mill in Utah, as well as nearly 39,000 acres of uranium exploration properties in the western United States. Consideration for the purchase is approximately 6.6 million Uranium One common shares plus $750,000 in cash. In addition, Uranium One will pay U.S. Energy $20 million upon the Shootaring Canyon mill reaching commercial production ...... read more

Top

Crescent Pours Gold at Laverton - Crescent Gold joined the ranks of Australia's gold producers in mid-March 2007 when it poured the first gold at its Laverton gold project in Western Australia. Initial production at the open-pit, heap leach project was from processing of low-grade material. The 1.5-million-mt/y-mill was scheduled to be fully on line in April. Expected annual production is targeted at 90,000 oz/y. The Laverton project is located 250 km northeast of Kalgoorlie and 8 km east of Laverton. The site was previously mined by Sons of Gwalia until 1998 and is located close to several.... read more
Proposed Ontario Diamond Royalty Draws Fire - Ontario's provincial budget released on March 23, 2007, included imposition of a royalty of up to 13% on diamond production in the province. De Beers Canada's developing Victor mine will be the province's first diamond mine. The mine, which is expected to generate annual revenues of between C$280 million and C$290 million, was built on economic assumptions that included taxes of 5%. First production is scheduled for the first half of 2008. The royalty prompted strongly worded objections from De Beers and from the Attawapiskat First Nation. De Beers issued a statement, saying, "The diamond royalty as proposed.... read more

Nevada'Reno Teams Prevail at Collegiate Mining Contests - Teams from the University of Nevada–Reno's Mackay School of Earth Sciences and Engineering won world and national titles at two prestigious student competitions recently. On March 24, Mackay's mining team won the world championship at the 29th International Collegiate Mining Competition. The event was held in Tucson....read more

Top

Quadra Mining Bids for Greenland Moly Deposit - Quadra Mining, which owns and operates the Robinson copper-gold mine in Nevada, USA, has made an all-share offer valued at about $34.5 million for International Molybdenum Plc (Inter- Moly), a Canadian junior company that owns the Malmbjerg molybdenum project in eastern Greenland. The Malmjberg deposit has an NI 43-101-compliant resource of 212 million mt, grading 0.12% molybdenum. InterMoly studies to date contemplate development of a 25,000-mt/d, yearround, open-pit mining operation....read more

Coeur Targets Year-End Start for San Bartolomé - Coeur d'Alene Mines reported in mid-April 2007 that its San Bartolomé silver project in the Potosí district of Bolivia remains on schedule for completion before year end 2007. Regarding rumblings related to the Bolivian government's desire to obtain greater benefits from mining operations in the country, Coeur said it has discussed issues related to the project with government officials and received repeated expressions of support from them. "The government has expressed a desire to increase taxes in the mining sector……read more

Guanacevi Eyes Doubling of Silver Production in 2007 - Endeavour Silver Corp., based in Vancouver, British Columbia, is forecasting a near doubling of silver production at its Guanacevi operations in Durango, Mexico, from 1.48 million oz silver equivalent in 2006 to 2.80 million oz in 2007. Production during 2006 included 1.35 million oz of silver and 2,493 oz of gold; for 2007, production is expected to total 2.57 million oz of silver and 4,720 oz of…. read more

Top

Chinese Consortium Gains Control of Monterrico Metals - Three Chinese companies led by Zijin Mining reported on April 11, 2007, that they acquired 50.17% of London-listed Monterrico Metals as the result of a share offer initially launched on Feb. 5, 2007. Monterrico's key asset is its Rio Blanco open-pit copper-molybdenum project in northern Peru near the Peru/Ecuador border (E&MJ, July-Aug. 2006, p. 16). The offer valued Monterrico at £94.6 million. The consortium initially set a minimum acceptance condition of…. read more



BHP Billiton Again Expanding Its Australian Iron Ore Production - Following board approval in late March 2007, BHP Billiton is proceeding with development of Rapid Growth Project 4 (RGP4) at its Western Australian iron ore operations. The project includes development of a new crushing and screening plant and construction and upgrades of stockyards, car dumping, train loading, and port facilities. BHP Billiton's share of capital expenditures budgeted for the project is $1.85 billion. When complete…. read more


Barrick Increases Porgera Stake -Barrick Gold announced in mid-April that it entered into a definitive purchase and sale agreement with Emperor Mines regarding Emperor's 20% interest in the Porgera gold mine in Papua New Guinea. Upon completion of the transaction, Barrick's interest in Porgera would increase from 75% to 95%. Total consideration for the transaction was $250 million in cash plus an adjustment amount. Barrick was to be entitled to…. read more

Top

Ivanhoe and Mongolian Government Reach Initial Agreement on Oyu Tolgoi - Ivanhoe Mines reported on April 10, 2007, that it and its partner, Rio Tinto, had reached an agreement in principle with a Mongolian government working group on a draft investment agreement for the development of the Oyu Tolgoi copper-gold project in Mongolia's South Gobi region. The agreement remained subject to settlement of definitive documentation and to review and approval by the cabinet of the Mongolian government and by …. read more


Kyrgyz Government and Centerra Tussle Over Kumtor Operating Pact - Centerra Gold reported on March 26, 2007, that the parliament of the Kyrgyz Republic had voted to accept a draft bill for further deliberation with respect to Centerra's 100%-owned Kumtor gold mine and other mineral deposits. The bill challenged the legal validity of existing Kumtor agreements, proposed recovery of additional …. read more



DRC Reviewing Mining Licenses - The government of Democratic Republic of the Congo (DRC) in late March announced that it would review all existing mining licenses and that no new licenses would be issued until the review is complete. The government offered assurances that its objective is to ensure that companies are complying with the conditions of their licenses and that the licenses are fair to the state. If that proved not to be the case, licenses would be renegotiated; however, the government said, it did not intend to…. read more


Golden Star Pours BIOX Gold at New Bogoso Sulphide Plant - In late March 2007, Golden Star Resources poured the first gold from the BIOX section of its new Bogoso sulphide processing plant in Ghana. The first pour totaled 228 oz. Golden Star President and CEO Peter Bradford commented, "While we have previously had gold production from the new processing plant, that production derived from the processing of oxide ore during the testing of the crushing, grinding, and carbon-in-leach (CIL) sections. The gold production announced today reflects the first gold poured…… read more

Top
Elk Valley Realizes Lower Prices- Teck Cominco Ltd. announced that Elk Valley Coal has completed negotiations for approximately 90% of its anticipated coal sales for the 2007 coal year commencing April 1, 2007. If the remainder of the contracts are settled on similar terms, the average contracted coal price for the 2007 coal year is forecast to be approximately US$91 per ton, down from US$107 in 2006. The weighted average price of 2007 calendar year coal sales is expected to be approximately US$96/ton, down from US$113 in 2006…. read more

China to Produce Liquid Fuel from Coal- China's first coal liquefaction project, which will go into operation in 2008, will be able to produce more than 1 million metric tons (mt) of oil a year, significantly reducing the country's dependence on oil imports. Shenhua Group Corp. Ltd. launched the coal liquefaction project in 2004 in Erdos, a city in the Inner Mongolia Autonomous Region. Shenhua will invest 24.5 billion yuan (US$3.2 billion) to build three production lines in the first phase of the project. The first line, currently under construction, will enter trial production…... read more

Top

Indonesian Coal Production Set to Reach 212 million mt - Coal production in Indonesia is projected to reach 212 million metric tons (mt) this year, increasing by 19 million mt from 2006. Most of the output will go to the export market, estimated at 158.5 million mt against last year's 148 million mt. Domestic coal uses were dominated by power plants, which consumed an estimate of 32.8 million mt of coal. PT Kaltim Prima Coal is the country's largest producer, with production topping…... read more


India's Tata Power Invests in Indonesian Coal Mines - India's Tata Power said it is buying 30% stakes in two Indonesian coal producers for $1.1 billion, giving it access to one of the world's largest exporting thermal coal mines, the Associated Press reported. Tata Power, part of India's sprawling Tata Group conglomerate, has signed agreements to purchase 30% equity stakes in PT Kaltim Prima Coal (KPC) and PT Arutmin Indonesia (Arutmin) as well as in a related trading company owned by PT Bumi Resources Tbk (Bumi). Tata Power will pay…... read more

Utility Gear Keeps Mine Wheels Turning
Without the myriad types of mobile, transportable, wheeled, tracked or skid-mounted utility gear found throughout mines worldwide....

By Russell A. Carter, Managing Editor

Primary loading and haulage equipment— the shovels, wheel loaders, LHDs and trucks that comprise the heavyweight segment of the mine fleet—generally get the most trade press attention due to their sheer size, power and fundamental importance in the production chain. However, utility equipment performs an equally important but less exciting role throughout the industry. Without the myriad types of mobile……. read more


Water Recovery with Ultraseps Technology

To whom do you turn for technology if you want to recover water from feed containing a high proportion of ultrafine material, specifically the tailings from spirals plants?

For two Brazilian iron ore producers the choice was Netherlands-headquartered Bateman Engineering. Both AVG Mineração, which is based in Belo Horizonte and produces lump ore and sinter feed, and V&M Mineração, whose Pau Branco mine is located in Brumadinho, Minas Gerais, use spirals plants that output tailings feed at rates between 90–95 mt/h. First, representatives of the two companies were shown Bateman-Ultrasep thickening technology in South Africa and visited operating installations. Following studies of process data and test work with client samples at Bateman Engineering's Johannesburg laboratories, the solution offered to each of the Brazilian operators was the use of a 10-m-diameter Bateman-Ultrasep thickener, one of the larger sizes in a range covering 0.5- to 12-m diameter. Bateman says this...... read more

Top

LKAB Stays with Water Power for Production Drilling
…….long-term mine planning, extensive mechanization, cost-effective automation and, uniquely, automated production drilling rigs equipped with water-powered DTH drills......


In the quest for cost-effective production at its Kiruna and Malmberget underground mines in Polar Sweden, LKAB has focused on high-quality iron ore products, long-term mine planning, extensive mechanization, cost-effective automation and, uniquely, automated production drilling rigs equipped with water-powered DTH drills. In terms of drilling technology, the latest stage in this process is a development agreement with Sandvik covering a new rig design…. read more


ToughMet Load Roller Bushings Extend Maintenance Cycles on a Large Electric Shovel

Extending maintenance cycles and maximizing productivity are consistent goals of mining equipment engineers and planners

By David Krus, Steve Geertson and Steve Metzger

Extending maintenance cycles and maximizing productivity are consistent goals of mining equipment engineers and planners. Every mine would like to have equipment components that never wear out. Component suppliers and equipment users alike understand that infinite life is impossible to achieve, but that does not stop users from challenging suppliers to find solutions that will last "forever." Striving to find the holy grail, the part that virtually does not wear out, is one way for suppliers to win the business of maintenance-conscious mines. One such mine, near Seattle, Washington, USA, was attempting to maximize the efficiency of two P&H 4100XPB shovels. The mine valued productivity and took an "overall value" approach to maintenance..... read more

Top


Software Modeling Cuts SAG Energy Consumption at Cortez Gold

Ore size reduction in mining operations is a significant contributor to energy consumption

By AbdulMajeed Aziz and Mike Mosser

Ore size reduction in mining operations is a significant contributor to energy consumption and mineral production costs. In fact, more than 50% of the total energy consumed in production of copper, gold and other mined commodities is spent on size reduction, and this energy intensity is exacerbated as plants process higher tonnage of ores of lower head grade. Semi-autogenous grinding (SAG) mills account for a large portion of the overall grinding energy input in mineral processing. Operation of existing SAG mills can be improved by conducting a plant sampling campaign using a flowsheet..... read more

Tefsa Unveils New Filter Press System
Tefsa, an international designer and manufacturer of industrial dewatering and filtration equipment, recently introduced its new High-Yield FPO filter press line

Tefsa, an international designer and manufacturer of industrial dewatering and filtration equipment, recently introduced its new High-Yield FPO filter press line to the North American mining market. A combination overhead and sidebar unit, the PFO uses the advantages of both configurations with plates hung overhead and hydraulic side pulling cylinders on all four corners to deliver the highest possible yields and..... read more

Top

Mid-Range Dozers from Komatsu- Komatsu America's two new mid-sized dozers— the D61EX-15 (standard ground pressure) and D61PX-15 (low ground pressure)— are powered by U.S. EPA Tier 3 certified, 168-fhp Komatsu SAA6D107E-1 diesels with air-to-air after cooling. A power angle tilt blade offers a capacity of 4.5 yd3 for the D61EX-15 and 5 yd3 for the D61PX-15. The Komatsu torqflow transmission automatically…. read more

Atlas Copco's Hydraulic Breaker Care Service Offers Scheduled Maintenance, Extended Warranty- Atlas Copco Construction Tools has launched ProCare, a new customer service concept that the company says provides a consistent maintenance schedule for its hydraulic breaker attachments. ProCare includes a 3-year service contract and extended warranty program that is now being offered to customers who purchase new MB and HB series Atlas Copco breakers. Specifically tailored for the hydraulic breaker industry…. read more

Heavy-Duty Heater- Ground Heaters' Arctic Bear XHD indirect fired heater provides heat output of 430,000 to 770,000 Btu/h, varying with outdoor ambient air temperature (colder outdoor air temperatures are countered by higher Btu outputs to keep the outlet temperature a thermostatically controlled constant 210°F). The unit's maximum temperature rise of…… read more

Replacement Brake System for Mining Vehicles - A new wheel-end brake from MICO, designed for installation on vehicles used for underground and surface mining applications, is claimed to provide a significant alternative to standard OEM brake systems that may wear and corrode in severe operating conditions…. read more

Top

Medium-Duty Belt Pre-cleaner- A new addition to the Mineline conveyor product family from Flexco, the MMP medium-duty precleaner for underground and surface conveyor applications is claimed to provide consistent cleaning performance, long operating life and low maintenance in tough abrasive applications. The Mineline MMP pre-cleaner feature…. read more

GeoSoft Forms Global Solutions Group - Geosoft has established a Global Solutions Group that it says will specialize in helping mining and exploration companies ensure the reliability, availability and security of enterprise resources including exploration data assets and information technology. Tim Dobush, Geosoft's CEO, said, "In recent years, we have extended our technology and service offerings to address growing customer demand…. read more

Industrial Touch-Screen Display- MGR Industries' ET41150 sealed industrial terminal with 10.4-in. touch screen is designed for use in harsh environments. The ET41150 is claimed to be impervious to dust, airborne particulates and liquids; its face is sealed to IP65. The touch screen can be used with or without a glove and offers the latest in projective through-glass touch screen technology. The ET41150 was designed…. read more

Top

Flame-Retardant Air Ducting- Flexible hose and ducting from Hi-Tech Duravent are flame-retardant to UL94V-0 and are UL recognized products for safety critical air handling applications such as ventilation, filtering, and fume evacuation. The supplier's 2PN and TD-S/TD-HS flexible hoses are claimed to be ideal for confined spaces, bag houses, solvent recovery systems and similar applications….read more

Welding Fume Extractor for Confined Spaces- Lincoln Electric's Miniflex is a portable, high-vacuum, low-volume system specifically designed for the removal and filtration of welding fumes in confined spaces and other locations that are not accessible with bulkier fume extractors. With a standard wheel set and…. read more
JUNE 5-7, 2007: Longwall USA, Pittsburgh, Pennsylvania, USA Contact: Mining Media; Tel: 303-283-0640; Fax: 303-283-0641; Web: http://www.mining-media.com

JUNE 5-8, 2007: 14th International Trade Fair for Mining Technology, Exploration, Discontinuous Mining, Continuous Open-Cast Mining & Preparation, Novokuznetsk, Russia. Contact: Messe Düsseldorf North America; Tel: 312-781- 5180; Fax: 312-781-5188; E-mail: info@mdna.com ; Web: http://www.mdna.com

JUNE 6-8, 2007: Computer Simulation and Animation for the Mining Industry, Montreal, Quebec, Canada.Contact: Chantal Murphy; Tel: 514-939-2710; Fax: 514-939-2714; E-mail: cmurphy@cim.org; Web: http://www.cim.org

Top

For a full calendar of mining industry conferences and events - click here

Norilsk Nickel announced that Denis Morozov has been named chief executive.

El Capitan Precious Metals, Inc. announced that Kenneth P. Pavlich will succeed Chuck Mottley as president and CEO. Mottley will remain chairman of the board of directors.

Top

Cleveland - Cliffs Inc. announced the appointment of William Brake as chief technical officer and executive VP, Cliffs Metallics.

Fronteer Development Group announced that Chris Lee has joined the company as chief geoscientist. The company also announced that Ian Cunningham Dunlop has been appointed VP, Exploration. He will replace Dr. Rick Valenta.

Fluor Corp. promoted Steve Dobbs to senior group president and Dwayne Wilson to group president. Rick Koumouris has been named senior VP and general manager of the Mining and Metals business line.

Leica Geosystems appointed Kevin Greenwood VP Mining Systems Americas.

Muzi Ngcobo joined Mintek as manager, Human Resources.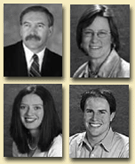 E3 Consulting recently announced the appointments of Frank Kirby as executive director; Vanessa Cameron as senior director of Regulatory Affairs; Ginger Grubbs as a consultant; and Andy Hixson as a consultant.
About - providing an abreviated version of the current print edition of E&MJ, WOMP is distributed throughout the world to decision makers in the global mining industry, the last week of every month.

Subscribe to E&MJ - To receive your own copy of the print edition of E&MJ, click here , and complete your details. E&MJ is available free of charge to qualified readers.

Contact - if you have views, opinons or comments or editoral that you would like to submit, we would be delighted to hear from you - click here.

Top