The latest from the
World Mining Equipment
Video Library
View



Debate Highlights ESG Complexitie

The Society for Mining, Metallurgy and Exploration (SME) held its annual conference in Denver during late February, and nearly 6,500 people attended the event. The conference opened with a keynote session and the discussion this year revolved around environmental, social and governance (ESG) policies. A panel was assembled to discuss: Embracing ESG to Build Trust in Mining Investments. The panel included Ryan Bond, head of climate and sustainability insurance initiatives for Marsh and Aidan Davy, COO, International Council on Mining and Metals (ICMM). The moderators asked the panelists a series of prepared questions. The first question: Contrary to published data that ESG factors continue to accelerate among investors, insurance carriers, private equity, other lenders, there has been a recent rise in anti-ESG rhetoric and the politicization of ESG investing. In your opinion, what might be driving this .... read more


Steve Fiscor, Publisher & Editor in Chief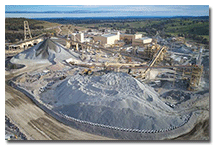 Newcrest Rejects Newmont's Initial Bid
Newcrest Mining Ltd. board said it had considered Newmont Corp.'s proposal to acquire the company and it has decided unanimously to reject the offer. However, the Newcrest board left the door open saying it is prepared to provide access to limited, non-public information on a non-exclusive basis to determine if Newmont can provide an improved proposal that .... read more
EPA Issues Preemptive Veto on Pebble Project
At the end of January, the Environmental Protection Agency (EPA) issued a preemptive veto under Section 404(c) of the Clean Water Act (CWA) for the Pebble project in Alaska, USA. The Final Determination limits the disposal of dredged and fill material associated with developing the Pebble project. It not only rejects what the Pebble Partnership proposed in its 404 permit application, it prevents any future development of the Pebble deposit. "The EPA's decision to preemptively veto the proposed Pebble project is unlawful .... read more

Top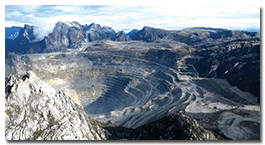 Freeport Suspends Production at Grasberg
Freeport-McMoRan said production at PT Freeport Indonesia's (PT-FI) Grasberg operations has been temporarily disrupted because of significant rainfall and landslides in the area of its milling operations in Papua, Indonesia. Intense rains on Saturday February 11, 2023, resulted in flooding..... read more


Hecla To Acquire ATAC Resources
Hecla Mining Co. has entered into a non-binding Letter of Intent (LoI) to acquire ATAC Resources Ltd. and its Rackla and Connaught projects in Yukon, Canada for $22.9 million, payable in shares of Hecla common stock. The company intends to invest $1.47 million in a new exploration company (Spinco), which would hold the remaining ATAC assets. "Hecla is an ideal acquirer for the Rackla gold property, given it's adjacent to the Keno Hill mining project and Hecla's demonstrated commitment to Yukon and its ..... read more


| | |
| --- | --- |
| AROUND THE WORLD - USA & CANADA | |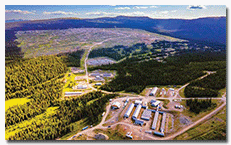 Artemis Lands Financing for the Blackwater Project
Artemis Gold Inc. has executed a syndicated project facility with National Bank of Canada, Macquarie Bank Ltd., ING Capital LLC, Société Générale and Bank of Montreal (BMO) in respect of its previously announced $27.5 million Project Loan Facility (PLF), which would fund a significant component of the estimated construction .... read more


B2Gold to Acquire Sabina Gold & Silver
B2Gold Corp. has agreed to acquire all of the shares of Sabina Gold & Silver Corp. The $818 million equity transaction will result in B2Gold acquiring Sabina's Back River gold district located in Nunavut, Canada. Back River consists of five mineral claim blocks along an 80-km belt. The most advanced project in the district, Goose, is fully permitted, construction- ready, and has been de-risked with significant infrastructure currently in place. "The acquisition of Sabina represents an exciting opportunity to develop ....read more

Top
Hecla Receives Innovation Award
Hecla Mining Co. announced that it received the 2022 Robert E. Murray Innovation Award for pioneering the Underhand Closed Bench (UCB) mining method at its Lucky Friday mine in Idaho. The award, given by the Society for Mining, Metallurgy, & Exploration (SME), recognizes organizations that implement cutting-edge technologies and innovative processes to advance the mining industry. The UCB is an innovative, patent- pending method designed to control the release of seismic energy to improve miner safety .... read more


| | |
| --- | --- |
| AROUND THE WORLD - Latin America | |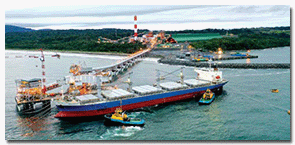 FQM Submits Revised Proposal for Cobre Panamá
First Quantum Minerals Ltd. (FQM) announced that its Panamanian subsidiary, Minera Panamá, S.A., has agreed and finalized the draft of a concession contract with the Government of Panamá for the Cobre Panamá mine. The proposed concession contract meets the ... read more


Top
Buenaventura Discusses 2023 Capex Plans
Buenaventura will invest up to $360 million in 2023, said its general director of finance, Daniel Domínguez, in the latest presentation of the results for the Peruvian mining company. The precious metals producer, which resumed construction of the San Grabiel operation at the end of October, will focus on investing $190 million in the gold project, located in the Moquegua Region; $50 million in the Yumpag silver deposit, in the Pasco Region; and around $50 million to improve the management and capacity ... read more


| | |
| --- | --- |
| AROUND THE WORLD - Australasia | |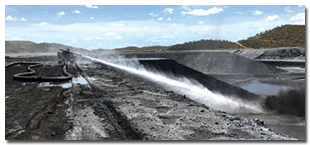 Sibanye-Stillwater Makes Takeover Bid for New Century
South African multinational miner Sibanye-Stillwater, the largest shareholder in Australia's New Century Resources Ltd. (19.9%), launched an off-market takeover offer for all the shares in New Century that it does not already own, saying the proposed takeover is in line …. read more


Top

Rio Tinto Locates Missing Radioactive Capsule
Rio Tinto expressed its gratitude to Western Australia's Department of Fire and Emergency Services for coordinating the successful search effort to locate a missing capsule containing radioactive material lost while in transit from the company's Gudai-Darri iron ore mine in the Pilbara. The company also thanked specialist search crews from the Australian Defence Force, the Australian Radiation Protection and Nuclear Safety Agency and the Australian Nuclear Science and Technology Organisation, as well as all  …. read more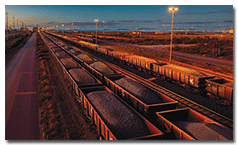 Poor Rail Service Limits Kumba's Iron Ore Exports
By Gavin du Venage, African Editor.
Corruption and inefficiency at South Africa's state-owned railway firm Transnet are costing the country's iron ore exporters sales, as they can't guarantee orders will be delivered to port. Kumba Iron Ore said that the last quarter of 2022 saw exports from its Sishen mine in the Northern Cape province fall 27% …. read more
Top
Former Eskom CEO Flees South Africa
By Gavin du Venage, African Editor.
The former boss of South Africa's electricity utility Eskom has fled the country after giving an interview in which he laid bare the extent of corruption at the embattled utility. Andre de Ruyter was appointed Eskom CEO in 2020 and tasked with ending rolling countrywide blackouts. If anything, the situation has gotten worse since he took the job, with up to 10 hours a day of 'loadshedding' for much of 2023. South Africa depends on coal for most of its electricity, but most of its generation fleet is old. Age, together with a lack .... read more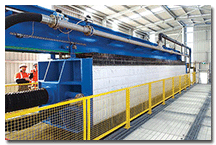 McLanahan to Acquire Diefenbach
McLanahan Corp. said it signed an agreement to acquire Diefenbach, a manufacturer of filter presses and thickeners based in Medolago, Italy. The two companies, which have been working together on projects since 2013, expect the acquisition to close during the second quarter of 2023. McLanahan said the move was fueled by the .... read more


Top
Drone-based Planting Can Reduce Time, Costs of Reforestation
Although mining activity is often associated with deforestation, by some estimations it's a lesser contributor to the problem – accounting for about 7% of forest losses and degradation – than commercial and subsistence agriculture (73%) and urban expansion and infrastructure (10%). Nevertheless, while mining's direct impact on forests is often limited, its indirect and cumulative impacts can be significant, according to a paper* published by Chatham House, a UK-based policy institute. For example, mining's direct .... read more



| | |
| --- | --- |
| FEATURE - Trucks and LHDS | |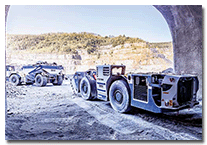 Dig, Load, Haul — Repeat
Trucks and loaders form the heart of underground production fleets the world over. We present a guide to the latest features and models from five leading OEMs.

By Carly Leonida, European Editor

From higher payloads and cleaner diesel engines, to automated digging technologies and battery-electric drive trains, 2021 and 2022 saw a host of new features announced for underground trucks and LHDs, as well as some completely new models. Many of these are heading into field testing or commercial availability in the coming months, and what better way to celebrate these cutting-edge technologies than with a roundup of new and exciting developments ..... read more



For more companies with products in the Trucks and LHDs market -
Go Here
| | |
| --- | --- |
| FEATURE - Slurry Pumps | |
Pump Suppliers Answer Trending Challenges
The latest developments in the slurry pump market show suppliers are offering solutions to customers plagued by increasingly long-term constraints to the supply chain and labor market

By Jesse Morton, Technical Writer

The supply chain issues affecting OEMs and their customers in the big slurry pump space are nothing new. According to a longtime expert and company owner, they have been around in some form or another for at least the last few years. It is within the last couple of years that they became critical. "Products and materials that were available in a few days or weeks now can take several months," said Nick Schur. "Every plant we visit tells us the same thing, 'we can't get parts.'" For example, recently one miner told him it lost 16 hours of production ..... read more

Top

For more companies with products in the Slurry Pumps market -
Go Here
| | |
| --- | --- |
| FEATURE - Dust Control | |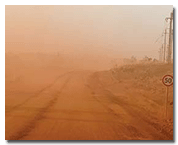 How to Deal With Fugitive Mine Dust
Dust control strategies are evolving for more effective suppression and protection, as well as the elimination of particles at the source. We explore some of the latest solutions.

By Carly Leonida, European Editor

Dust can occur at multiple points within the mining process — at material transfer points, conveyors, in stockpiles, on roads, and more. In some approaches, mine operators use water sprays alone to suppress dust. However, this method requires a significant amount of water and can be less effective than chemical solutions. Over the past decade, innovative foam, binder, and surfactant-based products have helped mines to optimize their dust control approach, minimize water use and maximize effective applications ..... read more


For more companies with products in the Dust Control market -
Go Here
| | |
| --- | --- |
| FEATURE - Digital Ecosystems | |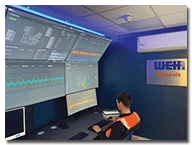 De-risking a Digital Ecosystem
Suppliers and software experts offer advice on building a system that provides maximum value

By Russell A. Carter, Contributing Editor

What is a digital ecosystem? Like many other technological buzzwords and catchphrases, it's a concept that's widely promoted but not always well explained or completely understood. At its most basic level, it represents interconnected sets of digital services and technologies intended to provide frictionless interactions and, in the long run, create value for a company and its customers. In a mining environment, an idealized example might be a centralized facility for a large, multinational producer where employees work in a safe, comfortable environment as they monitor and control multiple unmanned machines at remote locations .... read more

Top


For more companies with products in the Digital market -
Go Here
| | |
| --- | --- |
| Video Presentations | |
The latest listings from the World Mining Equipment Video Library - to view the video, click the image.
For more details on the Video Hub -

Go Here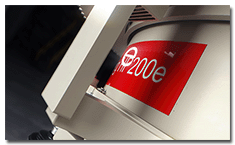 Valmet - Metso Outotec launches a new Nordberg HP200e cone crusher range
Reflecting the continuing development in cone crusher technology Metso Outotec has introduced a HP200e cone crusher to the market, providing more performance and uptime in a more sustainable way, enabled by kinematics and new chamber designs. The new liners are fitted in the crushers without backing material, making maintenance .... read more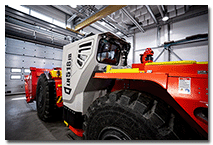 Sandvik introduces Toro™ LH518iB with AutoMine®
Sandvik Mining and Rock Solutions is introducing Toro™ LH518iB with AutoMine®. The automation-ready battery-electric underground loader is undergoing extensive factory testing, with the first unit scheduled for customer delivery during the first half of 2023 and AutoMine® compatibility available in the second half .....read more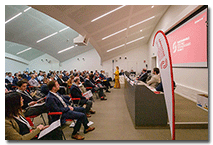 Tenova - Sustainable Heating Technologies
Tenova recently hosted its first Sustainable Heating Technologies Summit and officially unveiled TenovaLAB, the company's innovative testing facility for the development of combustion systems. Dedicated to energy transition solutions in hot rolling and heat treatment furnaces, the event brought together experts and leaders in the fields of environmental .... read more

Top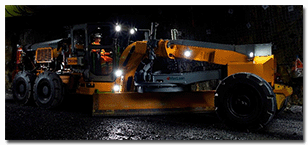 MacLean releases Innovation Report at PDAC
At the recent PDAC, MacLean released its annual Innovation Report, detailing the company's ongoing efforts to fundamentally reshape itself in support of the long-term, structural changes it sees in the mining sector – an ever-increasing degree of diesel-free fleet operations ....read more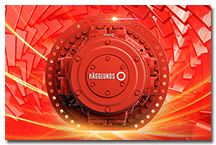 Hägglunds new Quantum motor range pushes the performance envelope.
Bosch Rexroth brand Hägglunds, of Mellansel, Sweden, known for its groundbreaking direct hydraulic drive technology has introduced Hääglunds Quantum, its new range of direct drives for heavy duty applications. Combining torque and speed with previously unthinkable efficiency, the new range offers a top speed of over 150 rpm, a sustainable maximum .... read more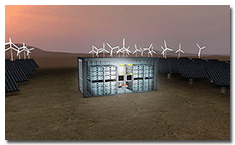 Volvo Penta expands into battery energy storage with OEMs
Volvo Penta is expanding its power generation business into battery energy storage systems (BESS) with OEMs. Volvo Penta's modular and scalable solution is intended for integration into manufacturers' BESS applications to accelerate market entry. This represents a step towards the company's road to net-zero ambitions. In a strategic move to .... read more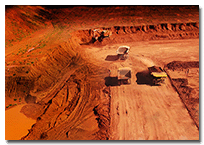 ASI Mining – full commercialization of MOBIUS
In conjunction with the recent announcement from Roy Hill about its planned expansion of autonomous haul trucks from the current 10 to 96 using ASI Mining's Mobius based autonomous haulage system (AHS) combined with Epiroc support, ASI Mining is announcing full commercialization of its AHS program. The Product Verification Phase at Roy Hill included the operation .…. read more

Top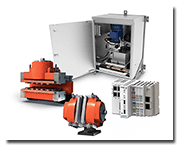 Svendborg Brakes - one-stop-shop for copper mine hoist braking systems
A major mine hoist OEM contacted Svendborg Brakes when it required reliable low-speed and high-speed braking systems for a double-drum, 20-ton system designed for a copper mine hoist. In terms of the low-speed braking system, Svendborg Brakes supplied pedestal-mounted Model BSFH 512 spring-applied, hydraulically released, dual-spring caliper brakes, each with 96,000 ....read more
APRIL 2-5, 2023: Haulage & Loading, El Conquistador Resort, Tucson, Arizona USA.
Contact: Web: www.haulageandloading.com
APRIL 24-27, 2023: Expomin Parque Fisa, Pudahuel, Santiago, Chile.
Contact: Web: www.expomin.cl
APRIL 30 - MAY 3, 2023: Canadian Institute of Mining, Metallurgy and Petroleum (CIM), Montreal, Quebec, Canada.
Contact: Web: www.cim.org
MAY 9-11, 2022: US Coal Show, Pittsburgh, USA
Contact: Web: www.uscoalshow.com
JUNE 7- 9, 2023: Elko Mining Expo, Elko, Nevada, USA.
Contact: Web: https://exploreelko.com/top-events/elko-mining-expo/
JUNE 17-22, 2023: 19th North American Mine Ventilation Symposium, South Dakota School of Mines, Rapid City, South Dakota, USA.
Contact: Web: namvs2023.org
| | |
| --- | --- |
| WHO'S MOVING WHERE | |

Natascha Viljoen will join Newmont as COO, she was previously CEO of Anglo American Platinum Ltd. At Amplats, she was responsible for managing a team of more than 25,000 employees and six owned and joint venture mining operations with an integrated value chain and down-stream processing across two countries. Prior to her Amplats CEO appointment, Viljoen held a series of operating and technical positions within the organization, including as group head of processing.

Freeport-McMoRan named its president, Kathleen L. Quirk, to its board.

Argonaut Gold appointed Marc Leduc, P.Eng. as its COO. Most recently Leduc was COO at Kore Mining, focused on the Imperial heap leach project, located in California.

Australian lithium producer, Pilbara Minerals Ltd. appointed Sandra McInnes to the newly-created role of chief sustainability officer. Previously, she headed sustainability, corporate affairs and human resources for Woodside Energy.

Callinex Mines appointed mining engineer and entrepreneur Peter R. Jones to the company's technical team. A former Hudbay Minerals executive, Jones led the development and construction of several mines in the Flin Flon Greenstone Belt, including two of the largest, the 777 mine as well as the discovery and initial development of the Lalor mine.

Anna Ladd-Kruger, a seasoned mining industry financial executive with more than 20 years of experience in mining exploration and operations, has been appointed to Sherritt International's Board of Directors.

Víctor Gobitz was appointed president of the National Mining, Oil and Energy Society for Peru (SNMPE) for the period 2023- 2024. He is currently president and general manager of Mineria Antamina.

Beumer Corp. named Markus Schmidtas president and CEO.
About - providing an abreviated version of the current print edition of E&MJ, WOMP is distributed throughout the world to decision makers in the global mining industry, the last week of every month.

Subscribe to E&MJ - To receive your own copy of the print edition of E&MJ, click here , and complete your details. E&MJ is available free of charge to qualified readers.

Contact - if you have views, opinons or comments or editoral that you would like to submit, we would be delighted to hear from you - click here

Top