Dig, Load, Haul — Repeat
Trucks and loaders form the heart of underground production fleets the world over. We presents a guide to the latest features and models from five leading OEMs.

By Carly Leonida, European Editor
---
One of GHH's latest releases — the LH-10 NEO loader. (Photo: GHH)

From higher payloads and cleaner diesel engines, to automated digging technologies and battery-electric drive trains, 2021 and 2022 saw a host of new features announced for underground trucks and LHDs, as well as some completely new models. Many of these are heading into field testing or commercial availability in the coming months, and what better way to celebrate these cutting-edge technologies than with a roundup of new and exciting developments?

Komatsu Looks to Autonomy and Electrification
Tyler Vien, Product Manager for LHDs and Trucks at Komatsu, began by walking E&MJ through the company's latest introductions. "The WX03 LHD is our most recent product launch," he said. "It was introduced at the tail end of 2022 and features modern technology — including CAN bus controls — and a unique bucket geometry designed to increase productivity. We are very excited about this product line as we truly believe it will be a leader in the 3-ton LHD category. To date, we've received an overwhelming level of interest in this small but powerful LHD."

Prior to the WX03, Komatsu officially launched the 7-t WX07 LHD at MINExpo in 2021. Since then, the WX07 has spread its footprint across the globe with several units operating in the field today and, Vien said, "multiple orders in the production queue." The longest-running WX07 is located at AMG AuPlata's El Santo polymetallic mine near Arequipa in Peru. Contractor ESEMIN has clocked up over 6,200 hours of service at this high-altitude operation. "At El Santo, they were able to reach 6,200 engine hours with the WX07 with only preventative maintenance — filters and oils — needed," Vien said. The machine's success story has spread throughout the region and, today, multiple WX07s operate in Peru, including one recently acquired by a tier-one miner. "Looking into the future, we're working to fill the gaps that currently exist in our product portfolio as we strive to fulfil the needs of our customers," Vien added.
Caterpillar's R2900 XE, which was announced at MINExpo 2021, will go into commercial
production this year. (Photo: Caterpillar)

In terms of new features, Komatsu recently developed and integrated its Hard Rock Haulage Technology package into the company's narrow vein product line. The offering includes features such as payload estimation and 'return to' — a feature that allows operators to set common bucket actions to machine memory — as well as hoist limits. These features are all available on the WX07. "We are also launching a new telematics system across our fleet of products to support their optimization," Vien told E&MJ. "We understand the communication challenges of underground mining which is why this critical feature is being developed and tailored to our applications."

The Komatsu Underground Hard Rock LHD and Truck product group is heavily focused on electrifying its portfolio and gradually removing operators from tough underground environments. Both trends will likely have a big impact on safety, productivity and sustainability over the next decade. Vien explained: "In parallel, we are focused on digitization and interoperability by developing our telematics and fleet management suite. We understand that, in the future, medium-large scale mining operations will likely require some type of telemetry and fleet monitoring capability. While we are focused on providing the ultimate turnkey solution for our customers, we also understand some operations will have previously adopted solutions to send and receive data from their machines. As a result, we're committed to remaining technology agnostic to simplify the transition to Komatsu underground mining LHDs and trucks."

GHH: New Models, New Ownership
In December 2022, Komatsu announced that it's to acquire GHH Group GmbH, a German manufacturer of underground mining, tunnelling and special civil engineering equipment. The transaction is yet to close, but GHH continues to strengthen its product offering. The company's loaders and trucks span both hard and soft-rock applications, including low-profile, narrow-vein, midseam and mass mining operations.

One of GHH's latest releases is the LF-10 NEO, a 10-t loader with a 4.6 m3 standard bucket. At 9.6-m in length, 2.3-m in height and 2.6-m in width and, with good ground clearance, this loader is compact, versatile and boasts 240 kW of installed power. "The LF-10 NEO cabin was designed against stringent ergonomic principles," the company said. "Its large foot box and ergonomic layout of controls support high efficiencies in operation, and a full air suspension seat ensures maximum operator comfort leading to excellent productivity."
Komatsu's new WX03 3-ton LHD. (Photo: Komatsu)

The LF-10's modular design, including the plug-and-play operator cabin, supports a quick and easy rebuild process for simple and cost-effective shaft access. The CE-certified LHD is designed to operate in ambient temperatures of up to 52°C and is available with Tier 3, Tier 4 final and Stage V engine options. The LF-10 NEO is suited to loading all 30-t capacity trucks, including GHH's upcoming MK-30 which is due to be introduced in late 2023. The company said the MK-30 will complement the proven MK-A20 20-t truck, as well as the MK-45; the largest truck in its offering at 45-t. GHH recently added a high-lift boom option to the LF-3, a 3-t narrow vein loader, to improve its versatility and operational flexibility, especially for loading 15-t trucks. This loader is able to operate at altitudes of up to 4,000m and, along with its sister product, the LF-7, the LF-3 is now available with Tier 4f and Stage V engine packages and diesel particulate filters.

GHH is also expanding its 'green offering.' The 19-t battery electric LF- 19EB loader is designed specifically for feeder breaker loading in soft-rock, salt and potash mines. The LHD has a 32 kWh on-board battery for easy panel to panel movement with a range of around 2.7-km, a tractive effort force of 380 kN and a cable length of 250-m. This loader is designed to cater for bad footwall conditions and is able to operate at a maximum of 28% grade, 15% slope and a maximum of 52°C. GHH is currently optimizing the LF- 19EB for hard-rock applications too, bringing a carbon-neutral product to market without the difficulties of battery management considerations.

The SLP-14E LHD, which was launched in February 2023, has an innovative direct-drive electric drivetrain which GHH said "will form the baseline for other future developments." The axle-to-motor-to-axle design with no gearbox and direct frequency control has significantly fewer components than other units in its class. The result is less maintenance, fewer breakdowns and, ultimately, reduced maintenance costs and improved availability and utilization. Minimal hydraulics (apart from on the brakes, boom and bucket) mean that the likelihood of hydraulic-related breakdowns is also reduced.

All GHH loaders and trucks are available with a proximity detection sensor level 9 interface, are automation- ready and available with GHH's inSiTE digital analytics solution which can be customized to support specific customer and application needs.

Sandvik Focuses on Emissions, Safety and Productivity
Sandvik's latest battery-electric truck is the 65-t TH665B which was released in February 2022. The TH665B is Sandvik's largest battery-powered underground dump truck, and it utilizes the same battery chemistry as the other Sandvik BEVs; lithium-iron phosphate (LiFePO4 or LFP) for optimal performance. The TH665B also has the patented AutoSwap self-swapping system, allowing the operator to stay in the cabin during battery changes.
The LH209L low-profile loader was one of five models upgraded to Sandvik's Toro brand during 2022.
(Photo: Sandvik)

In March 2023, Sandvik also introduced the Toro LH518iB loader which is 'AutoMine ready.' The 18-t battery- electric underground loader is undergoing extensive factory testing, with the first units scheduled for delivery to customers in North America, Australia, Europe and Southeast Asia during the first half of 2023. AutoMine compatibility will be available in the second half of the year

Building on its predecessor, the Sandvik LH518B, the new Toro model features several design updates and improved field serviceability. The latest version of Sandvik's intelligent control system enables AutoMine readiness, and the loader is equipped with company's patented self-swapping battery system, including the AutoSwap and AutoConnect functions. The AutoMine onboard kit is available as an option, and the loader is equipped with standard valves, harnesses and other built-in hardware for other automation technologies. The Sandvik BEV offering has been a valuable option for customers with deep operations and those with ventilation challenges; the BEVs have provided solutions and helped reduce CO2 emissions. "In addition to the current offering, Sandvik will continue to develop a wider BEV and technology range," said Juha Virta, Vice President of Sales and Marketing at Sandvik's Load and Haul Division. "Productivity and sustainability can go hand in hand, as the new alternative drivelines will provide faster duty cycle times with less CO2 emissions."

In terms of diesel-powered equipment, Sandvik continues to develop and introduce upgrades in several size classes, including small and low-profile loaders, large loaders and trucks. During 2022, five models were upgraded to the company's Toro brand… The Toro LH202 narrow-vein loader and Toro TH430 truck now include Stage V engines. The Toro LH209L low-profile loader also received a Stage V engine option. Additionally, the rear of the Toro LH209L has been redesigned and reinforced to better withstand ground and roof impacts. For improved serviceability, flat covers contribute to easy access for maintenance on top of the loader. Other improvements include new improved aluminium coolers, a new transmission, and upgrades to the hydraulic system with its components.

The Toro LH307 loader received design updates as well as new hardware and software options. The 7-t model carries a higher payload than its LH307 predecessor, and the model is now 'digital-ready.' The loader features Sandvik's integrated weighing system (IWS) and traction control which were previously only available on larger Sandvik loaders. These have also been applied to the upgraded Toro LH208L low-profile loader which is especially popular for mines in southern Africa.

Some of the most significant upgrades for Sandvik's diesel-powered equipment include emission control systems, i.e., Stage V engine options and diesel particulate filters. These will soon be available throughout Sandvik's offering, depending on their suitability for different engine configurations. The majority of Sandvik loaders and trucks can also run on paraffinic diesel fuels meeting the requirements of the EN 15940 standard. Renewable paraffinic diesel fuel considerably reduces the unit's greenhouse gas footprint and the emissions. "Using paraffinic fuels instead of fossils would be a very feasible option in the short term to reduce emissions but, based on feedback we've heard, this is not a very commonly used alternative at the sites," said Virta. "We have a multitude of development projects looking at different technologies, including diesel-electric technology, further development of battery-electric vehicle (BEV) equipment and related analytics. The near future is a mix of different technologies, spiced up with increasing intelligence, while we are on the journey towards zero emissions."

In addition to BEVs, Sandvik is working on a 14-t cable electric loader and operator training simulators, the Digital Trainers. "Tethered cable-electric technology produces no emissions and does not require battery swaps, and we are preparing to introduce a more intelligent version of the proven Sandvik cable electric LH514E loader in the near future. Further, if we add automation on top of that, this technology has the potential to reduce emissions, improve safety, and increase productivity underground," Walter Ojala, Product Line Manager for large loaders told E&MJ. In Sandvik's digital offering, the latest solution is the Digital Trainer — TH simulator for trucks. This was launched in October 2022 following the introduction of a similar solution for large Sandvik loaders.

Further development of training solutions and expansion of the simulator offering is something that Sandvik is planning for the near future.

Caterpillar Commercializes the R2900 XE
2023 will see the commercial release of Caterpillar's R2900 XE loader which was previewed at MINExpo 2021 in Las Vegas, US. The R2900 XE offers an 18.5-t payload for a 3- to 4-pass match with the Cat AD63 truck. The diesel-electric drive system delivers 52% faster acceleration and improved machine response compared to its predecessor — the R2900G — while reducing fuel consumption by more than 30% in many applications. The redesigned lift arm and components geometry, combined with load-sensing hydraulics and new bucket geometry, increase the R2900 XE's breakout force by 35%.

The Cat C15 engine powering the R2900 XE comes in configurations to meet a range of emissions regulations, including EU Stage V and U.S. EPA Tier 4 Final. Its Stage II- and Tier 2-equivalent Ventilation Reduction engine configuration can be equipped with diesel particulate filters to reduce particulate matter. The diesel-electric design enables the engine to operate at a lower 1,600 rpm to reduce fuel burn, heat generation and exhaust emissions, while increasing power. Mines also have the option of equipping the loader with a high-efficiency radiator.

The R2900 XE also features Caterpillar's new Autodig technology. This automates the dig cycle, using hydraulic sensors to ensure the bucket is properly loaded and weight is correctly distributed. The operator positions the machine in front of the pile, engages AutoDig, and applies the throttle, and AutoDig does the rest. The system controls the bucket through the digging process, resulting in a properly filled bucket every time. Once the dig cycle is complete, the operator reverses out of the pile as normal — AutoDig will even flick the bucket to shake off any loose rock that could otherwise fall onto the haul roads, preventing safety and maintenance issues caused by loose debris.

One of the biggest benefits of Auto- Dig is its integration with Caterpillar's autonomy offerings. The digging portion of a LHD cycle is the most complex to automate and is a pivotal requirement for successful underground autonomy. Caterpillar said the Autodig algorithm is the result of significant investment in time and operator characterization studies.

For operators using line-of-sight or non-line-of sight remote control, Auto- Dig offers the same benefits available to in-cab operators — a safe, easy way to achieve proper bucket loads on every cycle. Remote operators engage the system the same way they would using the in-cab controls and, just like in-cab operators, they retain full control of the machine the entire time. AutoDig also enables fully autonomous operation when used in conjunction with Cat MineStar Command for Underground, allowing machines to tram, dig and dump with no operator at the controls, providing major increases to efficiency and safety on site. In addition to the R2900 XE, Auto- Dig is also now available for the Cat R1700 and R1700 XE LHD models.

Epiroc Pushes the Boundaries in Material Handling
Epiroc has taken big steps in advancing its load and haul portfolio over the past year with new technologies, product launches and developments under three main pillars: electrification, digitalization, and automation.

In November 2022, the company announced it is ramping up deliveries of BEVs and is "seeing strong results from the field in terms of productivity, CO2 reduction and customer satisfaction." As the next step, to highlight the benefits of zero-emission technology and automation, Epiroc is rebranding its underground battery-electric range to the 'Smart and Green' series. These machines come equipped with Epiroc's Rig Control System (RCS), which makes them ready for smart functionality such as automation and remote control. They are also equipped with the latest digital tools, such as Certiq and Mobilaris, for smarter and more efficient mining operations.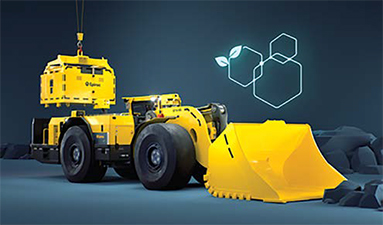 Epiroc's Scooptram ST14 SG, part of the Smart and Green series. (Image: Epiroc)

At the same time, Epiroc is also introducing the Smart series for its diesel- powered range outfitted with RCS. Just like the electric range, the smart machines are prepared for additional functionality from Epiroc's 6th Sense offering. The included machine models will feature new decal designs as well as updated product naming.

In November, Epiroc also formally entered into a memorandum of understanding with Gold Fields Australia to develop the next generation of underground mine trucks. The companies will work together to develop and test a proof-of-concept for the Minetruck MT65 E-Drive with the aim of having a prototype at Gold Fields' Granny Smith mine in Western Australia during 2024. The Gold Fields team are working with Epiroc's R&D team in the Underground division, headquartered at the Örebro, Sweden-based facilities to review development and plan the trial phases.

There are also several upcoming releases in Epiroc's material handling portfolio to look forward to. Among these are a new battery-electric underground loader, the Scooptram ST18 SG. This has a capacity of 17.5-t and shares a common design with the proven Scooptram ST14 SG, as well as a new underground truck running on an alternative energy source (aside from those that already exist today). Epiroc said it plans to test the prototype at the customer's location in Sweden during Q3 2023.

Epiroc's largest underground truck, the Minetruck MT65 S, will also receive upgrades that will make it more productive and reliable. And, the Scooptram ST18 S has recently received an update and is being prepared for a special delivery to China with a CSIV engine. With all these upcoming releases and future developments, Epiroc said it aims to provide more and more energy- efficient machines for a sustainable and ongoing mining industry.

"The most important aspect that allows Epiroc to achieve its mission of supporting the future of the mining industry is only possible through the company's continuous collaboration with its customers," the company told E&MJ. "The Minetruck MT65 E-Drive and Scooptram ST18 SG are only a few examples of ongoing projects that will provide the required means to extract metals and minerals in the most sustainable way possible."
---
As featured in Womp 2023 Vol 03 - www.womp-int.com