Pump Suppliers Answer Trending Challenges
The latest developments in the slurry pump market show suppliers are offering solutions to customers plagued by increasingly long-term constraints to the supply chain and labor market

By Jesse Morton, Technical Writer
---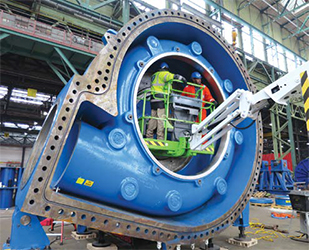 Pump suppliers have increased their capabilities or modified or improved
their offerings to address challenges to customers posed by supply chain
and labor market constraints. Above, a pump is inspected at GIW's spacious
new facility in Grovetown, Georgia. (Image: GIW)

The supply chain issues affecting OEMs and their customers in the big slurry pump space are nothing new. According to a longtime expert and company owner, they have been around in some form or another for at least the last few years. It is within the last couple of years that they became critical. "Products and materials that were available in a few days or weeks now can take several months," said Nick Schur. "Every plant we visit tells us the same thing, 'we can't get parts.'"

For example, recently one miner told him it lost 16 hours of production for lack of a $20 part that had been on order for more than six months. "This new normal has forced maintenance departments to change the way they plan for major outages and basic day-to-day repairs." It has also changed the posture and offerings of the OEMs. The new pumps out now require less maintenance, are easier to repair, and are backed by, or are part of, service programs that simplify maintenance and repairs. All of that speaks to helping a customer beat supply chain and labor market challenges. And it is but one example of how the latest offerings and developments on and in the market are geared towards beating those persistent challenges.

Pump Exchange-Repair Programs
Schurco Slurry said its exchange and repair programs help participating customers answer constraints presented by both the labor market and supply chain. "Schurco Slurry created Pump and Bearing Assembly Exchange-Repair Programs for facilities that operate Schurco and Warman slurry pumps," Schur, president of the company, said. "These programs not only alleviate supply chain and personnel issues, but also reduce the plants' inventory and has them operating pumps with a warranty."

The constraints posed by the trends can often show up as parts shortages, long lead and delivery times on parts, and insufficient manpower at the mine to do the repairs and maintenance. "Schurco can erase each of these issues with our Pump and Bearing Assembly Exchange- Repair Programs," Schur said. The supplier maintains on hand inventory for more than 75 Schurco pumps and more than 100 bearing assembly units. "We can ship the same day, or in 2 to 3 days, guaranteed," he said. "Just let us know the pump or bearing assembly manufacturer, model, size and materials of construction and we will have equipment on the road."

Once the exchange equipment arrives, "the worn pump or bearing assembly is removed and the dimensionally and hydraulically interchangeable Schurco exchange unit is installed," Schur said. "When the worn unit is ready to be shipped back to Schurco, just mount it on our heavy-duty shipping skid and we schedule pick up," he said. "Once we receive it, the worn unit will be disassembled, evaluated, and a detailed report sent with a quote that is to be completed." Benefits include increases in efficiency and ease of maintenance and planning. There is "no waiting, no plant expertise needed to repair, no worry about parts availability," Schur said. "And unlike repairs by the customer's personnel, the pump or bearing assembly is now operating with our Schurco Slurry warranty."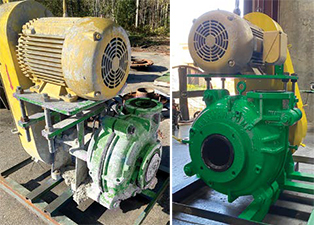 Schurco Slurry stocks a wide range of pumps and parts for rapid distribution
as part of its Pump and Bearing Assembly Exchange-Repair Programs.
(Image: Schurco Slurry)

The programs are gaining in popularity as the trends persist. "In 2022 we completed 71 exchange-repairs with partners in sand and gravel, copper, gold, power, coal processing, and cement plants," he said. "In January 2023, we completed 16 exchange-repairs."

The programs have enabled customers to conduct business as usual, which these days is considered value added. "As one mine manager told me, 'We are experts at mining. We get paid to mine ore, separate and extract the valuable material that makes our company money, not repair pumps and equipment,'" Schur said. "'That's your job so we do not have down time and keep operating.'"

Extended Wear Performance Parts
Weir Minerals reported Warman Wear Reduction Technology (WRT) wear parts offer superior resistance that improves pump performance and helps cut costs. "The WRT delivers improved hydraulic profiles, reduced turbulence, extended wear performance and lower power consumption," said Elias Aho, divisional director, centrifugal pump product management. "Weir Minerals' engineers developed the Warman WRT impeller and throatbush combination to deliver significant wear life improvements," he said. "It's a simple, inexpensive upgrade compatible with all Warman AH, M and L Series slurry pumps."

The rubber wear lining is made of Weir's unique R55 compound. "Its physical properties give it a high resistance to tearing and cuts, which means it's capable of performing well in applications where competitors generally use metal liners," Aho said. "The key to formulating a rubber with high tear and cut resistance lies, in part, in the reinforcement particles that are added," he said. "These filler particles have varying properties, but, generally speaking, there's a correlation between how well the particles are dispersed and the relative wear resistance of the final product."

For alloys, Weir Minerals is increasingly using Armachrome, an overlay material for use in mill circuit applications. "It's one of the most wear-resistant materials commercially available and can be added to pump throatbushes, volute liners and, most recently, impellers," Aho said. "Armachrome wear parts is a bespoke Weir Minerals solution, and extensive field results have been extremely positive," he said. "For instance, in the oil sands industry, wear resistance has been significantly improved relative to white iron."

Field results there and elsewhere prove the capabilities of WRT parts. For example, a study study from a mine in South Africa found that the Warman WRT impeller showed enhanced wear resistance, Aho said. "The impeller was successfully retrofitted with no mechanical complications over the course of the trial and, over that same period, it lasted twice as long as a polyurethane impeller and four times as long as a metal impeller." The study also looked at power consumption. "It was demonstrated that the pump with the WRT combination consumed 3.85% less power," he said. "While this might not sound like a lot, on a pump that operates 24 hours a day, seven days a week it adds up to a lot of kilowatt hours, and, therefore, a significant reduction in carbon emissions."

Other operations have reported even more impressive results, Aho said. "A diamond mine in North America that had non-original Warman parts in its AH pumps in an attempt to reduce costs was experiencing ongoing reliability issues," he said. Weir Minerals proposed a trial of WRT parts. "Based on the trial results, wear life improved by 50%, while efficiency increased by 21%."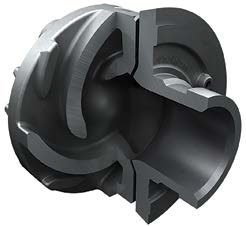 Warman Wear Reduction Technology impeller and throatbush
increase wear life by up to 50%. The four-vane design reduces
operating costs. (Image: Weir Minerals)

Field results from a gold mine in Canada show that WRT wear-resistance capabilities deliver reduced costs. "Weir Minerals partnered with Agnico Eagle's LaRonde gold mine in Quebec, Canada to increase its pump wear life by 130% and save it $70,000 per annum in spares," Aho said. At LaRonde's SAG mill, a coarse slurry was fed directly to Warman AH pumps. "Due to these abrasive conditions, the wear life of the incumbent pumps was low, averaging 1,650 hours and, quite frankly, in need of improvement," he said.

A competitor offered a trial of non- OEM liners and impeller, promising to double the wear life of the existing components at a significantly reduced cost. "After thorough review of the equipment, operations on-site and operational data, the Weir Minerals team selected a pump with the latest technology, a Warman MCR 250 slurry pump, for trial against the existing pump," Aho said. "Then, looking beyond just the pump itself and reviewing the system as a whole, Weir Minerals determined that an improper pump box level control procedure was contributing to the high wear of the existing pump and making operations difficult," he said.

The Weir Minerals team and Agnico Eagle operators made adjustments to the existing level control monitoring system. "We also implemented a service agreement with Agnico Eagle, which included a higher level of support from a Weir Minerals service center located close to their site," Aho said. "The nearby service technicians would rely on the readily available local inventory of spare parts, which in turn would streamline the repair process."

During the trial, the competitor failed to assess the application properly, and installed replicated parts based on older technology. Their parts lasted 1,300 hours and needed six rebuilds per year. Several components suffered from premature cracking. In contrast, "the Warman MCR 250 pump achieved 3,000 hours of continuous operation and reduced the rebuilds per year by half," Aho said. "This is more than 80% longer than the existing pump and more than 130% longer than the pump with replicator spare parts."

The operating costs of the MCR 250 were 36% less than either of the incumbent pumps. It also needed less maintenance time, he said. "By working together, the Agnico Eagle and Weir Minerals teams were able to not only solve the challenge on site, but also develop an efficient and cost-effective solution to help Agnico Eagle get the most out of their equipment." The trial shows how, with service centers in more than 60 countries, Weir Minerals has the inventory and boots on the ground to help a customer answer supply chain challenges. "We are close to our customers to ensure we can be there when they need us most," Aho said. "Having people and parts on the ground means that we can be responsive to our customer's needs."

The wear-resistance capabilities of WRT means components last longer and maintenance time is reduced. The WRT parts can be installed during a normal maintenance shutdown and requires no special tools. "The two standard parts are removed and the Warman WRT parts are installed," he said. "All setups, fitment and general maintenance remain the same."

Improved Capability to Deliver, Support
GIW Industries reported it delivered two "very large, double-wall inboard pumps and spares" and two submerged pumps and spares to a Chinese customer. The pumps were delivered comparatively quickly, which is noteworthy as GIW DWD double-wall pumps are among the largest on the market. The model features hefty components made of highchrome white iron. "DWD impellers can weigh upward of 12 metric tons (mt) each and are 2.5 m in diameter," said Peter Muller, manager, global dredge and phosphate mining. "The DWD casings are approximately 4 m high and weigh about 18 mt each," he said. "In the past, an order of this scope would have taken 16 to 20 months, and we would have had to outsource some of the machining."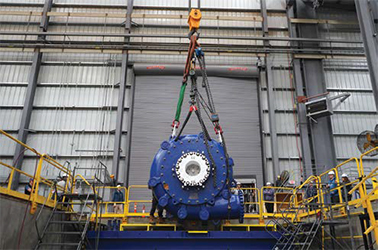 After almost 10 years in the making and over $100 million total
invested, GIW's spacious new facility enables the company to increase
throughput by 30%, reduce cycle times, and improve on delivery time.
(Image: GIW)

With the new capacities and capabilities of the company's recently expanded production facility and slurry pump headquarters in Grovetown, Georgia, order completion, from receipt to delivery, took a mere 14 months. "We handled all of the white iron component manufacturing from start to finish at our facility," Muller said. "This includes complete design on the DWD 2200 pumps, patterns, casting, and machining," he said. "This quick delivery time would not have been possible before the expansion."

KSB Group, parent company for KSB Mining and its subsidiary GIW Industries, announced the completion of the $44 million facility and production expansion project in Q4 2022. Rapid order completion is one example of the capabilities realized since the manufacturing expansion part of the project wrapped up in April 2022. "We increased our throughput by approximately 30%, which reduced cycle times and improved on time delivery," said Thomas Mueller, vice president of operations. "Things have been going very well and our operators really value their new high-tech machinery," he said. "What is notable is that we have maintained exceptional quality despite the scaling up of productions." Quality defects detected after shipment were less than 0.5% of revenue, the company reported.

At the event celebrating the completion of the expansion project, employees and community stakeholders toured the facility to "see the new large-scale machinery that makes GIW the largest white iron foundry and machine shop in the world," said Meilin Ruiz, GIW brand manager. With government officials in attendance, KSB executives spoke on how the expansion puts KSB and its customers "in a strategically advantaged position ahead of an anticipated commodities super-cycle."

The expansion project "boosted the local economy and increased employment opportunities," Ruiz said. "After almost 10 years in the making, and over $100 million total invested, the event was a celebration of GIW's 130-year history," she said, "and its future." The expansion sought to improve both efficiencies and capacity. "For example, the new shot blast system is a significant improvement in throughput and setup reduction," said Mark Butler, manufacturing engineering manager. "Previously, we could only blast one side of our parts at a time, which is very time-consuming given the size of our pump parts," he said. "Our new heattreat ovens are significantly larger and can accommodate over 50 mt each." The new ovens are more efficient than their predecessors and therefore cut costs. "We now have a new paint-and-wash system that is very professional and environmentally friendly to paint our parts," he said. "This new paint-and-wash system addresses setup challenges and improves quality in multiple ways."

The facility also now features multiple large-scale CNC machines "to help improve manufacturing capacity of our big pumps," Butler said. "The largest of the CNCs can machine a pump flange and bore in the same setup for significant time savings," he said. "These are very rigid CNC machines that can also handle better speeds and feeds on white iron material that is challenging to machine."

The new facility addresses ongoing supply chain challenges that have hampered production across multiple industries. "Some of our largest customers are in North America," said Catherine Nissen, global supply chain manager. "By having our foundry here in the U.S., we are better able to support their needs," she said. "We're able to be more responsive and we're able to get them what they need quicker."

The new facility also offers the capabilities required to manufacture some of GIW's larger pumps. Before the expansion project was complete, the GIW foundry there could produce finished white iron castings of roughly 17 mt. "Pumps like the TBC-84 and MDX- 750 took advantage of this output with casings approaching this limit," said Leo Perry, Eng., lead product manager. "Pumps like the MDX-850 and DWD- 2500 were made possible only after expanding the foundry capacity," he said. "With the prior constraints removed, GIW Industries is uniquely positioned to serve the growing demands for large slurry pumps needed in the mining industry."

That would include the gigantic GIW TBC-92, reportedly the largest slurry pump operating in the Canadian oil sands. Weighing more than a fully loaded Airbus A321 plane, it has a 2.3-m-dia. impeller and adjustable suction liner that can be moved without shutting down the pump. The unit offers longer runtimes, fewer outages, increased production, and a lower cost of ownership, the company said. It operates up to 6,000 hours continuously before needing a wet-end component change.

The unit can be found in all hydrotransportation applications, said Erkki Khohtanen, vice president, sales. "The success of the TBC-92 is a testament to KSB's commitment to meeting customers' needs from concept to operation," he said. "With KSB's centralized, top-notch facilities, operators can be certain that this pump is head and shoulders above the competition."
The large-dia. impellers, thick liners, and interchangeable metal and
rubber wear parts reduce the maintenance requirements of the XHD
Extra Heavy Duty Lined Slurry Pump range, reducing total cost of
ownership. (Image: ITT Goulds Pumps)

The expansion project was a natural outcome of the company's culture of continuous improvement, GIW said. The company lives at the cutting edge of innovation, said CEO Jonathan Samuel. "Our goal is to be a premier supplier of slurry pumps and parts and a reliable partner to our customers."

The goal guarantees that in "the future you will see not only an investment in R&D, and manufacturing facilities, but in the development of local expert teams that serve our mining customers around the world," he said. "The design, testing, manufacture, service and aftersales tech support of world-class slurry pumps needs highly qualified and dedicated people, and this is what we are cultivating every day."

Improved Performance, Maintenance Features
ITT Goulds Pumps said it is extending the XHD Extra Heavy Duty Lined Slurry Pump range to cover an increased range of flow rates and discharge heads. The range of sizes of the elastomer-lined pumps is also being extended. "Users will therefore enjoy the benefits of using the XHD pump across a much wider range of slurry applications," said Harvinder Bhabra, global product manager. The largest pump in the range currently offers capacities up to 3,000 m3/h, and can handle heads up to 85 m, subject to slurry properties.

With large-dia. impellers, thicker liners, and interchangeable metal and rubber wear parts, the XHD pump range is designed for use with in heavy-duty applications. Its features offer numerous benefits that help miners address challenges posed by constraints to the supply chain and to labor markets. "The pumps' features were developed to address pain points expressed by customers in comprehensive voice-of-customer surveys," Bhabra said. "The high-efficiency impeller and volute design coupled with the liner thicknesses and maintenance features mean that the pumps deliver a total lower cost of ownership, contributing towards a lower carbon footprint," he said. "This sets the XHD apart from many existing slurry pump designs on the market."

Larger impellers result in the pumps operating at lower speeds, which reduces wear rates, delivers a longer mean time between failures, and allows for a planned maintenance regime. Other features include ease of impeller removal via an impeller-release collar located where parts may seize up in rough operating conditions. "The impeller has a patented machined thread that provides the user with a reliable method for realignment during assembly to the shaft," Bhabra said.

Integral lifting points on major components also provide safe lifting and ease of maintenance. The quick wet-end change-out feature on some pumps can significantly reduce repair times, particularly on larger pumps," he said. The XHD range allows maintenance of the running gap between the impeller and suction side liner through bearing assembly adjustment on all pumps. The patented i-Alert condition-monitoring module is available on the power end as an optional feature giving an early warning of possible failures from excessive temperatures or vibration.
---
As featured in Womp 2023 Vol 03 - www.womp-int.com