Poor Rail Service Limits Kumba's Iron Ore Exports
---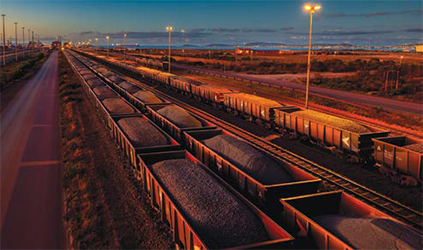 Railcars of iron ore arrive at Saldanha Bay. (Photo: Anglo American)

By Gavin du Venage, African Editor

Corruption and inefficiency at South Africa's state-owned railway firm Transnet are costing the country's iron ore exporters sales, as they can't guarantee orders will be delivered to port. Kumba Iron Ore said that the last quarter of 2022 saw exports from its Sishen mine in the Northern Cape province fall 27%. Lack of logistical support from Transnet was to blame, the company said in a stock market filing. Kumba is Africa's largest iron producer and the fifth largest in the world.

The fall corresponds closely with the drop in locomotive availability at Transnet, which enjoys a state protected monopoly to move freight by rail. Kumba, and other bulk commodity producers of coal, anthracite, chrome, iron ore, manganese and magnetite are dependent on Transnet to move their products to port. Industry leaders from all these sectors have complained that shipments are continually disrupted by issues at Transnet. These include ongoing theft of railway tracks and overhead cables for their scrap value.

In the case of Kumba, the problem is slightly different. The isolation of the line that wends through desert terrain far from human settlements for most of its route means the iron ore line is relatively unscathed by vandalism. Rather, it's the lack of locomotives to haul trainloads of ore to the port of Saldanha Bay on the west coast 530 miles away. "Despite the iron ore rail line to Saldanha being in better shape than most other railway lines in South Africa, it recently buckled due to various operational issues," said Afrimat, a local bulk commodities company that exports iron ore.

Transnet currently has 160 locomotives standing idle, a number that is growing as more of the fleet is withdrawn to depots awaiting repair. Lack of spare parts following a corruption-related dispute with a key supplier of locomotives has ended supplies and left much of the fleet stranded. The locomotives in question were part of a 2014 contract worth $3.2 billion for 1,064 locomotives to replace much of its aging fleet. A wide-ranging judicial investigation into state-related corruption concluded last year, and found the contract was riven with kickbacks that benefitted among others, senior Transnet managers.

A new board appointed in 2019 has sought to claw back some of the illicit payments — bribes essentially — that stacked up the price tag of the supply deal. Chinese firm CRRC E-Loco Supply, the seller of the locomotives, has refused to cooperate with Transnet or any South African law agency attempting to get it to shed light on the payment chain.

CRRC has ignored attempts by South Africa's tax authority and its reserve bank to audit the Chinese firm's side of the deal. CRRC has also stopped supplying parts and technical assistance to Transnet, and withdrawn its engineers from the country.

The rail operator meanwhile played down the dispute in logistical planning sessions with the miners. Portia Derby, group chief executive of Transnet, told industrial customers late last year that the issue was being resolved and that trains would soon be running at full capacity. "We are hoping to see the resumption of spare parts soon. More than 60% of our fleet is old, with the new locomotives being those from China," she told the Joburg Indaba mining symposium, attended by E&MJ.

However, in January, Transnet admitted talks had broken down. Transnet said in early February that it would now seek spare parts elsewhere. "As a matter of urgency, in the next few weeks, Transnet will therefore be issuing an open competitive tender inviting any eligible Original Equipment Manufacturer (OEM) to step-in to rehabilitate the non-operational Chinese locomotives," Transnet said.

Transnet's owner, the state, has for years resisted calls to allow the private sector to participate in freight rail. The governing African National Congress (ANC), which has held power since 1994, now has very few options to revive a stagnating rail network.

The party, which led the country into democracy and was also led by Nelson Mandela, is deeply unpopular and faces a drubbing at national elections next year. Nationwide electricity blackouts and crumbling infrastructure together with rampant public sector corruption, especially at institutions such as Transnet, are likely to cost the ANC its majority at the polls, most analysts said.
---
As featured in Womp 2023 Vol 03 - www.womp-int.com