McLanahan to Acquire Diefenbach
---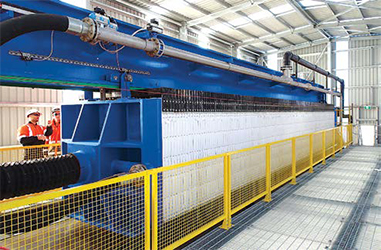 McLanahan agreed to acquire Diefenbach, a supplier of filter presses like the above.
(Image: McLanahan)

McLanahan Corp. said it signed an agreement to acquire Diefenbach, a manufacturer of filter presses and thickeners based in Medolago, Italy. The two companies, which have been working together on projects since 2013, expect the acquisition to close during the second quarter of 2023.

McLanahan said the move was fueled by the trending focus on a circular economy and recycling water. The acquisition enables the company to offer a more comprehensive solution to customers and industries around the world amid a tightening regulations environment. "As we look toward the future, we see a growing need for wastewater and tailings management in a variety of industries as part of the circular economy," said Cory Jenson, executive vice president for sales and business development. "Every industry is being challenged to use less and less water and to recycle the water they are using," he said. "This acquisition offers significant synergies to McLanahan's existing tailings solutions in mining and aggregates, which continue to remain a critical part of McLanahan's product offerings."

McLanahan said Diefenbach will continue to operate as an independent brand, focusing on its core industries and markets around the world.
---
As featured in Womp 2023 Vol 03 - www.womp-int.com