The latest from the
World Mining Equipment
Video Library
View



AEMA Hosts Another Successful Annual Conference

Western U.S. mining professionals gathered along with about 160 suppliers at the annual American Exploration & Mining Association (AEMA) conference in Reno, Nevada during early December. "The turnout for this year's event has been very strong," AEMA Executive Director Mark Compton said. He confirmed conference attendance was more than 1,650 and thanked the members, sponsors, and exhibitors for supporting the event.

Outgoing 2022 AEMA President Ron Rimelman, who is also vice president, environment, health, safety and sustainability for Novagold Resources, passed the torch to incoming 2023 AEMA President Mike Satre, who is manager, government and community, for Hecla Mining. In 2021, the association chartered the AEMA Society to identify talented individuals in the mining industry and match them with mentors. It's clear that the program is now paying .... read more


Steve Fiscor, Publisher & Editor in Chief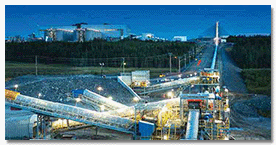 Pan American, Agnico Eagle Up the Ante for Yamana
During early November, Yamana Gold received an unsolicited binding proposal from Agnico Eagle Mines Ltd. and Pan American Silver Corp. for the acquisition by Pan American of all the shares of Yamana Gold. As part of the proposal, Yamana would sell certain subsidiaries and partnerships which hold .... read more
BHP Increases Its Offer for OZ Minerals
OZ Minerals received a revised A$28.25/ share proposal from BHP, which values the company at A$9.6 billion, and it will now provide BHP access to do due diligence The new offer is a 13% increase over the initial A$25/share offer. "BHP's Revised Proposal is a clear reflection of OZ Minerals' unique set of highly strategic, quality assets in quality jurisdictions and an enviable multigenerational growth pipeline of copper and nickel assets in strong demand due to global electrifi cation," said OZ Minerals Managing Director and CEO, Andrew Cole said .... read more

Top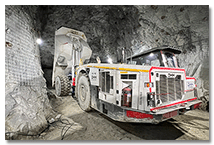 Komatsu to acquire GHH Group GmbH
Komatsu has announced that it has entered into an agreement to acquire GHH Group GmbH (GHH), the manufacturer of underground mining, tunneling and special civil engineering equipment headquartered in Gelsenkirchen, Germany. Founded in the 1960s and currently part of the German-owned Schmidt Kranz Group, GHH offers a wide range of equipment..... read more


Rio Tinto Plans Additional Renewable Energy Investments for Pilbara Iron Ore Ops
Denison Rio Tinto is planning to invest a further $600 million in renewable energy assets in the Pilbara as part of the company's efforts to decarbonize its Western Australian iron ore operations. The investment will fund the construction of two 100-mgeawatt (MW) solar power facilities as well as 200 MW-hours (MWh) of on-grid battery storage in the Pilbara by 2026. This is in addition to the 34 MW of solar power installed at the recently commissioned Gudai-Darri iron ore mine. "The Pilbara is extremely well-positioned to take advantage of renewable ..... read more


| | |
| --- | --- |
| AROUND THE WORLD - USA & CANADA | |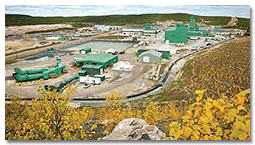 Cameco Restarts McArthur River
Cameco announced that the first pounds of uranium ore from the McArthur River mine have now been milled and packaged at the Key Lake mill, marking the achievement of initial production as these facilities transition back into normal operations. "McArthur River and Key Lake are among the best and most prolific uranium assets .... read more


Granite Creek Intersects High-grade Gold
i-80 Gold Corp. reported additional highgrade results from the 2022 underground drill program at its Granite Creek Property located in Humboldt County, Nevada. A primary target of the 2022 program was to perform delineation and expansion drilling of the Ogee Zone, expected to provide the bulk of mineralization to be mined in the next 12 months. This drilling focused on the area between the bottom level of the mine workings and the deepest hole drilled by i-80 to date, designed to test the Ogee Zone depth extension of iGS21- 15, which intersected multiple ....read more

Top
Compass to Supply Lithium to LG
Compass Minerals signed a binding, multiyear supply agreement with LG Energy Solution (LGES) to provide battery- grade lithium carbonate from its Ogden, Utah solar evaporation lithium brine development. Compass will deliver up to 40% of its planned, phase-one battery- grade lithium carbonate production to LGES for an initial 6-year term from supply commencement. Purchase pricing will be based on market index under the agreement. As previously announced, the company expects an annual commercial production capacity .... read more


| | |
| --- | --- |
| AROUND THE WORLD - Latin America | |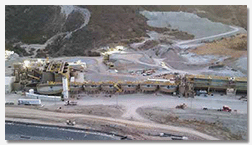 Las Chispas Achieves Commercial Production
SilverCrest Metals said its Las Chispas mine, located in Sonora, Mexico, achieved commercial production effective November 1, 2022. That declaration was based on a continuous 2-month period of operating the processing plant at a minimum of 80% of its nameplate design capacity of 1,250 metric tons per day (mt/d) or 1,000 mt/d ... read more


Top
Codelco Tests South America's First Battery-electric LHD
Codelco is testing a battery-electric Epiroc LHD at the Diablo Regimiento underground mine, which is part of the company's El Teniente Division. The one-year pilot program will validate the machine's power, functionality and energy consumption. In addition to reducing direct greenhouse gas (GHG) emissions by 100%, its maintenance cost are expected to be 60% lower, and the working conditions underground will improve. "Starting with the first training sessions for the pilot test, I noticed the difference in terms of quality of life. It is not ... read more


| | |
| --- | --- |
| AROUND THE WORLD - Australasia | |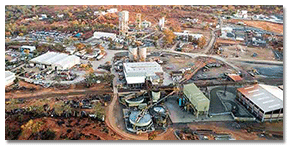 Glencore, MAC Amend Terms for CSA Acquisition
Glencore and Metals Acquisition Corp. (MAC) have agreed to amend the terms announced in March 2022, for the sale and purchase of Glencore's CSA copper mine, located near Cobar in New South Wales, Australia. Glencore will still receive a $1.1 billion consideration as originally agreed with …. read more


Top

Abra Mine Reaches First Ore, Construction Nearly Complete
Galena Mining Ltd. reported the construction progress at its Abra base metals mine has reached 92% complete at the end of October. Located in the Gascoyne region of Western Australia, the underground mine has reached the first ore and plant commissioning continues in several key areas with the project focused on achieving first concentrate production in Q1 2023. "Reaching first ore underground is extremely rewarding for everyone involved in the project," Galena Mining Managing Director Tony James said. "To see for the first time what  …. read more

Glencore Settles With the DRC Over Past Conduct
Glencore said it has reached an agreement with the Democratic Republic of Congo (DRC) covering all present and future claims arising from any alleged acts of corruption by the Glencore Group in the DRC between 2007 and 2018. This includes activities that have been the subject of various investigations by, amongst others, the U.S. Department of Justice (DOJ) and the DRC's National Financial Intelligence Unit and Ministry of Justice. Under the agreement, Glencore International AG, on behalf of its Congolese- associated companies …. read more

Top
Transnet Reopens Coal Line in South Africa
South Africa's Transnet Freight Rial (TFR) has lifted the force majeure imposed on the export coal line following the derailment of 97 fully laden railcars on November 8, 2022. TFR said the derailment, which occurred between Bloubank and Nhlazatshe stations, caused massive damage to infrastructure and rolling stock, necessitating closure of both lines. This impacted the service from the mines to Richards Bay Coal Terminal, hampering the performance of contractual obligations by Transnet and coal exporters .... read more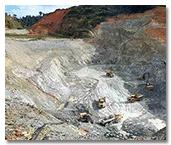 Automation Push in Indonesia's Mining Industry
Volvo Construction Equipment recently highlighted the emergence of a new industrial revolution (Industry 4.0) that blurs the lines between the physical and digital spheres – one in which equipment uses sensors, software, and automated processes to communicate location and status to each other via the Internet of Things (IoT). An enhanced level of automation holds enormous potential to .... read more


Top
Indian Coal Demand Continues to Grow
State-owned Coal India Ltd.'s (CIL) Q3 2022 production volumes increased substantially due to higher power demand, according to the Economic Times. The world's largest coal miner's quarterly coal production climbed 10.6% over the previous quarter to 139.2 million metric tons. Power demand is growing at its fastest pace in at least 38 years. The situation has forced India to reverse a policy to eliminate coal imports and reopen closed mines .... read more



| | |
| --- | --- |
| THIS MONTH IN COAL | |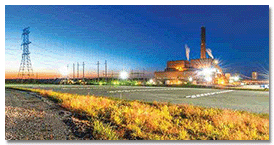 Hoosier Energy Transfers Merom Power Plant to Hallador
Hallador Energy Co., through its new subsidiary Hallador Power Co., LLC, has finalized its acquisition of Hoosier Energy's 1-gigawatt (GW) Merom generating station, located in Sullivan County, Indiana, in return for assuming certain decommissioning costs and environmental responsibilities. The transaction includes .... read more


Top
Indonesia's Coal Production to Grow
After registering strong growth of 8.9% in 2021, Indonesia's coal production is expected to grow 2.6% in 2022 to 630 million metric tons (mt), according to Global- Data. The Indonesian government aims to eventually increase output to 663 mt/y. According to the Ministry of Energy and Mineral Resources (EMR), Indonesia's coal production had reached 294 million mt for H1 2022. Several Indonesian coal miners have raised their output goals. PT Bumi Resources plans to produce 83 to 89 million mt of coal this year compared to 78.8 million mt in 2021  …. read more

| | |
| --- | --- |
| FEATURE - Autonomous Mining | |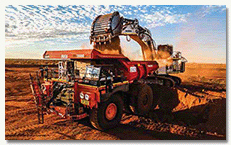 Introducing Autonomy 2.0
Trends, technologies and projects which are redefining the future of autonomous open-pit mining

By Carly Leonida, European Editor

The future of mining is autonomous… or so it would seem from the number of technology implementations announced this year. From BHP replacing the entire haul fleet at Escondida with Cat 798 AC electric drive trucks equipped for autonomous operation and Komatsu's autonomous haulage system (AHS) deployment at Anglo American's Los Bronces, to Sandvik kitting out Chilean mining contractor, Movitec, with autonomous drills and Amaroq Minerals sizing up autonomation the Nalunaq site in Greenland, these are just a fraction of the projects that have come to fruition in 2022. The trends underpinning this shift are ..... read more



For more companies with products in the Autonomous market -
Go Here
| | |
| --- | --- |
| FEATURE - Utility Equipment | |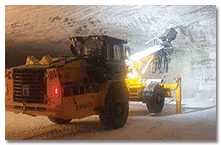 Customer-inspired R&D Delivers Versatile Machines
The new generation of scalers, graders, rock breakers, carriers, and concrete mixers are designed with the exact capabilities customers want, and the comfort and safety operators need.

By Jesse Morton, Technical Writer.

Customer feedback-driven research and development has resulted in a new generation of utility equipment designed to handle the trending challenges of the day. Specifically, the new machines are more versatile and dynamic than previous machines, offer more options for customization, are easier and more comfortable to operate, and increasingly are offered with low- or no-emissions engines. The suppliers told E&MJ that the market is in some ways shrinking, and their answer to that challenge is to develop machines that meet both the current and future ..... read more

Top

For more companies with products in the Utility Equipment market -
Go Here
| | |
| --- | --- |
| FEATURE - Copper Processing | |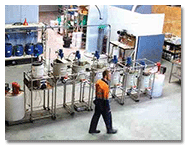 Unlocking Critical Copper Through New Technologies
Copper processing techniques are evolving to unlock complex, low-grade deposits and speed the funding and permitting of projects vital to the energy transition.

By Carly Leonida, European Editor

The drivers for innovation in copper processing are firmly grounded in the macrotrends that are reshaping the global economy. According to Wood Mackenzie's research report, 'Red metal, green demand: copper's critical role in achieving net zero,' the global energy transition presents an almost "unattainable mine supply challenge." The company has calculated that under a 1.5°C accelerated energy transition scenario, 9.7 million metric tons (mt) of new copper supply is needed over 10 years from projects yet to be sanctioned — the equivalent to nearly a third of current refined consumption — if the industry is to meet the climate targets set ..... read more


For more companies with products in the Mineral Processing market -
Go Here
| | |
| --- | --- |
| FEATURE - Drilling Consumables | |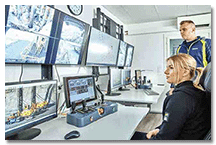 Boring In on Drilling-consumables Cost Control
Stopping a drill rig to change a bit always hampers productivity – but so does prolonged drilling with a worn-out bit. Rock-tool suppliers are attacking the problem from both ends by designing products that last longer in the hole while maintaining consistent performance.

By Russell A. Carter, Contributing Editor

In the current economic environment, rising costs are a universal concern throughout the mining industry. And, given that every stage of mining involves some type of drilling, a cost-control campaign wouldn't be totally effective unless it includes a strategy for managing drilling consumables. Drilling is the costliest component of mineral exploration and is a significant factor in cost per ton of ore produced at active mines, representing a large chunk of the 35% or so of operating costs .... read more

Top


For more companies with products in the Drilling market -
Go Here
| | |
| --- | --- |
| Video Presentations | |
The latest listings from the World Mining Equipment Video Library - to view the video, click the image.
For more details on the Video Hub -

Go Here
Solvay - SmartFloat™ a Solution for More Efficient and Sustainable Base-Metal Flotation
With over a 100 years of experience in providing reagent-based solutions Solvay is continuing its digital journey with SmartFloat™ . an AI-based reagent optimization system that helps mining companies capture more value from their data and optimize froth flotation processes. Building on the company's proprietary Flotation Matrix 100™ .... read more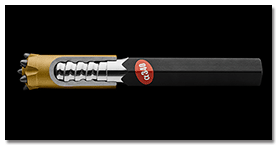 Sandvik Alpha™ 340 - New top hammer thread
Sandvik Mining and Rock Solutions is launching Sandvik Alpha™ 340 asymmetric drilling tools, a new thread concept within its top hammer drilling offering for mining and tunneling. Designed for use in face drilling and bolting, with hole sizes ranging from 43mm-51mm, the Sandvik Alpha™ 340 features .....read more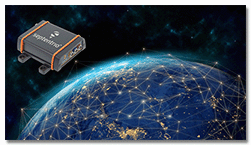 Septentrio – expands its ruggedized receiver family
High-precision GNSS positioning solutions provider Septentrio, has launched the AsteRx SB3 ProBase, a new variant in its popular ruggedized receiver family. The AsteRx SB3 ProBase is a IP68 housed GNSS base station receiver, featuring the latest quad constellation GNSS technology for best quality measurements and (ITU) .... read more

Top
Chemco – Deflection Elbows for Abrasives
Chemco Sysems is employing deflection elbows in its silo feed lines that convey powdered activated carbon, pebble and hydrated lime, sodium carbonate, fly ash, potassium permanganate and other bulk chemicals used for air and water treatment at municipal, industrial, mining, food processing, and pulp and paper facilities ....read more

Bruno Tolosa – Managing Director of Cygnet
Leadership, consulting and recruitment services firm, the Swann Group, has announced that Bruno Tolosa has been appointed Managing Director of Cygnet. Cygnet, the groups recruitment brand, provides professional search for managers and management teams in the natural resources, infrastructure, energy, and capital-intensive industries .... read more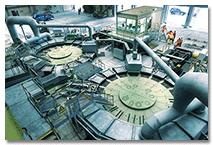 Metso Outotec receives orders for four copper anode casting shops
Metso Outotec has received orders for four anode casting shops from major copper producers in the USA, China and Africa. The total value of the orders is approximately EUR 18 million. The orders have been booked in Metals' fourth-quarter orders received. In each of the projects, Metso Outotec's scope of delivery includes anode casting shops with .... read more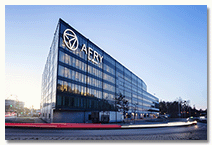 AFRY awarded engineering assignment for Jervois' Cobalt expansion project in Finland
Jervois, Finnish supplier of cobalt products, has appointed AFRY to provide the basic engineering, lead environmental permitting and conduct a bankable feasibility study to expand its cobalt refinery capacity in Kokkola, Finland. The assignment is expected to be completed in Q3 2023. "Battery minerals, such as cobalt, underpin the required .…. read more

Top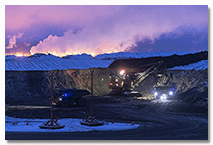 CAT - Focusing on leadership in technology, autonomy and sustainability
Autonomy, technology, and sustainability will take centre stage in Caterpillar's roughly 6,300 sq ft exhibit at CES in Las Vegas, January 5-8, where they will exhibit the 100-ton Cat® 777 equipped with Command for hauling to represent the more than 560 Cat autonomous trucks that travel a distance equivalent to twice the Earth's circumference each ....read more
FEBRUARY 3-8, 2023: International Society of Explosives Engineer's 49th Annual Conference on Explosives and Blasting Technique, San Antonio, Texas, USA.
Contact: Web: www.isee.org
FEBRUARY 6-9, 2023: Mining Indaba, Cape Town, South Africa.
Contact: Web: miningindaba.com
FEBRUARY 26-MARCH 1, 2023: Society for Mining, Metallurgy and Exploration (SME) Annual Conference & Expo, Denver, Colorado USA.
Contact: Web: www.smenet.org
MARCH 5-8, 2023: Prospectors & Developer Association of Canada (PDAC) conference and exposition, Toronto Convention Center, Toronto, Canada.
Contact: Web: www.pdac.ca
APRIL 2-5, 2023: Haulage & Loading, El Conquistador Resort, Tucson, Arizona USA.
Contact: Web: www.haulageandloading.com
MAY 9-11, 2022: US Coal Show, Pittsburgh, USA
Contact: Web: www.uscoalshow.com
JUNE 13-16, 2023: Expomin, Santiago, Chile
Contact: Web: www.expomin.cl
JUNE 17-22, 2023: 19th North American Mine Ventilation Symposium, South Dakota School of Mines, Rapid City, South Dakota, USA.
Contact: Web: namvs2023.org
| | |
| --- | --- |
| WHO'S MOVING WHERE | |

Lundin Mining Corp. appointed Jack Lundin as president. Concurrently, he has stepped down from the company's board of directors. Lundin has extensive experience in the natural resource industry gained through exposure with several Lundin Group companies. Most recently, Jack was CEO of Bluestone Resources Inc., prior to which he was involved in the highly successful development of Lundin Gold's Fruta del Norte gold mine in southern Ecuador where he served as project superintendent. He began his career in the mining sector working prospecting jobs on various early-stage projects in Canada, Russia, Ireland, and Portugal.

Albemarle named Sean O'Hollaren as chief external affairs officer. He most recently served as Senior Vice President of Government and Public Affairs for Nike.

Mincor Resources appointed Gabrielle Iwanow managing director and CEO.

SolGold reported that Darryl Cuzzubbo, managing director and CEO, has left the company. The board has appointed Scott Caldwell as interim CEO until a permanent replacement is appointed. He has held a number of senior executive roles including as CEO at both Guyana Goldfields Inc. and Allied Nevada Gold Corp., as well as COO at Kinross Gold Corp.

The board of directors of the Minerals Council of Australia (MCA) elected Andrew Michelmore as its new chair. He previously served as chair of the MCA from 2013 to 2016. He has held a number of senior leadership roles, including CEO and executive director of MMG Ltd., and CEO of Zinifex Ltd. and OZ Minerals Ltd.

TAKRAF Group appointed Thomas Jabs as CEO.

Bluestone Resources named Peter Hemstead as president and CEO and Nevin Lau as the CFO.

Superior Industries added Pedro Kelley to its sales team in Latin America.
About - providing an abreviated version of the current print edition of E&MJ, WOMP is distributed throughout the world to decision makers in the global mining industry, the last week of every month.

Subscribe to E&MJ - To receive your own copy of the print edition of E&MJ, click here , and complete your details. E&MJ is available free of charge to qualified readers.

Contact - if you have views, opinons or comments or editoral that you would like to submit, we would be delighted to hear from you - click here

Top