Pan American, Agnico Eagle Up the Ante for Yamana
---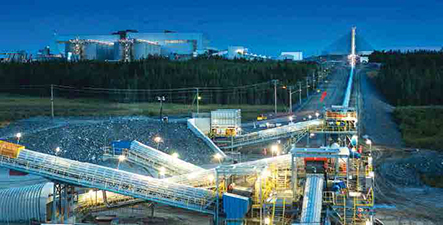 If the transaction closes, Agnico Eagle would acquire Yamana's interest in Canadian assets, including the
Malartic mine (above) in Quebec.

During early November, Yamana Gold received an unsolicited binding proposal from Agnico Eagle Mines Ltd. and Pan American Silver Corp. for the acquisition by Pan American of all the shares of Yamana Gold. As part of the proposal, Yamana would sell certain subsidiaries and partnerships which hold Yamana's interests in its Canadian assets to Agnico Eagle, including the Canadian Malartic mine.

The new offer has a value of $4.8 billion. Under the terms of the proposal, Pan American would acquire all Yamana shares for $1 billion in cash, 153.5 million common shares of Pan American and 36.1 million shares of Agnico. Yamana shareholders would receive $1.0406 in cash, 0.0376 of an Agnico share and 0.1598 of a Pan American share for each common share held.

Yamana Gold is a Canadian-based precious metals producer with significant gold and silver production, development stage properties, exploration properties, and land positions throughout the Americas, including Canada, Brazil, Chile and Argentina.

During late May, Gold Fields made an offer for Yamana and company's board has notified Gold Fields that it has determined that the new offer constituted a superior proposal. Gold Fields had five business days to amend the terms of its offer and has now said it will not.

The new offer would establish Pan American as a major precious metals producer in Latin America, with approximately 28.5 to 30 million ounces per year (oz/y) of silver production and approximately 1.1 to 1.2 million oz/y of gold production, based on Pan American's and Yamana's 2022 guidance. The combined portfolio will consist of 12 operations concentrated in Latin America, a region where Pan American has over 28 years of proven expertise and experience operating mines. With the addition of four operating mines generating strong free cash flow, the arrangement is expected to enhance Pan American's overall financial position and improve its ability to internally fund its growth projects.

"The combination of our existing portfolio with Yamana's high-quality assets in Latin America would create a powerful precious metals mining company in the Americas with leading exposure to silver, and represents an exciting opportunity for growth for both Yamana and Pan American shareholders," Michael Steinmann, president and CEO of Pan American said. "The transaction is aligned with our disciplined approach of creating shareholder value through accretive acquisitions, together with our expertise in discovering, building and operating mines. Our established presence and expertise in Latin America will enable us to leverage the synergies and growth potential of Yamana's assets in the region in a way that is highly complementary to Pan American's existing mines there."

The Canadian Malartic mine would be placed in the hands of an operator capable of developing the mine's full potential and the new offer would give Agnico Eagle operational control during the remaining development period of the Odyssey project and future projects. Most importantly, Agnico Eagle will have the ability to monetize future additional mill capacity at the Canadian Malartic mine, given its extensive operations and strategic land position in the region.

"This transaction is a continuation of Agnico Eagle's strategy to operate in regions where we believe we have a competitive advantage, in this case over 50 years of operating history," Ammar Al-Joundi, President & CEO of Agnico Eagle said. "The full integration of the Canadian Malartic team and landholdings into our operational base in the region would enhance our Abitibi operating platform, placing Agnico in the unique position to further optimize the asset and unlock potential value through exploration and the leveraging of existing infrastructure, people and regional relationships."

With Pan American's track record in Latin America and Agnico Eagle's deep existing knowledge of the Canadian Malartic mine and presence in the Abitibi region, both companies see themselves as well-positioned to effectively operate and rapidly unlock further value from Yamana's portfolio of assets, and Yamana's board agrees.
---
As featured in Womp 2022 Vol 12 - www.womp-int.com