Automation Push in Indonesia's Mining Industry
---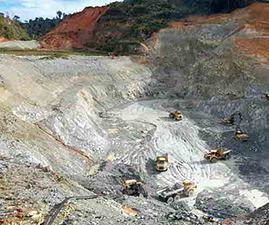 Indonesian gold mining and exploration company Indo Muro
Kencana connected its large fleet of Volvo CE machines to
ActiveCare, Volvo's remote monitoring and maintenance service,
last year and recently reported a one-third improvement in fleet
productivity along with reduced fuel consumption.

Volvo Construction Equipment recently highlighted the emergence of a new industrial revolution (Industry 4.0) that blurs the lines between the physical and digital spheres – one in which equipment uses sensors, software, and automated processes to communicate location and status to each other via the Internet of Things (IoT).

An enhanced level of automation holds enormous potential to increase industrial productivity and benefit industry-wide productivity, accelerate GDP growth, generate higher incomes for workers, and boost competitiveness in global markets. The government of Indonesia is aware of the advantages offered by IoT technologies; Volvo CE, based in Sweden and employing 105,000 people while serving customers in more than 190 markets, pointed out that analysts from McKinsey estimate the implementation of Industry 4.0 in Indonesia could generate a net gain of as many as 23 million jobs by 2030.

To take advantage of these benefits, said Volvo CE, the Indonesian government, has developed an integrated roadmap for transforming the country into an Industry 4.0 economy. The strategy includes initiatives to build skills and increase the speed of adoption by companies.

One early adopter in the Indonesian mining industry is gold exploration and mining company Indo Muro Kencana (IMK), based in Central Kalimantan. In November 2021, IMK connected the country's largest fleet of machines to ActiveCare, the remote monitoring and proactive maintenance service from Volvo CE. IMK's 52 articulated haulers and seven crawler excavators are fitted with sensors that convey real-time information about their production, fuel consumption, health, and even operator skill to a portal in the cloud. Some data points, such as location, speed, and load, are also communicated from machine to machine.

The dashboards and reports enable the plant and site manager to identify areas for productivity and efficiency improvements, implement adjustments, and set new targets for further progress. This can involve tweaking the number and capacity of machines on site to reduce idling time, finding more direct routes, or training for certain operators.

Nine months on, said Volvo CE, the data has helped IMK increase productivity across its three sites by approximately a third, while reducing fuel consumption. Another major benefit of connecting the fleet has been the positive impact on the convenience, effectiveness, and cost of managing machine servicing and repairs, according to Volvo CE. With ActiveCare, an artificial intelligence (AI) tool monitors all error codes and alarms transmitted from the machines to the cloud. The algorithm sorts through the data, prioritizing the alerts according to urgency and severity and attributing probable causes.

This helps managers determine whether immediate intervention is required for an issue or if service can wait until the next scheduled downtime. Small issues can be remedied before they have the chance to develop into more serious and expensive problems, and personnel can be assured of having the right tools and parts on hand to make repairs.

Overall, said Volvo CE, the system has given IMK unprecedented insight into equipment availability. This information is key to productivity and profitability in a mining environment where machines are expected to operate almost 24 hours a day and any time lost is a loss in earning potential. With ActiveCare, the Swedish equipment supplier states, IMK can now optimize machine availability and ultimately boost overall profitability.
---
As featured in Womp 2022 Vol 12 - www.womp-int.com