The latest from the
World Mining Equipment
Video Library
View



AEMA Hosts Successful Annual Conference in Reno

More than 1,300 people turned out for the American Exploration & Mining Association's (AEMA) annual meeting in Reno, Nevada, during early December. This was the first in-person meeting after a one-year hiatus due to the COVID-19 pandemic. Visitors had to show proof of vaccination to attend. Some took advantage of the loophole in Nevada's masking policy and removed them while holding a drink in one hand to talk, but the rest of the time, everyone complied for the most part.
The AEMA provides a voice for the mineral and metal mining industry from exploration to development through operations. Welcoming guests to the 127th annual meeting, AEMA President Mark Compton said, "It's really good to meet in person again." Last year, AEMA held a virtual conference, and he explained that the association did the best .... read more


Steve Fiscor, Publisher & Editor in Chief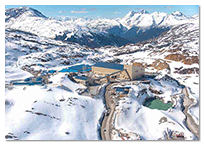 Newcrest to Acquire Pretivm
Newcrest Mining Ltd. entered into an agreement to acquire all shares of Pretivm Resources Inc. it does not already own for $2.8 billion in cash and shares. The Pretivm board is recommending that Pretivm shareholders vote in favor of the transaction. Pretivm is the owner of the Brucejack operation in the highly prospective Golden Triangle region of British Columbia .... read more
BHP Consolidates Under Australian Parent Company
BHP Board of Directors has made a decision to unify BHP's corporate structure under its existing Australian parent company, BHP Group Ltd. The board said unification is in the best interests of BHP shareholders. The corporate structure will be simpler and more efficient, reduces duplication and streamlines BHP's governance and internal processes, according to the company. A unified structure will also improve flexibility for portfolio reshaping to maximize shareholder value over the longterm, including facilitating a simpler .... read more

Top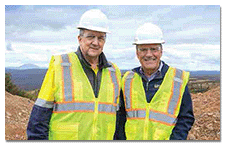 Barrick, NOVAGOLD Agree on Steps to Advance Donlin Gold
Donlin Gold LLC, owned 50/50 by Barrick Gold Corp. and NOVAGOLD Resources, made progress during an executive management workshop and site visit in early September. During the executive management meetings in Alaska, the combined team reaffirmed its confidence in the deposit and charted a course toward advancing the project up .... read more


Hochschild Will Acquire Amarillo Gold
Hochschild Mining PLC has entered into a definitive agreement with Amarillo Gold Corp. where Hochschild will acquire all of the issued and outstanding shares of Amarillo at a price of C$0.40 per share in cash. Hochschild will acquire a 100% interest in Amarillo's flagship Posse gold project located in Goiás, Brazil. In addition, shareholders of Amarillo will receive shares in a newly formed company, Lavras Gold Corp., which will.... read more


| | |
| --- | --- |
| AROUND THE WORLD - USA & CANADA | |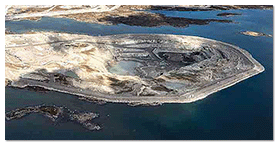 Rio Tinto Takes Full Ownership of Diavik
Rio Tinto has become the sole owner of the Diavik diamond mine in the Northwest Territories of Canada. It will acquire the remaining 40% share held by Dominion Diamond Mines, following the Court of Queen's Bench of Alberta's approval. With production at Diavik expected to end in 2025, its high-end, predominantly.... read more


US Gold Provides PFS on CK Gold Project
In early December, U.S. Gold Corp. published a prefeasibility study (PFS) for its CK gold project in southeast Wyoming. A gold-copper-silver orebody has been defined with 70.4 million tons of proven and probable reserves that would contain 1.44 million ounces (oz) of gold equivalent (AuEq) at an average grade of 0.02 oz/ton AuEq. The study considers an open-pit mining operation with a small convention concentrator. The open-pit operation currently under consideration would produce 20,000 tons per day (t/d) or 7.3 million tons per year ....read more

Top
Liberty Gold Confirms Major Gold Discovery at Rangefront
Copper Follow-up reverse circulation (RC) drilling at Liberty Gold Corp.'s D-4 discovery at Rangefront confirms the presence of a major new mineralized zone at its Black Pine oxide gold project in southeast Idaho. This area, located to the southeast of Rangefront fault, is being renamed Rangefront Focus Area (RFA), as its scale is potentially similar to the Discovery Zone, where three-quarters of the Black Pine resource is located. Drilling to date has expanded this broad mineralized zone 1,000 meters (m) in a north-south direction .... read more


| | |
| --- | --- |
| AROUND THE WORLD - Latin America | |
Cosalá Operations Return to Nameplate Mill Production
Americas Gold and Silver Corp. reopened the company's Cosalá operations. The Los Braceros plant has returned to nameplate production with a steady source of feed from a combination of existing stockpiled ore and new production from the mine. San Rafael mine production continues to ramp up and does not represent a bottleneck to mill production ... read more


Top
Lundin Mining Makes Huge Investment in Josemaría
Lundin Mining announced a $4.1 billion investment to start up the Josemaría project north of San Juan, Argentina. The orebody contains copper, gold and silver, and is scheduled to start producing in 2026. Josemaría will generate exports of $7 billion per year. According to Lundin, this investment will be divided into three phases: $3.1 billion until 2025, when the construction of the project will be completed, a second of $900 million for subsequent years, and a third of $200 million upon closing ... read more


| | |
| --- | --- |
| AROUND THE WORLD - Australasia | |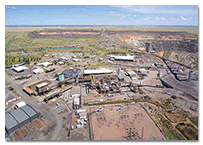 Evolution Acquires Ernest Henry
Evolution Mining Ltd. (Evolution) entered into a binding agreement to purchase Glencore's 100% interest in Ernest Henry Mining Pty Ltd., the owner of the Ernest Henry Mining (EHM) copper-gold mine in Queensland, Australia. Glencore will receive A$1 billion ($726.8 million), comprising A$800 million ($581.4 million) on the closing of the transaction and a further A$200 million …. read more


Top

Alcoa Plans to Restart Smelting Capacity
Alcoa Corp.'s Portland Aluminum joint venture plans to restart 35,000 metric tons per year (mt/y) of curtailed capacity at its aluminum smelter in the State of Victoria in Australia. The smelter has been idle since 2009 and metal production is expected to start in the third quarter of 2022. Portland Aluminum is an unincorporated joint venture with 358,000 mt/y of total capacity, and Alcoa Corp. has 197,000 mt/y of consolidated capacity. Once the restart is complete, Portland Aluminum will operate at approximately 95% of total capacity and Alcoa Corp. will have …. read more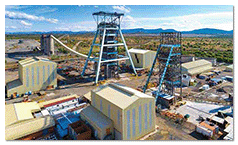 Northam Holdings Acquires Interest in Royal Bafokeng
Northam Platinum Holdings Ltd. acquired a 32.8% interest in Royal Bafokeng Platinum Ltd. (RBPlat) from a subsidiary of Royal Bafokeng Holdings Proprietary Ltd., for R17 billion ($1.07 billion), representing R180.50 per RBPlat share. Northam will issue 34.4 million shares to the RBH Group, with the balance of R8.6 billion to be settled …. read more
Top
UMS Delivers Shaft Mod on Target
United Mining Services (UMS) recently provided a fast, innovative solution for Harmony Gold's Target 1 gold mine to optimize shaft cooling capability. The Target 1 mine, located in the Free State province of South Africa, produced 2,244 kilograms (2.47 tons) of gold in 2020. The mine uses the shaft to transport men, material and rock from surface to 203 level, at a depth of 1,800 meters (m) or 5,900 ft. A single decline, equipped with a conveyor belt, connects the 203 level to the 255 level, approximately 2,050 m (6,700 ft) below surface .... read more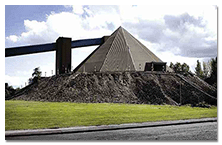 Boliden Stops Water Inflow at Tara Mine
Work is starting at Boliden's Tara mine in Ireland after efforts to stop the increased water inflow were successful. Pumping and mapping of any damage as a result of the water inflow has begun at the large underground zinc mine. Production stopped for safety reasons in November and efforts were redirected to stop the water inflow and to protect .... read more


Top
Russia Sells Last Large Gold Deposit
By Vladislav Vorotnikov
White Gold, a joint venture of the Russian state corporation Rostec and Seligdar, polymetallic holding, has won the competitive bidding procedure to develop Kyuchys gold deposit in the Sakha Republic, Russia, for 7.7 billion rubles ($110 million). Kyuchys is the last undeveloped gold deposit in Russia with reserves above 100 metric tons (mt), the Russian Union of Gold Producers said .... read more



| | |
| --- | --- |
| THIS MONTH IN COAL | |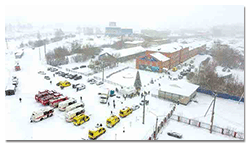 Siberian Coal Mine Disaster Kills 52; Exposes Safety Shortfalls in Russian Mining Industry
By Vladislav Vorotnikov
With the death toll rising to 52, the Listvyazhnaya coal mine disaster is now considered the worst tragedy in the Russian mining industry in the past 11 years, since the explosion at the Raspadskaya coal mine in the Kemerovo region in May 2010, which claimed 91 lives. The Listvyazhnaya coal mine, near the town of Belovo .... read more


Top
Glencore Will Shut 3 Australian Coal Mines by 2023
Glencore PLC is planning to shut down its Liddell, Integra, and Newlands coal mines in Australia by 2023 in line with a production target of 112 million metric tons (mt), down from 140 million mt previously planned, as reported by Argus Media. The Liddell and Integra mines are in New South Wales while Newlands, which also produces coking coal, is in Queensland. The company has a long-term plan to reduce its global coal output by 40% by 2035 to around 84 million mt annually.  …. read more

| | |
| --- | --- |
| FEATURE - AI/Machine Learning | |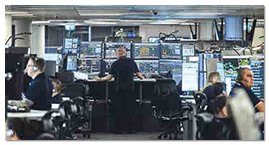 AI in Mining: Advancing at the Speed of Data
Miners are buying or developing AI tech to assist in everything from drill core assays to autonomous rail haulage. Experts suggest that worker data-science training and empowerment might be the most beneficial investment of all.

By Russell A. Carter, Contributing Editor

Miners are trained to be familiar with tools. For anything from a jackleg drill to a production spreadsheet app, the principles are similar: Set and control the tool to do what you want it to do. When the job is done, put the tool aside and move on. But suppose a tool requires a relationship — a constant back and forth dialogue about how best to approach a job and measure the value of the results? And suppose, in the end, that tool turns out to be smarter than the user? When it comes to Artificial Intelligence (AI), a tool that's increasingly important for business success, these aren't just remote ..... read more



For more companies with products in the Software Mine Planning market -
Go Here
| | |
| --- | --- |
| FEATURE - Autonomous Mining | |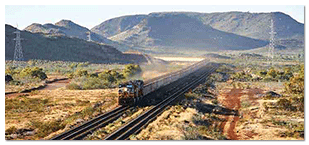 Miners Band Together for Open Autonomy
We speak to Clareo Board Chair Peter Bryant and Managing Director Satish Rao, who are leading a unique consortium of mining companies on the quest to realize the full value of autonomous technologies.

By Carly Leonida, European Editor

Despite more than 15 years of investment and development in autonomous technologies, less than 3% of mobile mining equipment is autonomous today. But this will soon change. The Mining Interoperability and Open Systems Consortium was officially launched on December 8. E&MJ caught up with Board Chair Peter Bryant and Managing Director Satish Rao, both from growth strategy firm Clareo, who are leading the initiative to find out more about the group's creation and purpose. "In early 2021, we worked with five companies around the need to develop a set of standards to drive ..... read more

Top

For more companies with products in the Computing Services market -
Go Here
| | |
| --- | --- |
| FEATURE - Copper Processing | |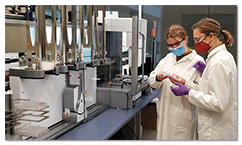 Copper Production: Mining Must 'Follow the Science'
Some new science-based initiatives could prove game changing in copper recovery.

By Carly Leonida, European Editor

The recent COP26 event in Glasgow, U.K., reiterated the criticality of base metals in the green-energy transition. Copper is classed as a high-impact, high-intensity metal. It plays an integral role in all 10 low-carbon energy technologies and is also one of the hardest materials to substitute. According to a briefing from energy research consultancy, Wood Mackenzie, to achieve an accelerated energy transition with a below 1.5° temperature rise globally will require an additional 19 million tons of copper to be produced by 2040. The majority will need to come from uncommitted projects, which will be difficult, if not impossible, given the energy and water-intensity of current extraction ..... read more


For more companies with products in the Mineral Processing market -
Go Here
| | |
| --- | --- |
| FEATURE - Utility Equipment | |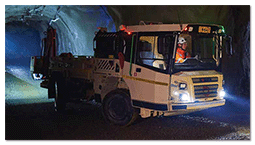 New Technology, Regulations Prompt Innovation
OEMs release machines that meet regulations, feature innovative driveline solutions, and offer more capabilities and benefits.

By Jesse Morton, Technical Writer

The big headlines from a handful of global OEMs that make utility equipment show that innovation is a two-way street. The supplier innovates when designing a new machine or updating an old one. The new release, in turn, forces the supplier to change, sometimes slightly, sometimes significantly. .... read more

Top


For more companies with products in the Utility Equipment market -
Go Here
| | |
| --- | --- |
| Video Presentations | |
The latest listings from the World Mining Equipment Video Library - to view the video, click the image.
For more details on the Video Hub -

Go Here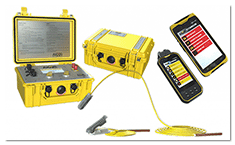 Electronic Blast Detonation System
Omnia Group's BME launched AXXIS Titanium, which it described as the world's most advanced electronic blast detonation system. The system uses dual capacitors and dual voltage, which allows for low-voltage logging to avoid any chance of accidental detonation .... read more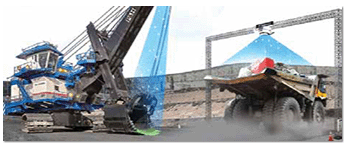 Weir Group to Acquire Motion Metrics
The Weir Group agreed to acquire Motion Metrics, a Canada-based mining technology business, for about $119.3 million. Motion Metrics develops artificial intelligence (AI) and machine vision technology used in mines worldwide. For example, it makes a system that uses cameras for machine monitoring.....read more
SPH Engineering Introduces UAV-based Remote Water Sampling System
SPH Engineering conducted a trial flight of its Remote Water Sampling System at a Latvian lake on December 8th 2021. The system combines the following components: a drone (either DJI M300 RTK or DJI M600 Pro drone), Ruttner water sampler and SPH Engineering's UgCS SkyHub onboard computer, a radar altimeter and UgCS ground control software .... read more

Top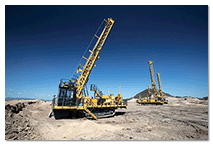 Full family Integration Maximizes Value of the Cat MD6310 Rotary Drill
As part of the Cat® drill family, the Cat MD6310 rotary drill shares parts, components and technologies across the entire drill line to maximize lifecycle value and streamline operator training, maintenance strategies and fleet planning. Matched to the application, its powertrain optimizes system efficiency to deliver higher performance ....read more

Changes to Volvo Penta Executive Management Group
Tony Kelleher has been appointed as the Acting President of Volvo Penta of the Americas as of December 1st. Tony has several years of experience within Volvo Penta in a wide range of roles and locations around the world. In his current role, Tony serves as the VP of Customer Support & Training at Volvo Penta of the Americas .... read more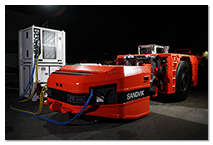 Sandvik and Boliden in Partnership for First BEV Loader Trial in Europe
Boliden's Garpenberg zinc operation in Sweden will become the first mine in Europe to trial Sandvik LH518B. Sandvik Mining and Rock Solutions and Boliden have agreed on a 12-month collaborative trial period for the new 18-tonne battery-electric loader .... read more

Solvay Launches Digital Hub for Mining Industry
Solvay has launched the Mining Chemicals Handbook, or MCH, an exclusive digital knowledge hub that provides 24/7access to relevant mining chemical application information for those active in this sector. This is the first such resource in the industry, demonstrating Solvay's commitment to the industry and its ongoing effort to lead and innovate .…. read more

Top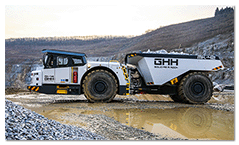 GHH's MK-42 dump truck Wins Gold
The MK-42 dump truck has recently won the Good Design Australia Award. The MK-42 took part in the competition for 2021 as Australia is an important market for the German machine manufacturer, one of the leading brands of heavy machinery for mining, tunneling and special civil engineering ....read more
JANUARY 30-FEBRUARY 2, 2022: International Society of Explosives Engineers (ISEE), Las Vegas, Nevada, USA.
Contact: Web: www.isee.org
FEBRUARY 27-MARCH 2, 2022: Society for Mining, Metallurgy and Exploration (SME), Salt Lake City, Utah, USA
Contact: Web: www.smenet.org
MARCH 2-9, 2022: Prospectors & Developers Association of Canada (PDAC), Toronto, Ontario, Canada.
Contact: Web: www.pdac.ca
APRIL 27-29, 2022: Expomina, Jockey Exhibition Center, Lima, Peru.
Contact: Web: www.pdac.ca
MAY 1-4, 2022: Canadian Institute of Mining (CIM), Vancouver, British Columbia, Canada.
Contact: Web: www.cim.org
JUNE 14-16, 2022: Euro Mine Expo, Kraft Center, Skelleftea, Sweden.
Contact: Web: www.eurominexpo.com
For a full calendar of mining industry conferences and events - click here
| | |
| --- | --- |
| WHO'S MOVING WHERE | |

Mountain Province Diamonds Inc. appointed Mark Wall as the president, CEO and director. Most recently, Wall was the CEO of Streamers Gold Mining, a subsidiary of Hong Kong listed Shandong Gold Mining.

First Quantum Minerals Ltd. appointed Tristan Pascall , current COO, to the role of CEO. The appointment will take effect at the Annual General Meeting (AGM) in early May 2022, at which time Philip Pascall, the current chairman and CEO, will retire from the CEO role and will continue to serve as chairman. Pascall joined First Quantum in 2007 and held progressively senior operational roles in Africa and Latin America until 2020 when he served as director of strategy and later became COO in January.

Arctic Canadian Diamond Co. appointed Rory Moore to the position of president and CEO effective immediately, following his serving as interim president through the period of restarting and ramping up operations at the Ekati diamond mine.

Hochschild Mining appointed Tracey Kerr as an independent nonexecutive director. Kerr is a nonexecutive director of Polymetal International, a position she has held since January 2018. Most recently, she served as group head of sustainable development at Anglo American.

Kenmare Resources appointed Andrew Webb as a nonexecutive director and chair designate. Webb is expected to succeed Steven McTiernan as chair of Kenmare's Board of Directors. McTiernan will step down following the company's 2022 Annual General Meeting, having completed a nine-year term on the board. Webb was previously a managing director at Rothschild & Co. in the Global Advisory team, where he worked for 25 years until September 2018.

Goldgroup Mining Inc. appointed John McClintock as CEO. Anthony Balic, previous Interim CEO, will continue as the CFO. McClintock has more than 14 years of international and domestic experience in capital markets within the mining and metals industry. McClintock worked in fixed income and mergers and acquisitions with Pareto Securities S.A.

Kai Bartram was appointed global sales director of TOMRA Mining. Bartram worked for the company from 2000 to 2010, first in R&D and applications then in sales.

Motion Industries Inc. promoted John Watwood to vice president of operations integration. Watwood moves to this position from vice president/group executive for the Southeast, to which he was promoted in 2019.
About - providing an abreviated version of the current print edition of E&MJ, WOMP is distributed throughout the world to decision makers in the global mining industry, the last week of every month.

Subscribe to E&MJ - To receive your own copy of the print edition of E&MJ, click here , and complete your details. E&MJ is available free of charge to qualified readers.

Contact - if you have views, opinons or comments or editoral that you would like to submit, we would be delighted to hear from you - click here

Top