Newcrest to Acquire Pretivm
---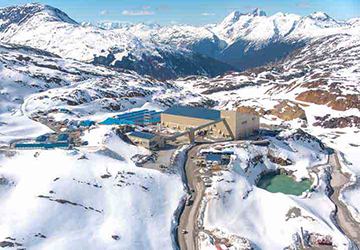 The Brucejack mine produces 168,878 oz of gold in H1 2021.

Newcrest Mining Ltd. entered into an agreement to acquire all shares of Pretivm Resources Inc. it does not already own for $2.8 billion in cash and shares. The Pretivm board is recommending that Pretivm shareholders vote in favor of the transaction.

Pretivm is the owner of the Brucejack operation in the highly prospective Golden Triangle region of British Columbia, Canada. Brucejack began commercial production in July 2017 and is one of the highest-grade operating gold mines. It's expected to produce 311,000 ounces per year (oz/y) at all-in sustaining costs of $743/oz of gold over a projected 13-year mine life.

Brucejack and surrounding tenements are within the traditional territories asserted by the Tsetsaut Skii km Lax Ha (TSKLH) and Tahltan Nation, and in the Nass Area of Nisga'a Nation as defined in the final agreement. Brucejack is approximately 140 kilometers (km) from Newcrest's majority-owned and operated Red Chris mine, located on Tahltan territory. Newcrest will become the operator and 100% owner of Brucejack following completion of the transaction, which is targeted for the first quarter of 2022.

"Brucejack is a Tier 1 mine in a Tier 1 jurisdiction and will deliver immediate production, free cash flow and earnings diversification to Newcrest and will fit seamlessly into our long life, low cost portfolio," Newcrest Managing Director and CEO Sandeep Biswas said. "Following this transaction Newcrest will have exposure to six Tier 1 orebodies and a portfolio of organic growth options of unrivalled quality. The transaction will also drive a material increase in mineral resources, ore reserves and annual gold production."

Newcrest believes its concurrent operation of both Red Chris and Brucejack mines will provide enhanced opportunities for both workforces, allow for aligned and optimal engagement with the First Nations and the broader community, and will provide the foundation of ongoing future investment in the region.

Under the terms of the transaction, Pretivm shareholders will receive consideration of C$18.50 per share in cash or 0.8084 Newcrest shares per Pretivm share, subject to proration and an aggregate cap of 50% cash and 50% Newcrest shares. Pretivm shareholders who do not elect cash or Newcrest shares (subject to proration) will receive default consideration of C$9.25 per Pretivm share in cash and 0.4042 Newcrest shares per Pretivm share.

The agreement includes a termination fee of C$125 million, payable by Pretivm, under certain circumstances (including if the agreement is terminated in connection with Pretivm pursuing a better proposal).
---
As featured in Womp 2021 Vol 12 - www.womp-int.com