Northam Holdings Acquires Interest in Royal Bafokeng
---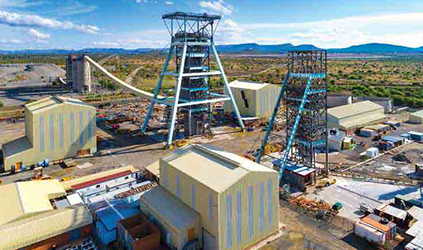 In H1 2021, RBPlat's Styldrift I mine hoists 1.02 million mt, a little less than half the company's total of
2.16 million mt.

Northam Platinum Holdings Ltd. acquired a 32.8% interest in Royal Bafokeng Platinum Ltd. (RBPlat) from a subsidiary of Royal Bafokeng Holdings Proprietary Ltd., for R17 billion ($1.07 billion), representing R180.50 per RBPlat share.

Northam will issue 34.4 million shares to the RBH Group, with the balance of R8.6 billion to be settled in cash. R3 billion will be paid upfront, R4 billion will be deferred to no later than April 30, 2022, and the remaining R1.6 billion will be deferred to no later than September 30, 2022. As a result, the RBH Group will obtain a strategic 8.7% shareholding in Northam.

The deferred portion of the cash consideration and the option consideration will escalate at a nominal annual rate of 12% compounded quarterly until the settlement thereof. "The transaction concluded with Royal Bafokeng Holdings gives Northam a strategically important shareholding in RBPlat, creating significant longterm optionality for Northam," Northam Holdings CEO Paul Dunne said. "It aligns perfectly with our long-term growth, sustainability and diversification strategy and the introduction of Royal Bafokeng Holdings as a significant shareholder further strengthens our empowerment credentials."

Dunne added that the RBPlat assets are young, shallow and well capitalized and occupy a strategically important position in the Western Bushveld. proposal).
---
As featured in Womp 2021 Vol 12 - www.womp-int.com