The latest from the
World Mining Equipment
Video Library
View




Preparing for the Next Rally

Mines never close, they just wait for metal prices to move higher." While working on the Ontario report this month, I kept thinking about that expression. Ontario is endowed with abundant resources, including base metals, precious metals, platinum group metals (PGMs) and today's prized battery minerals. The province is a mining- friendly jurisdiction and it draws much of its power from renewable hydroelectric and emissions-free nuclear power plants, which allow mines or any company carbon offsets.

Larger communities are training workers in anticipation of a growing resource sector. Need some startup capital? The largest group of mining financiers are based in Toronto and they can structure deals, especially when metal prices are relatively high like they are today. Ontario knows the importance of the resource industry and it has the geology, engineering skills, labor, water, power and cash. So, what's not to like? .... read more


Steve Fiscor, Publisher & Editor in Chief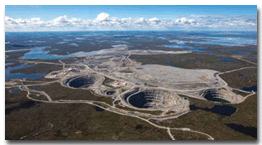 Dominion Diamond Mines Sells Ekati Mine to Arctic Canadian Diamond
Dominion Diamond Mines has completed the previously announced sale of the Ekati mine and associated assets to Arctic Canadian Diamond Co. Ltd., a company formed and owned by funds and accounts managed by DDJ Capital Management, Brigade Capital Management LP and Western Asset Management .... read more
Vale Agrees to Pay $6.8B in Damages for Dam Disaster
Following the lead of so many Brazilian miner Vale signed a R$37.7 billion (US$6.8 billion) agreement with the state of Minas Gerais, the public defender of the state of Minas Gerais and the federal and the state of Minas Gerais public prosecutors offi ces to repair the environmental and social damage from the dam collapse on January 25, 2019, in Brumadinho, that killed more than 270 people and devastated the surrounding communities .... read more

Top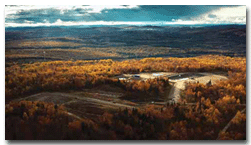 Nouveau Monde Receives Go Ahead for Western World's Largest Graphite Mine
The Québec Government issued a ministerial decree authorizing Nouveau Monde's Matawinie mining project. Located only 150 kilometers (km) north of Montréal, the deposit constitutes the largest projected graphite operation in North America and Europe and is expected to become the world's first all-electric open-pit mine.... read more


Pebble Partnership, Former CEO Receive Grand Jury Subpoena
Northern Dynasty Minerals' wholly owned subsidiary Pebble Limited Partnership and Tom Collier, the former CEO of the Pebble Partnership, have each been served with a subpoena issued by the U.S. Attorney's Office for the District of Alaska. The subpoena requests each to produce documents in connection with a grand jury investigation apparently involving previously disclosed recordings of private conversations regarding the Pebble Project.... read more


| | |
| --- | --- |
| AROUND THE WORLD - USA & CANADA | |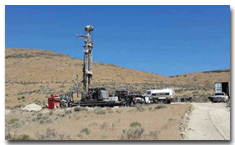 Lithium Americas Receives Record of Decision for Thacker Pass
The U.S. Bureau of Land Management (BLM) has issued the Record of Decision (ROD) for Lithium Americas Corp.'s Thacker Pass lithium following completion of the National Environmental Policy Act (NEPA) process. Thacker Pass, located 100 kilometers (km) northwest of Winnemucca, in Humboldt County, Nevada, is 100% owned by .... read more


Tahltan Nation Signs Agreement With Coeur Silvertip
The Tahltan Nation and Coeur Silvertip Holdings Ltd., a subsidiary of Coeur Mining Inc., signed a comprehensive impact-benefit agreement related to the company's Silvertip silver-zinc-lead mine located in northern British Columbia. The agreement provides a framework for a mutually beneficial, long-term relationship between the Tahltan Nation and Coeur Silvertip, and supports Coeur's commitment to socially and environmentally responsible mining, according to the company ....read more

Top
Southern Empire Finishes Initial Survey at Oro Cruz
Southern Empire Resources Corp. has completed initial surveying, including a LiDAR survey, of the historical Cross mine underground workings at its Oro Cruz Gold project, located in Imperial County, California. At Oro Cruz, about 3 kilometers (km) of existing underground workings at the Cross mine accessed high-grade, oxide gold mineralization. This zone is a key target of future exploration plans, according to the .... read more


| | |
| --- | --- |
| AROUND THE WORLD - Latin America | |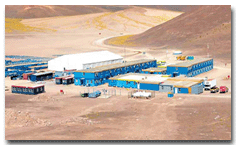 Construction Begins on Salares Norte
Gold Fields began construction of the mining infrastructure at its Salares Norte project, in line with the project's construction schedule announced in February last year. This month, pre-stripping works at the mine and construction of the processing plant began ... read more


Top
Codelco Approves 2 New Mining Projects
Chilean copper miner Codelco has approved an investment of US$1.2 billion for its new Diamante and Andesita projects. Both projects are part of the investment portfolio for the El Teniente mine, and construction is expected to be completed by 2023. The El Teniente project portfolio, which includes Diamante and Andesita and the development ... read more


| | |
| --- | --- |
| AROUND THE WORLD - Australasia | |
Tiwai Point Smelter Will Remain Open Until 2024
Rio Tinto has reached an agreement on a new electricity agreement with Meridian Energy that will allow New Zealand's Aluminum Smelter (NZAS) to continue operating the Tiwai Point aluminum smelter until December 31, 2024. Discussions with the New Zealand government are progressing to address the smelter's high transmission costs …. read more


Top

BHP Reports Record Iron Ore Production
In its second-half 2020 production update, BHP reported record production from its Western Australia Iron Ore (WAIO) mines, which increased by 6% to 128 million metric tons (mt) or 145 million mt on a 100 % basis. The numbers reflected record production at Jimblebar and strong performance across the supply chain, with significant improvements in car dumper productivity and reliability, the company said. …. read more

Anglo American Contributes to COVID Vaccine Rollout
Anglo American is making available up to $30 million of support toward the global availability of COVID-19 vaccines across its operational footprint. The nature of the contribution, consisting of cash and in-kind support, will differ based on the vaccine deployment models for each country. Anglo American's support is expected to include contributions toward the procurement of vaccines by host governments, as well as logistical support and health and other infrastructure required to facilitate the efficient roll-out of vaccines …. read more

Top
Swiss Criminal Court Convicts Beny Steinmetz
A Swiss criminal court convicted Israeli businessman Beny Steinmetz of bribery and forgery in connection with his company BSG Resources Ltd.'s (BSGR) procurement of valuable mining rights in Simandou, Guinea. Two Steinmetz's associates were also found guilty, one of bribery and forgery and the other of bribery. The court sentenced Steinmetz to five years of prison and ordered him to pay CHF 50 million (US$56 million) .... read more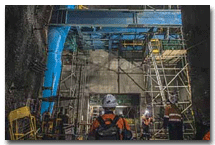 Mongolia May Pull the Plug on Oyu Tolgoi Plan
Issues for the Mongolia's Oyu Tolgoi copper- gold mine continue to pile up. Turquoise Hill Resources, operator of the mine and subsidiary of Rio Tinto, said the government of Mongolia, which owns a 34% interest in the project, is unhappy with the results of a definitive estimate of the project and significant cost increases, which now stand at $6.75 billion, higher than its .... read more


Top
India's Reforms are Killing Mining Industry
By Ajoy K Das
India's purported big ticket mining sector reforms more than a decade ago of adopting auction as mandatory route for allocation of coal and non-coal mineral assets to investors is falling apart in terms of resource development projects in the country. The mandatory auction route for allocating non-coal mineral assets was adopted in 2015 through amendments to Mines, Mineral Development and Regulation Act (MMDRA) 1957. The latest data available shows that of the 154 mineral blocks offered for bidding since then, only 101 blocks have been … read more



| | |
| --- | --- |
| THIS MONTH IN COAL | |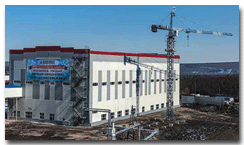 Kolmar Plans to Double Coal Production
The Kolmar Coal Co., a Russian coal mining company in southern Yakutia (Neryungri Region), plans to double its coal production in 2021, according to local media reports. The company has set its sights on exporting more metallurgical-grade coal to China and India. .... read more


Top

Arch Gives Viper to Knight Hawk, Closes Coal Creek
Arch Resources announced more steps in its ongoing transition toward metallurgical coal markets by contributing its Viper thermal mine in Illinois to Knight Hawk Coal, which will operate the mine going forward. As part of the transaction, Arch's equity stake in Knight Hawk increased to 49.5% from 48%, and Knight Hawk assumed long-term undiscounted mine closure liabilities totaling $21 million.  …. read more


-->
| | |
| --- | --- |
| FEATURE - Ontario Mining | |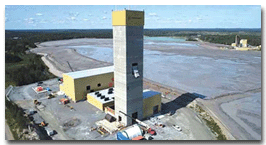 Investment Rekindles Mining Activity in Ontario
Demand for metals empowers a mining-friendly Canadian Province.

By Steve Fiscor, Editor-in-Chief

Much of Ontario's mining activity takes place in the mineralized zone that extends laterally in the Great Canadian Shield from the north rim of Lake Superior through the Sudbury Basin to the border with Quebec. Gold camps to the north in Timmins and Red Lake are bustling as well. Each region has its drivers and its drawbacks. During the last two or three years, many of the mines have changed hands through mergers and acquisitions..... read more


| | |
| --- | --- |
| FEATURE - Battery Assembly & Transport | |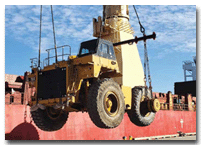 How To Hit Deadlines Delivering Machines
Equipment transporters reveal how to save time and money.

By Jesse Morton, Technical Writer

When transporting equipment, time is always of the utmost importance. Recent headlines show how seriously solutions and services suppliers take deadlines for getting a machine from point to point. Whether when moving a drill rig from one work area to another, a fleet of haulers across snowy mountains to port and on to another continent, or an enormous stacker across an intracoastal river, time is money, and these suppliers prove that nowadays there is now little reason to waste either ..... read more

Top

For more companies with products in the Transportation Services market -
Go Here
| | |
| --- | --- |
| FEATURE - Mineral Processing | |

Mikko Keto Takes Reins at FLSmidth
A leader in mineral processing looks to improve service and provide sustainable solutions for mining companies.

By Steve Fiscor, Editor-in-Chief

A great deal of consolidation has taken place with major suppliers serving the mineral processing sector, and more mergers are currently under discussion. Last year, Metso completed its merger with Outotec, and FLSmidth is currently negotiating a purchase of thyssenkrupp's mining segment. As these companies realign, new leadership is emerging across the board and a key C-level appointment was announced during mid-January for FLSmidth. Mikko Keto accepted the position of mining president..... read more


For more companies with products in the Mineral Processing market -
Go Here
| | |
| --- | --- |
| Material Handling | |
Lower Grades Mandate Robust, Efficient Solutions
Suppliers increasingly offer customizable, fit-for-purpose material handling solutions that address project-specific needs.

By Jesse Morton, Technical Writer

The trends in the mining industry most relevant to the material handling business are declining grades, limitations on input resources like water and energy, building pressure to reduce fossil fuel consumption, and the increasing need to minimize environmental impact, according to Fluor Corp. "Declining ore grades, increased processing volume, along with a requirement to drastically reduce water and energy consumption drive a need to scan and screen ore, and separate the waste even before any material enters the process plant," said Claudia Baerwolff, director, mining and metals strategy, Fluor .... read more

Top


For more companies with products in the Material Handling market -
Go Here
| | |
| --- | --- |
| Video Presentations | |
The latest listings from the World Mining Equipment Video Library - to view the video, click the image.
For more details on the Video Hub -

Go Here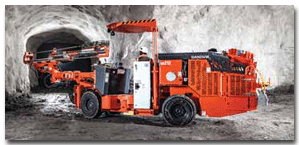 Sandvik - Single-B oom for Narrow Vein
Sandvik Mining and Rock Solutions introduced the Sandvik DD212, a compact and intelligent single-boom electrohydraulic drill for tunnelling and mining development in narrow vein drifts. The DD212 delivers up to 20% reduction in boom positioning time per face, and 15% improvement in drill .... read more
Trelleborg - Abrasion Resistant Rubber Sheeting that can cut the Total Cost of Ownership for Mine Operators
Introducing GoldLine® Premium 38, the natural abrasion-resistant rubber sheeting that protects mine owners' investments in mineral processing plants from wear caused by wet abrasive slurries. Developed to deliver the optimum combination of physical and mechanical properties....read more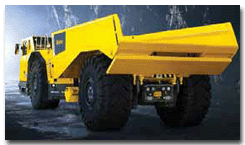 LKAB Buys More Epiroc Machines
LKAB ordered Scooptram ST14 Battery and Minetruck MT42 Battery machines, and Batteries as a Service for the Konsuln test mine. The order stems from the Sustainable Underground Mining collaborative project. Both companies participate in the project, and it gives the miner early access to battery machines .... read more

Top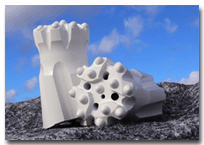 Robit - Tests Prove Button Bit Performance
Robit reported field tests demonstrated the Rbit button bits, "manufactured with recyclable 100% Green Steel," offer superior drilling performance. The tests proved the bits offer better flushing and longer grinding intervals, the company reported. The Flat Face model has ....read more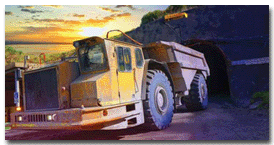 Load Volume Scanner Gains More Acceptance
Loadscan CEO Carey West believes that 2020 marked a turning point in the market, where load volume scanning technology achieved mainstream acceptance as an accurate load measurement system. So much so that Loadscan closed 2020 with a record order book. They noted a marked increase in global .... read more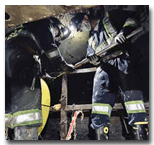 Drill hole Deviation Measurement
Carlson Software announced the Boretrak2 borehole deviation measurement system is simple to use and can measure boreholes in any inclination. With Carslon Scan software, it can check the accuracy of drilled holes and their deviation from design. It can be used in audits, to record and visualize drilling data, and to proactively .... read more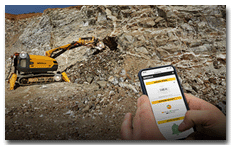 Brokk announces Brokk Connect
Brokk launches Brokk Connect, an online platform for connected Brokk robots. Brokk Connect is a hardware and software solution uniquely designed for Brokk robots, that connects the robots to an online portal where users can track and manage their machines. In addition to providing real-time data.…. read more

Top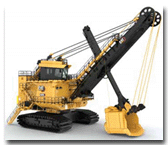 Upgrades to Shovels Increase Efficiency
Caterpillar reported more than a dozen significant standard feature upgrades to the 7495 Electric Rope Shovels that combine to increase operating efficiency by up to 10%. The list of upgrades includes, a new propel gear case, adjustments to gearing geometry, up -dates to the AC electric-drive system, improved maintenance access ....read more
MARCH 1-5, 2021: SME Annual Conference & EXPO, (Virtual)
Contact Web: https://www.smeannualconference.com/
MARCH 7-10, 2021: The annual meeting of the Prospectors & Developers Association of Canada, (Virtual)
Contact: Web: https://www.pdac.ca/ convention/attendee-info/pdac-2021-convention-goes-virtual
MARCH 14-17, 2021: Haulage & Loading 2021, Hilton El Conquistador Resort, Tucson, Arizona, USA.
Contact: Web: www.haulageandloading.com
APRIL 19-23, 2021: Expomin, Espacio Riesco, Santiago, Chile.
Contact: Web: www.expomin.cl
MAY 4-6, 2021: US Coal Show/Longwall Edition, Pittsburgh, Pennsylvania, USA.
Contact: Web: www.uscoalshow.com
MAY 4-6, 2021: Canadian Institute for Mining (CIM), Montreal, Quebec, Canada.
Contact: Web: www.convention.cim.org
JUNE 1-3, 2021: Euro Mine Expo, Kraft Center, Skelleftea, Sweden.
Contact: Web: www.eurominexpo.com
SEPTEMBER, 2021: MINExpo INTERNATIONAL, Las Vegas, Nevada. USA Contact Web: www.minexpo.com
Contact: Web: https://www.minexpo.com
For a full calendar of mining industry conferences and events - click here
| | |
| --- | --- |
| WHO'S MOVING WHERE | |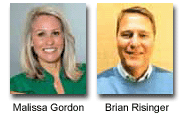 Piedmont Lithium Ltd. announced the addition of Malissa Gordon, Jim Nottingham, John "Pratt" Ray and Brian Risinger as senior members of the management team. Gordon joined the company in 2020 as manager of community and government relations. Most recently, she was with the Gaston County Economic Development Commission. Nottingham joined as senior project manager of concentrate operations. Ray joined as production manager of chemical operations. Risinger joined as vice president of corporate communications and investor relations.

Freeport-McMoRan Inc. appointed Richard C. Adkerson chairman. He will also continue to lead the company as CEO.

Alamos Gold Inc. appointed John Fitzgerald as its vice president, projects. Most recently, he was vice president, projects and technical services at Centerra Gold.

Glencore plc appointed Cynthia Carroll as an independent non-executive director. She held various executive roles there culminating in being CEO of the Primary Metal Group, Alcan.

Orogen Royalties Inc. appointed Daniel Pace as vice president of exploration. Pace takes over from Dave Groves, who is retiring from the company. Prior to Orogen, Pace was the exploration manager at Renaissance Gold.

Artemis Gold Inc. appointed Jeremy Langford as COO. Langford served most recently in the role of COO of Centamin Plc.

Eriez Vice President of Global Technology Michal J. Mankosa has been selected as the recipient of the 2021 Robert H. Richards Award. This recognition is presented by the Society for Mining, Metallurgy and Exploration (SME) and funded by the American Institute of Mining, Metallurgical and Petroleum Engineers (AIME) for outstanding contributions to applied research, engineering development, and commercial deployment of advanced separation systems for the mineral processing industries. Many of his groundbreaking research projects have led to innovative developments that have helped to advance the minerals processing industry. His most recent work is focused on improving the efficiency of mineral recovery systems while simultaneously providing substantial reductions in energy and water consumption.

Eriez promoted John Blicha to the position of global senior director of marketing and brand management.
About - providing an abreviated version of the current print edition of E&MJ, WOMP is distributed throughout the world to decision makers in the global mining industry, the last week of every month.

Subscribe to E&MJ - To receive your own copy of the print edition of E&MJ, click here , and complete your details. E&MJ is available free of charge to qualified readers.

Contact - if you have views, opinons or comments or editoral that you would like to submit, we would be delighted to hear from you - click here

Top