How To Hit Deadlines Delivering Machines
Equipment transporters reveal how to save time and money

By Jesse Morton, Technical Writer
---
In November, JP Tech Services turned 20. The company transported 10 785Cs from
five coal mines in Appalachia to the Port of Savannah to be shipped to a copper mine
in Zimbabwe. (Photo: JP Tech Services)

When transporting equipment, time is always of the utmost importance. Recent headlines show how seriously solutions and services suppliers take deadlines for getting a machine from point to point. Whether when moving a drill rig from one work area to another, a fleet of haulers across snowy mountains to port and on to another continent, or an enormous stacker across an intracoastal river, time is money, and these suppliers prove that nowadays there is now little reason to waste either.

Hauler Fleet Goes From Mountains to Port
When JP Tech Services hit its 20th anniversary in November, it was in the middle of the biggest equipment transportation project in the U.S. at the time. The company was moving 10 Cat 785Cs from five coal mines in Appalachia to the Port of Savannah. The trucks were bound for a copper operation in Solwezi, Zambia, owned by an Australian miner. The company's owner described the project as simply another job, one of a number under way simultaneously that involved millions of dollars in assets and that had personnel, top experts in the field, scattered across several states. Yet, it was not just another job, but rather a fitting cap to two decades of growth.

"This company started 20 years ago with one man with no backing," JP Tech Services President Jonathan Pruitt said. "At one point, we were a coal service group," he said. "We have remade ourselves in the last nine years into a totally different company that still does some work in coal but is now diversified into hard rock mining, transportation and lifting."

Moving 250-metric-ton (mt) haulers through four states would tap expertise from all those sectors. Because the company could complete the entire project without farming out any of the numerous tasks, it easily won the contract, said MB Global, equipment broker for the miner. "To put the order together for the client, we had to go to multiple owners and pull trucks from five different mine sites in two states," said Chris Burton, executive vice president, MB Global.

"When we started talking with different companies, we found that JP Tech is a one-stop shop," he said. They could dismantle the trucks on-site. They could transport the trucks to a work yard and do the repairs and cleaning. And they could get the trucks to port. "That is really unusual," Burton said. "JP Tech is a full-service provider," he said. "Equally important, they meet the time objectives."

Deadlines are nonnegotiable when the client is chartering vessels for oceanic transit. The secret to punctuality is rigid project management discipline, Dennie Leach, transportation manager, JP Tech Services, said. "That is what makes us strong and gives insight on where exactly we need to be at," Leach said. From the start, every task is built into a comprehensive Gantt chart, he said. "It gives us where we need to be at on every one of the trucks," he said.

The chart itemizes, among other things, tasks big and small, and both near-term and longer-term goals, Pruitt said. "We plan it A to Z, including everything we need," he said. At regular meetings, the chart is referenced to give both the big picture and granular details. "The biggest challenge on any project of this size is being able to see the forest and also see the tree in front of you." The first trees were inspections. The trucks were to be inspected with Caterpillar's Trade Allowance 2 (TA2) criteria.

"First, we did the TA1 and TA2 inspections, going out and making sure the customer was getting their money's worth," Leach said. "For the TA2, you do oil samples. Then they know if there is any wear issues on their components." The trucks had been parked, and roughly two days per truck was required to assess hydraulics, oils, batteries and some components, Pruitt said. "These are all mid-20,000-hour (h) to 30,000-h trucks." After the inspections, the beds and tires are removed and loaded. A 100-ton Grove crane does the lifting. The chassis goes on a 10-axle rig with a beam trailer. "That is good for 200,000 lb (91 mt) gross," Leach said.
JP Tech Services used its own certified escorts to
accompany the 10-axle rig hauling a 785C chassis
on another gray West Virgina Sunday in late fall.
(Photo: JP Tech Services)

The bed goes on a rig with a 4-axle tractor and a 3-axle lowboy. "Those will be grossed out at about 130,000 lb (59 mt)," Leach said. The two tire loads are 3 m wide each. "With your last tire load, you put in any extra pieces, catwalks and handrails on that trailer," Leach said. The first destination is a 10-acre (40,500-m2) laydown yard and work campus in Mingo, West Virginia. Before mobilizing, Leach and a crew measure the heights of every overhanging tree, line, sign and bridge beam. "Trees grow over the road, so you've got to make sure they don't bust the windshields of the chasses," he said.

"The loads are at 15 ft 7 in. (4.7 m), so we set our high poles at 16 ft 1 in. (4.9 m)," Leach said. "Every wire or every bridge that we come to we log it out. My drivers know every place that they would have an issue with." Some obstacles will be lifted using poles. For others, "we put runners on the machines so that the wires slide over," he said.

In West Virginia, each super load requires three escorts, and the move must be made in daylight. The state recommends Sunday moves, which Leach said worked best because traffic volume is lower than it is on other days. "We had several loads that had to have bridge monitors due to the grand weight due to the chasses," he said. "They control the speed and traffic on the bridges while we are crossing to prevent damage to the roadway." The first loads mobilized in mid-November and encountered rain. The last loads encountered snow.

"The transportation department carried them to our lot in Mingo where we have a wash pad set up to prep the machines, do what is called an Aussie Wash, and control all the runoff of the water so we have no issues with environmental regulators," Pruitt said. The Aussie Wash cleans the trucks to meet the regulations governing their entry to Australia and South Africa. "You've heard of a white glove test? It is that clean," Leach said.

"No grease, oil leaks, dirt or rocks coming from another country," he said. "It has to be as clean as what would come from the factory." Each truck spends four days in the first hard wash. Two-man crews do repairs and maintenance. Assets involved include cranes, manlifts, trucks, tractors and welding trucks. Leach said up to $1.25 million in assets in Mingo was committed to the project.

The trucks are processed simultaneously and on average each requires around a week to be brought entirely up to specifications. "That varies depending on the repairs that have to be done," Leach said. Some of the needed repairs can be extensive, Pruitt said. "We've had brake packs suddenly start leaking," he said. "Instead of doing planned work, we've had to turn around and take brake packs off, or take final drive assemblies off, or deal with wheel seals."

From Mingo, the trucks go to port, this time primarily by interstate. This part of the project was co-managed by Joe Caudo with National Ironman Plant, an Australian partner of MB Global. Again the route is fully scouted, with overhanging obstacles identified. The first superload consisted of three chasses, two beds and the falloff loads. The caravan included 20 escorts and a total of 38 personnel. "All of our escorts are certified," Pruitt said. "You are in the neighborhood of $3 million of JP Tech's assets traveling down the road."

Those assets are subject to Level 2 inspections by state police at each border, Leach said. "They measure every load," he said. "If anything is off, whether it be just a light out, those loads don't move." The runs are arranged according to regulations. "Tennessee will let me move two loads on Monday, two loads on Tuesday and one load on Wednesday," Leach said. In Georgia, different rules apply. "They back them away from each other, a half mile apart," he said. "They were supposed to run the Georgia runs the same route, but when we got to Atlanta they split us," Leach said. "One goes through Macon. The other goes through Augusta. It adds mileage."

But separating the runs divides the risk, Pruitt said. "Their theory is that if you have a problem it will be with one group or another and maybe you've not tied up one road entirely and there is still another route." As of this writing, Burton said the project was on schedule and on budget, and could prompt the opportunity to move two additional fleets of 13 and 12 trucks, respectively, for MB Global. "It was an extremely smooth process," he said.

Repeat business is as common as new business, and the company routinely fields multiple simultaneous projects, Pruitt said. For example, while moving the haulers from Appalachia to port, the company simultaneously relocated a PC5500 Komatsu excavator, four 830 trucks and a Cat 993K wheel loader from an old Arch Coal mine. "We had a four-week target to completely disassemble, move, re-bearing, install new slewing gear, make some repairs, move the four 830s and the 993K from the Coal Mac property to the Twin Branch property," Pruitt said. The project required 10 maintenance personnel, trucks, two 100-ton cranes, and two 70-ton cranes. "You are talking about a pretty intense project and we hit our target dead on," he said.

Besides equipment transport projects, the company serves as a maintenance group for mines and other businesses. "We've got resident mechanics at the Haile gold mine in South Carolina, and elsewhere. We do a ton of underground work. We have 10 men on any given day in the underground zinc industry," Pruitt said. "We've got resident mechanics at Waste Management." Going forward, the company hopes to expand its footprint in the metal/nonmetal mining space. Burton said MB Global is eager to help. "Because we got our origins from the Appalachian region, we love to patronize local organizations when we can," Burton said. "Jonathan's team, and Joe Caudo, have been fantastic." Team is the key word, Pruitt said. "The only way you can operate at the level this company operates at is with very professional personnel," he said. "It is a team effort. The men do what they do well."

Stacker Crosses Strait of Georgia
In August, Mammoet completed a project that moved a giant stacker-reclaimer in one piece from a factory to its foundation. After three years of detailed planning, the execution was seamless, Mammoet said. "For projects of this scale, planning is everything since the early stages of the planning process identifies the commercial, technical and operational details necessary to execute the project strategy," said Dave Donnelly, technical advisor, Mammoet. And the scale can only be described as immense. The stacker and the corresponding tripper car combined for almost 1,000 mt. The stacker was 79 m long, 20 m wide and 32 m high. The tripper car was 54 m long, 10 m wide and 17 m high.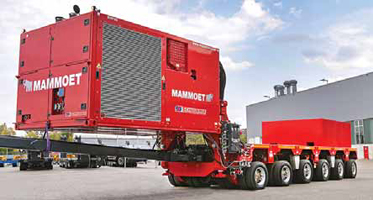 Trailer Power Assist, co-developed by SCHEUERLE and Mammoet is based on the
self-propelled K25 modular platform vehicle, drives four of six axle lines, and is situated
between a truck and a trailer to provide addition traction force of 400 kilonewtons.
(Photo: SCHEUERLE)

The stacker was manufactured by United Engineers (UE) at Hope Harbor, in British Columbia, Canada. It was destined for the Neptune Bulk Terminals (NBT) in Vancouver. The customer purchased the stacker as part of an $800 million upgrade project intended to help double its metallurgical-coal-export capacity to 20 million mt per year. Local company Dynamic Heavy Lift decommissioned the old stacker and was tapped for lifting and moving the replacement stacker into place in Vancouver. Mammoet was contracted for the transportation part.

With "years of engineering and operational experience in the art of heavy lift and transport," Mammoet was uniquely qualified for the role, Donnelly said. For example, previously Mammoet helped move a gargantuan Sandvik PD200-2200/60 stacker from the Ridley Island Terminals on Porpoise Harbor to a mine site on the island. That one weighed 1,500 mt and was 140 m long and 30 m high. "For Mammoet, this project and its operations were a typical heavy lift and transport problem for modularized factory-to-foundation equipment," Donnelly said. "It is a good example of how over-dimension, overweight project items can be efficiently completed away from their installed sites if a project management team embrace a modular approach to its construction strategy."

United Engineers embraced the strategy and built the stacker directly on to steel rails using the exact dimensions specified for loading it on Mammoet's Self-Propelled Modular Transporters (SPMTs). The trailers come in factory standard units with four axles, with a 120-mt capacity, and six axles, with a 180-mt capacity. SPMTs "can be mechanically, hydraulically and electronically connected, both longitudinally and transversely, for whatever project payload needs to be lifted and transported," Donnelly said. The modular design offers easy mobilization and demobilization, he said. "The high-capacity SPMT trailer's modular design, including the hydraulic Power Pack Units, allow engineers to combine the SPMTs into whatever configurations are required for lifting and transporting the project item," Donnelly said. "The SPMT's pendulum axles give the trailers their maneuverability and the integral computers provide one-man operation in various steering modes."

On 66 axle lines of SPMTs, the stacker was driven on to a barge aptly named the Dynamic Beast for the trip across the Strait of Georgia. The Beast is described as a 330- by 120- by 20-ft heavy-lift deck cargo barge with a ballasting system that pumps water to and from tanks in the hull to maintain a level keel. The ballast system can be activated for either a Roll-On/Roll-Off (RO/RO) or a Lift-On/Lift-Off operation. The deck capacity is rated at 25 mt per m2. It is equipped with a Manitowoc M-1200 Ringer Crane at the aft end, which has a maximum lift capacity of 900 mt and that can be removed to make space. After docking in Vancouver, SPMT teams drove the stacker 260 m to its foundation.

Auxiliary equipment used included 20-m load spreaders and RO/RO ramps, Mammoet reported. The company also constructed a purpose-built frame to provide support during the move. It used "existing heavy-lift ancillary equipment items such as support stands, steel mats and ramps," Donnelly said. "This application of Mammoet's modular equipment coupled with the SPMT's transport configuration hydraulic stability provided a savings for project transport cost and time."

The biggest challenge was harmonizing the timing of loading tasks with those related to the completion of the stacker by UE, and to the timing of tasks at NBT, he said. "These were solved by regular discussions between project managers from Dynamic, Mammoet, UE and NBT." Donnelly said the project could serve as a template for future ones. "Allowing for project cargo specifics, the same modular approach can be duplicated, especially if blue-water access is available at both factory and foundation sites."

Trailer Assist Solution Wins Award
Trailer Power Assist (TPA) won the 2020 innovation award from the European Association of Heavy Lift and Abnormal Load Hauliers (ESTA). ESTA jurors selected TPA, which was co-developed by Mammoet and SCHEUERLE, from a pool of 38 finalists from 24 companies in 13 countries. SCHEUERLE said the award speaks to the capabilities of the solution. It also "strongly signals the innovative force of SCHEUERLE and Mammoet," said Volker Seitz, head of global marketing, TII Group. Manufactured by SCHEURLE to Mammoet's specifications, TPA is an engineered heavy transport solution based on the self-propelled K25 modular platform vehicle. TPA has a robust drive system with a Power Pack Unit that drives four of six axle lines. Situated between a truck and a trailer, it provides a traction force of 400 kilonewtons or the pulling force of two truck tractors.

"Each TPA trailer has a 1,000-hp diesel engine powering an innovative new hydraulic drive system," Seitz said. It offers "twice the pulling force of a conventional prime mover unit." TPA is designed for international transport and offers a range of benefits. By replacing tractors, it reduces CO2 emissions and eliminates the ballast requirements. "Likewise it reduces the time-consuming need for coordination between the drivers that normally occurs in a multi-truck combination in order to synchronize the braking and steering behavior," Seitz said. "Consequently, the TPA also increases the safety of the transport assignment."

Reduced length and weight of transport also improves safety and maneuverability. "Once the transported goods have been delivered at their destination, the truck can pull the TPA to the next location in freewheel mode at a maximum speed of up to 80 km/h," Seitz said. "Cost effectiveness and efficiency are thus considerably higher than with previous transport solutions."

TPA was designed and tested in 2017 and 2018. It was released in 2019. Shortly thereafter, Mammoet used it to transport a 430-metric-ton (mt) coil. "Without TPA, six towing vehicles would have been required," Seitz said. "With the help of the TPA, two trucks were sufficient due to the additional thrust provided." TPA reduced the time required for the transportation by half. The award shows SCHEUERLE "is a highly innovative supplier with longstanding experience, and therefore a worldwide leading manufacturer of transport solutions for heavy haulage," Seitz said. "SCHEUERLE develops customized high-efficiency transport solutions, from the practice for the practice."

Trailer for Drills, Dozers Saves Time
Sleipner Finland released the DB- 120PLUS equipment transport trailer, which has a maximum payload of 120 mt and is ideal for drills, bulldozers and other tracked equipment. Like the two other units in the series, the trailer is compact, offering speed and agility that translates to substantial time savings and costs savings, Sleipner said. "It is the size of a David but with the strength of a Goliath," said Conrad Caldwell, sales manager, U.K. and Ireland, Sleipner Finland Oy.
The DB120 has a maximum payload of 120 mt and a maximum towing speed of 15 km/h fully loaded, and can be
towed by a 45-mt ADT. (Photo: Sleipner Finland Oy)

The trailer can be used in routine relocation of equipment. It also allows the miner to be more reactive to emergent realities on the site. Both capabilities can help increase productivity, Sleipner reported. Becoming more reactive can mean being able to quickly overcome setbacks, Caldwell said. "With the Sleipner DB system, drills, dozers, diggers and auxiliary equipment can be relocated quickly and safely from the bottom of the pit to the next work area, or to the workshop for service and maintenance during shift change or blast breaks," he said.

The DB120PLUS can carry drills, bulldozers, excavators, wheel loaders, trucks, buckets, pumps, light towers, graders and more. With a hydraulically lowered and raised bed, it offers quick rear loading. "One person can handle the whole loading procedure," Sleipner reported. It offers a max towing speed of 15 km/h fully loaded. Unloaded it can travel at 30 km/h.

A top-tier benefit offered is the opportunity to improve site safety. The bed is wider than the loaded equipment tracks. It poses no risk of overturning. And it has a reversing camera system and an advanced braking system. "Drag brake surfaces at the tail of the trailer can be lowered to touch the road during downhill transportation and the operator chooses the needed brake assist according to conditions," Sleipner reported. "A secondary wheel brake system is connected to the towing vehicle brake circuit."

Caldwell said big safety gains can also arise from the fact that it can easily join mine traffic while requiring minimal personnel. "Thanks to the compact design and agility, the Sleipner DB-Series fits in with the flow of the haul road traffic, and there is no need for escort teams in the front and back of the lowboy, releasing resources and people." The wheel span of the unit is 11.8 m. The trailer bed is 8.2 m long and 5.8 m wide. It has a turning radius of 14 m. The DB120PLUS can be towed by a 45-mt ADT.

The model is the natural evolutionary successor to the original DB120. Since its release in 2013, the DB120 has been widely deployed and has garnered much positive feedback. One customer with multiple pits on a site spanning roughly 10 km used it to cut maintenance costs enough to justify running four additional dozers, Teijo Höylä, product manager, Sleipner Finland Oy, said. "In this case, in order to fit the maintenance budget, the mine was planning to cut the dozer fleet from 13 to 9 units," he said. Before it did, it adopted a DB120. The trailer basically made the fleet mobile enough to dramatically reduce maintenance costs. With the dozers being wheeled around when needed, all maintenance could be done at the workshop. With minimal availability disruption, they could be dropped off for unplanned maintenance. "After using Sleipner DB120 for only six months, the maintenance cost of the 13-dozer fleet was at below the projected maintenance cost of nine dozers," Höylä said.

There were other savings that proved incalculable. "After all the tracked machines were relocated on wheels, the road repair costs were reduced drastically," Höylä said. "Previously the heavy-tracked equipment was tramming on dust beside the roads, causing damage to the hauling roads." And using the DB120 proved to be the safest option, he said.

"Safety is not always a calculable or quantifiable factor, but in a comparison between the operational procedures of a conventional lowbed-type trailer and Sleipner DB120, no doubt Sleipner will clearly win," Höylä said. "Low center of gravity allows exceptional stability. Fall risks are minimal. And with rear loading, there is no need for un-hitching or re-hitching the DB120."

Vehicle Recovery Tool Boosts Towing Capacity
Philippi-Hagenbuch announced the Vehicle Recovery Tool (VRT), an intermediary piece of towing equipment that boosts the capacity of a primary tower, such as a lowboy trailer. It is "the safest, most stable way of towing a disabled vehicle within a mine site environment," PHIL said. "Used independently, the VRT provides a safe, efficient towing solution for trucks of up to 400 tons in capacity," said Josh Swank, vice president, sales and marketing, PHIL.

The Vehicle Recovery Tool attaches to the towing machine to boost capacity, provide greater stability and balance,
and improve safety. (Photo: PHIL)

The VRT attaches to the front bumper of a disabled vehicle, lifting the front tires off the ground. This spreads the weight evenly between the VRT, primary tower, and rear wheels of the machine being towed. "The VRT's wide base provides greater stability and balance, eliminating the need for a counterweight on the tow vehicle's chassis and ensuring safe towing with no added pressure on the truck or the haul vehicle," Swank said. That reduces "stress on the equipment or the prime mover, decreasing maintenance and, in the long run, increasing longevity of these machines."

It can be put between a towing chassis and a trailer for the same results. Each VRT is custom-engineered for pairing with the primary towing machine, which can be a haul truck, track-type tractor or wheel loader. The solution offers speed and peace of mind, PHIL reported. "The VRT allows for quick, efficient recovery of disabled equipment," Swank said. "Operations can move equipment from the field to the shop more quickly." Repairs done in the shop are typically done faster and better than those done in the field. "These might be small gains in the grand scheme of things, but when it comes to minimizing downtime, every minute counts," Swank said. Those minutes add up for "decreased downtime and better productivity."

Attaching the VRT is similar to attaching a truck body, Swank said. "A hitch arrangement gets pinned on to the truck at the rear pivot mount and then tied down to the hoist cylinder mounts on the truck, or to the hoists themselves," he said. "The VRT utilizes the truck's hoist hydraulic circuit, so there are no additional hydraulics to add or controls to clutter the cab." The research and development behind the VRT was driven by customer feedback, he said.

"While developing our Ultra-Class Lowboy, our team realized there were definite improvements that could be made to the process for hauling disabled equipment," Swank said. "So, we got to work designing the VRT and applied for its first patent in 2011." Like all PHIL solutions, the VRT is designed to "integrate with the operation's existing equipment, saving producers money and maximizing productivity," he said. "We take good general purpose haul trucks and make them great for our clients' specific needs."
---
As featured in Womp 2021 Vol 02 - www.womp-int.com