Kolmar Plans to Double Coal Production
---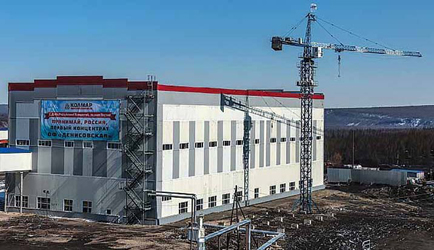 Kolmar starts construction of the second stage of the Inaglinskaya coal complex.


The Kolmar Coal Co., a Russian coal mining company in southern Yakutia (Neryungri Region), plans to double its coal production in 2021, according to local media reports. The company has set its sights on exporting more metallurgical- grade coal to China and India.

In 2020, Kolmar produced 6.7 million metric tons (mt). The company said it will double it capacity by achieving full production at the upgraded Inaglinsky mine and processing plant and through the launch of the new Eastern Denisovskaya mine. It invested 24 billion rubles ($317 million) in 2020, and they plan to invest an additional 30 billion rubles ($396 million) in 2021.

Almost 80% of Kolmar's exports currently flow to China. After the commissioning of its own coal terminal at the Port of Vanino, South Korea, Japan and even India are now promising markets. A pilot shipload was delivered to a major South Korean metals company several months ago.

"Despite the challenging economic situation, we feel optimistic about the future and continue boosting production," said Anna Tsivileva, chairwoman for the Kolmar board. "We have received an increasing number of applications from top Chinese metals enterprises for Russian coal as they reduce their share of coal purchases from Australia. And we are ready for such a step, expanding hightech production and infrastructure for increasing coal output volumes." During 2020, Kolmar launched what it calls the first stage of the largest Russian coal complex, Inaglinskaya, which includes mining and processing plants and the largest coal terminal in the country.

On December 20, the Denisovskaya mine was launched in test mode, which was expected to start operating at full capacity in February. It will increase the production volume at the Denisovsky GOK to 6 million tons of coal. The company has set a coal production target of 12.24 million mt for 2021.

In 2021, the company plans to build auxiliary facilities, including the main building of the second stage of the Inaglinskaya- 2 mining and processing plant and the second stage of the Inaglinskaya mine, so that both facilities will be fully launched in the first quarter of 2022.
---
As featured in Womp 2021 Vol 02 - www.womp-int.com