Mikko Keto Takes Reins at FLSmidth
A leader in mineral processing looks to improve service and provide sustainable solutions for mining companies

By Steve Fiscor, Editor-in-Chief
---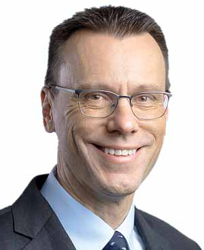 Mikko Keto, mining president for FLSmidth.

A great deal of consolidation has taken place with major suppliers serving the mineral processing sector, and more mergers are currently under discussion. Last year, Metso completed its merger with Outotec, and FLSmidth is currently negotiating a purchase of thyssenkrupp's mining segment. As these companies realign, new leadership is emerging across the board and a key C-level appointment was announced during mid-January for FLSmidth. Mikko Keto accepted the position of mining president and will also serve as a member of Group Executive Management at FLSmidth. He replaces Manfred Schaffer, who led the mining segment for six years and announced his plans to retire in 2020.

"This is an exciting time for Mikko Keto to join FLSmidth. Our mining business has been stable with strong order intake, even in the face of travel restrictions and the COVID-19 pandemic," FLSmidth Group CEO Thomas Schulz said. "[He] brings vast experience in developing and executing high-performance business strategies across the mining flowsheet. His many leadership roles in international business give him a deep understanding of how best to serve global customers within a matrixed organizational structure."

"Under [Keto's] leadership, FLSmidth will continue on our path of growing our mining business," Schaffer said. "He will be a strong asset to FLSmidth, our mining organization and to our customers." Keto began his mining career when he joined Metso in 2010. He started as a vice president of Flow Control Services before moving to president of Automation Services, senior vice president of Performance Service and senior vice president for Spare Parts. He continued to climb the corporate ladder and was eventually named president of Minerals Services and Pumps. Prior to his career with Metso, he also served as head of sales for the Maintenance business unit at KONE Corp. He also held senior management and sales positions with Nokia Networks.

With that pedigree, it should come as no surprise that Keto intends to focus his efforts on improved service and sustainable solutions for mining companies. Typically, a new C-level executive for a multinational company would travel to many of the company's locations and meet with colleagues, but this is not currently possible with travel bans and the fears of contracting and spreading COVID-19. So, he is learning the ropes virtually, while locked down at the company's headquarters in Valby, Denmark.

Keto said his primary focus will be to continue maximizing profitable business opportunities across the mining flowsheet, with an emphasis on sustainability, digitalization, service and aftermarket. He will lead FLSmidth's mining organization's focus on delivering solutions and equipment that provide sustainable productivity and meet the changing needs of its mining customers. "I'm very proud to join FLSmidth at this particular moment," Keto said. "We are well-positioned to seek opportunities for profitable growth and deliver on MissionZero, which aims to enable our mining customers to move toward zero emissions and zero water and energy waste by 2030. It is a great honor to lead the mining organization and I look forward to collaborating with all of our talented employees to provide the very best in sustainable productivity to our global customers."

Lasting COVID-19 Impacts
Keto took time from his schedule to discuss his plans for the future of FLSmidth. "Some of the new communications skills that we have learned from COVID-19 will have a lasting effect on how we conduct business, but you still need to meet face-to-face to brainstorm and to get to know people," Keto said. "It's really remarkable. I feel like I know most of the FLSmidth managers and executives around the world, even though I have been unable to leave the office."

After serving the mining industry for 10 years in various capacities, Keto said he still finds mining to be the most exciting of the industries he has worked with so far. "Its primary position in the supply chain, means that mining is always happening and will continue to do so," Keto said. "When one looks at the projections for tomorrow's world, it's obvious that mining and the raw materials that it provides will always be necessary. Mining is truly a global business, but there is also this feeling of community. It's also a relatively small industry, where sometimes you're a customer and sometimes you're a competitor."

The mining business places a lot of attention on health and safety, Keto acknowledged, and last year the world discovered the importance of public health and safety. "The pandemic is a tragedy and it has caused a lot of pain and suffering," Keto said. "Public health and safety systems around the world are under intense strain. To deal with the pandemic, we have had to learn new skills, and one of the more amazing breakthroughs brought about by COVID is the acceleration of digitalization."

For FLSmidth, more supervisory activities with equipment installations and project commissioning are taking place remotely. "The concept of remote process monitoring, process control and even optimization were well accepted, but now we are executing process changes remotely," Keto said. "Initially, people were confident in remote monitoring, but less comfortable with executing changes remotely. That has changed."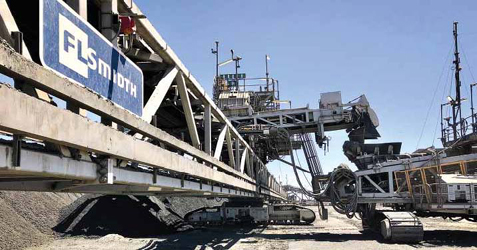 In addition to dry-stack tailings, FLSmidth has identified other opportunities to reduce waste and emissions.

This is happening internally at FLSmidth too, Keto explained. "When we look at supply chains, we now need the online visibility of the status of a spare part or a component coming from a distant location, such as a foundry in Turkey," Keto said. "Expediting is now done online. That high level of transparency is important for FLSmidth's customers and its suppliers as well. We are fortunate to have strong regional teams. The companies that are more centralized are experiencing great difficulties these days."

Future Priorities for FLSmidth
FLSmidth has a large portfolio of equipment and services. Keto said he wants to maintain and build technical leadership throughout the modern mineral processing flowsheet. "Within comminution for example, we recently launched a new large gyratory crusher that completes that product line," Keto said.

FLSmidth's project execution is in very good shape, Keto explained. He plans to build a second, strong pillar focused on service and process optimization. "We need to be the leaders in service," Keto said. "We have good service in most parts of the world, but I want to invest to make service equally as strong as our product portfolio and I also want to invest more in project execution. Ideally, FLSmidth should have a leadership position with helping its customers optimize process performance, which means we need to stay engaged and help sustain and improve that performance continuously."

Digitalization of the plant is super important for future success, Keto explained. "Sensor technology has been a bottleneck for the mining companies," Keto said. "In particular, it impacts the speed at which decisions are made. A prime example would be establishing setpoints to manage the variation of the feed characteristics." "Today, many countries as well as mining companies have set targets for decarbonization and we want to help them achieve those goals," Keto said. "Performance optimization and improving productivity are high priorities for mining companies, along with sustainability. Sustainability is also important for suppliers." Explaining that there is no silver bullet, Keto knows the problems mining companies face with water and energy costs, and their social license to operate. "Helping mining companies achieve their environmental goals will drive the introduction of new technologies," Keto said.

Mining companies have achieved a great deal in the last five to 10 years as far as digitalization goes. Keto faults some of the suppliers for moving too slow to adopt digitalization. "The challenge for the miners is the suppliers with the point solutions," Keto said. "You have a piece of equipment with great condition monitoring, but it doesn't interact with other downstream processes. Mining companies today are looking at more wholistic solutions for the entire process and they are frustrated with point solutions." Keto pointed to FLSmidth's recent acquisition of KnowledgeScape as one of the ways the company will provide improved digital solutions for miners. "They have a wholistic view especially with Optimization and Expert Control software and the significant gains being made in that area," Keto said.

The news that FLSmidth is currently looking to purchase thyssenkrupp's mining segment broke at about the same time the company announced the appointment of Keto. He was unable to discuss ongoing business deals, but said FLSmidth was happy that the negotiations were continuing. "There is some overlap with our product lines, but thyssenkrupp has other products and solutions that would add strength to FLSmidth's portfolio," he said. "Together we would be stronger. The timeline, however, is dictated by the selling party. We have great respect for them and their products and services."

When Keto turns his attention toward the future, he said he really enjoys performance and process optimization projects that increase productivity and provide sustainable solutions. "I have been involved with other heavy industries, such as oil and gas and pulp and paper, and they may be a little more advanced as far as process optimization in some areas and I see similar solutions for the mining sector and that links nicely with FLSmidth's MissionZero program."

MissionZero in Mining
FLSmidth launched MissionZero to offer the mining industry solutions that support a move toward zero water waste, zero emissions and zero energy waste. Dedicated to the development of digital and innovative solutions tied to sustainable productivity, the company said it plans to offer the required technological solutions to move toward zero-emissions mining processes by 2030, with a specific focus on water management.

The company has already developed solutions such as dry-stack tailings that enables mine sites to recover up to 95% of their process water and multiple digital solutions that provide greater processing efficiency. FLSmidth said it is also identifying opportunities to significantly improve productivity and environmental impact across the entire flowsheet, including crushing, flotation, thickener upgrades and filtration, as well as the maximizing potential of pumps and cyclones.

FLSmidth has positioned MissionZero as an invitation to mining companies, third parties and its peers to co-create and ensure adoption of solutions that will transform mining into a more sustainable industry. More information is available at FLSmidth. com/MissionZero.
---
As featured in Womp 2021 Vol 02 - www.womp-int.com