The latest from the
World Mining Equipment
Video Library
View




This Too Shall Pass

Here we are once again, staring at the teeth of the tiger.

The last time was 2008 as the global financial crisis (GFC) was about to take down commodity markets and the economy with it. Many of the major mining companies, which were flush with cash at the time, did not feel the immediate effects of the credit crunch. They would eventually suffer from the economic slowdown, but they had the ability to pause and apply reason when others were operating in a state of panic.

The fear brought about by the coronavirus (COVID-19), which is a health crisis, not a financial crisis, has drawn a similar, measured response from leaders in the mining business .... read more


Steve Fiscor, Publisher & Editor in Chief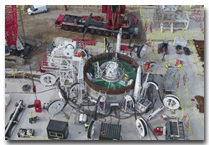 Anglo Secures Future for Woodsmith Polyhalite Project
Anglo American, through its wholly owned subsidiary Anglo American Projects UK Ltd., has completed the acquisition of Sirius and its Woodsmith Project in the U.K. This follows the January announcement that the boards of Sirius Minerals Plc, Anglo American and Anglo American .... read more
Mining Industry Forms Green Hydrogen Consortium
Hatch, Anglo American, BHP and Fortescue have formed a Green Hydrogen Consortium to look at ways to use green hydrogen to accelerate decarbonization within their operations globally. Primarily, the consortium aims to collectively help eliminate the obstacles related to the adoption of green hydrogen technologies and encourage innovative application. The goal is to identify .... read more

Top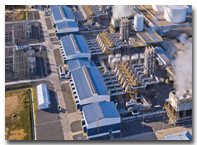 Barrick Will Invest $1.3B in Pueblo Viejo Expansion
The proposed expansion of Barrick Gold Corp.'s Pueblo Viejo gold mine in the Dominican Republic will extend its life as well as its contribution to the economy until 2040 and beyond. President and CEO Mark Bristow said the project would require an initial investment of $1.3 billion to expand the process plant and the tailings facility.... read more


Teck Sets 33% Carbon Reduction Target
Teck Resources Ltd. announced it plans to reduce carbon intensity by 33% by 2030 as part of its new sustainability strategy and goals. This builds on the Teck's previously announced commitment to be carbon neutral across all its operations and activities by 2050. "At Teck, we are always challenging ourselves to improve sustainability performance, so we can be sure we are providing the mining products needed for a cleaner future .... read more

| | |
| --- | --- |
| AROUND THE WORLD - USA & CANADA | |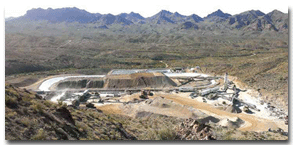 Feds Approve Moss Gold Mine Expansion
Northern Vertex Mining's Golden Vertex received final federal permitting approval for the Phase III expansion at the Moss mine in northwest Arizona. This will allow the company to expand its current operations from its patented claims onto its surrounding unpatented claims on federal .... read more


US District Court Sides With Twin Metals
On March 17, a U.S. district court rejected a challenge to the Department of the Interior's (DOI) reinstatement of Twin Metals' two hard rock mineral leases in northeastern Minnesota. The court agreed that the DOI has authority to reinstate the leases and that the leases provided Twin Metals a non-discretionary right to a third renewal. The leases were officially renewed in May 2019. Twin Metals said the decision "validates....read more

Top
Black Butte Achieves Key Permitting Milestones
Sandfire Resources Ltd.'s 85% owned Black Butte copper project in Montana has achieved two key permitting milestones, which represent key steps to the company receiving a Record of Decision (ROD) for its Mine Operating Permit (MOP). First is the release of the Final Environmental Impact Statement (EIS) by the Montana Department of Environmental Quality (MTDEQ) .... read more

| | |
| --- | --- |
| AROUND THE WORLD - Latin America | |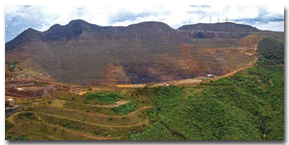 Vale Will Begin Disposing of Tailings From Dam Breach at Feijão Mine
Brazil's Vale has begun to streamline the process to remove and dispose of the tailings from the dam failure that occurred on January 25, 2019, at the Córrego de Feijão mine in Brumadinho, Minas Gerais, that killed at least 259 people and surrounding communities are still reeling from its damage... read more


Top
Fresnillo Announces Early Start for Juanicipio
Mexican miner Fresnillo said it is expecting to start production at the Juanicipio mine, a joint project in the northern part of the country with Canada's MAG Silver, earlier than expected. This raises its expectations for initial production at an additional cost of $45 million. Fresnillo, which cut its production forecasts four times last year, has been trying to reduce capital investment and costs ... read more

| | |
| --- | --- |
| AROUND THE WORLD - Australasia | |
Sale of Ravenswood Gold is Complete
Resolute Mining Ltd. has successfully completed the sale of the Ravenswood gold mine in Queensland to a consortium comprising a fund (EMR Fund) managed by specialist resources private equity manager EMR Capital Management Ltd. (EMR Capital), and Singapore-listed mining and energy company, Golden Energy and Resources Ltd. The sale of Ravenswood has been completed in accordance …. read more


Top

King of the Hills Resource Increases to 4Moz
Red 5 Ltd. has reported an updated mineral resource estimate for the Eastern Margin Contact Zone of its King of the Hills gold mine in the Eastern Goldfields region of Western Australia. Indicated and inferred resources now total 90.7 million metric tons (mt) at a grade of 1.4 grams/mt gold for 4.07 million ounces (oz) of contained gold. The mineral resource includes both open-pit and underground components …. read more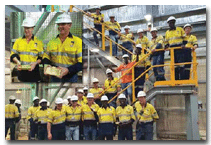 Sanbrado Project in Burkina Faso Pours First Gold Bars
Gold West African Resources poured the first gold at its Sanbrado open-pit/underground gold project in Burkina Faso on March 18. Gold bars weighing 23.9 kilograms (kg) were poured in the first smelt on site. Sanbrado project development was based on a feasibility study completed in April 2019. The study assumed an initial 10-year mine life based on probable reserves of 1.7 million ounces (oz) of gold …. read more
Top
Amplats Idles Waterval Converter Plant
Anglo American Platinum (Amplats) temporarily shut down the entire Anglo Converter Plant (ACP), part of the chain of processing facilities, and the need to declare force majeure. The company's ACP phase A converter plant, at Waterval smelter in Rustenburg, was damaged following an explosion within the converter on February 10. Nobody was injured in the incident and work has started to repair .... read more



Emerald Resources Awards Mining Contract for Okvau Project in Cambodia
Emerald Resources has signed a mining contract with MACA Ltd. for supply of earthmoving equipment and performance of contract mining services at Emerald's Okvau open-pit gold project in Mondulkiri province, eastern Cambodia. The contract is valued at $230 million over seven years. Mobilization activities are planned to begin in August ahead of preproduction mining in October .... read more


Top
Russian Platinum Backs Out of JV With Norilsk Nickel
Norilsk Nickel, the world's largest of palladium and high-grade nickel and a major producer of platinum and copper, reported that Russian Platinum has notified the company of its decision to terminate the negotiations regarding the Arctic Palladium joint venture and to proceed with the development of the Chernogorskoye Deposit and the southern part of the Norilsk- 1 Deposit on its own … read more



| | |
| --- | --- |
| THIS MONTH IN COAL | |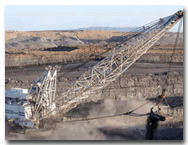 Coronado Suspends US Production
In response to an economic downturn in Europe, Brazil and the United States, Coronado Global Resources is temporarily idling its U.S. operations. The company will continue shipments to these regions from existing inventories of approximately 750,000 metric tons .... read more


Top

WVDEP Files Suit Against ERP Environmental Fund
On March 26, the West Virginia Department of Environmental Protection (WVDEP) fi led suit against ERP Environmental Fund Inc., the company that acquired more than 100 mining permits out of Patriot Coal Corp.'s bankruptcy in October 2015. The overwhelming number of ERP's permits are in West Virginia, with others in Kentucky, Illinois and Tennessee …. read more


-->
| | |
| --- | --- |
| FEATURE - Covid-19 | |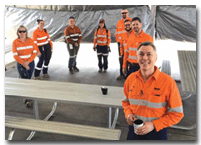 An Essential Industry Supports Surrounding Communities
Mine operators make adjustments to support employees, suppliers and neighbors during difficult times.

By Steve Fiscor, Editor-in-Chief

The updates from mining companies related to the coronavirus (COVID-19) were flooding E&MJ's inbox as this edition was going to press. With the exception of a few country-wide mandates, the mines and mills throughout most of the world continue to operate, especially those in low-risk jurisdictions. Most report they are assessing operations while actively implementing programs to protect workers and the surrounding communities. Others have reduced or temporarily suspended production to slow the spread and comply with regional edicts .... read more



For more companies with products in the Safety market -
Go Here
| | |
| --- | --- |
| FEATURE - Wear Protection | |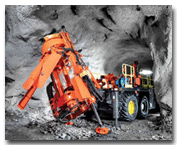 The Raiseboring Revolution
Equipment and services for raiseboring are in high demand and R&D is booming.

By Carly Leonida, European Editor.

Raiseboring contractors and equipment vendors have plenty to talk about at present. The market for new rigs, rebuilds and add-on features is looking extremely healthy and, despite the cloud of uncertainty that is COVID-19 hovering on the horizon, services are in demand aided by elevated gold prices ..... read more

Top

For more companies with products in the Raise Boring Materials market -
Go Here
| | |
| --- | --- |
| FEATURE - Mining Tires | |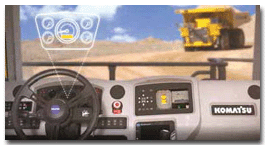 Data and Design Drive OTR Tire Improvements
Mines can take advantage of improved tire monitoring and management systems, along with new tire design features, to plan a course for reduced running costs.

By Russell A Carter, Contributing Editor

Mine tires are designed to fight constant skirmishes with rock, ruts and berms on haul roads, pit floors and dumps, but it's never a fair contest: Rock has no rules, while the giant OTR tires used on trucks, loaders and other mobile equipment must obey the laws of chemistry, physics and economics. Rock always wins, eventually, but improved tire compounds and designs, advanced tire management strategies and operator training can significantly prolong the battle.... read more


For more companies with products in the Tires and Tubes market -
Go Here
| | |
| --- | --- |
| Pit Planning | |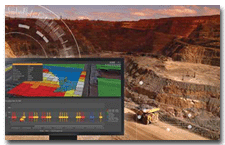 Planning for Uncertainty
How technology is helping to optimize mine planning and add flexibility over the life of mine.

By Carly Leonida, European Editor

The main challenges faced in mine planning remain relatively unchanged from those of 20-30 years ago. The question still stands: how can we produce more metal from assets in a way that maximizes operational and financial efficiency over both the short and long term? During this time, the tools available to mine planners have reached new levels of capability in terms of computing power and speed and, as one would expect, the accuracy of plans has improved.... read more

Top


For more companies with products in the Pit Planning market -
Go Here
| | |
| --- | --- |
| Video Presentations | |
The latest listings from the World Mining Equipment Video Library - to view the video, click the image.
For more details on the Video Hub -

Go Here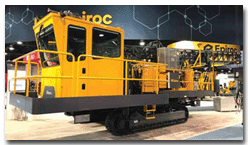 Epiroc - Rig Drills 11-m Hole on Single Pass
Epiroc introduced the DM30 II SP (single pass), which the company described as a rotary blasthole drill for small mining operations. The crawler-mounted, hydraulic top head-drive rig offers faster hole- to- hole drilling and a lower cost per ton through single-pass capability .... read more

Paus - Updated LHD Range Ready for Remote
Paus reported its entire LHD loader range has been revised. Models within the range are available in diesel, electric and ready for remote. The loaders are optimized for special conditions and enable highly efficient extraction, even in....read more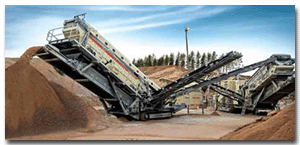 Metso - Mobile Screen for Large-scale Aggregates
Metso showcased the latest addition to its mobile screens range, the Lokotrack ST4.10. The unit, recently launched in North America, is the largest mobile screen in the Lokotrack range, making it ideal for large-scale aggregates .... read more

Top
Weir - 3 Corrosion-resistant Pumps
Weir Minerals announced three new models in its Lewis range of pumps: the VL Axial Pump, the Horizontal Process Pump and the Vertical High Pressure Molten Salt Pump. The pumps are designed to maximize wear life ....read more

Berthold - Potassium Measurement System for Potash
Berthold released the LB474, a potassium (and radioactive isotope K-40) content- measurement system for the potash industry. The system uses three different types of detectors, depending on the process conditions.... read more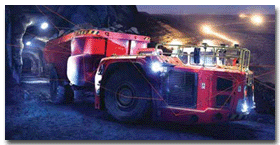 Sandvik - AutoMine Enables Autonomous Haulage
Sandvik reported its AutoMine for Trucks enables autonomous haulage, turning intelligent mining trucks into unmanned robots that keep running. AutoMine for Trucks enables autonomous ramp haulage, and leverages smart handover technology .... read more
Machine Tracking System Gives 3D Representation
Propeller Aerobotics announced a beta program for DirtMate, described by the company as a machine tracking system that delivers survey-grade progress and productivity data whenever needed. DirtMate sensors fill in blind spots that occur between surveys with real-time data. After a wireless installation, the solar- powered.…. read more

Top

Simpson - Digital Meter for Harsh Environments
Simpson released the Eagle, described as a programmable digital meter with a reinforced fiberglass enclosure for extreme environment applications. The meter is programmable to measure AC/DC voltage, AC current or frequency. The user programs ....read more
MAY 3-6, 2020: Canadian Institute of Mining (CIM), Vancouver, Canada. Contact: Web: https://convention.cim.org/2020https://convention.cim.org/2020
MAY 23-30, 2020: ALTA 2020 Nickel-Cobalt-Copper, Uranium-REE, Gold-PM, In Situ Recovery, Lithium & Battery Technology Conference & Exhibition, Pan Pacifi c Hotel, Perth, Australia. Contact: Web: www.altamet.com.au/conferences/alta-2020/
JUNE 1-5, 2020: Elko Mining, Elko, Nevada, USA. Contact: Web: https://www.elkocva.com
JUNE 2-5, 2020: UGOL & Russia, Novkutznesk, Russia. Contact: Web: www.ugol-rossii.com
JUNE 9-11, 2020: Euro Mine Expo, Skelleftea, Sweden. Contact: Web: www.euromineexpo.com
SEPTEMBER 7-11, 2020: Electra Mining, Johannesburg, South Africa. Contact: Web: www.electramining.co.za
SEPTEMBER 28-30, 2020: MINExpo INTERNATIONAL, Las Vegas, Nevada, USA Contact: Web: www.minexpo.com
MARCH 14-17, 2021: Haulage & Loading 2021, Hilton El Conquistador Resort, Tucson, Arizona, USA. Contact: Web: www.haulageandloading.com
For a full calendar of mining industry conferences and events - click here
| | |
| --- | --- |
| WHO'S MOVING WHERE | |

Codelco appointed Patricio Vergara as vice president of mining resources and development. He began his career in 1995 at Codelco, where he became chief of operations for El Teniente. He was then Freeport-McMoRan's Grasberg project manager in Indonesia, mining director at Twin Metals, USA, and practice lead UG mining at BHP Minerals Americas.
OceanaGold Corp. appointed Michael Holmes president and CEO to replace Mick Wilkes who stepped down for personal reasons. Holmes joined OceanaGold in 2012 as its COO. Prior to joining the company, he was the general manager of Glencore's Alumbrera operation. Wilkes joined OceanaGold in 2010 and led the transformation of the company from a single asset operator in New Zealand to a successful midtier gold mining company operating four mines across three jurisdictions.

Premier Gold Mines Ltd. appointed Eva Bellissimo to the board of directors. Bellissimo co-leads McCarthy Tétrault's Global Metals and Mining Group.

China Gold International Resources Corp. Ltd. appointed Liangyou Jiang CEO and chairman of the board. Jiang joined the company in 2010 and served as general manager of Tibet Huatailong Mining Development Co. Ltd. Jiang has more than 30 years of experience in mine design, construction, operation management and corporate governance, and has served on board of several mining companies.
Compass Gold Corp. appointed Joe Conway as chairman of the board. His more than 30 years of mining and fi nancial industry experience includes his tenure as president and CEO of IAMGOLD from 2003 to 2010. This follows the resignation from the chairman position of James Henderson who will remain on the board as a non-executive director.

G2 Goldfields appointed Boaz Wade to vice president of exploration, Guiana Shield. Most recently, he was leading the mine exploration geology team at Guyana Goldfields Inc.

Laurion Mineral Exploration Inc. appointed David Lewis as exploration manager for the Ishkoday Project. Lewis is a structural and exploration geologist with 17 years of experience conducted on a variety of mineral deposit types, including both lode gold and vein-hosted deposits.l materials and data sciences.

The U.S. Senate confirmed Katharine MacGregor as the deputy secretary of the U.S. Department of the Interior. MacGregor has been serving as the deputy chief of staff exercising the authority of the deputy secretary since May 2019. MacGregor has served in several positions at the department since joining the President Donald Trump administration in January 2017, including principal deputy assistant secretary of land and minerals management and deputy chief of staff.
About - providing an abreviated version of the current print edition of E&MJ, WOMP is distributed throughout the world to decision makers in the global mining industry, the last week of every month.

Subscribe to E&MJ - To receive your own copy of the print edition of E&MJ, click here , and complete your details. E&MJ is available free of charge to qualified readers.

Contact - if you have views, opinons or comments or editoral that you would like to submit, we would be delighted to hear from you - click here

Top