Feds Approve Moss Gold Mine Expansion
---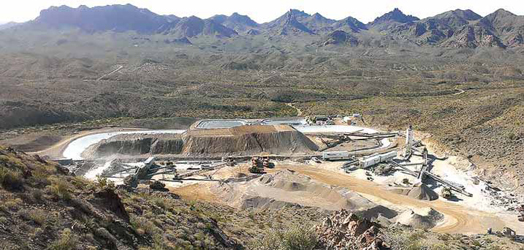 The decision will allow the Moss mine (above) to expand on to BLM-managed lands.


Northern Vertex Mining's Golden Vertex received final federal permitting approval for the Phase III expansion at the Moss mine in northwest Arizona. This will allow the company to expand its current operations from its patented claims onto its surrounding unpatented claims on federal Bureau of Land Management (BLM) managed public lands. The expansion along with a recently announced resource update is expected to significantly extend the life of the Moss Mine.

The BLM issued the Decision Record on March 18, announcing the completion of the environmental review of the expansion at Moss mine as proposed in the company's Mine Plan of Operation (MPO) with a Finding of No Significant Impact (FONSI). "We are very pleased with the Decision Record, which is a tribute to the efforts of our employees to protect the environment and ensure an efficient, sustainable operation," said Ken Berry, president & CEO of Northern Vertex. Berry thanked the company's technical team in Arizona, the entire BLM team, and all of the respective advisors and consultants, for their "tireless efforts in this process."

The expansion is expected to increase efficiencies that will significantly reduce operating costs at the mine. It will also allow for additional exploration drilling.
---
As featured in Womp 2020 Vol 04 - www.womp-int.com