An Essential Industry Supports Surrounding Communities
Mine operators make adjustments to support employees, suppliers and neighbors during difficult times

By Steve Fiscor, Editor-in-Chief
---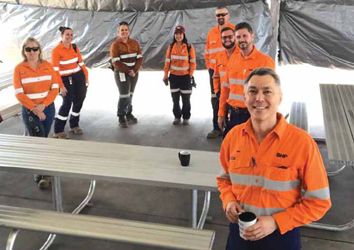 BHP CEO Mike Henry meets with the team at Peak Downs while practicing social
distancing to slow the spread of COVID-19.

The updates from mining companies related to the coronavirus (COVID-19) were flooding E&MJ's inbox as this edition was going to press. With the exception of a few country-wide mandates, the mines and mills throughout most of the world continue to operate, especially those in low-risk jurisdictions. Most report they are assessing operations while actively implementing programs to protect workers and the surrounding communities. Others have reduced or temporarily suspended production to slow the spread and comply with regional edicts.

The Mexican Federal Government joined Peru and South Africa and suspended all non-essential activities for 30 days. The suspension includes all mining activities from March 30 to April 30. Companies operating mines in the region announced they were safely ramping down operations and placing them on care and maintenance. The Peruvian Government extended its current state of emergency by an additional 13 days to April 12. Several mining companies suspended operations in the Canadian provinces of Quebec and Ontario.

Mines in the U.S. continue to operate. The U.S. Department of Homeland Security (DHS) has designated mining as critical to U.S. infrastructure. On its quarterly stakeholders' call, the U.S. Mine Safety and Health Administration advised all mines to follow the policies issued by the Centers for Disease Control (CDC). A couple of U.S. coal operators announced they were temporarily idling portions of their production, which were located in the eastern U.S.

The message from Australia was the same with a little twist. The mines were continuing to operate and some were hiring additional staff to support local communities. Recognizing their influence on local communities, they were making sure funds flowed through to them. The situation for the poorest parts of the world is troubling and again mining companies were putting their best foot forward. Working closely with provincial governments of the North West and Gauteng in South Africa, AngloGold Ashanti made available two hospitals for their exclusive use to treat COVID-19 patients. Barrick Gold donated $500,000 to help Zambia. Vale purchased 5 million test kits and donated them to the Brazilian government.

BHP Makes a Bold Move
It didn't take long for the world's largest mining company to respond. BHP posted 1,500 open positions in March to support its workforce operating across Australia. The jobs will be offered as six-month contracts and cover a wide range of skills, from machinery operations to warehousing roles across its coal, iron ore and copper operations. BHP Acting Minerals Australia President Edgar Basto said supporting people, communities and partners, safely, is the highest priority. "As part of BHP's social distancing measures, we are introducing more small teams with critical skills to work dynamically across different shifts," he said. "The government has said that resources industry is vital in Australia's response to the global pandemic. We are stepping up and providing jobs and contracts. Our suppliers, large and small, play a critical role in supporting our operations. It is a tough time for our communities and the economy. We must look out for each other as we manage through this together."

"We know that our activity has a multiplying effect in employment and the national economy," Basto said. "Keeping our operations running is essential for the stability of the economy, especially in the face of the difficult times ahead. It is possible to manage the health crisis faced by the country, as a priority, and at the same time ensure operational continuity." The company said it would also establish a A$50 million Vital Resources Fund to help support regional Australian communities.

"BHP stands with the regional communities we operate in," BHP CEO Mike Henry said. "With those communities facing significant challenges, we are stepping up in establishing the Vital Resources Fund, which will provide support in a range of areas such as health services and resilience building during this difficult time." Over the coming weeks and months, BHP said it would work with relevant leaders and groups to distribute funding according to local needs and in a manner aligned with government programs and initiatives.

The Importance of Mental Health
Henry also shared a message with BHP employees emphasizing that mental health is every bit as important as physical health. "Our employees and contracting partners have done a great job of putting into practice social distancing and hygiene measures in a very short space of time," Henry said. "COVID-19 shifted the way we work — from the practicalities of social distancing at our mine sites and off-shore oil platforms, to the challenges our office-based people face to stay connected to their colleagues while working remotely.

"COVID-19 doesn't stop outside of work either, with many concerned about theirs and their loved ones' lives and livelihoods, creating stress and anxiety," Henry said. "Mental health has been a priority for BHP for some time now. We have mental health, wellbeing and resilience tools in place to help our people. This includes our Employee Assistance Program (a free confidential counseling and support service), which is also available for immediate family members. We're updating these resources in a practical way for COVID-19."

Henry also said he is inspired by the many ways and examples of people in BHP looking after their colleagues. Small acts of care and simply asking "Are you ok?" can make a huge difference to someone's sense of connectedness and wellbeing, he explained.

Barrick Steps Up
Multinational gold miner Barrick Gold said emergency response plans for dealing with the COVID-19 pandemic have been stepped up at all its sites and offices around the world, some of which are in the poorest parts of the world. President and CEO Mark Bristow said the company was closely monitoring a very fluid situation. All non-essential business travel was suspended and non-essential projects were curtailed. In line with directives from host governments and the international health authorities, Barrick put measures in place to mitigate the risk of infection while ensuring a safe environment for operations to continue as usual.

"In addition to protecting our people, we have taken measures to support the sustainability of the business," Bristow said. "We have increased stock levels for key supplies and equipment to a minimum of three months, identified alternative suppliers and shipping routes, and put in place contingency plans for clearing and offloading. To date, placed and forecast orders are still intact and there have been no hold-ups in our supply chain."

In addition to everything else it was doing, Barrick Gold has donated significant sums of money to support African nations in combating the pandemic. The company's country manager for Zambia, Nathan Chishimba, presented officials with a check for $530,000. At the ceremony, he described the extensive measures Barrick is using to protect workers and their families living in and around its Lumwana mine against the virus.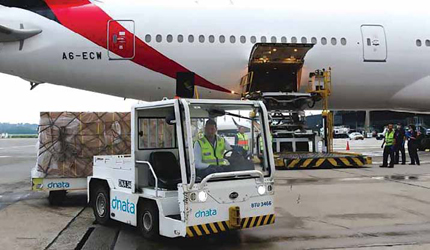 The first shipment of 500,000 COVID-19 test kits from China arrives at the Sao Paulo International Airport
(Guarulhos) on March 30. (Photo: Vale).

Rio Tinto: We All Have to Play Our Part
Rio Tinto said that most of its assets continue to operate. Acknowledging that COVID-19 is a human tragedy, Rio Tinto Chief Executive J-S Jacques said, "We all have to play our part as the pandemic spreads. We have taken extensive measures across the business to help protect our people and communities, and have increased these as the pandemic spreads, in line with guidance or directives from governments and advice from international health organizations on best practice."

Rio Tinto has assembled business resilience teams (BRTs) at each site and region, including a global BRT under the leadership of Jacques. The aim of these teams is to keep operations running safely, to enable commercial supply chain continuity, and plan for future eventualities under various scenarios. Critical infrastructure at each of the operations has been assessed with a continuity plan in place, should it be required, the company said.

The company extended its $15 million Royal Flying Doctors partnership to support health for remote communities in Western Australia. To support global grassroots community COVID-19 preparedness and recovery, it has pledged a further $25 million. Rio Tinto said it continues to look for opportunities to share knowledge of response activities and to partner with others said it continues to find joint solutions to address and aid in the recovery.

Vale Donates Millions of Test Kits
Vale purchased 5 million COVID-19 rapid test kits to help the Brazilian government combat the spread of the illness in the country. The tests can provide results in 15 minutes. The company used its massive logistics operations to import the first 500,000 kits from China to Brazil on March 30. The remaining kits were expected to arrive by mid-April. The amount of test kits purchased by Vale represents half of the needs estimated by the Brazilian Ministry of Health at the moment.

"Vale offers this humanitarian help to Brazilian society in a moment which the country unites for the health and safety of its people," Vale CEO Eduardo Bartolomeo said. "We are making use of our logistics network in Asia to bring equipment to Brazil that may make a difference in the lives of people." The company is also purchasing from its Chinese suppliers personal protective equipment such as goggles, gloves, and masks for doctors and nurses. The material will also be delivered to the federal government.

Vale also announced a series of support initiatives for its suppliers. The estimate is that, through these measures, the company will advance payments before the invoices are due to inject R$160 million ($30 million) into the Brazilian economy through small- and medium-sized companies. "At a time when the country is experiencing great uncertainty, we will use our distribution network, our presence at the base of the production chain and our capacity of mobilization to help our suppliers face the impacts of this pandemic, always focusing on the health and safety of people," said Alexandre Pereira, Vale executive officer of Global Business Support.

Vale said it will also provide financial support to construction companies and workers allocated to projects, which have been temporarily suspended. They clarified there will be no impact on the work related to dam safety.

South African Mines Contend With 21-day Shutdown
By Gavin du Venage, African Editor

CAPETOWN, South Africa, March 31, 2020—The South African mining sector ground to a halt at the end of March as the country went into lockdown in response to the coronavirus (COVID-19) pandemic. Prime Minister Cyril Ramaphosa declared a national disaster, and used the sweeping powers this brings to order businesses countrywide to shut down. Among these are all underground operations, with limited surface workings still permitted.

Coal mines that support the country's power stations will continue. Production at collieries that feed Sasol, the coal-tooil producer, will also be issued with permits to operate. South Africa derives about a third of its diesel and gasoline from Sasol. The shutdown is just the latest blow to a sector that has struggled with intermittent power supplies, regulatory uncertainty and demands from radical politicians that mines be nationalized. However, the industry response to the latest crisis it faces has generally been positive.

"We, as an industry, reiterate our support for the fight against this pandemic by making available facilities for quarantine and treatment of COVID-19 patients, in partnership with government," said Roger Baxter, CEO of representative body the Minerals Council of South Africa. According to Baxter, the shutdown was preceded with extensive talks between industry and government. Operations will function under care and maintenance protocols, that allow mine sites to be kept safe and stable, with a view to a quick commencement of production when conditions improve.

Mining Minister Gwede Mantashe acknowledged the importance of maintaining value-adding mining infrastructure, especially refineries and smelters, which cannot easily be switched on and off. These operations will continue to operate at reduced levels, using stockpiled ores or lower levels of mining production, while ensuring that due care is taken with preventative and monitoring measures to protect the staff, Baxter said.

An agreement was also reached that internal essential services, including security, ventilation, cooling and pumping, refrigeration, tailings facilities and specialized maintenance may continue. Many mines also provide local services to surrounding communities and employee residences, such as water. These would also continue. The shutdown will significantly curtail production. Harmony, the country's third-largest gold producer, said it will lose up to 700 kg of bullion in the 21-day production halt.

Anglo American has also had to cancel diamond auctions through its subsidiary De Beers. The quarterly sales now held in Botswana, where a lockdown is also in force, were behind the decision, the company said. Major markets such as India and the UAE were also enforcing travel restrictions, making buyer attendance unlikely. Platinum producers have collectively declared force majeure. "We are unable to supply [customers] with metal because now our operations have closed down, so we will have to declare force majeure," spokesman for Sibanye-Stillwater, James Wellsted, said. For platinum producers, the enforced three-week production break may not be all bad. The price of the commodity fell to a little more than $200 per ounce (oz) during the March market rout, from around $880/oz to 570/oz. However, as realization set in that production would stop, platinum regained $100/oz.

South Africa produces 70% of the world's platinum, much of which goes into vehicle production where it is the essential raw material for catalytic converters that reduce harmful emissions. "The 21-day lockdown in South Africa, which would significantly reduce 2020 platinum group metals (PGM) production, should go a long way to offsetting the demand impact of the outbreak," Nedbank equity analyst, Arnold Van Graan, said, Reuters reported. "This should ensure that the market is not flooded with unwanted supply while demand is low. This would contribute significantly to keeping the PGM market fundamentals intact."

Mining related logistics has also been affected. Transnet, the state-run freight rail operator, said it would keep the lines that served coal plants open. It would also continue limited rail shipments to the Richards Bay Coal Terminal, the world's largest dedicated coal port. Mines could apply for export permits on a shipment-by-shipment case and Transnet would accommodate them, according to capacity. Kumba Iron Ore meanwhile, a unit of Anglo American that has its own rail and port logistics infrastructure, said it expects exports to continue.

Elsewhere in the region, mining is slowing, too. The port of Walvis Bay in Namibia reported a 30% drop in ore shipments from the Democratic Republic of Congo. Production of copper and cobalt has slowed as the world's largest market China reduced commodity imports by up to 90%.
---
As featured in Womp 2020 Vol 04 - www.womp-int.com