Data and Design Drive OTR Tire Improvements
Mines can take advantage of improved tire monitoring and management systems, along with new tire design features, to plan a course for reduced running costs

By Russell A. Carter, Contributing Editor
---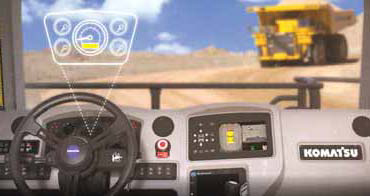 Michelin and Komatsu America Corp. recently announce a joint program to provide
Michelin's MEMS 4 Earthmover Management System as a factory-installed option on
select electric-drive trucks manufactured at the Komatsu facility in Peoria, Illinois. The
system is integrated with the truck's electronic display panel at the factory and Michelin
coordinates installation of the sensors in the tires at the customer's site.

Mine tires are designed to fight constant skirmishes with rock, ruts and berms on haul roads, pit floors and dumps, but it's never a fair contest: Rock has no rules, while the giant OTR tires used on trucks, loaders and other mobile equipment must obey the laws of chemistry, physics and economics. Rock always wins, eventually, but improved tire compounds and designs, advanced tire management strategies and operator training can significantly prolong the battle.

Tires are customarily high on the list of mine operating expenses, and optimizing the useful life of consumable items that can cost anywhere from $40K to $60K each is essential for budget control, even when supply isn't an issue. OTR market surveys published throughout 2019 indicated that giant-tire supply and demand levels have settled into a balanced state largely devoid of significant regional or product shortages, but it remains to be seen what effect the COVID-19 pandemic will have on future supply, as Bridgestone, Goodyear, Yokohama — and possibly other major OTR suppliers after this issue goes to press — announced production shutdowns to ensure worker safety.

What isn't uncertain, however, is that OTR builders have been exploring new production arrangements, innovative use of non-traditional materials in tire fabrication and expanded tire management concepts. They're increasingly moving areas of their raw materials supply in-house. For example, India's Balkrishna Industries Ltd. (BKT) is ramping up production at a new carbon black plant located at its Bhuj production facility and expects to use half the plant's output for its own tire production needs and sell the rest on the open market. Both BKT and Continental Tire are exploring the use of natural rubber obtained from a specific Russian dandelion species that can grow in nontropical environments, offering the possibility that manufacturers could obtain their rubber supply from nearby locations, eliminating the high costs of raising and transporting the material from distant regions and smoothing out supply variations.

And recently, U.S.-based Cabot Corp., a global specialty chemicals producer, launched its Engineered Elastomer Composites (E2C) solutions including the first E2C product, DX9730, part of a new Durability series. Using proprietary technology for mixing reinforcing agents into elastomers, E2C solutions are premixed composite solutions designed to help tire manufacturers unlock superior performance sustainably and economically. The company said its E2C solutions have been shown to break critical trade-offs in OTR earthmover tire design by both lowering operating temperatures and extending tire life, enabling an average mine to increase haulage capacity, boost output, and reduce annual downtime for tire changes leading to a potential benefit up to $150 million per year, and noted that E2C solutions can be formulated for specific OTR/earthmover applications to deliver maximum performance benefit.

Cabot said E2C solutions can be integrated into current production methods without additional capital investment. They also require fewer mixing stages, lower mixing temperatures and shorter mixing cycles than conventional products, thus reducing operating costs and enabling additional production capacity. Cabot also previously reported that it intends to spend about $120 million on two new carbon black plants in Indonesia by 2021.

Tires, Telling All
Tire manufacturers serving the giant OTR market have traditionally banked largely on physical improvements to their products to meet the rising demands of mining customers, and tread design, stronger internal fabrics and cord materials, and refined fabrication methods will continue to be important factors in boosting tire performance, but as the industry moves toward its connected-site goals these silent, massive objects will be expected to become much more talkative — letting equipment operators, maintenance teams and operations personnel know, preferably in real- or near-real time, what's happening on the ground and inside the carcass.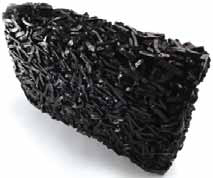 Cabot Corp.'s first E2C elastomer composite,
DX9730, is part of a new series of products designed
to offer improvements in cut, chip and chunk resistance,
and reduce the risk of catastrophic tire failures and
unplanned vehicle downtime.

The concept of a more-intelligent tire has been gathering traction over the past several years as major suppliers introduced and refined their embedded Tire Pressure Monitoring Systems (TPMS) while keeping an eye on additional developments in Industrial Internet of Things (IIot) technologies to incorporate big-data class predictive-analytics capabilities into their product and service lines. OEM tire manufacturers and large mine-tire service companies are folding these capabilities into comprehensive tire management packages structured to shift customer focus from a "tires as a commodity" approach to a "tires as a service" concept.

Recognizing that rapidly evolving sensor and data collection technologies can be implemented to satisfy customer preferences for increased integration between tires, the vehicle they're mounted on, and supplier service and consultation options, OTR vendors are expanding the availability and scope of their systems. For example, late last year, Michelin and Komatsu America Corp. announced a joint program to offer the Michelin MEMS 4 Earthmover Management System as a factory-installed option on select electric-drive trucks manufactured at the Komatsu facility in Peoria, Illinois. Komatsu's 930E-5 mining truck was the first available model with MEMS4 as an option, with other models following. Komatsu is factory-installing the MEMS4 transceiver, antennas and related harnesses, integrating the system with the current existing electronic display panel. Michelin coordinates installation of the sensors in the tires at the customer's site.

Michelin said the factory-installed system captures real- time tire temperatures, pressures and mapping for proactive fleet management. Using GPS and accelerometers, a sensor installed in the tire sends critical tire-related data to alert operators online, via email or by SMS to laptops, tablets or smartphones. Each truck is geo-localized on a map in real time. A data-capture tool and mobile-device connection transfers information via Ethernet or 3G to cloud storage. Data are reported to dispatchers to provide tire performance and anomalies. MEMS4 allows users to anticipate downtime and avoid disruptions through detection of critical events, according to Michelin. An inflation monitor compensates tire-pressure limits for ambient temperature. When tire temperatures change, operators can know immediately if there is an alert and change routes. Maintenance operations can be anticipated, and unnecessary stops can be avoided. Michelin also will continue to offer MEMS4 as an aftermarket offering for trucks already in operation.

Goodyear, which has offered its EMTrack tire and rim tracking and reporting system for several years, recently announced the availability of a new version that replaces the existing product, which will not be supported after June 30. Goodyear said it could work with customers to transition their OTR tire performance data to the updated version of EMTrack with no interruption to current tire management capabilities. In practice, EMTrack works like this: Goodyear tire technicians survey the fleet, capturing tire inflation, tread depth and other critical measurements, as well as photos of each tire's condition. The data are then loaded into a password-protected, cloud-based platform for easy access. The information can then be downloaded into customizable reports. Fleet operators can use Goodyear's EMTrack app to view tire data and reports in real time, as well as tire performance data across their fleets. They can focus on specific tires to calculate costper- hour, cost-per-ton and other key metrics. The system, according to the company, minimizes the need for manual tire data entry, allowing the fleet operators to focus on keeping their fleets moving.

Beyond Basic Maintenance
Kal Tire offers a comprehensive tire management system that provides a variety of operational tire performance tracking capabilities including demand forecasting and stock management, equipment productivity and tire service downtime, tread monitoring, tire performance and benchmarking, tire failure analysis and wheel rim tracking. The Canadian company has been steadily expanding and refining this service, called TOMS (Tire Operations and Management System) since its introduction in 2018, and E&MJ recently spoke with Mark Goode, Kal Tire director, Business Insights, to get a clearer picture of the service's origin and features.

Goode explained that TOMS was conceived with two main objectives in mind: to help the company establish a baseline of tire maintenance standards and practices by using the data collected through TOMS to help customers improve productivity; and as a vehicle to transition the vast amount of data available through tire monitoring and management activities into actionable value for customers and other stakeholders. Goode said Kal Tire currently provides tire services at 150 mine sites worldwide and 93 of those sites are using TOMS. The program is available to all Kal Tire mining customers, and the company's intent is to eventually migrate all of those customers to TOMS. It's a gradual procedure, Goode explained. "The process is protracted given the care taken to accurately map historical data to the 'common language' in TOMS, which is critical if we want to be able to benchmark performance."

He said TOMS gathers information via an application programming interface (API) from a customer's dispatch system, including productivity data to track tire performance in hours, distance and tons as well as truck TKPH. The program delivers its output directly and securely to a customer's servers for analytical purposes. If the customer provides permission, it can also send data to tire OEMs. According to Goode, customers can begin to benefit quickly after incorporating TOMS, in terms of data visibility and the ability to see top level benchmarking comparisons such as tire performance, tire work MTBS and stock cover levels, for example. "The immediate benefit of TOMS' common language is the ability to draw on best practices to benefit all customers.

"This is incorporated into our Service Delivery reporting tools," he explained, and pointed out that "With three years-plus data in the system, we are starting to analyze and look for opportunities to extract value from the wide range of operational data in TOMS. For example, can we answer questions such as 'What is the optimal number of spare tires required to run a fleet?' Or 'What is the most effective tire rotation strategy to maximize tire performance or to minimize truck downtime'? This work is ongoing. We envisage incorporating the answers as algorithms into TOMS to increase system intelligence."

At present, the company administers TOMS primarily as an integral tool for expanding its customer base as a contract service provider. "TOMS is simply the operational system Kal Tire uses to conduct its service contracts," Goode explained. "During this rollout phase, we are focusing on migrating existing Kal Tire mining customers. At a future stage, we will look at how best to make TOMS available as a potential standalone tool for customers who might today use Kal Tire as their service provider on some but not all of their properties and who might be interested in utilizing the system to manage and benchmark tire service across all their operations."

In the long term, Kal Tire will use and promote TOMS as a maintenance planning tool, Goode said. "The system enables our on-site service operations to be managed the same as any other maintenance function. This is a change management process for our teams as well as for how our customers might typically see tire service providers — moving on from managing and reporting on historical tire performance to the proactive management of wheel components on running equipment. This requires identified and planned tire work to be communicated effectively and fully integrated into maintenance planning cycles so as to maximize the amount of planned tire work with scheduled PMs or other planned maintenance work."

What's New
The most recent OTR model introductions have been construction- and quarry-class sizes, as OEMs unveiled new offerings in this market at the CONEXPO/CONAGG trade show held in February. However, there's been activity in the giant sizes as well: BKT appears to be following its announced roadmap for production of larger-size OTR tires and is planning to launch a new tire model in 2020. Rajiv Poddar, BKT joint managing director, told a tire-industry trade publication in November that the company was moving toward introduction of a 57-in. tire this year after receiving encouraging customer interest in its other earthmover OTR tires.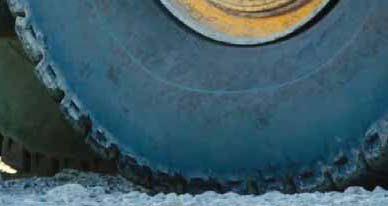 Michelin's new XDR 3 OTR tire allows customers to select a benefit that best fits their needs:
they can choose not to increase speed or load and expect a 10% increase in tire life, or to
increase speed by 10% or increase load by 10% and achieve the same tire life as the previous
generation.

Maxam Tire expanded its Large Mining series, with three models featuring newly developed compounding and carcass construction. Its MS401, MS402 and MS403 tires are designed for haul trucks up to 320 tons. MAXAM said it offers three specific tread patterns available in multiple compounds based on site TKPH/TMPH to meet different surface mine application requirements. The MS401 features an aggressive tread design with heat-resistant under tread, for applications that require maximum traction and high site TKPH/TMPH. The MS402 features enhanced shoulder lugs and a solid centerline providing increased protection, traction and tread life in haulage applications. The MS403 integrates an advanced tread design for flexibility in all applications, from smooth haul roads to rough and rocky terrain.

Maxam also noted that Caterpillar had recently validated and approved its 875/65R29 MS405 L4 tire for use on specific Cat 982M medium wheel loaders. The company said its MS405 "65 Series program" is engineered for high-torque harsh applications where extreme traction is required. Main features include a cut-resistant tread compound and deep undertread, and a design specifically intended to minimize vibration at haul speeds. Last year, Michelin North America introduced the XDR 3 surface-mine haul tire in size 27.00R49, replacing its XDR 2 predecessor. The XDR 3 is intended for a range of rigid dump trucks with payload capacity up to 400 tons and features new compounds and a tread pattern that helps provide exceptional tire life. The use of corrosion-isolating cables in the tire architecture represents a significant upgrade as well, noted the company.

Michelin said these innovations allow customers to select the benefit that best fits their needs. Customers can choose not to increase speed or load and expect a 10% increase in tire life or to increase speed by 10% or increase load by 10% and achieve the same tire life as the previous generation. Michelin said the XDR3 is MEMS-ready and helps reduce rim slip through a new flat bead wire that strengthens the clamping force on the wheel and increases its contact surface with the rim.

Other entries in the smaller size ranges include a bias-ply model from General Tire, a brand of Continental. The company's new TE188 is a multipurpose earthmoving tire for use on ADTs, RDTs, loaders and scrapers. General said its bidirectional pattern with massive bars provides gripping edges on soft and wet ground and the wide ground patch leads to even wear, good surface interaction and a long service life. It comes in one E3 size (16.00-25) and seven E3/L3 sizes (ranging from 20.5-25 to 37.25-35). Dutch supplier Magna Tires extended its M-Terrain lineup, introducing the 20.5R25, a steel radial tire engineered for use on wheel loaders and ADTs. The tires have a non-directional E4 tread, which the company claims substantially enhances performance and traction, and as with other models in the M-Terrain range, heat buildup is significantly reduced by state-of-the-art casing construction.
---
As featured in Womp 2020 Vol 04 - www.womp-int.com