Sanbrado Project in Burkina Faso Pours First Gold Bars
---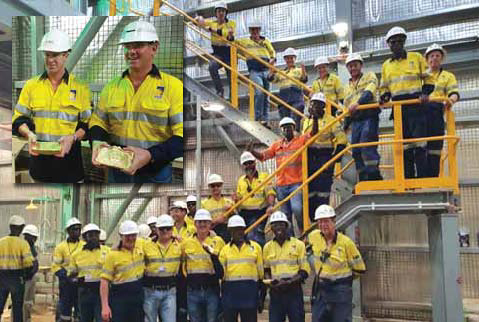 The West African Resources team celebrates the first dore pour.


West African Resources poured the first gold at its Sanbrado open-pit/underground gold project in Burkina Faso on March 18. Gold bars weighing 23.9 kilograms (kg) were poured in the first smelt on site.

Sanbrado project development was based on a feasibility study completed in April 2019. The study assumed an initial 10-year mine life based on probable reserves of 1.7 million ounces (oz) of gold in 21.6 million metric tons (mt) grading 2.4 grams/mt. The project will produce an average of 217,000 oz per year (oz/y) of gold during its first five years of operation, with a 14-month post-tax payback on preproduction capital costs of $186 million. Project economics are robust, with allin sustaining costs of $600/oz over the first five years and $650/oz life of mine. Year one production is expected to exceed 300,000 oz.

At the time of the first gold pour, approximately 75,000 mt of ore grading 1.5 g/mt gold had been processed since startup of the Sanbrado plant, and the plant was exceeding nameplate capacity. Metallurgical recoveries were exceeding 90%. All critical spares and reagents were on site, and no process interruptions were anticipated. Open-pit ore stockpiles totaling 250,00 mt grading 1.5 g/mt gold had been placed on the run-of-mine pad. First underground development ore had been mined and stockpiled.

West African Resources Executive Chairman Richard Hyde commented, "This is a major milestone for West African Resources and marks the beginning of a new phase in our company's story. To successfully transition from an exploration company to a gold producer is without doubt a great achievement for all involved." Underground development at Sanbrado continues to progress as scheduled. The first development crosscut on the 2120 level, 300 m below surface, intercepted visible gold north of the mine plan. Some 1,200 mt of underground ore had been mined and stockpiled.

West African Resources holds a 90% interest in the Sanbrado gold project. Faso has a free-carried 10% interest. The project is located 90 km east-southeast of Ouagadougou.
---
As featured in Womp 2020 Vol 04 - www.womp-int.com