The latest from the
World Mining Equipment
Video Library
View




Political Shake-ups Continue in Peru

As this edition was going to press, the Peruvian government was in turmoil. Peruvian President Martín Vizcarra moved to dissolve the Peruvian Congress. Things didn't, however, work out as expected. The opposition-controlled Congress voted to suspend Vizcarra and swore in Vice President Mercedes Aráoz as president. She subsequently resigned her position(s) as president and vice president. The dissolved Congress said it will hold legislative sessions while the country waits for a constitutional tribunal to rule on whether the move was legal.
Peru's relatively young democracy has certainly seen its share of scandalous behavior. Readers might recall that Vizcarra became head of state when President Pedro Pablo Kuczynski (PPK) resigned .... read more


Steve Fiscor, Publisher & Editor in Chief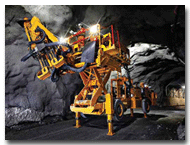 Newmont Goldcorp, Dignitaries Inaugurate Borden Mine
Newmont Goldcorp and dignitaries from across Ontario inaugurated the Borden Gold Project, which is being hailed as "mine of the future." The Borden mine, located near Chapleau, Ontario, features state-of-the-art health and safety controls, digital mining technologies and processes, and low-carbon energy vehicles — all anchored in a mutually beneficial partnership with local .... read more
Lynas Studying Potential Locations for Rare Earths Processing Plant
Lynas Corp. has signed a memorandum of understanding (MoU) with the city of Kalgoorlie-Boulder, Western Australia, for the review and due diligence of potential sites for its new rare earths cracking and leaching plant. The MoU provides a framework for support from the city in key areas relevant to ensuring the new plant is successful, including land availability, water, gas, electricity, access roads, other infrastructure and workforce management .... read more

Top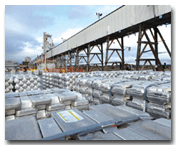 Rio Tinto Offers Green Aluminum From Canada
Rio Tinto said it is now offering independently certified, responsibly produced aluminum from all of its Canadian operations, with the extension of the Aluminum Stewardship Initiative's (ASI) Chain of Custody certification to include the BC Works smelter and Kemano Power Operations in Kitimat, British Columbia.... read more


Victoria Pours First Gold at Eagle Mine
Victoria Gold has poured the fi rst gold at its new Eagle gold mine in central Yukon, Canada, approximately 85 kilometers (km) from the town of Mayo. The inaugural bar weighed in at 1,001 ounces (oz) of gold. At full production, the mine will produce approximately 200,000 oz per year (oz/y) of gold over a 10-year to 11-year mine life and will be the largest gold mine in Yukon history .... read more

| | |
| --- | --- |
| AROUND THE WORLD - USA & CANADA | |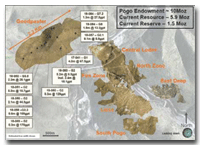 Northern Star Will Expand Pogo Plant
Northern Star Resources will invest $30 million in an expansion of the processing plant at its Pogo gold mine in Alaska. Under the expansion plan, the annual throughput capacity of the Pogo plant will increase from 1 million metric tons (mt) to 1.3 million mt. Work on the expansion will start this fiscal year and is expected to be completed in early 2021 .... read more


Ore Processing Commences at Premier's El Niño Mine
Premier Gold Mines Ltd. announced that processing of ore has commenced from the El Niño Mine at the company's 40% owned South Arturo Mine. South Arturo is located in the Carlin Trend, Nevada, and is a joint venture between Premier and Nevada Gold Mines, a joint venture company owned by Barrick Gold Inc. and Newmont- Goldcorp with Barrick Gold Inc as operator. The El Niño mine was developed on time and on budget....read more

Top
Nutrien Temporarily Idles Potash Production
One of the world's largest providers of crop inputs and services, Nutrien Ltd. said it expects to proactively take up to eight-week inventory shutdowns at its Allan, Lanigan and Vanscoy potash mines in Canada during the fourth quarter of 2019. The production downtime is in response to a short-term slowdown in global potash markets, the company said. If all three potash facilities were to remain idled for the full 8 weeks, potash production could be reduced by approximately 700,000 metric tons .... read more

| | |
| --- | --- |
| AROUND THE WORLD - Latin America | |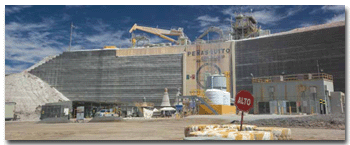 Talks Surrounding Peñasquito Break Down, Operations Are Suspended
Newmont Goldcorp reported earlier this week that the dialogue initiated by the Mexican government to resolve issues with a trucking contractor and the community of San Juan de Cedros, one of several near the Peñasquito mine, has been suspended and an illegal, previously lifted blockade has resumed.... read more


Top
NGEx Buys Gold Project in Argentina
NGEx Minerals Ltd. has signed an option agreement with the province of Catamarca, Argentina, for a 100% stake in the Valle Ancho gold project. The Canadian company said it will be a valuable addition to its portfolio. The Valle Ancho gold project is located along the Ancho Lineament Valley. Located on the Argentine side of the Maricunga Gold Belt of Chile, the Ancho Valley is a large package of land held by Catamarca that covers 100,000 ha (1,000 km2) of little explored and highly prospective land.... read more

| | |
| --- | --- |
| AROUND THE WORLD - Australasia | |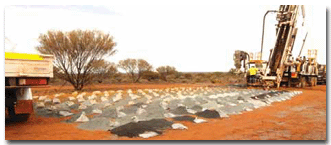 TMA Eyeing Major Vanadium Project
Technology Metals Australia (TMA) has reported results from a definitive feasibility study (DFS) of its Gabanintha vanadium project 40 kilometers (km) southeast of Meekatharra in the Mid West region of Western Australia. The study confirms the project as a long-life, low-cost, high-value, relatively low risk …. read more


Top

Updated PFS Improves Outlook for Mt Todd Project
Vista Gold has reported positive results from an updated preliminary feasibility study (PFS) of its Mt Todd gold project in Northern Territory, Australia. The updated PFS is based on the results of metallurgical optimization test work, a redesign of the fine grinding circuit, construction and ramp-up schedule changes, and a comprehensive review of all aspects of the project, including an independent benchmarking study of key PFS parameters …. read more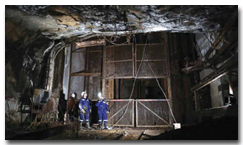 Orion, Byrnecut to Collaborate on Prieska
Orion Minerals has signed an agreement with Byrnecut Offshore Pty Ltd. that envisions an alliance for underground mine development and production at the Prieska copper-zinc project in South Africa's Northern Cape province. Ultimately operations at Prieska would involve mining and processing of 2.4 million metric tons per year …. read more
Top
Zimbabwe Holds Potential Lithium Deposits
By Gavin du Venage, South African Editor
Zimbabwe could become a major world supplier of lithium concentrate. The southern African country has a large resource of spodumene, a pyroxene mineral consisting of lithium aluminum inosilicate. This is processed into lithium, which can then be used in a wide variety of modern technologies. Zimbabwe already ranks as the fifth largest producer of lithium concentrate, albeit from a single mine. Bikita Minerals, in the south of the country, has been in production for more than 50 years, producing lithium feedstock, mostly for the ceramics industry …. read more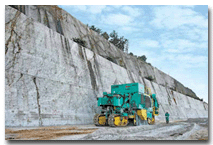 Okumura Extends the Life of the Ube Isa Quarry
Limestone has been mined from the Ube Isa quarry in Yamaguchi, Japan, since 1948. What makes this mine special, however, is that it is located in the immediate vicinity of a residential area — the nearest home is only 150 meters away. Ube Industries, the owner of the quarry, recently hired Okumura Engineering Corp. to mine the limestone in a way that …. read more


Top
Borneo Alumina Appoints B&V to Lead Alumina Refinery Project
PT Borneo Alumina Indonesia has appointed a Black & Veatch-led Project Management Consortium (PMC) to develop a new alumina processing facility. The West Kalimantan facility will feature a 1-millionmetric- ton-per-year (mt/y), smelter-grade alumina refi nery, a 2 x 40,000 Normal cubic meter per hour (Nm3/hr) coal gasification plant and a 3- x 25-megawatt (MW) coal-fired power plant. "Developing the downstream mineral processing.… read more



| | |
| --- | --- |
| THIS MONTH IN COAL | |

Byerwen Coal Hosts Opening Ceremony
The Byerwen coal mine in Queensland, Australia, owned by QCoal Pty. Ltd. (85%) and JFE Steel (15%) held an opening ceremony, attended by government representatives and customers, to mark the commencement of hard coking coal shipments. The Byerwen mine is a new open-cut mine located in the Bowen Basin in northeast Queensland. With abundant reserves and favorable conditions for large-scale open-cut mining, Byerwen is expected to produce 3 million mt/y and eventually expand production to 10 million mt/y. The coal will be exported through Abbot Point, located approximately 190 km from the mine .... read more


Top

Thiess Wins $1.3B Curragh Extension
Thiess has been awarded a six-year A$1.3 billion contract extension by Coronado Global Resources Inc to provide mining services at the Curragh mine in Queensland, Australia. Under the extension, Thiess will continue to provide overburden removal and haulage, mining and run of mine rehandling services, equipment maintenance and pit dewatering. Located in the metallurgical coal-rich Bowen Basin, Thiess has a long record of service at the Curragh mine, having operated at the project since 2004 …. read more


-->
| | |
| --- | --- |
| FEATURE - Nordic Mining 2019 | |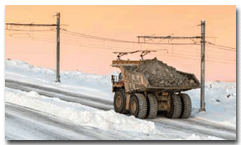 Making Scandinavian Mining Sustainable
Nordic miners are making signifi cant investments to secure the future of their operations, and many of these come in the form of new technologies and mining techniques

By Carly Leonida, European Editor

Mining companies in Scandinavia had a mixed start to 2019. For some, soaring commodity process (iron ore and gold) and increased demand saw their profits rocket, while for others (base metals), times have been a little tougher. A few miners are even looking to new markets including battery metals to help bolster their businesses. Market instability, along with declining ore grades and the fact that some key operations are fast approaching the end of their economic life mean that attentions have turned firmly to sustainability over the past five years .... read more


| | |
| --- | --- |
| FEATURE - Nordic Technology 2019 | |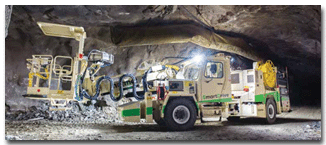 The Perfect Partners for Sustainable Mining
Scandinavian OEMs are developing new technologies and equipment to enable more sustainable mining operations. We look at some key developments from the past 12 months.

By Carly Leonida, European Editor.

It's not just Nordic mining companies who are going above and beyond to ensure sustainability. Scandinavian equipment producers are helping clients to achieve their goals through the products and services they provide and, at the same time, are demonstrating their own unwavering commitment to sustainable business practices ..... read more

Top

For more companies with products in the Drilling market -
Go Here
| | |
| --- | --- |
| FEATURE - Improving Cycle Times | |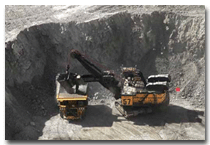 A Stitch in Time
Experts say simplifying mine plans and making adjustments early can pay off down the road.

By Jesse Morton, Technical Writer

If the long-term goal is optimized cycle time and production, then start at the beginning, a couple of contract miners told E&MJ. The most common mistakes made at the initial implementation of a mine plan are those of human resource management, modelling, bench widths, haul road design and management, water management and equipment maintenance. Miners who can get ahead of the 8-ball in these areas won't necessarily escape cycle time issues, but they may be able to more swiftly remedy them when they arise.... read more

| | |
| --- | --- |
| FEATURE - IOT/Data Management | |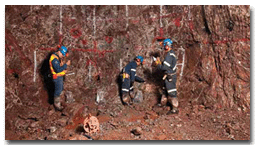 Interoperability: Essential for Building the Mine of the Future
Data standardization and system collaboration are necessary to achieve maximum visibility and control of mining operations.

By Russell A. Carter, Contributing Editor

Mining, like almost any other specialized activity, has its own jargon that allows engineers, geologists, maintenance and operations personnel to communicate quickly and concisely without need for detailed explanations of common concepts. Adit, winze, hanging wall or grizzly, for example, are peculiar terms that are mostly meaningless or confusing to anyone outside the industry, but are immediately understood by miners. Mining jargon is rooted in the history of the industry, some terms dating to centuries ago and drawn from various cultures and traditions .... read more

Top

| | |
| --- | --- |
| Video Presentations | |
The latest listings from the World Mining Equipment Video Library - to view the video, click the image.
For more details on the Video Hub -

Go Here

Electrohydraulic Jumbo Offers Higher Penetrating Rate
Sandvik Mining and Rock Technology launched the DT1132i three-boom, electrohydraulic jumbo for tunneling and cavern excavation. The drill is described as suitable for fast face drilling or mechanized long-hole drilling and .... read more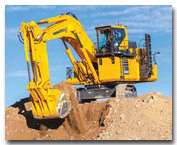 Excavator Offers More Power
Komatsu America introduced the PC2000-11 hydraulic excavator. Equipped with a Tier 4 Final engine, the shovel offers faster cycle times and improved multifunction performance, Komatsu reported. The PC2000-11 is designed to be paired with 70-ton to 200- ton rigid haulers and is excellent for loading shot rock ....read more

Jaw Crusher Offers Easier Crushing
Powerscreen, subsidiary of Terex GB Ltd., launched the Premiertrak 330 jaw crusher. The unit provides exceptional levels of reliability, efficiency and performance, the company reported. The crusher is fitted with a simple large fixed hopper, manufactured from an 8-mm wear plate, improving setup time, reducing .... read more

Top

WEG: Replace With Smaller, Better Motors
Zest WEG Group, subsidiary of WEG, reported it is now easier than ever for a high-voltage motor to be replaced with new units that fit the existing footprint and operational configuration. Replacement motors can be manufactured smaller than the originals, the company reported. WEG motors are typically purpose- built, smaller than predecessor ....read more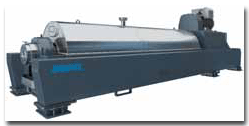 Filter Press, Decanter Centrifuge Showcased
ANDRITZ showcased its new intelligent filter press, which, the company reported, increases capacity, optimizes process parameters, and ensures ideal process conditions for downstream equipment while enhancing process reliability and reducing unexpected production .... read more



Secondary Conveyor Belt Cleaner
Martin Engineering introduced the CleanScrape Secondary Cleaner (CS2), which the company described as a secondary conveyor belt cleaner engineered for challenging applications where traditional designs fail. The CS2 is effective in conditions where continuous production is a high priority or cleaner service is difficult, including corrosive .... read more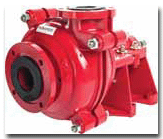 Heavy-duty Centrifugal Pump
Flowrox launched the heavy-duty CF-S horizontal centrifugal pump, designed for continuous pumping of highly abrasive and dense slurries. The pump is ideal for grinding mill discharge, hydrocyclone feed, minerals processing and tailings, the company reported .…. read more

Top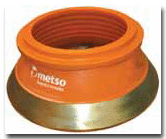 Affordable Crusher Liner Range
Metso announced the O-Series range of OEM crusher liners that offer a balance of performance, affordability and reliability. The series is available for the Metso Nordberg HP Series, the GP Series cone crushers and the C Series jaw crushers ....read more
NOVEMBER 6-9, 2019: International Mining Exhibition (IME) 2019, EcoPark, Kolkata, India Contact: Web: www.internationalminingexhibition.com
NOVEMBER 19-20, 2019: Smart Mining Conference, Tivoli Conference Center, Aachen, Germany. Contact: Web: www.smartmining.info
DECEMBER 2-6, 2019: The 2019 American Exploration & Mining Association annual meeting, Nugget Casino Resort, Sparks, Nevada, USA. Contact: Web: www.miningamerica.org
JANUARY 26-29, 2020: International Society of Explosives Engineers, Denver, Colorado, USA. Contact: Web: www.isee.org
FEBRUARY 3-6, 2020: MiningIndaba, Cape Town, South Africa Contact: Web: www.miningindaba.com
MARCH 1-3, 2020: The Prospectors & Developers Association of Canada's annual meeting, Toronto Convention Center, Toronto, Canada. Contact: Web: www.pdac.ca
JUNE 9-11, 2020: Euro Mine Expo, Skelleftea, Sweden. Contact: Web: www.euromineexpo.com
SEPTEMBER 7-11, 2020: Electra Mining, Johannesburg, South Africa. Contact: Web: www.electramining.co.za
For a full calendar of mining industry conferences and events - click here
| | |
| --- | --- |
| WHO'S MOVING WHERE | |

Sinnika Sjunnesson will take over as project manager for Euro Mine Expo 2020, which is organized by Nolia AB.

Columbus Gold Corp. announced that Russell Ball has resigned as a director to take on the CEO role at Calibre Mining Corp. A replacement for Ball will be announced in due-course..

U.S. Gold Corp. announced that Douglas Newby has been appointed to the board of directors. Newby has also been appointed to the Compensation Committee, Nominating Committee and Technical Committee and becomes the new chair of the U.S. Gold Corp. Audit Committee. Newby has more than 35 years of experience in evaluation, finance and corporate management in the global mining industry.

Caledonia Mining Corp. announced that Nick Clarke has joined the board of directors as an independent nonexecutive director. Clarke, who is chairman of Central Asia Metals PLC, is a highly experienced chartered engineer with 45 years in the mining industry.
Rich Nolan has been selected to succeed Hal Quinn as president and CEO of the National Mining Association (NMA). Nolan has served NMA for more than 10 years as the association's senior vice president of government and political affairs. Quinn will remain with the NMA through the end of the year to support the transition and the association's continued success through this important leadership change.

Sabina Shugg has been named the new director of its Western Australian School of Mines in Kalgoorlie. A WA School of Mines graduate, Goldfi elds-born Shugg has forged a successful career as a mining executive and has served in senior roles at some of Australia's largest resource and consulting organizations. She was also founder and chair of Women in Mining and Resources WA.

Victor Tapia Victor Tapia has been appointed vice president of Sandvik Mining and Rock Technology, sales area, United States. He will start in this role on January 1, 2020, and will be based in Atlanta, Georgia. Tapia will be joining Sandvik after working for Metso, where he served as a business area president and was a member of the Metso Group executive management team.

Former Golden Predator Director and Yukon Premier Dennis Fentie lost his battle with cancer, passing away on August 29, 2019. He served the Yukon for 10 years as premier before re-entering the private sector where he was a key member of the company's board until his resignation recently.
About - providing an abreviated version of the current print edition of E&MJ, WOMP is distributed throughout the world to decision makers in the global mining industry, the last week of every month.

Subscribe to E&MJ - To receive your own copy of the print edition of E&MJ, click here , and complete your details. E&MJ is available free of charge to qualified readers.

Contact - if you have views, opinons or comments or editoral that you would like to submit, we would be delighted to hear from you - click here

Top