A Stitch in Time
Experts say simplifying mine plans and making adjustments early can pay off down the road

By Jesse Morton, Technical Writer
---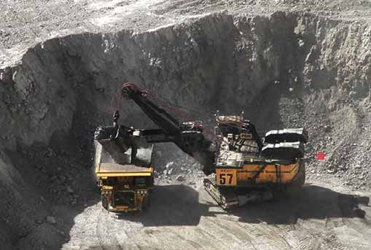 Hexagon Mining reported its HxGN MineOperate Reverse Assist precision positioning
application ensures operators position right the first time. (Photo: Hexagon Mining)

If the long-term goal is optimized cycle time and production, then start at the beginning, a couple of contract miners told E&MJ. The most common mistakes made at the initial implementation of a mine plan are those of human resource management, modelling, bench widths, haul road design and management, water management and equipment maintenance. Miners who can get ahead of the 8-ball in these areas won't necessarily escape cycle time issues, but they may be able to more swiftly remedy them when they arise.

Early mistakes in human resource management can have serious consequences down the road, Tawnya Thornton, engineer in training, JDS Energy & Mining, said. At the startup, when construction is near completion and mine plan implementation is initiated, "there is no room for people who don't perform," she said. "Having the right people, with the right attitude, in the right roles makes all the difference."

Which can be challenging for smaller mines that have to compete with the bigger mines for talent. "How do you attract the skilled workforce?" Thornton said. "Most of the time, you can't. That means that there is a lot of training required and this is something that is really missed in the planning for the ramp up." That can result in a lack of operational experience once things get going, which means design and planning problems may not be recognized until it is too late. One way to hedge against this is to simplify the plans, Thornton said. Even if plans are kept simple, to two or three phases, the lack of operational experience can lead to deviations in favor of short-term results, she said.

For example, at small- or midsized ops, often the exploration geologist switches up and becomes the mine geologist once mining begins. Expertise in the former field doesn't necessarily translate to the same in the latter. Thornton said the trap many such geologists fall into is to develop and rely on short-range models that lend needed confidence, produce quick results, but lead to organizational challenges down the road. "Narrowing down the short-range model means that you now have more confidence in your grades," Thornton said. "This then leads to chasing grades where they find them and high grading," she said. "They end up mining themselves into trenches, leaving canyons to deal with later."

Also, during initial mine plan initiation, the trend typically is to narrow down the bench width. "Yes, it is more economic, but it affects your production and then later it doesn't make any sense," Thornton said.

In most mines, Thornton said, the majority of the cycle time is spent on the roads, proving their importance. "The construction of those has a huge impact on productivity," she said. Often, the initial roads are "single- lane, cut-to-fill ventures made from whatever material was at the surface at the time," Thornton said. "They really need to be improved once you start getting into some competent waste rock." Early mine plans may feature narrow roads with pullouts. "This works for a while," Thornton said. "Once you start adding more and more equipment, there comes a point where you need to decide whether to go to dual-lane or not."

At one mine where JDS was brought in, ore was being hauled by transit truck to a crusher at a port facility 100 km away. Each truck pulled two trailers, or cars, and was referred to as a train. "This was the Arctic, so not only were we experiencing an average of 60% downtime during the winter on our brand-new gear, we were also only successful in pulling a single trailer for a 12-hour shift," Thornton said. "One round trip was taking over nine hours," she said. "On top of that, it was delivering only half of the tonnage." The system was a lock, as the mine had "no money to go into setting up anything new," she said.

JDS borrowed some handheld GPS units, tracked the trucks, charted the data, and discovered that "anything more than a 6% grade meant the B-trains came to a halt," Thornton said. From there, six realignment programs were launched. "After that, we were able to have our first full train make it to and from port," Thornton said. "In addition to this, we implemented better fueling, shift changes, and rates and ended up nearly tripling that initial productivity."

Andrea Bauer, a direct asset manager for KMC Mining, said initial haul road and haul route management are both key to optimizing cycle time and productivity. "When we have the ability, we look to prepare multiple dump locations," Bauer said. "This allows us to maximize those cycle times and ensures that we are always efficiently loading with our shovels." As important is maximizing shovel productivity, Bauer said. "This can include areas of focus such as active pit management, reducing hang time on the shovel, looking at opportunities to double- side loading were safe to do so, and improving the dig rate of the shovels." Miners often forget the importance of planning for water management, Thornton said. Without it, roads wash out, pit faces become inaccessible, and rapidly melting permafrost turns a work site into a swamp.

The big problem area typically is roads. "Road construction really isn't complete until the ditch is in and it has been couched of something competent," Thornton said. If the pit is prone to flooding, plan to have a standby stockpile that can temporarily feed the plant, Thornton said.

Oftentimes, a new operation doesn't have the historical data to plan maintenance. Initially this means downtime to wait for parts to arrive or cannibalizing equipment. "Without historical data, the equipment selection is based on the information available at the time, and those best guesses are put to the test, which usually means there are a lot of quirks to work out as well."

Bauer said key to increasing cycle time is transparency between maintenance and operations, especially regarding the expectations on the former to deliver hours to the latter. "Preventative maintenance is crucial to reliably delivering those hours to operations and having alternative strategies from a maintenance standpoint when things don't go according to plan," Bauer said. "These alternate strategies can help reduce those unplanned maintenance events and help us then focus and dive into those planned events and continuously improving our reliability where we measure the meantime between failures and the meantime between repairs and then continuously improve in that area."

In the area of continuous improvement, the latest releases from the top fleet management and digital mine solutions suppliers focus on better synching trucks and shovels, as well as plans and reality.

Significant Returns
Modular Mining reported its Guided Spotting system can reduce total shovel cycle time by as much as 35% and can contribute as much as eight additional loads per hour by reducing both shovel hangtime and swing time. "In the field, it has yielded a 1% to 2% total haul truck cycle time improvement based on a 25-minute return cycle by minimizing re-spotting," Braden Weisheit, global manager, machine guidance systems, Modular Mining, said. "The Guided Spotting system has shown an overall potential productivity gain of 13% by eliminating bucket spotting."
HxGN MineOperate Reverse Assist sends information to the
operator over an in-cab screen. (Photo: Hexagon Mining)

Guided Spotting is the latest addition to Modular Mining's ProVision line of machine guidance solutions. The ProVision system, which dates back two decades, uses the Global Navigation Satellite System (GNSS) to provide centimeter-accurate guidance for equipment operators in real time throughout a mine, Modular Mining reported. Installed on trucks, the Guided Spotting system "guides truck operators as they reverse toward a shovel," Weisheit said.

The system features intuitive and simple displays and leverages LED lightboards mounted near the side mirrors to relay information to the operator. "The truck operator receives guidance as soon as they've crossed into a loading zone, which is predetermined by the shovel operator," Weisheit said. "No interaction with the system is required from the truck operator's perspective."

The guidance helps the operator to reverse to the load spot on the first attempt, without hanging bucket or guidance from the shovel. "This helps improve cycle times dramatically by minimizing shovel hang time and truck re-spotting," Weisheit said. "Improved truck placement also helps the shovel operator load each truck more evenly, reducing the likelihood for road debris or damage to truck components or frames."

The shovel operator sets the controls, such as the desired load spot, orientation and the direction of maneuver. "The system also facilitates dual-sided loading without increasing safety or collision risk, which can provide additional cycle-time productivity improvements," Weisheit said.

Guided Spotting was announced earlier this year and, so far, the reception has been overwhelmingly positive, the company reported. "Our partnerships with major global mining companies has allowed us to begin deployments and discussions in all major mining regions, and we have a large-scale group of deployments slated for early 2020," Weisheit said. "The system's significant return on investment is generating strong demand, signaling a bright future for the application of high-precision ProVision Guided Spotting on manned haul trucks."

Adoption requires what Modular Mining describes as a robust communications network and a willingness to partner with Modular Mining for deployment. The company sends a team to help evaluate the site and then set up, calibrate and configure the system. Training is offered. "During this training, the Modular Mining team will discuss any necessary changes to processes, workflows, or routines, and will help establish an implementation plan for those changes," Weisheit said. "They deliver a mutually agreed upon value or specific improvement prior to leaving the site, and stay on site even after demonstrating that value to ensure that the miner can continue to drive value on their own, after the deployment team has left."

After deployment, customers are covered by the Customer Care Program, which offers advice, support, troubleshooting and emergency assistance.

Guided Spotting is currently being tweaked for use at tip points. Guided Dumping, which is slated for release in the near future, "will provide high-precision guidance to truck operators so they dump at the correct crusher location," Weisheit said. "Training operators to spot correctly in tight, confined crusher bays can be challenging. The Guided Dumping system will help to minimize operator error and thus improve cycle times through real-time information that intuitively alerts the operator if they are in an incorrect location."

Weisheit said both systems further the company mission to provide technological answers to the big productivity and efficiency challenges faced by miners today. With Guided Spotting and other ProVision solutions, he said, "mines are more equipped to achieve the stepchange improvements they seek."

Eliminates Re-spotting
In early June, Hexagon Mining introduced HxGN MineOperate Reverse Assist, described as a high-precision positioning application that guides truck operators with the optimum reversing path.

The software, the latest addition to Hexagon's MineOperate Pro (OP Pro) suite, leverages an onboard computer and a centralized server, Hexagon's Fleet Management System (FMS), to calculate the best path and, via an in-cab screen, advise the operator on following it. "Reverse Assist ensures operators position right the first time, without the need for shovel-bucket support," the company reported. It said the solution all but eliminates re-spotting.

Marcelo Romero, business development director, operations, Hexagon Mining, said the solution also helps operators deal with blind spots, poor visibility and bad weather. Its main draw, he said, is how it can reduce cycle time by cutting spotting time, nixing re-spotting and ensuring materials are loaded correctly.

It assists with proper loading by automatically providing key data to both truck and shovel operators. "During the loading activity, the FMS shows payload information shovel bucket by shovel bucket," Romero said. "Additionally, shovels and dozers share FMS information, which allows a dozer to clean the loading area, expediting safer spotting."

From there, the FMS aids hauling by providing a navigation system "where the operator can see the best path for the right material, alerting operators and management if they deviate from the right path," Romero said. "Haulage activity can be monotonous and sometimes operators get off track and spill ore, resulting in big losses."

At tip points, where haulers often have to wait in line, the FMS provides information about where the truck needs to dump. "The information syncs with aux equipment, which knows when and where the truck will arrive," Romero said. Afterward, the FMS assists operators in determining the next destination. "Mines are large areas and route changes occur during the shift," Romero said. "The system helps everyone to reach the next destination while identifying and alerting for possible idling conditions."

Other OP Pro solutions that can contribute to cycle time improvements include the Optimizer Module, which both monitors individual hauler activity across the fleet, picks the next best move for each, and scrutinizes individual truck and shovel production activities times to reduce inefficiencies.

To optimize hauler activity, the module uses FMS data from sensors on the haulers. "The system utilizes several inputs, such as OEM systems, GPS, OEM sensors and optimization logic to accurately capture cycle phases without the need for operator input," Romero said.

It continuously matches the current GPS coordinates to a road position. "This results in a continuous update of equipment location and accurate prediction of, for example, arrival times," Romero said. "Continuous position tracking allows, for example, the immediate detection of and compensation for misroutes."

OP Pro captures eight truck production activities: traveling, waiting, spotting, loading, hauling, queuing, backing and tipping. "It can also capture two shovel production activities, loading and waiting," Romero said. "For those activities, the Optimizer Module looks to reduce or minimize potential losses."

Romero said OP Pro Optimizer Module is field proven to help generate up to 7% more loads, a 6.5% reduction in queue lengths, and a 5% reduction in bank cubic meters. Separately, field results prove adoption of the FMS alone better aligns planning and ops by more than 5% and delivers a 15% reduction in queue lengths.

Adding Value
In March, Maptek announced it partnered with PETRA Data Science to leverage its prediction and simulation algorithms. The former's mine scheduling software system, Evolution, will link to PETRA's latest digital twin performance models for "dynamic mine scheduling," the company reported.

The models should help paint the big picture needed for zeroing in on both current and potential cycle-time-related issues. To help resolve those issues, the models will empower users with "integrated planning" capabilities, Peter Johnson, CEO, Maptek, said. The tools will offer "business process automation and continual improvement for complex mining environments," he said.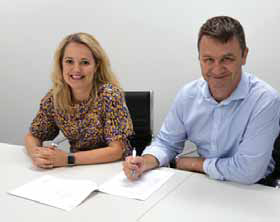 Maptek CEO Peter Johnson and PETRA CEO Penny Stewart sign
an agreement that would allow the two companies to collaborate
on mine scheduling software and advanced modeling algorithms.
(Photo: Maptek)

For integrated planning purposes, PETRA's algorithms will tap data sets from operational silos to help production processes be understood and planning tasks be managed with "a new level of awareness," Johnson said. "PETRA's MAXTA digital twin value-chain optimization is able to identify the necessary levers and impacts within complex operational systems to inform miners about optimized performance parameters and setpoints that are integrated back into Maptek mine planning systems," he said. "This allows significantly greater understanding of discrete performance measures, such as haul cycle times, on the broader achievement of mining objectives."

Leadership at PETRA said Maptek will provide it with access to upstream geological data and, in return, will be able to extend schedule optimization downstream. "For the first time, miners will be able to play forward the mine schedule into the processing plant," Penny Stewart, CEO, PETRA, said.

Historically, Evolution has distinguished itself for its capacity to produce short-, medium-, long-term and strategic life-of-mine schedules alongside practical production plans. The capabilities it has offered provides users with a competitive advantage when it comes to planning and scheduling, Johnson said.

One of its tools, Evolution Origin, optimizes schedules based on cycle time and fuel consumption criteria. "This can result in reduced haulage hours, which means savings per year plus savings associated with a reduced truck fleet," Johnson said. Origin optimizes material movement, haulage, blending and waste dump landform together, allowing operations to realize additional savings by minimizing rehandling cost and reducing haulage hours at the waste dumps, the company reported.

Another tool, Evolution Strategy, analyzes capital expenditure decisions, providing the best truck type and the best time to purchase during the mine life, Johnson said. "It helps evaluate the pros and cons of buying a new unit or overhauling the fleet to extend the life of the asset for a few more years."

And for information management, Maptek subsidiary MinLog's MineSuite products enable tracking and management of production activities to close the loop between planning, scheduling and orebody knowledge, Maptek reported. "MineSuite allows planning and scheduling details from Evolution to be connected to and acted upon in the production control room and within the mine, with the significant advantage of equipment task assignments and production performance tracked and measured load by load against plan and schedule," Johnson said.

The partnership should take those capabilities to the next level, Johnson said. PETRA models will help customers realize greater value from the available mine data and put findings into a context bigger than simply the orebody model and mine plan, he said.

"We need to empower our customers to relate the performance and characteristics of processes and equipment far downstream from geology or planning assumptions and understand the relationships better," Johnson said. Attaining that understanding "can have the effect of adding millions of dollars in value to a mining operation."

That understanding should put Maptek customers further ahead of the game, Johnson said. "Domain experience plays a critical role in positively influencing operational improvement through better understanding of the mining value chain."
---
As featured in Womp 2019 Vol 10 - www.womp-int.com