The Perfect Partners for Sustainable Mining
Scandinavian OEMs are developing new technologies and equipment to enable more sustainable mining operations. E&MJ looks at some key developments from the past 12 months.

By Carly Leonida, European Editor
---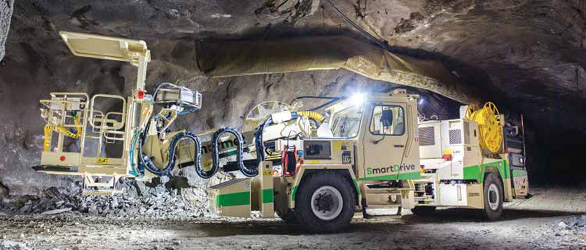 Normet's Charmec MC 605 VE SD battery-electric explosives charging unit in action underground.

It's not just Nordic mining companies who are going above and beyond to ensure sustainability. Scandinavian equipment producers are helping clients to achieve their goals through the products and services they provide and, at the same time, are demonstrating their own unwavering commitment to sustainable business practices.

"Reliability, efficiency and performance are important features for capital- intense projects," Stephan Kirsch, president of mining equipment at Metso, told E&MJ. "Scandinavian OEMs meet these criteria through long-standing industry experience, sustainable commitment, expertise and innovations." Kirsch is right. It is the enduring nature of Scandinavian countries' export- based, open economies and the very bedrock — the Fennoscandian Shield — on which they stand that have helped to shape the exceptional product quality that miners across the globe have come to expect from Nordic producers.

"Robustness, performance and reliability have always been key attributes of the equipment developed and used in Scandinavia, partly because of the harsh winter season and operating conditions. Also, engineering education has always been strong in Scandinavia, making it possible for manufacturing companies to build their expertise and operations with professional teams," added Juha Yli-Petäys, vice president for the Nordics, Metso.

Today, Scandinavia is viewed as one of the most important mining technology hubs in the world with several hundred exporters providing solutions to enable productive and sustainable mines. To lend perspective on market share, the Swedish government initiative, Mining for Generations, estimates that Swedish engineering companies account for 60% of all underground equipment used in the mining industry. And that is just one product area; nearly all of the top-tier mineral processing companies are headquartered in Scandinavia as well.

Henrik Kass, sales manager for lubricants at Fluid-Bag, explained: "What defines Scandinavian suppliers is their focus on environmental responsibility, high quality of products and an innovative approach to finding new solutions." Mai Auapinyakul Business Development Manager at Scania Mining agreed that collaboration with customers is an important differentiator for Scandinavian firms.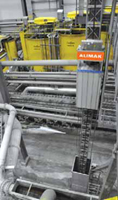 An Alimak elevator installed
at Boliden's Aitik mine in
Sweden.

"We don't just produce the equipment and hand them over to the customer," she said. "We are there with our customers; from finding the most suitable solutions for their operations, to how they can utilize our equipment to maximize their productivity, and in turn, grow their business. Helping customers to achieve their business goals means we become more than just an OEM, but a true partner." With these things in mind, let's look at some key developments and trends that have emerged over the past 12 months.

Epiroc Looks to Electrification
One of the biggest trends, not just in Scandinavia but across the entire mining industry has been the electrification of mine fleets, and specifically, the growing interest in battery-powered equipment. In November 2018, following 60,000 hours of testing, Epiroc announced the launch of its second-generation of battery- powered underground loaders, trucks and drill rigs at its Power Change Days event in Örebro, Sweden.

Epiroc's first-generation battery-driven machines, which were launched in 2016, have proven popular with multiple miners including Nexa Resources, which is using the ST7 battery-powered Scooptram at its Atacocha operation in Peru, and also with Swedish state-owned mining company, LKAB, which plans to use Epiroc's zero-emission vehicles as it expands its mining operation in northern Sweden.

Epiroc's battery technology is widely acknowledged to be some of the best with long charge times and high-power density. The company joined forces with Northvolt and ABB to develop its second-generation technology platform and meet the high safety, performance and reliability required. The new equipment on show included battery electric 14 and 18-metric-ton (mt) loaders, a new 42-mt truck and Epiroc's midsized drilling family including face drilling, production drilling and rock reinforcement rigs.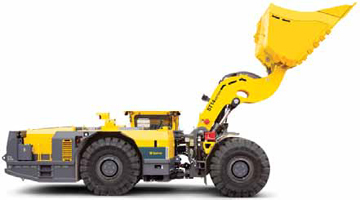 Epiroc's battery-electric ST14 ScoopTram loader.

"It has been very well received among customers and this continues to be a key priority for us," Anne-Sofie Andersson, Epiroc's global communications and branding manager, told E&MJ. "The first rigs are now being tested in Finland, at a customer site [Agnico Eagle's Kittila], and also as part of the SIMS program."

Epiroc's Jan Gustafsson is project leader for the Sustainable Intelligent Mining Systems (SIMS) WP6 working project. This aims to develop a diesel- free loader, mine truck and drill rig and demonstrate them in a mining environment. "The biggest hurdle within our WP [working project] so far has been the challenging time schedule. New battery technology and the electrical driveline [are being] developed within a short period of time in cooperation with new key suppliers," Gustafsson said in an online interview for SIMS.

"When the project is finalized, we will have proven the battery-powered machines to be equal in productivity as their existing diesel counterpart." "Of course, when implementing a new technology there are always a lot of questions and concerns from customers and end users. How safe is a battery machine and will it perform? What's the business case for implementing battery machines instead of diesel machines? The aim within the project is to clarify all these issues and convince customers that this is the future."

New Digital Developments
Electrification and digitalization nearly always go hand-in-hand, and Epiroc is also working with communications company Ericsson to help bring 5G into mining operations. 5G is the next step in the Long-Term Evolution (LTE) standard. It was first established in 2016 and is now starting to be rolled out commercially. It offers improved connectivity, higher capacity and lower latency, which will deliver massive device access, allowing mines to run their autonomous systems more effectively.

"Cellular technology and the introduction of 5G is critical to realize the full value of digitalization and automatization for smart industries," said Åsa Tamsons, Ericsson senior vice president and head of technologies and new businesses, in a press release announcing the collaboration. "This will open up new business models and ecosystems across the mining industry. By combining our expertise in connectivity and Epiroc's technology in mining equipment, we will be able to ensure stable and secure mining operations, leading to increased utilization, improved productivity and reduced costs."

The technology, which is for both underground and open-pit mines, has already been tested at Epiroc's facility in Kvarntorp, Sweden. Other significant digital product launches from Epiroc this year include 6th Sense. This is a new approach that combines digitalization and automation to boost mine performance. "6th Sense is a formula we have developed for getting the right solutions in place and achieving operational excellence in mining and infrastructure operations," said Helena Hedblom, senior executive vice president of mining and infrastructure. "The name 6th Sense implies that the solution brings something extra and that is just what it does, providing a significant advantage such as track and respond to real-time working conditions and equipment needs."

Together with Newmont Goldcorp, Epiroc has also put the world's first fully autonomous SmartROC D65 surface drill rig into production at the Hollinger mine in Timmins, Canada. The operator can be positioned remotely and perform other tasks while the drill rig completes a full drill pattern autonomously. Epiroc is also keeping a close eye on the sustainability of its own business. The company announced in August that it would expand the production capacity of its Surface and Exploration Drilling division at its facility in Örebro, including constructing a major new building hosting assembly lines and offices. Construction has already begun and the facilities will be inaugurated starting in 2021.

"Sustainability is a key priority for us," Ola Kinnader, media relations manager at Epiroc, told E&MJ. "It involves a lot of things, for example: conducting business ethically (zero tolerance for corruption); reducing injuries as much as possible in our own production sites; using energy and water responsibly; promoting gender diversity; and helping people around the world get access to clean water and sanitation through our employee-led Water for All organization.

"We have targets and KPIs on various issues, such as CO2 emissions from transport and water consumption, which we follow up on continuously."

Normet Makes Shotcreting Smarter
Shotcrete specialist Normet has also gone down the battery-electric and digitization routes. The company launched its SmartDrive fully electric battery-operated machine at bauma 2019. SmartDrive uses industrial- grade lithium-ion battery technology with fast-charging capability, and electric motors specifically designed for harsh environments. The onboard charging system requires 2.5 hours to charge the batteries from 0-80% power, or the machine can be charged during operation from any underground AC-socket.
Concrete spraying with Normet's SmartSpray system.

Normet has also added 3D laser scanning technology to Smart Drive. The SmartScan system incorporates sensor technology to deliver an even application of shotcrete. It works alongside an automation system called SmartSpray that minimizes the chance of operator error and increases spraying productivity. SmartSpray is available in the three versions: Lite, Pro and ProPlus depending upon operator skill and experience.

"Sustainability is of course important for us, especially when environmental and safety regulations in mining are becoming tighter," Kari Hämäläinen, senior vice president, Global Equipment Business Line, told E&MJ. "Normet has many solutions to help customers improve the sustainability of their site. For example, with battery-electric vehicles, less energy is needed for driving and less energy is needed for ventilation and cooling in underground operations. Battery-electric vehicles are also better for the environment and health as there are no emissions."

The company believes that in order to become more sustainable, mine operators should focus on the full lifecycle and total cost of each product and process, while using resources sensibly. "This is something that Normet can help with as well, and the way that we are performing process audits for customers is a great way to discover just how lean and safe their site processes are," said Hämäläinen. "For example, we do customers' sprayed concrete process audits and operator trainings. Well-organized spraying with skilled operators optimizes the usage of chemicals, decreases spillage and minimizes the rebound of concrete."

In its own production facilities, Normet strives to use long-lasting materials, and recycles waste materials and oils wherever possible. Special care is also taken in the usage and treatment of oils and chemicals to prevent them from entering the environment. In December 2018, Normet and Hindustan Zinc signed a four-year Cost Per Hour (CPH) service contract covering all Normet equipment in Hindustan's mines in Rajasthan, India. Operational and service improvements are part of the contract, including Normet's SmartCare service management system, which enables efficient service management.

Normet built a new service center in Jaipur to provide local service support and is developing new services and training programs for staff.

Sandvik Seeks Out New Technologies
Sandvik has also been working hard on both fleet electrification and digital solutions. In January, the company announced it would acquire Artisan Vehicle Systems, a leading manufacturer of battery-powered underground mining equipment based in California. Artisan's core technology includes battery packs, electric motors, power electronics, software and control systems, all of which compliment Sandvik's range of underground equipment well.

Sandvik will also gain access to Artisan's innovative battery swapping technologies, including PitStop, which was first introduced on Artisan's A10 loader. This gives machine operators the ability to automatically drop off and pick up a fresh battery in just a couple of minutes. Prior to the acquisition Sandvik produced both battery-powered drill rigs and loaders for the underground market but not trucks, so the acquisition will help to complete its portfolio.

"I am pleased to see the strategic acquisition of Artisan so soon after the opening of Sandvik's state-of-the-art Battery Electrification Innovation and Development Center in Turku, Finland, in 2018. It is in line with our ambition to be leading in the market for Battery Electric Vehicle solutions", said Mats Eriksson, president load and haul division, Sandvik Mining and Rock Technology.

The Artisan acquisition closed in February and was hotly followed by the announcement that Sandvik would also buy Canadian digital specialist Newtrax. Newtrax supplies wireless connectivity systems to monitor and provide insight on underground operations. The company is well respected in the data science field and, in the press release accompanying the announcement, Sandvik said that its digital tools for analyzing and optimizing mining production and processes, coupled with Newtrax's leading technology in wireless IoT connectivity would create "a powerful, streamlined digital solution to improve safety and efficiency in underground mining operations."

"By combining our current offering, OptiMine, with the Newtrax offering we can help customers achieve a more effi- cient use of their resources. The system is agnostic to network or brand of equipment, facilitating a flexible customer solution," Patrick Murphy, president of Sandvik Rock Drills and Technologies Division, commented on the deal. Other notable technology developments include the Leopard DI650i downthe- hole (DTH) drill rig that will be introduced to the Nordic mining market this fall. The DI650i is Sandvik's latest surface DTH drill rig and has scalable automation features. It is designed for high-capacity production drilling in surface mines, as well as large-scale quarries.

Sustainability Accolades
Ulf Johansson Territory Manager for Sweden and Denmark at Sandvik Mining and Rock Technology spoke to E&MJ about work the company is doing to improve its own sustainability as well. "Sustainability within our operations covers a wide range of functions such as environment, health, safety, HR/people, compliance and community involvement," he said. "Each of these functions has specialists within Sandvik who provide guidance and advice to our management and employees to assist them to implement activities to meet our sustainable business objectives and targets.

"Once a target is set, Sandvik drives the accountability for doing what is needed to achieve them through regular monitoring and reporting." As part of this, Sandvik recently launched a new sustainability initiative, setting goals that it wants to achieve in four key areas by 2030: circularity, climate change, safety and fair play. In a press release accompanying the announcement, the company said it understood the need for the world to shift to new business models in line with the United Nation's Sustainable Development Goals and the Paris climate agreement.

"We see sustainability as an opportunity for new innovations and new ways of working that will drive efficiency and productivity, open new markets, support our customers and help us sustain long-term growth," said Björn Rosengren, president and CEO of Sandvik. The new goals will be integrated into performance management systems and incentive programs, and Sandvik said it will initiate a sustainability idea program and use effective governance to keep focus across all of its business areas.

"We need the dedication and commitment from all our employees if we are to achieve these goals. Sandvik will be innovating for a sustainable future that we can all be proud of and that will present new opportunities for us and our customers. I feel assured we will achieve this together," said Ulrika Wedberg, head of sustainability at Sandvik.

Earlier this year, the company qualified for inclusion in the 2019 edition of the SAM Sustainability Yearbook. This showcases the sustainability performance of the world's largest companies in each industry as determined by their score in RobecoSAM's annual Corporate Sustainability Assessment.

To be listed, companies must fall within the top 15% of their industry and must achieve a score within the 30% of their industry's top performing company. Sandvik is also a member of the Dow Jones Sustainability Index, which includes the top 10% most sustainable companies in each respective industry. This year, Sandvik received a percentile ranking of 92, which means it performs better than 92% of the assessed companies in the mining industry.

Metso's M&A Focus
Many of Metso's most notable developments in 2018-2019 have also come in the form of mergers and acquisitions. In July, Metso announced that, subject to approvals, it will merge with fellow Finnish mineral processing firm Outotec.

"We are excited about the opportunities that this transaction will create," CEO, Pekka Vauramo, said. "The Metso Outotec combination will enable us to drive sustainable growth together with our complementary offering of high-quality technology, in equipment and services, and leverage our extensive global presence, strong services network and large installed base."

Metso also closed the acquisition of Chilean mining services business, High- Service, in May; a move that will help with the upcoming supply of crushing and material handling equipment for the first stage of Codelco's El Teniente expansion project. Codelco is a long-time Metso customer, and the delivery will include primary gyratory crushing equipment with apron feeders and conveyer belts as well as related services. Most of the equipment deliveries are scheduled for 2021, while services will be carried out between 2022 and 2023.

Metso also announced the acquisition of Canadian crushing specialist, McCloskey, in June. Vauramo explained: "The McCloskey acquisition, which we expect to close in the fourth quarter, will expand our offering of mobile crushing and screening equipment and enable us to better meet the demands of a diverse customer base in the aggregates industry. Both acquisitions are logical steps in our profitable growth strategy."

Sustainability in R&D
Kaisa Jungman, director of sustainable business development at Metso, spoke to E&MJ about what sustainability means to the company. "It means that we do things efficiently and responsibly in terms of the environment, people and the economy," she said. "These three dimensions are critical throughout our value chain, from procurement to end product. We believe that one of the best ways to promote sustainable development is to innovate new and better technologies and to change current ways of operating.

"For our customers, this means that our products and services need to help them operate more safely, productively and profitably while reducing resource intensity. Therefore, our R&D projects have sustainability targets that are related to environmental efficiency, including energy and water savings, waste, material efficiency, reduction of CO2 emissions and safety. "Of the new R&D projects started in 2018, 86% had set environmental efficiency and/or product safety innovation targets."

Metso has introduced various new products this year, but two of the most notable in the context of sustainability are the Metso Truck Body (MTB) and the VPX filter. The latter fits within Metso's newly formed Tailings Management Solutions. The MTB debuted at bauma in April. This is a customizable rubber lining for haul truck bodies in the 100-plus-ton class. The rubber absorbs the energy from material impacts, preventing it from reaching the frame giving up to six times more wear life compared to bodies fitted with a steel liner, half the noise and 97% less vibration.

Finnish miner, Terrafame, has been running the MTB at its Sotkamo operation since December 2018, and Metso has also supplied two MTBs to Boliden's Aitik mine in Gällivare, Sweden. "Sotkamo was among the first mines in the world to test the MTB," Juha Yli- Petäys, vice president for Nordics at Metso, told E&MJ. "The ore they mine is abrasive, which means that wear protection is high on the agenda. But in addition to simply seeking to reduce truck maintenance, the mine wanted to increase payload and improve driver comfort.

"The results have been good. The body is designed to carry 9 mt more payload, and thanks to the significant reduction in noise levels, the drivers have only had positive comments."

A New Approach to Tailings
In June, Metso announced the launch of its new VPX filter, designed specifically to handle the high tonnages and fine particles associated with tailings. The VPX has been designed from the ground up to eliminate the need for hydraulics. Instead, high-pressure closing is achieved with electromechanical screws for less maintenance and higher safety.

Metso has increased the working pressure to 25 bar (compared to the industry standard of 10-16 bar). "But we can go even beyond that if required," said Lars Gustavsson, product manager for filtration at Metso. "Membrane pressure and air blow is optional when needed. High pressure means higher capacity or lower moisture content."
A conceptual drawing of Metso's new Tailings Management Solution.

The ability to alter the VPX's working pressure means that a final moisture content of less than 10% can be achieved if required, allowing 90% of the tailings water to be recovered and recycled. The VPX is just one product that Metso offers for tailings handling; its portfolio also includes hydrocyclones, thickeners, filters and pumps, and the company has brought these together this year to form an end-to-end service offering called Metso Tailings Management Solutions. This provides products and services to help mines dewater and dry stack their tailings, and also the possibility to reprocess "legacy tailings" that reside in existing storage facilities.

"Metso views dry filtered tailings as the most viable and long-term solution for tailings management: it helps in recycling significantly more water to the concentrator, while enabling mines to reduce their freshwater footprint when compared to traditional tailings impoundments," said Niclas Hällevall, VP of beneficiation solutions, mining equipment business area. "Furthermore, the risk of tailings dam failure could be completely avoided by dewatering and dry stacking the tailings. Contrary to conventional belief, dry tailings are also much more CAPEX and OPEX efficient compared to wet or thickened tailings."

Reprocessing tailings gives mines the chance to generate an additional stream of revenue by recovering water and valuable metals that were, in the past, too difficult to liberate. This could be used to offset the cost of equipment or bolster sales during periods of low metal prices. It also provides the chance to clean up storage facilities that could pose a potential risk to communities or the environment going forward; a significant opportunity given everything that has gone on in relation to tailings safety so far this year.

FLSmidth Furthers EcoTails
Water management solutions have also been a key focus for FLSmidth. "It is at the core of the FLSmidth strategy and brand to share the responsibility for pushing the transition towards a more sustainable mining industry together our customers, suppliers and partners," Roman van Ommen, director of mining sales for Europe and North Africa at FLSmidth, told E&MJ.

"Greater scarcity of resources along with declining ore grades and stricter regulations lead to more complex and costly operations. As a result, mining operators need to minimize the use of resources and environmental impact, while optimising production and maximizing their investment. This calls for new solutions and new ways of working." Access to and management of water can often lead to tensions with local communities and regulators, which can negatively affect license to operate. "Through cooperation with partners in the industry, we are making progress and introducing solutions, like EcoTails, that re-use up to 95% of the process water and eliminates the need for wet tailings dams, even for large mines," said van Ommen. "These solutions help customers obtain a license to operate, it reduces operational costs significantly, it minimises the risk of contaminating ground water, and it eliminates the dire consequences of tailings dams' failures."
EcoTails blends 'fast filtered' tailings with waste rock in transit and creates
a geotechnically stable product called GeoWaste.

EcoTails filter technology is a process which blends filtered tailings with waste rock, creating a geotechnically stable waste product and eliminating the need to keep conventional slurry tailings contained in a dam and submerged in water. The resulting environmental benefits include: no tailings dam, lower freshwater use, reduced acid rock drainage, a smaller mine footprint, and less overall risk. The EcoTails R&D project is currently in the feasibility testing phase. The next step is a demonstration scale project at Newmont Goldcorp's Peñasquito gold mine in Mexico.

"The other major project we have is Rapid Oxidative Leach process (ROL)," said van Ommen. "With ore grades falling and increasing levels of impurities in the remaining ores, such as arsenic, it can make it more difficult for our customers to obtain environmental permits and improve their environmental performance. "We will soon reach the milestone of a demonstration-scale ROL plant which makes it possible to develop mineral deposits containing arsenic for recovery of copper, gold, and silver, while complying with stringent environmental regulations. Many orebodies cannot currently be processed due to the high level of arsenic, but by using ROL it is possible to do so with a lower environmental impact. It also allows for recovery from waste streams, and piles containing arsenic can be processed on site. This makes it possible to avoid potentially toxic emissions to soils, air and water."

Uptime and Optimization
Digitalization is another major focus for FLSmidth. "We see it as a major productivity enhancer for our customers, as well as a way to provide more sustainable and productive solutions to the mining industry," explained van Ommen. "In short, digitalization together with sustainability are the biggest business opportunities right now in mining. Our goal is to combine the two to discover new solutions that provide our customers with tools to reduce environmental impact, for instance cutting the need for freshwater while strengthening their productivity performance."

The company's most recent crushing launch was the Raptor cone crusher range with advanced control systems. These give the aggregate and construction industries improved control and data accessibility, while optimising particle size and shape consistency. Raptor crushers are cloud-based. This allows them to provide operational, performance and asset health monitoring metrics, which can be accessed by authorised personnel at any time, and from anywhere in the world. Additionally, automation systems can use this data to optimise crusher performance and feed control, even taking corrective action when force overloads are detected.

Other notable new products include ECS/UptimeGo, a digital downtime analysis solution for processing plants, the SAGwise process control system for SAG mills, and SmartCyclone which optimises closed-circuit grinding.

Scania Champions Sustainable Transport
With its latest mining truck, the XT Heavy Tipper, Scania is aiming to change the ways mines think about haulage. "It's not just about the truck itself, but the packages that come with it, whether it be workshop, driver services, connected services, up to setting up a monitoring centre," said Mai Auapinyakul, business development manager at Scania Mining.

"We have something called a 'Site Mapping Kit,' which we use to visualize customer's operations and the transport process in order to recommend the right products and services, and also help the customer utilize the fleet after the truck is delivered. It's a simple yet game-changing tool we've been using." Auapinyakul noted that the company has seen a change in demand from the mining market in recent years in line with sustainability concerns.
Scania's XT Heavy Tipper. The company has seen increased interest as mines look
to move away from traditional haul trucks.

"We see that mining companies and contractors are now exploring our solution as an alternative to the yellow machines in material transport," she said. "Our 40 tonne Heavy Tipper is the first of its kind to be competitive with RDTs and ADTs, but it is much lighter and uses less fuel per ton of material. This means the customer can lower the cost, the CO2 emission, and maintain the productivity level. "We see that the future will be smaller. With automation and electrification on the rise, now is the time to prepare for the disruption, from mine and infrastructure planning, connectivity."

Scania has aligned its own sustainability goals with those of the Paris Climate Agreement. The company has committed to cutting CO2 emissions from its land transport by 50% by 2025. It will also cut CO2 emissions in its own operations by 50% by 2025, and switch to 100% fossil-free electricity by 2020. Scania held a 'Climate Day' in September to conduct further training for its employees.

"We have worked purposefully with sustainability and it has a profound impact on our products, our production and the way we do business," said President and CEO Henrik Henriksson, announcing the event in August. "Now we are taking yet another step, and we choose training as our course of action for our Climate Day since we believe that increasing knowledge about climate change is crucial to be able to deliver on the Paris agreement."

The day was held as a forerunner to the United Nations Climate Action Summit in New York. Operations at Scania's head office, production sites and local Scania units across the globe halted for one hour. During this time, employees learnt more about climate change and were able to put forward their own ideas on how Scania could work more sustainably.

Volvo Penta Drives Down Emissions
Elin Boije af Gennäs, head of the Nordic Industrial Segment at Volvo Penta, reported that the company has seen strong demand from the mining market recently as OEMs strive to comply with Stage V emissions requirements.

"The demand has been very strong for the latest 12 months and is seen to remain on a stable level for 2020," she said. "We see that there are three areas, all related to sustainability, which are in focus for the mining equipment industry in Scandinavia. "It's the total cost of ownership (TCO) which includes low emission engines for a cleaner environment and less need for energy used for mine ventilation, low fuel consumption and to minimize stop time for service. A second area is mine productivity efficiency, where it becomes important to optimize the machine range for different mining purpose. A third area is new technology and to focus on the solutions for the future in close cooperation with the component suppliers."

Volvo Penta's Stage V engines, which were on show at bauma in April, have shown promising results in field-tests, cutting fuel consumption in industrial applications by up to 5%. This reduces the CO2 output as well as the TCO. The range offers power from 105-585 kW (143-796 hp) with an engine and exhaust aftertreatment system that work seamlessly together. Among other benefits, this maximizes passive regeneration during normal operation and removes the need for stand-still regeneration. Uptime has also been boosted by improved oil change service intervals, which have been doubled from 500 to 1,000 hours.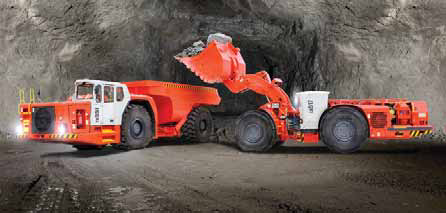 Volvo Penta's Stage V engine will feature in Sandvik's underground trucks and loaders going forward.

In 2018, the new engines were selected to feature on Sandvik's latest underground loaders and trucks. "We are keen to demonstrate to our customers that Volvo Penta is continuing to lead the way when it comes to engine and power systems innovation, most recently with EU Stage V," Johan Inden, president of Region Europe at Volvo Penta, said at bauma. "We are already seeing evidence that our customers understand this. Over the last three years, the Volvo Penta Industrial segment has increased its annual sales by an average of 33%."

In addition to off-road, Volvo Penta recently launched its first Stage V engine for mobile gensets, the D16. This is a compact engine with low maintenance requirements. It delivers around 3% better fuel economy compared to the Stage IIIa model. Boije af Gennäs told E&MJ: "We constantly evaluate our business' impact throughout the entire value chain — from economic, social and environmental points of view. We strive to make engine performance and reduced environmental impact go hand-in-hand. This includes efforts for increasing fuel efficiency and enabling use of renewable fuels, as well as offering aftertreatment systems to reduce emissions for our products.

"We also have development towards electromobility under way to enable zero emission solutions in the future. Other initiatives and commitments include the WWF Climate Savers program with targets to reduce fuel consumption of our engines and the support of the UN's Clean Seas campaign to reduce our single-use plastic footprint across operating sites, offices, and events."

Volvo Penta is actively working to minimize its energy and resource usage; one of its production plants has been CO2 neutral for some time, and the company is currently phasing out single-use plastics from all its offices and events.

Alimak Supplies Record Breaking Elevator
Alimak entered the mining equipment market in 1957 with the debut of its Raise Climber. The company sold this part of the business to Arkbro Industries in June 2008 but continues to provide elevators to mines across the globe. Fredrik Betts, Executive Vice President and Global Head of General Industry and Oil & Gas at Alimak, told E&MJ that a Fresnillo mine in Mexico recently chose an Alimak rack & pinion elevator to reduce transportation time for personnel down to the underground working areas.

"With 700 meters lifting height, this will be a world record for a permanent rack and pinion elevator," said Betts. He added that sustainable business and safety is high on the agenda for Alimak Group. "The focus runs through the whole organization — from individual countries up to the Board of Directors and covers all products and solutions sold under Alimak Group's brands," he said.

The group is a signatory to the UN Global Compact, an initiative aiming to make human rights, fair labour standards, environmental responsibility and anti-corruption core parts of the participating companies' operations. Betts said Alimak's biggest impact on the environment comes from production and transportation at its 12 production and assembly facilities across the world, but the group is actively working to reduce its environmental footprint.

ALLU Adds IoT Tech to Transformer Range
ALLU's M-series and G-series Transformer ranges provide multifaceted tools for mining and process industry applications. These hydraulic attachments can be used in production, particularly in selective digging to screen out waste and aid preconcentration, and also to solve chute blockages and material flow problems. Product manager, Jaakko Lipsanen, said ALLU has seen constant demand from "specialty mining applications" over the past 12 months. "The demand is really not dependent on market conditions — those who have a unique problem will search for the solution," he said. "The outlook is stable and growing."
An ALLU Transformer M Series processing iron ore.

Like many of its Scandinavian stable mates, sustainability is one of ALLU's core values. The company is ISO 14001 certified and that guides its own production processes to ensure they are environmentally friendly. "We execute just-in-time manufacturing ideology, which means that our manufacturing process is as efficient as possible, delivery chain optimized and supplier chain as close as possible in order to minimize the footprint of delivery chain," Lipsanen told E&MJ. At bauma 2019, ALLU announced a number of new features for its Transformer products, which enable more versatile use.

The latest addition to the TS range of blades enables three different fragment sizes to be produced by one unit. "With this new feature, from one ALLU Transformer screener crusher it is possible to produce three different end-product fragment sizes," Lipsanen told E&MJ. "This means that one Transformer can take care of the work of three different screeners just by modifying the blade assembly. "We also added IoT technology to our Transformer products that works through the ALLU App mobile application. The app provides an intelligent digital solution for customers and operators to obtain accurate and timely information regarding safe operations at jobsites, thereby maximizing the use of the ALLU equipment."

ALLU App provides information about the working hours and the right angle of inclination with ALLU Transformer. In order to maintain maximum productivity on the site and to minimize equipment downtime, the app provides information about the ideal maintenance frequency and the changing of wear parts, based on the working hours. Lipsanen said this will help the customer to ensure the best possible lifetime for their tools.

New Drills From Doofor
Doofor produces its rock drills in Finland. Managing director, Kalle Kuusento, said the company strives to minimize wastage at its production facilities and offices and recycles as much material as possible. Doofor switched to geothermal heating for its production facilities as in 2018 and limits the use of energy generated through fossil fuels wherever possible. "Metals are often a very good material when building sustainably as they are almost always fully recyclable," he added. "Doofor is constantly working on improving its rock drills' efficiency coefficient, thus leading to lower energy consumption."
Doofor's new DF530L rockdrill at work in Australia.

The company is currently launching a new drill model — the Doofor DF530L. This is a double-motor rock drill in the 10-kW size class for drilling holes up to 51 mm in diameter. Two rotation motors along with a sturdy gear give a smooth and silent rotation function and the trapezoid piston offers good penetration rate. The rock drill has also a good weight-power ratio.

Doofor also introduced the DF800L hydraulic rock drill at bauma in April. The 25-kW unit can drill holes up to 127 mm in diameter using T45, T51 and GT60 tools. Hydraulic cushioning and an extractor are included as standard. Patented percussion channeling minimizes the number of service parts required and makes the DF800L one of the best in its class in terms of the power to weight ratio.

Fluid-Bag Redesigns Lubricant Handling
Finnish fluid handling company, Fluid Bag, told E&MJ that it has seen a big increase in sales to the mining segment, and also to lubricants suppliers over the past year. "The reason is probably that we are getting more known among mining companies and lubricant suppliers thanks to word of mouth," said sales manager, Henrik Kass. Fluid-Bag's containers contribute to a more efficient use of lubricants in a mine by reducing the amount of grease residue. Since Fluid-Bags are flexible, it is possible to squeeze out nearly the entire contents. They also help to reduce mines, environmental impact through transport and logistics — the FLEXI one-way container eliminates the unnecessary return transportation of empty containers altogether, and the MULTI multi-trip option can be packed down to save space in return freights.

"Sustainability has always been a central point in our business activities," Kass said. "Fluid-Bag's products are an example of how innovation, a new way of thinking and focus on efficiency can reduce transportation needs, fuel consumption and produce less waste." Fluid-Bag is ISO 14001 certified and, since 2000, it has been working on various improvements based on its own environmental plan. Kass explained: "One of the main points is reducing the amount of material in our products. During 2008-18, we have managed to reduce the amount of plastic by 19%. All plastic waste is sorted and sent for recycling.

"We also focus on reducing our energy consumption. In the last year we have, for example, reduced our heating costs by 52%. To ensure that environmental aspects are considered throughout the supply chain we also require our suppliers and freight forwarders to have their own environmental programs." The Tau Xtractor is the latest addition to Fluid-Bag's portfolio of discharge equipment for its containers. The device grips the inner container of the Fluid-Bag, twists it and forces out all the grease, leaving less than 1% residue in the bag.

Grindex Repairs and Recycles
Grindex recently introduced a repair service for its mining pumps to ensure a low total lifecycle cost. Its certified workshops take care of used spare parts such as seals, copper wire, oil and O-rings recycling them wherever possible. Peter Uvemo, global sales manager at Grindex, said that the company is working towards sustainability throughout the whole value chain, from procurement until the product has reached its full economic life cycle. "Grindex pumps have a proven reliability and dependable performance in extreme environments leading to a low impact on the environment and the people in the immediate working environment," he said. As part of this, the company has a strong regulatory framework, and is ISO 9001 and 14001 certified.

Bosch Rexroth Bags Record Bucketwheel Order
In April, Bosch Rexroth announced it had been selected by thyssenkrupp Industrial Solutions Australia to supply the bucket wheel drive system for the world's largest rail-mounted bucketwheel reclaimer. The bucket wheel reclaimer will be installed at the new BHP South Flank iron ore mine in the Pilbara region of Western Australia. "Bucketwheel reclaimers are among the most popular applications worldwide for our larger Hägglunds motors and direct drive systems," said Uno Sundelin, manager, mining and materials handling, Hägglunds Products.

Bosch Rexroth will deliver the bucketwheel drive system to thyssenkrupp Industrial solutions, who will design, supply, construct and commission the 20,000-mt/h machine. The drive system will be based on Bosch Rexroth's Hägglunds hydraulic direct drive technology, which offers high power density and a flexible drive layout that the company said is well suited to bucket wheel reclaimers. The system will utilize the largest hydraulic motor ever built, the Hägglunds CBm 8000.

In addition, Bosch Rexroth will supply Hägglunds drive systems for the slew function on both the bucketwheel reclaimer and two stacker machines at the same mine site.
---
As featured in Womp 2019 Vol 10 - www.womp-int.com