Making Scandinavian Mining Sustainable
Nordic miners are making significant investments to secure the future of their operations, and many of these come in the form of new technologies and mining techniques

By Carly Leonida, European Editor
---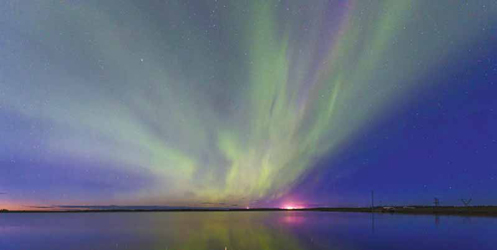 Auroras on the Vajunen reservoir at Boliden's Kevitsa mine in Finland. (Photo: Boliden)

Mining companies in Scandinavia had a mixed start to 2019. For some, soaring commodity process (iron ore and gold) and increased demand saw their profits rocket, while for others (base metals), times have been a little tougher. A few miners are even looking to new markets including battery metals to help bolster their businesses. Market instability, along with declining ore grades and the fact that some key operations are fast approaching the end of their economic life mean that attentions have turned firmly to sustainability over the past five years.

In order to extend their operational lives and be truly "sustainable," mines must not only be economically feasible over a long period, but also safe for workers and environmentally responsible. To enable this, there has been a major drive toward the development and implementation of new technologies. Without these, it would be very difficult to mine deposits at the extreme depths that will be required in the future.

Nordic mines have always been early adopters of new technologies like automation and electrification. This is partly due to their relatively low (on a global scale) production volumes and ore grades, and also because of their remoteness. Many operations find it hard to attract and retain skilled engineers. By offering their operations up as testbeds, mining companies can ensure that they are among the first to benefit from new concepts, and also gain valuable experience that can be applied at their other operations.

Indeed, one very positive characteristic of the Scandinavian mining industry is the willingness of both mining companies and suppliers to work together to better their sector's outlook. There are other markets that would do well to take a leaf from the Nordic's book, because companies there are not just talking, they are racing ahead and delivering tangible results when it comes to sustainability.

LKAB Secures Kiruna's Future
Swedish iron-ore giant, LKAB, had a solid start to 2019, mainly thanks to record iron-ore prices and a strong US dollar. During Q2, the global spot price reached its highest level for five years, hitting US$118/metric ton (mt) before dropping down in August, although it has now recovered somewhat. "In many ways, the market is extreme at the moment. World market prices and exchange rates are beyond our control, however, and our work therefore focuses on safeguarding our competitiveness so that we are prepared for any turnaround in the business cycle when it comes. This means cost control, production stability, increased volumes and investments to develop the next generation of LKAB," said President and CEO Jan Moström, in the company's interim report.

As a result of high demand and lower market capacity, LKAB's sales for the first half of 2019 increased by 34% year-onyear, while operating profit was boosted by a staggering 166% to MSEK 6,629 ($671 million). Production during the second quarter amounted to 6.2 million mt and deliveries to 6.7 million mt. However, a number of disruptions at both of the company's flagship mines, Kiruna and Malmberget, affected production. "Maximizing volumes in the current production system is essential for future growth investments, which is why production stability continues to be a key focus for LKAB," the company said. Key to this stability is the future of Kiruna. It was announced on June 17 that the municipality of Kiruna had decided to give LKAB the necessary planning consent to continue mining at Kiruna's main level.

Today, mining impacts around a third of the city's urban center, including Bolagsområdet, the railway area and parts of the Östermalm and Norrmalm districts, which are affected by subsidence. "We know that at least 3,000 dwellings are affected, 6,000 residents must move, and 450,000 square meters of residential and commercial space must be replaced. Those who are affected will be compensated in accordance with set time plans," said Stefan Hämäläinen, LKAB's manager for urban transformation, in a company press release. With the planning consent granted, work to convert parts of the city center into industrial land can now continue. By 2035, the present-day city center will have been decommissioned and a new one developed 3 kilometers (km) east.

The current main levels at Kiruna and Malmberget will provide ore up to 2035 and 2030, respectively. LKAB's Leveäniemi open-cut mine will also be operational until 2030, and the company must soon make a decision on whether to go deeper at these mines in order to sustain production and, if so, how it will achieve this.

SUM Provides Answers
To help address these questions, the company has joined forces with Swedish suppliers ABB, Epiroc, Combitech and Volvo Group to create a consortium called SUM or Sustainable Underground Mining. Together, the companies have set up a real-world test facility as well as a virtual test mine to probe the effectiveness of an autonomous production system, which is carbon dioxide-free and maintains the highest level of safety when people and autonomous machines work side by side. The virtual test mine makes it possible to simulate data flows and scenarios that cannot be tested in Konsuln, a remote part of the Kiruna mine that has been designated as the SUM test zone.

SUM has four interconnected subprojects focused on: mine layout and technology; autonomous, intelligent CO2 free machines; management systems and integration; and people. The DP1 subproject, deals with mine layout and technology. In order to mine at depths greater than 2,000 m, the team has been trialing a new mining method with increased sublevel heights and, what it terms a "fork layout." This layout makes it possible to locate the mine infrastructure further away from the working face, making it less susceptible to rock stress. It also increases the total number of vehicles transporting ore from a production area to help boost production capacity.

"We know that rock stresses increase with depth. In order to be able to continue working safely, we need to move our infrastructure further from the mining area, which increases development costs. If we increase the sublevel height from the current 29 m to 50 m, then we will reduce the number of meters we develop and reduce costs," said Carlos Quinteiro, mining engineering specialist at LKAB and project manager of DP1, in a recent LKAB interview.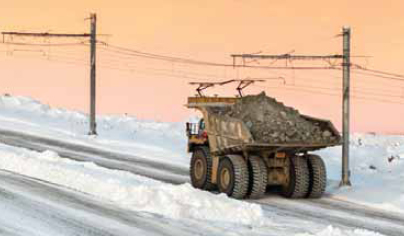 Boliden recently concludes a two-year electrification pilot project at Aitik. (Photo: Mats Hillblom)

Development is now complete on the 436 m level at Konsuln, and work is ongoing at the next 486 m level. LKAB said a further level at 536 m should be ready by the end of 2020 and parts of the new levels will be designed with the fork layout. Testing has also begun on a new type of rig for drilling opening holes, Epiroc's Easer, and when LKAB Wassara has completed development of its coil-tube technique (a water-powered precision drilling technology for long and curved boreholes), this will also be tested and evaluated at the mine.

Adding Electric Vehicles
SUM's DP2 project is paving the way for autonomous electric vehicles. The goal is to test both manual and self-steering electric loaders, drill rigs and forklifts, and study how they interact with each other, as well as with people and other vehicles operating in the mine. Volvo Group is developing the driverless, battery-electric trucks that will eventually be used to transport the ore out of the mine. "We are still at an early stage in the development of driverless, electric and connected vehicles," Niklas Wahlberg, vice president, societal challenges and solutions at the Volvo Group, said. "Although we have come a long way, there remains a lot of technological development. Just to give an example, we must learn how Epiroc's machines and ours can communicate with each other when testing autonomous loading."

Another important consideration is how data should be communicated so that the right information reaches the right recipients at the right time. For a safe and accessible working environment, vehicles must also be interoperable i.e., able to exchange information and act upon it in real time. This requires precise positioning of machines and people.

ABB works primarily with two areas in SUM. The first is electrification, building energy-efficient systems that enable electric underground vehicles. This includes developing new technology from network to vehicles provided by Epiroc and Volvo, and also battery solutions and flexible electrical infrastructure. The second concerns the delivery of automation platforms, and Combitech's role will also be in the fields of automation and digitization. LKAB plans for live testing to begin in mid-2020 and the results, which will be ready by 2023, will be used to make a decision on how the company's mines will look after 2030.

Rare Earths From Tailings
Pilot facilities are also being built for ReeMAP, a project which aims to utilize residual products from iron-ore mining to extract rare earth elements (REEs) and phosphorous. Historically, LKAB has sent apatite, a phosphate byproduct from its iron-ore operations, to tailings ponds along with waste materials as it was too difficult and expensive to recover. However, EasyMining, a subsidiary of environmental services company Ragn-Sells, has developed a method for upgrading apatite concentrate to a finished product called mono ammonium phosphate (MAP), which now makes the recovery economically feasible.

In addition, LKAB's mine waste also contains REEs. Heavy and light rare earth metals and phosphorus are all on the European Union's (EU) Critical Raw Materials list. This details materials that are of major importance for the EU economy, industry, technology and environment going forward. The majority of rare earth metals — around 95% — are produced in China, and the EU is currently dependent on imports to meet the needs of its fast-growing manufacturing sector. Creating a supply of REEs closer to home would be a major boon for Scandinavian manufacturers and miners alike.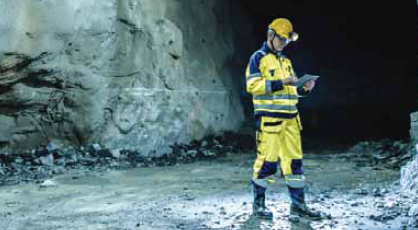 Boliden Area's Kristineberg underground mine was the first in the world to get 5G connectivity.
(Photo: Boliden)

"For LKAB, this is an industry in which we are not yet active, but it has the potential to be an additional niche," Lars Vikström, technical and business development manager at LKAB's Special Products Division, said in a press release. "It is too early to say where this will lead and we are in an early stage of development, but we really believe it is viable."

Following laboratory trials, a mobile pilot facility will be built to determine if the technology can be taken to industrial scale. This will be run at both Malmberget and Kiruna to assess differences in materials and to verify whether or not the technology works properly. The pre-study will conclude this year and, by 2020, it is hoped that the technology can be taken to full scale.

Boliden Expands Kevitsa, Aitik
Boliden is also looking to technology as a key enabler of future operations. The company reported a decrease in operating profit in its Q2 results due to lower production of metal in concentrate and lower ore grades. "Higher milled tonnage could not compensate for lower grades in Kevitsa and Aitik," the company stated in its press release. To help boost its metals output, Boliden recently began work to expand Garpenberg's production to 3 million mt per year (mt/y), and a program has been carried out at Kylylahti to evaluate extending the operation through increased nickel and cobalt production (battery metals).

The miner is also increasing production significantly at two of its largest operations, Kevitsa and Aitik. Aitik's expansion from 39 million mt/y to 45 million mt/y is expected to be completed in 2020, and the new KID2 crusher came online in late 2018. Kevitsa will also start its ramp up from 7.5 million mt/y to 9.5 million mt/y (milled volume) in mid-2020. The concentrator is gaining a new autogenous mill, supplied by FLSmidth, together with associated equipment and a new mill house, as the current one is limiting production.

As part of these projects, Boliden booked a SEK 900 million ($91 million) order with Komatsu in October 2018 for 17 new 830E-5 haul trucks for Kevitsa and nine 930E-5 units for Aitik. These are all electric-ready, and Boliden said the investment will support "expanding operations, insourcing of transports and a partial replacement of the existing truck fleet."
Volvo tests a driverless truck at Kristineberg in 2016. (Photo: Boliden)

"This is an important step in the development of our open-pit mines while improving our environmental performance from an already strong position," President and CEO of Boliden Mikael Staffas said in the press release accompanying the announcement. "Not least because we now create opportunities for increased electrification and related productivity development." Boliden has been a forerunner for the implementation of a trolley assist system for mine trucks in Arctic conditions. The company recently concluded a two-year electrification pilot project at Aitik with the help of the Swedish Energy Agency. This included the development of an electrified transport ramp with overhead contact wires and four modified mine trucks with pantographs.

Boliden expects to reduce greenhouse gas emissions on the routes where the technology is implemented by up to 80% and said the technology will help to cut its fossil fuel usage signifi- cantly. The potential also exists to increase productivity through higher transport speeds.

Reducing Fossil Fuel Usage
In a further bid to reduce its fossil fuel dependency, Boliden announced in May it had signed a long-term electricity agreement with a wind power developer. This entails an annual electricity supply of 240 GWh to Boliden's Swedish operations and 175 GWh to its Finnish operations. Production will take place in wind farms close to the Boliden Area mine and smelting operations in Kokkola.

"The agreement means that we get an increased long-term perspective in our energy supply," Staffas said. "In parallel, it is positive to contribute to increased production of fossil-free energy in the vicinity of our facilities, particularly as the electrification rate in our own operations increases." Boliden also signed a four-year deal with European energy company Vattenfall to develop batteries, solar panels, electric transport and recycling techniques for new-generation car batteries.

In the press release, Vattenfall President and CEO Magnus Hall said: "It's great that Vattenfall and Boliden can work together on this. It will require technological change and investments in new solutions, but the opportunities are there for both companies. Industrial partnerships like this are crucial if we are to make progress on the electrification of industry and enable fossil-free living within one generation." Boliden's main sources of emissions include diesel vehicles, process heat and the use of coke as a reducing agent. The company said that, as a technology-independent partner, Vattenfall can evaluate and enable the introduction of fossil-free technologies such as electricity and charging infrastructure for transport and mining.

Boliden is already involved with metal recycling, including the recycling of car batteries. As a first step in the partnership, modern energy solutions will be implemented at the Bergsöe lead smelter in Landskrona, which is one of Europe's largest recyclers of lead batteries from cars. Solar panels, which will produce locally generated renewable electricity to power the plant, will also be installed, and batteries will be used to reduce the load on the grid, by storing and providing backup power and satisfying peaks in demand.

SIMS Boosts Production
Like LKAB, Boliden is also working on the automation and digitalization of its mines. To enable this, it has joined a European cross-functional program called Sustainable Intelligent Mining Systems (SIMS) along with 11 other companies and research groups. Boliden's mines provide a live test environment for the WP3, WP4 and WP5 work packages, which address communication and positioning, integrated process control and automation and robotics, respectively. Each project has its own objectives but are all closely interconnected. According to Boliden, a SIMS team consisting of ABB, Epiroc, Combitech and Volvo Group is currently working to streamline the mining process so that production can continue round-the- clock, all year round.
Agnico Eagle's Kittila mine provides a testbed for SIMS' WP6 project, which is developing battery-electric
underground mining equipment. (Photo: Agnico Eagle

Peter Burman, who is in charge of Boliden's mine automation program, said there are currently peaks and troughs in mine production during shift changes, lunches and breaks. "With better production control, productivity could increase by 10%-20%," he said in a Boliden news story. "If we use autonomous machinery that operates even when nobody is present, that number increases to 40%-80%." In 2012, Boliden Area became the first underground mine in the world to employ a combination of wireless networks, IP telephony and positioning. The network has 100% coverage over a total distance of 35 km, and today it is used for all communication. In the next phase, Boliden installed wireless networks in its Kankberg and Garpenberg mines. The latter is currently Sweden's most modern mine.

Wireless networks allow the use of positioning systems. This helps to reduce mine power draw through the use of systems such as ventilation on demand, and Boliden said it can also reduce vehicle emissions, as operators can plan their runs better. Additionally, the SIMS team has been working with Telia to bring 5G technology into Kankberg.

With 5G, mine sites can have tailored, private evolved packet core (EPC) deployments. This approach offers better traffic control than previous communication systems, higher bit rates and lower latency all of which support automation and functional safety applications, and their time-critical communication. "We work actively with robotization to improve productivity and safety in the mine, which requires future-proof communication solutions," Burman said. "5G is an important component enabling advanced automation and by that, a safer and more sustainable mine.

Agnico Expands Kittila
Agnico Eagle is another SIMS partner. Its Kittila mine in northern Finland is Europe's largest primary gold producer, and acts as the test bed for the SIMS WP6 work package, which is focused on developing and implementing battery-electric mining equipment. Separate to SIMS, Agnico is working on a €160 million ($175 million) project to add an underground shaft at Kittila (the mine is otherwise accessed via a ramp) and increase mill throughput by 25% to 2 million mt/y by 2021.

The expansion will increase the efficiency of the mine and maintain or decrease current operating costs while providing access to the deeper mining horizons. In addition, the shaft is expected to provide access to the mineral resources located below 1,150 m where recent exploration programs have shown promising results.

In its 2019 Q2 results, Agnico said the mill expansion is advancing as planned, and tie-in work was completed during a scheduled mill shutdown in the second quarter. The shaft project is ongoing with all segments of the raise boring completed in Q2 and slashing of the first section of the raise boring was completed in July. Raise boring of the ore silos is scheduled to complete later this year and construction of the head frame is imminent.
---
As featured in Womp 2019 Vol 10 - www.womp-int.com