The latest from the
World Mining Equipment
Video Library
View




Another Tailings Dam Bursts

Tragically, it's happened again. Another tailings dam has failed at an iron mining operation in Brazil. This time it's Vale's Corrego do Feijão mine near Brumadinho. The death toll is staggering. Our hearts and prayers are with the families of the iron ore miners in Minas Gerais and all the people who suffered a loss.
From an engineering standpoint, this is totally unacceptable. The environmental impact this time is not as severe as the Samarco collapse near Mariana in 2015, when satellites tracked an orange plume through Brazil's countryside until it eventually fouled the Atlantic Ocean, but it's a major environmental calamity nonetheless.
Another difference between this event and other past tailings dam failures is that this one has been captured on video. And, it's scary .... read more


Steve Fiscor, Publisher & Editor in Chief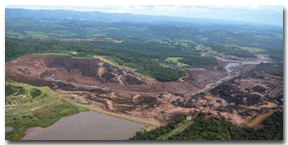 Dam Bursts at Vale's Feijão Mine
Engineering and Mining Journal offers its prayers and condolences to our friends and colleagues at Vale and all those who have suffered a loss during this tragedy.

By Jennifer Jensen, Associate Editor

Brazil's Vale SA will invest about US$70 million in dam management in 2019, an increase of around 180% when compared to the US$30 million that was invested in 2015. This comes after a tailings dam.... read more
Kirkland Lake Gold Reports Record Q4 Production
Kirkland Lake Gold Ltd. announced record levels of quarterly and annual gold production for the fourth quarter and full year respectively. Production in Q4 2018 totaled 230,993 oz, 28% higher than the previous record of 180,155 oz achieved in the third quarter of 2018. That was also significantly above target levels for .... read more

Top
Access Declines Reach Fruta del Norte Orebody
Twin access declines, designated K'isa and Kuri, have reached the orebody at Lundin Gold's Fruta del Norte mine development project in southeast Ecuador, and as of mid-January, a total of 4.5 kilometers (km) of underground mine development had been completed. Overall, advance rates in both declines exceeded plan by 11% due to better than expected ground conditions and lower than .... read more


NQ Minerals Declares Commercial Production
NQ Minerals Plc announced the commissioning of the Hellyer Processing Plant has now been completed, and that during the fourth quarter of 2018, the company produced 3,991 dry metric tons (dmt) of lead, 1,537 dmt of zinc, and 4,291 dmt of pyrite realizing approximately AUD$5.7 million in sales. The company is now consistently producing all three concentrates with sales occurring on a weekly basis .... read more

| | |
| --- | --- |
| AROUND THE WORLD - USA & CANADA | |

Ascot Resources to Acquire IDM Mining
Ascot Resources Ltd. announced it intends to acquire all the outstanding shares of IDM Mining Ltd. The transaction will consolidate Ascot's Premier Gold project and IDM's Red Mountain project to create the leading high-grade gold development and exploration company in northwestern British Columbia's Golden Triangle near .... read more


Taseko Starting Up Florence Copper Project in Arizona
Taseko Mines has announced that, following receipt of all necessary state and federal operating permits, well-field operations have begun and injection and recovery systems have been fully ramped up at its Florence in-situ copper recovery project in Pinal county Arizona, about midway between Phoenix and Tucson ....read more

Top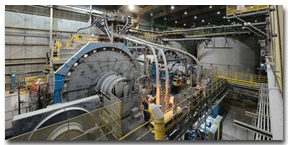 Hecla's Silver Production Declines
For 2018, Hecla Mining Co. announced preliminary silver and gold production of 10.4 million ounces (oz) and 262,103 oz, respectively. The company's silver production fell 17% compared to 2017. The gold figure, an increase of 13% over 2017, was a new record for the company and translates to a silver equivalent production of 43.6 million oz. The company .... read more

| | |
| --- | --- |
| AROUND THE WORLD - Latin America | |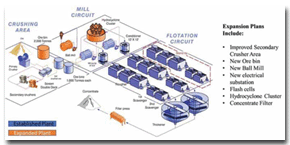 Sierra Completes Construction at Bolivar Mine in Mexico Ahead of Schedule
Sierra Metals reported its expansion plans are on track for the Bolivar mine in Mexico. In July 2018, the company announced the results of a preliminary economic assessment (PEA) at Bolivar to achieve a sustainable and staged increase in mine production and mill throughput .... read more


Top
Feasibility Study Supports Almaden's Ixtaca Project
A feasibility study of Almaden Minerals' Ixtaca gold-silver project in Puebla state, Mexico, supports a project producing an average of 108,500 ounces per year (oz/y) of gold and 7.06 million oz/y of silver (203,000 gold equivalent oz) over the first six years of operations. The study and resulting mine plan incorporate significant changes from an earlier prefeasibility study, including filtered dry-stack tailings, ore sorting, increased throughput, and an improved .... read more

| | |
| --- | --- |
| AROUND THE WORLD - Australasia | |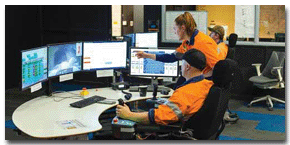 Development Begins on New Northparkes Block Cave
China Molybdenum Co. (CMOC) and Sumitomo have started development of a new block cave mine at their Northparkes Mines joint venture 27 kilometers (km) northwest of Parkes, New South Wales. Ownership of the joint venture is 80% CMOC and 20% Sumitomo. mt/y …. read more


Top

OceanaGold Receives Permits for Martha Underground, Mine Life Extension at Waihi
OceanaGold Corp. announced that the statutory appeal period for the Martha Underground Project permitting process has concluded with no appeals filed. As a result, the project has received its resource consents (permits) to commence operations. "Receipt of the permits at the Martha Underground represents a tremendous outcome that will benefit the company …. read more

Orion to Redevelop Prieska Mine
A scoping study has confirmed that Phase 1 of Orion Minerals' Prieska zinc-copper project in the Northern Cape Province of South Africa could become a significant low-cost producer of zinc and copper concentrates. The study outlines an initial 10-year mining scenario, extracting 75% of an underground mineral resource of 28.73 million metric tons (mt) grading 3.77% zinc and 1.16% copper. A 2.4-million-mt-per-year (mt/y) processing …. read more

Top
Lumwana Seeks Long-term Partnership With Zambian Government
Barrick Gold Corp., owners of the Lumwana copper mine, said it is continuing to engage with the Zambian government and community stakeholders about a mutually beneficial way forward for the operation. After the first Lumwana board meeting following the Barrick/Randgold merger, Barrick COO for Africa and the Middle East Willem Jacobs said the company was mindful that the government was under pressure to increase its revenue. At the same time, however, its proposed tax …. read more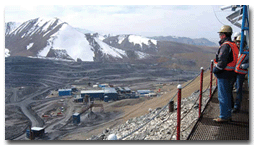 Centerra, Kyrgyz Republic Agree to Agreement Extension
At the request of the government of the Kyrgyz Republic, Centerra Gold has agreed to further extend the first longstop date under the Strategic Agreement for Environmental Protection and Investment Promotion for the Kumtor mine until May 31. It first entered the agreement on September 11, 2017. The first longstop date is the date by which all conditions precedent to the completion of the Strategic Agreement are required to be satisfied …. read more


Top
India Readies Mining Policy Blueprint
The Indian government has worked out a blueprint aimed at liberalizing the policy framework of domestic mining, including tax incentives, co-mining of leasehold areas, and even partial funding of exploration projects. The blueprint put out in public domain for discussion among various stakeholders is aimed at global resource developers to take up projects in India .… read more



| | |
| --- | --- |
| THIS MONTH IN COAL | |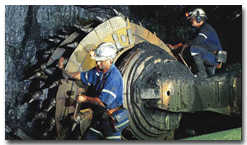 Illawarra Longwalls Performing Strong
In its latest quarterly report, Australian miner South32 noted exceptional improvement from its longwall mining units at its Illawarra Metallurgical Coal, which allowed it to exceed prior-production guidance. Coal production during the last two quarters totals 3.84 million metric tons (mt) compared to 4.24 million tons for fiscal year 2018. The company is expecting 6.5 million mt for fiscal year 2019 with two longwall moves scheduled for the March 2019 quarter .... read more


Top

Queensland Coal Exports Hit Record High
Queensland's coal exports have reached a record high and yearly totals are predicted to continue growing, according to the Queensland Resources Council (QRC). The council said 223 million metric tons (mt) of coal was shipped from Queensland ports to 30 different countries and territories last year, trumping the previous record set in 2016 by 2 million mt …. read more


Production Halts at Donkin Coal Mine High
Kameron Collieries, an affi liate of The Cline Group, and owner/operator of the Donkin coal mine in Cape Breton, Nova Scotia, temporarily suspended production at Donkin due to a roof collapse in an older part of the mine. The incident occurred on December 28 during Kameron's scheduled holiday shutdown and no workers were injured. Kameron has been directed …. read more


-->
| | |
| --- | --- |
| FEATURE - bauma 2019 Preview | |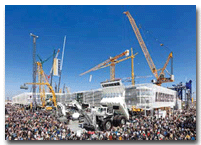 The World's Largest Trade Fair Continues to Grow
Messe München welcomes the world to Bavaria to see advancements in mining and construction technology.

By Steve Fiscor

Every three years, Messe München organizes the bauma trade fair, which takes place at the fairgrounds outside Munich, April 8-14. Billed as the world's leading sector event for construction machinery, building material machines, mining machines and construction equipment, the exhibition space totals 640,000 m2, making it the largest trade show on earth. In 2016, bauma broke previous records, attracting a total of 3,425 exhibitors from 58 countries, and 583,736 visitors from 219 countries .... read more


| | |
| --- | --- |
| FEATURE - Exploration | |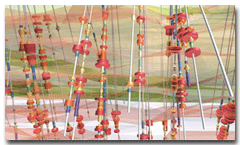 Strength in Numbers
Exploration discovery rates are down, while budgets are up. Can technology, deeper research and new interdisciplinary alliances improve the numbers and reverse the trend?

By Russell A. Carter, Contributing Editor.

As digitization gathers speed throughout the mining industry, the exploration sector's path forward seems likely to follow a route increasingly dictated by numbers. Recent industry announcements and reports from sources along the exploration spectrum — drilling service companies, junior companies and major diversifi ed producers — point to a growing focus on achieving better metrics in practically every facet of exploration activity, at a lower cost and with greater accountability ..... read more

Top

For more companies with products in the Exploration market -
Go Here
| | |
| --- | --- |
| FEATURE - Resource Modeling | |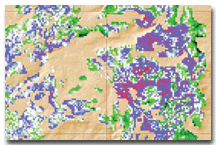 Friendlier Models Try to Bare All, Faster
With little room for error, miners seek resource modelling solutions that are quick, easy and accurate.

By Jesse Morton, Technical Writer

The resource modelling solution space illustrates this as well as any. Currently the drivers for change link back to declining ore grades and new discoveries increasingly situated in difficult locales. "A lot of resources now are trickier to access, or costly or more risky," a resource modelling software expert, Nick Fogarty said. Risk drives the miners to innovate and it compels them to seek innovative solutions from suppliers. It also drives them to seek..... read more


For more companies with products in the Modeling market -
Go Here
| | |
| --- | --- |
| FEATURE - Great Basin Development | |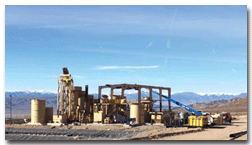 Growth Supplants Survival in the Great Basin
More development projects move toward production in Nevada.

By Steve Fiscor

Metal prices aside, the investment climate for mining has improved in the U.S. during the last two years. Nowhere is this more visible than the Great Basin, a region that encompasses Nevada, western Utah, southern Idaho and the eastern edge of California. Today, the polymetallic deposits in the Walker Lane district are attracting renewed attention and Nevada mining towns, such as Yerington and Beatty, are seeing more mining-related investment and jobs. One of the sessions at the recent American Exploration & Mining Association (AEMA) meeting, which took place in Spokane during December, discussed the current situation .... read more

Top

| | |
| --- | --- |
| Video Presentations | |
The latest listings from the World Mining Equipment Video Library - to view the video, click the image.
For more details on the Video Hub -

Go Here
Rotary Drill Series Offers Balance of Technology and Reliability
Sandvik released the xSeries family of rotary and down-the-hole drills, which, the company reported, feature added intelligence and improved operator ergonomics, providing operators with the right balance of reliability and technology to drill the perfect hole safely. Highlights include a touchscreen interface for the Sandvik Automation Module for use of machine health monitoring systems, the components .... read more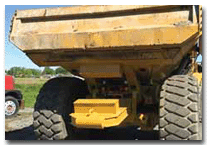 Push Block for Big Haulers Gives Safe Push Point
Philippi-Hagenbuch Inc. (PHI) released the Push Block for articulated and rigid-frame trucks. PHI engineered the Push Block to integrate with the rear chassis on off-highway trucks ranging from 20 tons to 400 tons. The Push Block provides a stable assembly that transfers rear pushing force directly to the truck's frame, preventing damage. The optimal positioning of the Push Block ....read more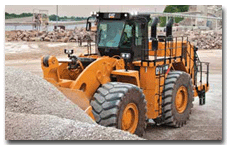 Aggregate Handler Offers More Payload
Caterpillar introduced the 990K Aggregate Handler, which offers a 25% payload increase over the standard 990K Wheel Loader. The handler enables operators to load trucks and rail cars faster and to move more material in load-and-carry and stockpile handling tasks, Cat reported. It has a payload of 20 metric tons (mt) and a full-turn static tipping load of 43,738 kg. Additional counterweight .... read more

Top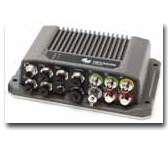 Rugged Computers for All Machine Applications
Hexagon released the HxGN MineDiscover Core LP and Core HP rugged industrial computers. The low-precision and high-precision computers feature an extremely robust design, tailormade for the most challenging conditions, the company reported. They were designed to flawlessly capture telemetry and production data and boost site efficiency and productivity. Both modules feature an duration ....read more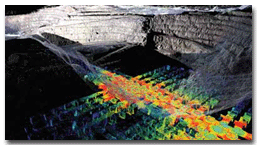 Mine Measurement Software Upgrade Released
Maptek launched PointStudio 8, featuring a new platform and ribbon interface. The software is designed to provide the most flexible and versatile mine measurement tools an operation can deploy, the company reported. It also offers tools for surveying, stockpile management, highwall mapping, geotechnical analysis, and stability and convergence monitoring. The new version is the .... read more



Hammer Rods, Bits Offer Better Production, Wear Resistance
Boart Longyear announced the DriftMaster series of top hammer rods and bits, with a unique thread profile designed for added endurance and strength. Field test results exceeded expectations, according to company leadership. The rods and bits offer a tapered prof le for an increased .... read more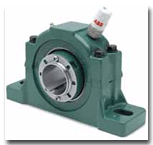 Smart Sensor for Bearings
ABB launched the ABB Ability Smart Sensor for Dodge mounted bearings. Part of the ABB Ability Digital Powertrain, the solution enables health checks and provides an early indicator of potential problems by assessing vibration and temperature information, the company reported .…. read more

Top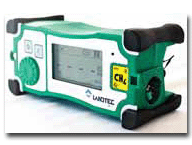 Laser-based Methane Detector
QED Environmental Systems showcased the LANDTEC SEM5000 Portable Methane (CH4) Detector. The SEM5000 uses patented laser technology with a frequency dialed specifically to methane. Readings are not affected by cross-gassing and can be saved to a desktop computer using the SEMsoft software package, which features multiple reporting functions ....read more
MARCH 10-13, 2019: Haulage & Loading, Hilton El Conquistador Resort, Tucson, Arizona, USA. Contact: Web: www.haulageandloading.com

>

APRIL 8-14, 2019: bauma, Messe Muenchen, Munich, Germany. Contact: Web: www.bauma.de

APRIL 23-25, 2019: MiningWorld Russia, Crocus Expo, Moscow, Russia. Contact: Web: www.miningworld.ru.

APRIL 28-MAY 1, 2019: Canadian Institute of Mining (CIM 2019), Montreal, Canada. Contact: Web: www.cim.org

MAY 7-9, 2019: Arminera, Centro Costa Salguero, Buenos Aires, Argentina. Contact: Web: www.arminera.com.ar

>

MAY 18-25, 2019: ALTA 2019, 24th Annual Metallurgical Conference, Perth, Australia. Contact: Web: www.altamet.com.au

MAY 20-22, 2019: Longwall USA, Pittsburgh, Pennsylvania, USA. Contact: Web: www.longwallusa.com

MAY 27-30, 2019: Exponor Chile 2018, Antofagasta, Chile. Contact: Web: www.exponor.cl

For a full calendar of mining industry conferences and events - click here
| | |
| --- | --- |
| WHO'S MOVING WHERE | |

Newmont Mining Corp. announced that Rob Atkinson will succeed Tom Palmer as executive vice president and COO, effective June 1. Palmer, currently president and COO, will remain president until he succeeds Gary Goldberg to become president and CEO. Last month, Newmont announced that Goldberg will retire in the fourth quarter as part of a planned, orderly and long-term leadership succession. Most recently, Atkinson served as head of productivity and technical support for Rio Tinto.

South32 Ltd. announced changes to the group's leadership team. Katie Tovich will succeed Brendan Harris as CFO, effective May 1. Tovich will immediately assume the role of deputy CFO. Harris will take over from Peter Finnimore as chief marketing officer.

CMOC appointed Hubert Lehman as managing director, CMOC-Northparkes Mines. Hubert has taken over from Jim Fowler who led Northparkes for 16 months, departing in August 2018. Fowler has been appointed as the CEO for the CMOC Operation in Tenke Fungurume, located in the Democratic Republic of Congo.

Monarch Gold Corp. appointed Mathieu Séguin as Vice President, Corporate Development. Séguin has been an investment banker since 2002. Prior to joining Monarch, Mathieu was Director, Investment Banking, at Laurentian Bank Securities.

Newrange Gold Corp. appointed Robert Archer as CEO. He served as president and CEO of Great Panther until August 2017 and remains on the board of directors. He has been a shareholder of Newrange for many years and joined the Board of Directors in March 2018.

Rockridge Resources Ltd. announced that Ron Netolitzky has joined as the first member of a Technical Advisory Board. He was previously chairman and president of Viceroy Exploration Ltd.

DRA Global appointed Brent Hilscher as the director of origination and process in western Canada. Hilscher joined DRA from Sacré-Davey Engineering.

SNC-Lavalin appointed Ian Edwards COO. He joined SNC-Lavalin in 2014 after six years in senior roles with the Leighton Group.
About - providing an abreviated version of the current print edition of E&MJ, WOMP is distributed throughout the world to decision makers in the global mining industry, the last week of every month.

Subscribe to E&MJ - To receive your own copy of the print edition of E&MJ, click here , and complete your details. E&MJ is available free of charge to qualified readers.

Contact - if you have views, opinons or comments or editoral that you would like to submit, we would be delighted to hear from you - click here

Top