Access Declines Reach Fruta del Norte Orebody
---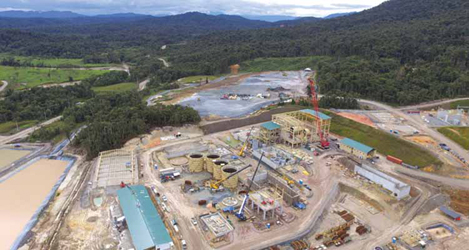 Fruta del Norte project construction is 45% complete.


Twin access declines, designated K'isa and Kuri, have reached the orebody at Lundin Gold's Fruta del Norte mine development project in southeast Ecuador, and as of mid-January, a total of 4.5 kilometers (km) of underground mine development had been completed. Overall, advance rates in both declines exceeded plan by 11% due to better than expected ground conditions and lower than anticipated water inflows.

The K'isa decline was complete, and mine development crews were working on multiple production levels accessed by the decline, with expectations that the first stope will be reached in the second quarter of 2019. The Kuri decline was progressing toward lower production levels in the mine.

Overall engineering of the Fruta del Norte project was 85% complete, project construction was 45% complete, and Lundin had committed 70% of the project's required capital expenditures, which are estimated at $692 million net of taxes, advanced royalties, and financing costs. Lundin was preparing the first stages of transition to owner operations in the mine, and the mining fleet had started to arrive. The first group of mining operator trainees had begun the final part of their training program, which was taking place on site.

The majority of large process plant mechanical equipment was on site, and the power line to the site was 22% complete. Process plant concrete foundations were 62% complete, and structural steel erection was progressing as planned. The remaining mechanical equipment was scheduled to arrive on site in the first quarter, and installation of the carbon-in-leach circuit and grinding mills had begun. Commissioning of the process plant was on track to begin in third quarter of 2019.

The permanent mine maintenance shop was in operation. Construction of the mine dry/administration building was well advanced, and the mine emergency power substation was nearing completion. Concrete for the main Fruta del Norte power substation was complete, and the two main transformers had arrived at site and were positioned on the foundations.

Fruta del Norte is one of the world's largest, highest-grade gold projects currently under construction. Planning calls for a mine life of 15 years, with mine production at 3,500 metric tons per day (mt/d) and gold production of 325,000 ounces per year (oz/y). All-in sustaining costs are estimated at $583/oz.

The project's probable mineral reserves currently total 15.5 million mt at a grade of 9.67 grams/mt gold for 4.8 million oz of contained gold. The total gold resource inclusive of reserves stands at 9.48 million oz.
---
As featured in Womp 2019 Vol 02 - www.womp-int.com