The World's Largest Trade Fair Continues to Grow
Messe München welcomes the world to Bavaria to see advancements in mining and construction technology

By Steve Fiscor
---
Tens of thousands of visitors gather to see Liebherr's ultra-class haul truck at
bauma 2016.


Every three years, Messe München organizes the bauma trade fair, which takes place at the fairgrounds outside Munich, April 8-14. Billed as the world's leading sector event for construction machinery, building material machines, mining machines and construction equipment, the exhibition space totals 640,000 m2, making it the largest trade show on earth. In 2016, bauma broke previous records, attracting a total of 3,425 exhibitors from 58 countries, and 583,736 visitors from 219 countries.

This bauma will be the 32nd edition and the organizers are thinking they may set another record. For 2019, Messe München expects to have 3,500 exhibitors from 60 countries and it expects to attract more than 600,000 from more than 200 countries. The size of the exhibit (640,000 m2) is already 9,000 m2 more than 2016. To accommodate the additional space, two new halls were constructed, so bauma now occupies 18 halls with more than 200,000 m2 of indoor exhibition space.

Unlike other large fairs for construction equipment, bauma has dedicated a portion of its program to mining. Mining represents roughly 20% of the exhibition. The mining sector has its own hall: C2 (on the right). According to Messe München, a total of 578 exhibitors indicated they are involved with the mining, extraction and processing of raw materials. Visitors reviewing exhibitor information will notice the familiar mining symbol and the phrase "Mining Inside."

For this edition of bauma, Canada is the partner country. It's the seventh largest market for mining and construction equipment, according to Messe München. Canada and the European Union recently signed the Comprehensive Economic and Trade Agreement (CETA), which eliminated 98% of the tariffs between the two regions. "To accommodate the two new halls, we restructured the fairgrounds to make the routes easier and provide an optimized structure for the venue," Dittrich said. "More than adding space, we also have to remain fit for the future by incorporating modern digital processes and systems sustainably in our fairs and in all parts of our business." This year, bauma will focus on this growing aspect of the business with programs geared toward digitalization and virtual reality.

For the mining industry this year, Messe München has seized on sustainability as an important theme. "This focus extends well beyond the areas of energy consumption and the use of resources," Dittrich said. "All industries are currently searching for alternative, low-priced and environmentally friendly raw materials and energy sources." Manufacturers like ABB, FLSmidth, Komatsu, Liebherr, Paus, Siemens, Weir Minerals and many others will present their highlights and innovations. "By selecting sustainability, bauma 2019 is focusing on a real issue of the future," said Mareile Kästner, exhibition director of bauma. "There is no other such venue where all key players in the industry can discuss the issue of sustainability so thoroughly. This will make bauma the ideal place to conduct successful business."

Liebherr to Showcase Latest Developments
With its overarching message, "Together. Now & Tomorrow," Liebherr will give bauma attendees a chance to learn more about its products, innovations and trends. Construction on Liebherr's stand began a full half-year before the trade fair opens. With more than 14,000 m2 of space, Liebherr's open-air terrain (809-813) will once again provide space for more than 60 exhibits. Among the many products on display will be new innovations and developments with tower cranes, mobile and crawler cranes, earthmoving, material handling, deep foundation, concrete technologies and mining.

Liebherr will also present its latest components in hall A4 (stand 326) on a showroom floor of nearly 450 m2. Here, the focus will be on condition monitoring and system solutions. In hall B5 (stand 439), guests can learn more about the latest innovations from Liebherr's extensive attachment tools program. For the new XPower large wheel loader, trade visitors can also look forward to a total package with many smart assistance systems. Features also include the new rear-bystander detection and a built-in, sensor-powered tire-monitoring system. With these and other assistance systems, Liebherr offers total solutions to optimize safety and comfort during everyday wheel-loader operation. All these systems are developed by the Liebherr Group so they can be fully integrated into the control systems of the machinery.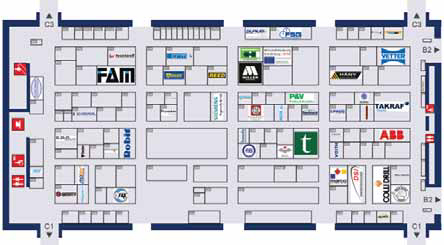 The Mining Hall C2 is dedicated to mining.


In the mining area, visitors will have a chance to experience the power of ultra-class mining trucks and excavators. A single dashboard makes fleet management easier than ever. At the fair, Liebherr Components will also reveal the demo version of an app that shows the extensive functionality of all Liebherr's condition monitoring components, from diesel engines to energy storage, hydraulics, transmissions and slewing bearings. In the future, this will enable machine manufacturers to inform fleet managers, service personnel and machine operators about the condition of their components. The Components division will also be presenting a full range of new products.

Wirtgen Presents Smart Synergies
The Wirtgen Group is a global trendsetter when it comes to innovative road construction machinery — a fact highlighted by the company's approximately 120 exhibits and 13,000 m2 of exhibition space at bauma 2019. This year, the group's slogan for the trade show is "Smart Synergies and Innovations." While the mining industry is most familiar with Wirtgen and its surface miners, the Wirtgen Group also encompasses several specialized product brands, including Vögele, Hamm, Kleemann and Benninghoven. Together, they form the basis for synergies that allow customers to leverage additional savings potential — in other words, Smart Synergies.

The Wirtgen Group's concentrated strength will be on full display in Munich — together with John Deere at a shared booth for the very first time. Thanks to the two companies' complementary product ranges, the lineup covers an enormous range of customer solutions. Visitors will not only be able to experience this for themselves up close at the exhibits, but also from a height of 5 meters during a tour across the Skywalk, which connects each of the Wirtgen Group product brands' technology centers and John Deere to each other.

Wirtgen will unveil the 220 SM/220 SMi surface miner, a new machine designed especially for use in small- and medium-sized mining operations. With a cutting width of 2.2 m and a cutting depth of up to 300 mm, the 220 SM/ 220 SMi can extract raw materials up to a uniaxial compressive strength of 50 MPa. The heart of the 220 SM/220 SMi is the optimized cutting- drum unit. Specially designed for challenging windrow applications, the cutting drum turns the power delivered by the engine into maximum cutting power, and as a result, increased productivity. In this process, the high, narrow sides of the holder base ensure that material flows smoothly and energy consumption is kept to a minimum. This results in reduced wear and tear on the housing, holders, point-attack cutting tools, and scraper blade — even when mining hard, abrasive material.

The LEVEL PRO PLUS leveling system has a proven track record in mining and is intuitive and easy to operate. A flat or inclined formation level can be created with absolute precision thanks to side-plate scanning and the cross-slope sensor. The machine is also ready to be equipped with GPS or laser control. In the ROPS/FOPS operator's cabin, the operator is protected from external hazards. The cutting drum is easily and safely accessible from the rear through the scraper blade, which opens hydraulically. Pick changes are only carried out when the engine is off. Plenty of space to move, a hydraulic pick ejector, and a milling-drum rotation device further simplify this process. Unintentionally switching on the miner can be prevented mechanically by locking the battery and starter isolator, which allows maintenance work to be carried out safely when the machine is shut down. The rearview camera offers excellent visibility for fast, safe maneuvering. When reversing, Reverse Assist offers the operator added support.

Metso to Launch Groundbreaking Innovations
Metso will introduce a number of new, state-of-the-art solutions for the aggregate, construction, and mining industries at bauma 2019. The launches include technologies and services that will improve productivity and drive down costs. Along with the new crushing and screening solutions, Metso will unveil a groundbreaking innovation for off-highway trucks, enabling mines and quarries to haul more with less. This major product launch will expand Metso's offering into completely new territory and help customers reach a higher payload while lowering their operating costs.

Metso will also showcase a broad range of equipment, wear and spare parts as well as services designed to help make operations more efficient and assets work harder. The solutions that will be featured include the Metso MX cone crusher, the company's line of optimized slurry pumps, the Poly-Cer wear lining and its financial services.

Daring to Drive More Digitalization
About two months before bauma, Messe München presented exclusive study results for the equipment and machinery sector. They presented these findings as the "bauma Industry Barometer." What they found is that the mood for investments worldwide is predominantly positive, the lack of skilled workers is the No. 1 challenge, and the trend toward digitalization will determine the future, but it's still in its infancy. This prompted Dittrich and Messe München to make use of digital solutions to provide a competitive advantage. More than one-half of the respondents (58%) regard the shortage of skilled workers as the greatest challenge for the industry. This is a major problem, especially for the traditional industrialized countries, but less so for populous countries such as China and India. Other key challenges include the increasing competitive and price pressure (31%), tighter environmental laws and regulations (24%), and the digitalization of business processes (19%).

Digitalization is also increasingly finding its way into the machinery industry. Only 4% see themselves as leaders in terms of digitalization. More than one-half of the respondents have already digitized parts of their companies (28%) or at least started to do so (25%). However, 22% are still waiting to see what happens, and 20% see no need for action at all. At bauma 2019, the digital construction site and construction machines will be brought to life with the help of virtual and augmented reality. TrustedTargeting also offers exhibitors the opportunity to address their target audience online before the trade fair to reach potential new customers and invite them to their stand.

bauma VR Experience
Thanks to virtual and augmented reality (VR/AR), visitors will be able to experience sites virtually and be part of the story in the middle of the action. It is not just an experience with deceptively real sensations and high entertainment value. VR and AR can be used to present products in the development phase, prototypes, or future scenarios and explain them in a completely new way. This opens up a whole host of new opportunities for companies. "With our digital construction site, we have created a platform that enables exhibitors' products to be experienced not only at the actual exhibition stand, but in any location. We offer the virtual exhibition space within a VR experience. For the first time, companies at bauma 2019 will be able to present themselves completely digitally," said Kästner.

For Tobias Hawelka, marketing coordinator at uvex, the topic of safety is the focus of the virtual construction site. "For the first time, as part of the VR experience at bauma 2019, the uvex safety group is also giving all visitors the opportunity to experience selected products in step with the digital transformation. By entering a construction site virtually with the safety equipment that would also be required in real life, the visitor is given a unique experience and a deep insight into this exciting virtual world. With the bauma VR Experience, it is not simply about just incorporating a digital format into the classic trade fair business. "It definitely gets emotional! It will be an unforgettable experience, especially when the surface of the earth opens and the elevator takes the visitor to lofty heights," Kästner said. Visitors and exhibitors can get an accurate impression of this at bauma 2019 in hall B0.

Attendees can consult an up-to-date overview of exhibitors online in the bauma Exhibitor Directory. More information about the trade fair is available at www.bauma.de
---
As featured in Womp 2019 Vol 02 - www.womp-int.com