The latest from the
World Mining Equipment
Video Library
View




The Stretch Assignment

Having attended the three largest mining trade shows worldwide so far this year, it's easy to spot some trends in dialogue. One of them involves women in mining. The annual Society of Mining, Metallurgical and Petroleum Engineers (SME) conference hosted a breakfast panel discussion (See Women in Mining). The Prospectors and Developers Association of Canada (PDAC) planned a session on sponsorships for women in mining, but canceled it due to allegations related to scandalous behavior by one of its sponsors, which was exposed by the #MeToo movement. The largest exposition in Latin America, Expomin, also held a similar discussion, which was well attended.
It didn't, however, take the local media long to point out the irony with Expomin. For those who haven't attended the event, many of the stands employ beautiful local models .... read more

Steve Fiscor, Publisher & Editor in Chief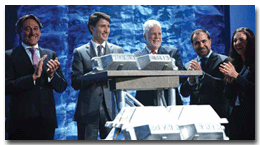 Alcoa, Rio Tinto to Develop First Carbon-free Aluminum Smelting Process
Alcoa Corp. and Rio Tinto announced a process to make aluminum that produces oxygen and eliminates all direct greenhouse gas emissions from the traditional smelting process. Executives of Alcoa, Rio Tinto and Apple were joined by Canadian Prime Minister Justin Trudeau and Premier of Québec Philippe Couillard for the May 10.... read more
Dugald River Achieves Commercial Production
MMG Ltd.'s Dugald River zinc operation in Queensland, Australia, achieved commercial production on May 1, according to the company. Executive General Manager Operations, Africa, Australia and Asia Mark Davis said the ramp up of the plant is progressing on schedule and commercial production has been reached in line with guidance to the market. "Dugald River is a world-class operation that has been delivered under budget and ahead of schedule," he said. "Its successful achievement of the commercial production milestone .... read more

Top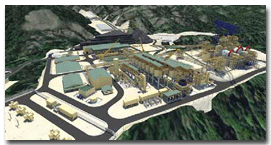 Updated Study Provides Improved Business Case for Wafi -Golpu
WorleyParsons RSA recently completed a feasibility study update for the Wafi -Golpu Joint Venture (WGJV) in Papua New Guinea (PNG), giving the greenfield Wafi -Golpu Project a revised execution plan going forward. The update incorporates findings from earlier feasibility studies and draws on extensive data collection .... read more


Rio Tinto Considers Selling Stake in Grasberg
Rio Tinto confirmed it was discussing a possible sale of its entire interest in the Grasberg mine in Indonesia to PT Indonesia Asahan Aluminium (Inalum) for $3.5 billion. The company said talks between Rio Tinto, Inalum and Freeport are ongoing, and so far, no agreement has been reached, and there is no certainty that binding agreements will be signed. Located in the Papua province in Indonesia, Grasberg is one of the world's largest copper and gold mines in terms of ore reserves and production. It is owned and operated by .... read more

| | |
| --- | --- |
| AROUND THE WORLD - USA & CANADA | |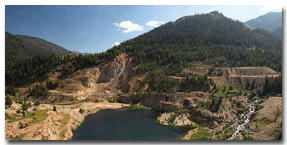 Barrick Purchases Stake in Midas Gold
Barrick Gold will acquire 19.9% of Midas Gold for more than $38 million. Midas Gold's Stibnite gold project in Idaho offers the company a strong investment opportunity with low geopolitical risk, potential for production of more than 300,000 ounces per year (oz/y) of gold, and exploration upside, said Barrick President Kelvin Dushnisky .... read more


Final EIS Filed for Donlin Gold Project
NovaGold Resources reported in late April that the U.S. Army Corps of Engineers (Corps), the lead federal permitting agency on the Environmental Impact Statement (EIS) for the Donlin gold project in southwest Alaska, has filed the final EIS notice of availability for the project. The Donlin project is based on one of the world's most prospective known gold deposits, with approximately 39 million ounces (oz) of gold in measured and indicated resources, inclusive of proven and probable reserves. Donlin Gold LLC is an Alaska-based ....read more

Top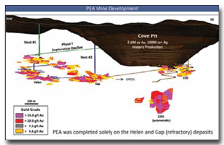 Premier Targets 8 Years From Cove
The Premier Gold Mines has reported the results of a preliminary economic assessment (PEA) of its 100% owned Cove project 32 miles south of Battle Mountain, Nevada. Production from an underground mining operation is estimated at 92,000 ounces per year (oz/y) of gold over a mine life of eight years. Life-of-mine capital cost is estimated at $114.4 million after pre-development costs of $25.8 million. Mine construction capital is estimated at .... read more

| | |
| --- | --- |
| AROUND THE WORLD - Latin America | |

Sal de Vida Lithium Brine Project is a Go for Galaxy
Galaxy Resources has completed an update of the definitive feasibility study (DFS) of its Sal de Vida lithium brine project on the Salar del Hombre Muerto in northwest Argentina that reaffirms the potential for a long-life, low-cost, highly profitable operation, with a revised posttax net present value estimated at $1.48 billion at an n 8% discount rate. Galaxy plans to produce both battery-grade lithium carbonate (Li2CO3) and potash .... read more


Top
Avanco Accepts Oz Minerals Offer
Each director and key management personnel of Avanco Resources Ltd. recently accepted the off-market cash and scrip offer by OZ Minerals Ltd., through its wholly owned subsidiary OZ Minerals Brazil Pty Ltd. (OZ Minerals), for all their shares in Avanco. The takeover bid was announced in March. Under the offer, Avanco shareholders will receive A$0.085 and 0.009 OZ Minerals shares for every 1 Avanco share held. "Avanco shareholders will continue to have exposure to Avanco's exciting .... read more

| | |
| --- | --- |
| AROUND THE WORLD - Australasia | |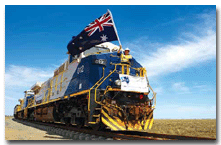 Fortescue Celebrates 10 years of Iron Ore Exports
Fortescue Metals Group recently celebrated 10 years of iron ore exports resulting in more than 1 billion metric tons (mt) of contribution to Australia's economic growth. A decade ago, Fortescue shipped its first 180,000 mt of iron ore aboard the cape size vessel Heng Shan from Herb Elliott Port in Port Hedland. Since then …. read more


Top

Metro Ships First Bauxite From Bauxite Hills Mine
Metro Mining has shipped the first direct shipping ore from its Bauxite Hills mine in northern Queensland to the Xinfa Group aluminum company in China. Xinfa has signed a binding agreement with Metro to take 1 million mt of bauxite during the first year of Bauxite Hills operations and 2 million metric tons per year (mt/y) for the following three years. The initial shipment totaled 62,000 mt. Xinfa owns and operates alumina refineries and aluminum smelters in Shandong, Shanxi, Guangxi and Xinjiang provinces, China. The Bauxite Hills mine is located …. read more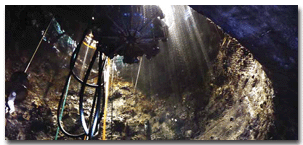 Ivanhoe's Platreef Shaft 1 Reaches Depth of 750 Meters
Sinking of Shaft 1 at Ivanhoe Mine's Platreef project on the Northern Limb of South Africa's Bushveld Complex reached a depth of 750 meters (m) below surface in late April, and lateral development of the first mine access station was underway. The 750-m station will provide …. read more
Top
DRC Puts Mining Industry on Notice
The Democratic Republic of Congo is unlikely to roll back its contentious mining code reforms, in spite of vehement objections from the industry. At the recent Katanga Business Meeting (KBM) held in the DRC's second city Lubumbashi, Congolese offi cials put the mining industry on notice that the recently introduced mineral code was here to stay. A new set of mining laws were signed in March this year, in spite of misgivings by companies such as Glencore, Ivanhoe and Randgold among others. Mining companies …. read more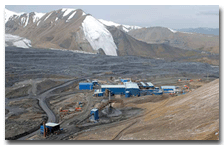 Centerra Gold Provides Update on Strategic Agreement With Kyrgyz Republic
Centerra Gold Inc. has reached an agreement with the government of the Kyrgyz Republic to extend the first longstop date under the Strategic Agreement for Environmental Protection and Investment Promotion previously entered into on September 11, 2017. The first longstop date is the date by which all conditions precedent to the completion …. read more


Top
PJSC Polyus Natalka Mill Operates at Above 80% of Design Processing Capacity
PJSC Polyus announced that the Natalka Mill has reached the level of above 80% of its design throughput capacity of 10 million tons on an annualized basis. Natalka has produced more than 40,000 ounces (oz) of gold since the beginning of the year. Following the ramp-up, the mill will be producing 450,000 oz of gold annually. "This is an important milestone in bringing Natalka online," Pavel Grachev, CEO of Polyus, said. "We are very content with the pace of the ramp-up and look forward to .… read more



| | |
| --- | --- |
| THIS MONTH IN COAL | |

BMA to Sell Gregory Crinum Mine in Australia
BHP Billiton Mitsubishi Alliance (BMA) joint-venture partners BHP and Mitsubishi Development Pty Ltd. have entered into an agreement to sell the Gregory Crinum mine in central Queensland to Sojitz Corp. for A$100 million. In addition .... read more


Top
WVU Researchers to Study Mine Safety and Health
A pair of research teams from West Virginia University (WVU) have received close to $500,000 in funding from the Alpha Foundation for the Improvement of Mine Safety and Health. The first team, led by Derek Johnson, associate professor of mechanical and aerospace engineering, will look at cost-effective ways to measure methane in longwall coal mining operations in hopes of preventing the most feared hazards in underground coal mines: methane and dust explosions. Joining Johnson on the team are …. read more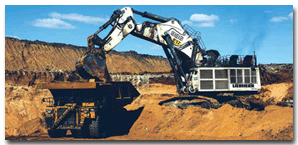 Thiess Secures Curragh Contract
Thiess has been awarded a A$160 million contract extension by Coronado Curragh to continue to provide mining services at the Curragh coal mine in Queensland, Australia. Thiess has a long record of service at Curragh having operated at the project since 2004. "This is the fifth successive contrac …. read more


-->
| | |
| --- | --- |
| FEATURE - Material Handling | |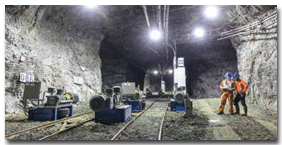 Footprint Reduction Afoot: Mostly Truckless Systems Are Commissioned
Suppliers provide ore transport solutions that cut costs, reduce payrolls and further the sustainable mining paradigm.

By Jesse Morton, Technical Writer

Three majors recently reported commissioning ore transport systems advertised as free of combustion engines. On separate continents, each faced unique challenges in doing such, but announced the benefits outweighed costs. One commissioned a rail-based system that speeds through pre-existing winding drifts underground. It cited the worker health benefits of a diesel exhaust-free work environment as a major impetus. Another commissioned a ski lift-style ropeway system to move ore up a mountain ridge that .... read more


| | |
| --- | --- |
| FEATURE - Ventilation | |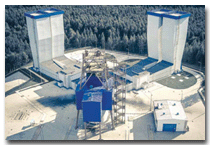 Focusing the Flow
Tight control of underground mine ventilation system performance can be an ongoing challenge, but software, hardware and service options for drafting better ventilation plans keep expanding.

By Russell A. Carter, Contributing Editor

"Free as the air we breathe" is a notion that's only valid on the surface of this planet. Underground, it's a different story. Maintaining the air flow and quality needed to keep workers in deep mines safe and comfortable is a costly endeavor, accounting for anywhere from 30% to 40% or even more of a mine's total energy bill. In fact, mine air is so expensive that Epiroc, a leading producer of underground mining equipment, currently features on one of its webpages a mock ad picturing a 400- ml aerosol can of "mine air" and inviting customers to "Take a deep breath…this is some of the most expensive air in ..... read more

Top

For more companies with products in the Ventilation market -
Go Here
| | |
| --- | --- |
| FEATURE - Crusher Maintenance | |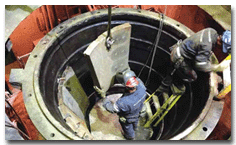 New Options Will Improve Gyratory Crusher Performance
In addition to major upgrades, suppliers also offer rebuild service and products to extend wear life.

By Steve Fiscor, Editor

Miners today are, on average, processing more rock to produce the same amount of metal. The gyratory crushers used to reduce this material have a great impact on operations, especially downstream processes. Mines rely on them to produce a consistent product. Obviously, taking these workhorses down for maintenance also has a huge impact on operations. One of the original equipment manufacturers (OEM) for crushers will soon roll out a new gyratory model. The improvements included in it were based on what the OEM and the mines have learned .... read more


For more companies with products in the Crusher market -
Go Here
| | |
| --- | --- |
| FEATURE - Women in Mining | |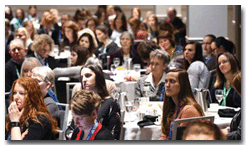 Building a Management Strategy That Includes Diversity
Data linking diversity in the workplace with higher levels of company performance is validating the need for a management strategy that includes diversity. Executive sponsorships of female employees are one way that organizations are raising the diversity bar, but this also requires female employees to take a more active role in managing careers.

By Steve Fiscor, Editor

Focused on inspiring women to engage with peers and take an active role in their career development, as well as on the broader benefit of the impact of a diverse workforce on corporate performance, more than 300 attendees of a breakfast and panel discussion heard views on diversity from some of the biggest leaders in mining, asked questions and engaged in an active dialogue. The event was sponsored by Women of SME, the Women's Auxiliary to the American Institute of Mining, Metallurgical and Petroleum Engineers (WAAIME), Women in Mining, and FLSmidth, and it took place during .... read more

Top

| | |
| --- | --- |
| Video Presentations | |
The latest listings from the World Mining Equipment Video Library - to view the video, click the image.
For more details on the Video Hub -

Go Here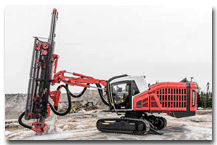 Sandvik - RockPulse
RockPulse, a solution for real-time tool stress monitoring in top hammer drilling. The add-on system integrates directly with the rock drill and its control system, and can be used for drilling process optimization in varying rock conditions. The system consists of a Sandvik shank adapter and rugged contactless sensor inside the rock drill. Stress waves created by piston .... read more

Hawk Measurement Systems - Liquid Laser Level
Hawk Measurement Systems (HMS) introduced the OptioLaser S300, which can accurately and reliably measure highly reflective liquids, clear liquids and even turbulence liquids, the company reported. Due to its narrow-beam divergence, it can be used to measure through grates and narrow passages, and even next to fl at walls. The laser is user-configurable, HMS reported. Using an infrared ....read more

Mine Rescue Facemask for Clear Comms
Biomarine Inc. announced its 4-hour closed-circuit self-contained breathing apparatus, the BioPak 240 Revolution, is approved by National Institute of Occupational Safety and Health and Mine Safety and Health Administration, and is capable of integration with Innovative Wireless Technologies (IWT) SENTINEL Mine Rescue Communications System. The facemask leverages .... read more

Top

Portable Turbine Oil Filtration Systems
Filtration Group Corp.'s Hydraulics Group announced the addition to the KLP Series of 3 and 5 GPM portable models, TURBO-TOC Turbine Oil Conditioning Systems for portable filtration systems. The new models were designed as a cost-effective solution for when a higher capacity system would be excessive, the company reported. The KLP TURBO-TOC turbine oil conditioning system's portability provides as-needed oil conditioning for a selected oil reservoir during equipment uptime ....read more
Helmet-mounted Flashlight
Nightstick released the FORTEM XPP- 5466 series Helmet-Mounted Flashlight, featuring its Dual-Light Technology. The solution points a 250-lumen flashlight in front of the user and a 115-lumen floodlight at their feet, and extends a rear-facing green LED light. The flashlight has low, medium, high and strobe functionality, while the floodlight features a survival function that gives the user .... read more


New Catalog for Conveyor Parts
Superior Industries Inc. published a new conveyor components accessories catalog. The 50-page catalog includes data related to product part numbers, measurements, weights, replacement data and more. The catalog offers Exterra Belt Cleaners, impact beds, transition zone solutions, belt covers, sensors and scales, auto greasers, and safety solutions .... read more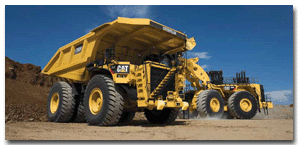 5,000th Cat 793 Truck Assembled
Caterpillar announced the assembly of the 5,000th Cat 793 Mining Truck, which is destined for a mine in Australia. The company reported the milestone production figure far exceeds the manufacture of any other brand of 227-metric-ton (mt)-size-class truck. The truck was first released in 1991 and the most recent model represents its fifth generation. The 793 has a reputation for durability .…. read more

Top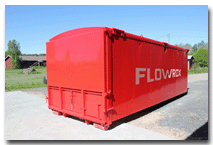 Flowrox GeoBag™: All-in-one Geotextile Filtration and Dewatering Unit
Flowrox Geobag™ consists of Flowrox's high performance Packaged Pumping System™ and Flowrox's LPP-T (transfer pump) to ensure chemical dosing ability and high-performance pumping. The product is a water-tight floor construction with a drain valve that enables a closed, clean filtration and dewatering process ....read more
AUGUST 6-8, 2018: Diggers and Dealers Mining Forum, Kalgoorlie, Western Australia. Contact: Web: http://diggersndealers.com.au.

SEPTEMBER 10-14, 2018: Electra Mining Africa, Expo Centre Nasrec, Johannesburg, South Africa Contact: Web: www.electramining.co.za

SEPTEMBER 20-22, 2018: China Mining 2018, Tianjin Meijiang Convention Center, Tianjin, Peoples Republic of China. Contact: Web: www.chinaminingtj.org

DECEMBER 3-7, 2018: American Exploration & Mining Association annual meeting, Spokane, Washington, USA Contact: Web: www.miningamerica.org

JANUARY 27-30, 2019: 45th Annual Conference on Explosives and Blasting Techniques, Nashville, Tennessee, USA. Contact: Web: www.isee.org

FEBRUARY 24-27, 2019: SME Annual Conference & Expo, Denver, Colorado, USA. Contact: Web: www.smeannualconference.com

>

March 10-13, 2019: Haulage & Loading, Hilton El Conquistador Resort, Tucson, Arizona, USA. Contact: Web: www.haulageandloading.com

MAY 10-13, 2019: Longwall USA, Pittsburgh, Pennsylvania, USA. Contact: Web: www.longwallusa.com

For a full calendar of mining industry conferences and events - click here
| | |
| --- | --- |
| WHO'S MOVING WHERE | |

Hecla Mining appointed Larry Radford COO, a promotion from his previous role of senior vice president–operations, overseeing Hecla's operations, development projects, predevelopment initiatives. Radford joined Hecla in 2011 and has more than 35 years of experience in the mining industry, providing operational and technical support to large-scale operations with Barrick and Kinross in the United States, Chile, Brazil, and Australia.

New Gold appointed Raymond Threlkeld as the new president and CEO. Threlkeld succeeds Hannes Portmann, who has left the company. Threlkeld has been a member of the board since 2009 and was the company's interim COO from December 2016 to September 2017.

SSR Mining Inc. announced that Alan Pangbourne will be retiring from his role as COO. Kevin O'Kane will succeed Pangbourne. He joins SSR Mining having most recently been asset president, Pampa Norte, BHP Minerals Americas.

Norsk Hydro appointed John Thuestad as new executive vice president for the business area Bauxite & Alumina effective June 1. He replaces interim head of Bauxite & Alumina, Eivind Kallevik.

The GS Mining Co. announced the addition of Matt Mason to the team at The Bates Hunter Gold mine as mine manager in all phases of underground hard rock mining.

Mandalay Resources announced that Mark Sander has resigned as president and CEO and also withdrew as a candidate for re-election to the board. Abraham Jonker remains the lead independent director and Bradford Mills continues as the chair. Dominic Duffy, currently COO, will replace Sander.

Northern Vertex Mining Corp. appointed William "Bill" Martinich to the position of general manager at the Moss gold mine. Most recently, he was mine manager at New Gold's Mesquite mine..

Gervais Jacques , Managing Director-Atlantic at Rio Tinto Aluminium, has been appointed chair of the International Aluminium Institute (IAI). Prior to his current role, he was chief commercial officer-Rio Tinto Alcan. As IAI chair, he succeeds Hilde Merete Aasheim, executive vice president of Hydro's Aluminium Metal business, at the end of her two-year tenure.
About - providing an abreviated version of the current print edition of E&MJ, WOMP is distributed throughout the world to decision makers in the global mining industry, the last week of every month.

Subscribe to E&MJ - To receive your own copy of the print edition of E&MJ, click here , and complete your details. E&MJ is available free of charge to qualified readers.

Contact - if you have views, opinons or comments or editoral that you would like to submit, we would be delighted to hear from you - click here

Top