Building a Management Strategy That Includes Diversity
Data linking diversity in the workplace with higher levels of company performance is validating the need for a management strategy that includes diversity. Executive sponsorships of female employees are one way that organizations are raising the diversity bar, but this also requires female employees to take a more active role in managing careers.

By Steve Fiscor, Editor
---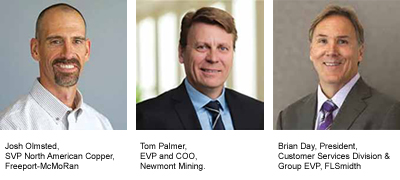 Focused on inspiring women to engage with peers and take an active role in their career development, as well as on the broader benefit of the impact of a diverse workforce on corporate performance, more than 300 attendees of a breakfast and panel discussion heard views on diversity from some of the biggest leaders in mining, asked questions and engaged in an active dialogue. The event was sponsored by Women of SME, the Women's Auxiliary to the American Institute of Mining, Metallurgical and Petroleum Engineers (WAAIME), Women in Mining, and FLSmidth, and it took place during the annual Society of Mining, Metallurgical and Petroleum Engineers (SME) conference during February in Minneapolis, Minnesota.

Diversity initiatives relating to gender hinge on hiring and retention from within the existing talent pool, but also that young women choose to pursue Science, Technology and Engineering and Math (STEM) degrees. With so much competition within the labor market for STEM graduates, it will be imperative that mining companies be seen as attractive employers to incoming diversity candidates. While breakfast attendees represented the full range of career maturity, from senior executives to students, more than half of those in attendance appeared to be millennials who were entering the industry's workforce. Perhaps, surprisingly, many men were also in attendance, a good sign that men in the industry are actively engaged in this issue, and willing to help drive diversity initiatives to support female peers in career development.

During the session, billed as Engaging Allies in Your Career Success Through Sponsorship, the moderator, Maureen Berkner Boyt, also shared some frank advice for women. She serves as an executive coach, advising companies that want to develop, promote and retain women, and create inclusive workplaces. She has also held leadership positions in several large corporations and is the founder of several successful businesses.

These days it's more important than ever for companies to develop diversity in management programs. Research shows that companies that have embraced these programs have seen 6% to as much as 30% improvement in performance, yet only 15% of the companies in the mining business are actively participating in these programs. If the company isn't interested in advancing the program, however, it will likely not happen.

To offset gender bias, executives will likely need to step outside their comfort zone to sponsor and mentor female employees. This can be a sensitive area these days. The #MeToo movement has daylighted abuse, but it has also had an unintended impact on interpersonal skills within corporations, especially in male-dominated industries, such as mining. Older male executives will be less likely to sponsor a young female for fear of the appearance of impropriety. Similarly, a young female will be less likely to accept an opportunity from a senior male executive for fear of the rumor mill among her peers.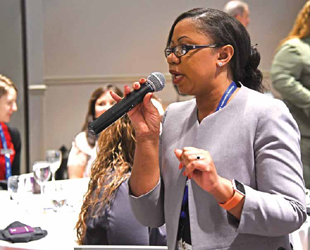 Outgoing WAAIME Chair Rebecca Siwale shares stories about her career
as a metallurgist.


Finding the solution will require open communication and transparency. Executives will have to walk the talk. Likewise, women will have to seek sponsorship opportunities and set themselves up for success.

Overcoming Challenges
The outgoing WAAIME Chair Rebecca Siwale, a metallurgist of African descent who also serves as a process engineer for FLSmidth, welcomed everyone to the breakfast. Before she introduced Boyt, she gave the customary safety share, acknowledged the panel members and shared her story. "We are here this morning to celebrate and highlight the commitment [the panel members] have given to inclusion and diversity, and we need more champions in the mining industry," Siwale said.

Siwale's mining career started 19 years ago in Zambia. Her father was a miner and she was raised in a mining town. "My parents told me I could do and be anything I wanted," Siwale said. Explaining why she is involved with WAAIME, she said she wanted to offer encouragement and be an inspiration to young professionals entering mining or those already working in the field.

Siwale was the first female metallurgist to work for the Glencore mines in Zambia. Mining at that time was not a role encouraged for women, she explained. She pursued a chemical engineering degree and after she graduated, she started her first job with Mopani copper mines. She recalled that first day with clarity. After welcoming her and all the formal introductions, her supervisor called her into his office and said, "We have a small problem. We have no toilets for women." After her first day, she spoke with her father and told him that the new job was going good, but they have no toilets for women. He reminded her that she was an engineer and engineers solve problems, telling her to go solve this problem and she did. And, she went on to solve many more problems.

Management was reluctant to let her serve on the night shift. To manage the entire operation, she felt she needed the evening shift experience and continued to press for it. She was eventually given the chance. "When you enter any management relationship, such as this where they had never had a female metallurgist, it was strange at first, but over time what was strange became normal," Siwale said. "I had an amazing crew of operators and technicians who showed me what I needed to know and do to run an operation. I had peers and managers that supported and challenged me along the way."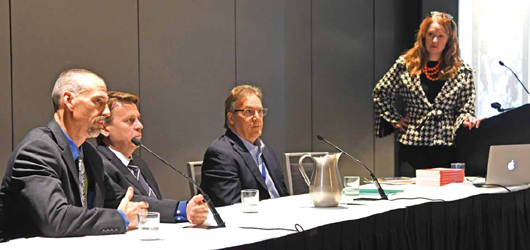 Maureen Berkner Boyt moderates a panel discussion, Engaging Allies in Your Career Success Through Sponsorship, at the
WAAIME breakfast at SME 2018.


Siwale's parting messages as WAAIME chair: We will have challenges along the way. We will overcome them. These are the lessons we learn. "Always remember that there are people around you willing to help," Siwale said. "Don't let opportunities slip. Forge ahead. Always remember, you are paving the way for the little girls in kindergarten, the high school girls and the young ladies in college." Siwale said she keeps a list of people, mostly women with whom she has interacted, who have coached, supervised or served as role models throughout her career, and then she welcomed Boyt to the stage.

Positioning Yourself for Success
Boyt opened the session by talking about three female CEOs of Fortune 500 companies, saying each rose to their respective levels because they were brilliant, hardworking and manage their careers well. And each of these female CEOs attributed their success to sponsors. A sponsor, according to Boyt, is a mentor on steroids. "A sponsor advocates for you when you are not in the room," Boyt said. "They put your name in the hat for promotions. They push you. A sponsor takes people with them to the top."

If there is secret sauce for getting into leadership, sponsorship is it. Sponsored employees get 30% more pay raises, promotions and stretch assignments, Boyt explained. By definition, a stretch assignment is a project or task given to employees, which is beyond their current knowledge or skills level to "stretch" employees developmentally. The stretch assignment challenges people by placing them in uncomfortable situations to learn and grow.

"People that have sponsors say they are happier with their careers and the progression of their careers," Boyt said. "The downside is that men have four times as many sponsors as women. Women need to understand why and how this happens to break the cycle."

Boyt said women first have to deal with their own issues. She quoted research saying that women feel like sponsorships are cheating. "Ladies, this is the way the game is played and these are the rules of engagement," Boyt said. She said women who refuse mentoring opportunities are only cheating themselves by trying to go it alone.

Addressing the female students in the room, Boyt said, "I wish I had known this when I was your age. Get yourself a sponsor. It's the way the game is played and it's the secret sauce for leadership. The rest of you … if you don't have a sponsor, position yourself to get one."

A lot of people fall into the affinity- bias trap. They naturally tend to trust people who are like them. If the mining business has a 10:1 ratio of white males in leadership positions, what happens when they choose who to sponsor? "They are looking down and seeing young men who remind them of themselves and including them in projects and that relationship turns into a sponsorship," Boyt said. Pointing toward the panelists, Boyt said these guys have decided to sponsor someone that does not look like them. This is the critical thinking needed for a company looking to improve diversity.

Boyt then turned the conversation to sex or, more importantly, the implication of sex. Older men do not sponsor younger females because they do not want people to think they are having an affair. Younger women may shy away from a sponsorship from an older male because they don't want people to think they have slept their way to the top. "Research tells us that these are the primary reasons why women are not being sponsored," Boyt said.

Roughly 300 people attend the WAAIME breakfast and the executives field questions from the audience.


Organizations must talk about the importance of sponsorships and the implications of sex. "If they are not discussing it, the implications stand," Boyt said. "With current events, this is even more important. The latest research says that executives are more hesitant than ever to sponsor women."

Once an organization has the conversation, it becomes OK to talk about it. Some companies, according to Boyt, are designating conference rooms for people to meet or places where they can have dinner. "If they are seen together, peers know it's about sponsorship and not sex," Boyt said.

Boyt's three takeaways for women: a sponsorship is not cheating, men need to be taught to sponsor someone who does not look like them, and have the conversation about sponsorship being about sponsorship and not sex. "We have three panelists who have overcome these hurdles and sponsored women in their organizations," Boyt said.

An Executive's Perspective
Boyt introduced the three panelists: Josh Olmsted, senior vice president-North American copper for Freeport-McMoRan; Tom Palmer, executive vice president and COO, Newmont Mining; and Brian Day, president, customer services division and group executive vice president for FLSmidth.

Her first question: Why did you sponsor women and how did you make it work? Day said his eyes were first opened to this concept when he joined the process engineering group, which consisted of 30 people of different genders, religions and races. That was quite different from where he was raised in a small town in upstate New York. A manager explained to him that he worked for a global company and everyone needed to understand different cultures and learn how to interact with others. Later in his career, Day was sponsored by a female manager, who taught him some of the best skills as far as report writing, testing procedures and how to better interact with people.

In the customer service division, Day assembled a management team that was near equality as far as gender diversity. "We did see a 6% to 20% improvement in results," Day said.

Day has three daughters. "My eldest thought my participation in this panel was 'really cool.'" Day said. "These are exciting times in the mining business and we need to grab onto these opportunities together. More than just one individual person, it's a tribe."

Agreeing with Day, Olmsted said he is married to an engineer and she has had a dramatic influence on his thinking. The turning point for Olmsted was in South America. Working at Freeport's Candeleria operation, he was exposed to another, different culture. "The mines in South America employ fewer women," Olmsted said. "So, when you worked with one, you knew they were the best employees. They had to overcome a lot of obstacles and I knew we needed to find a way to support these people who have the inherent drive to find a way to succeed." Upon returning to the U.S., he looked for parallels as far as sponsorships.
With their sights set on leadership positions in the mining business, women were offered tips on how to
improve their chances for success.


As management teams are assembled, the ones with more diversity develop better solutions and they make better decisions, Olmsted explained. "People selected with a like-minded bias will likely tell you what you want to hear," Olmsted said. "Diversity in thought leads to better solutions. You make better decisions as a group if you include more diversity in your circle."

Palmer shared three experiences. He was raised in the regulated mining community of Broken Hill in Australia. "During those times in that area, when couples married, the women could no longer work anywhere in town and they were not allowed underground," Palmer said. Growing up with three sisters, however, his parents made it clear that everyone was equal. It was instilled at a very young age. Today, Palmer has three daughters and a son. His eldest daughter is studying dual-engineering- commerce degrees and he wants her to have the same opportunities he had.

Earlier in his career (25 years ago), Palmer served as a manager at an aluminum smelter for Comalco and he was fortunate to participate in a leadership team at a large industrial site that included equal numbers of men and women — groundbreaking at the time. They enjoyed the thought diversity and he said that had a significant impact on his leadership style. "Some of those women are now in senior leadership positions with other mining companies today," Palmer said.

Then, Palmer talked about his coal experience. "It was like stepping back 30 or 40 years," Palmer said. "It was male dominated. You walked into a pre-shift meeting — all men of the same demographic sitting around the perimeter of the room with their arms folded and sunglasses on. There was a complete lack of contribution, lack of thought and a lack of a willingness to change."

That was an eye-opener for Palmer and, after trying to lead in that environment for several years, he got the opportunity to open a new coal mine with the possibilities of doing something different. "We had to have the courage to bring women into the workplace and we set a challenging target of 25% women," Palmer said. "To achieve that, the recruitment strategy had to be one-third experienced miners, one-third workers with some industrial experience, and one-third people with no experience."

Further defining what he meant by courage, Palmer explained that during startup, when goals were missed, they had to fight the urge to revert. "We had the courage to stick to our guns while under pressure to hit the targets," Palmer said. "Ultimately, we succeeded and the mine is now 15 years old. It has 25% women and having the experience of walking into a pre-shift meeting with 25% women, the contribution, the questions and the diversity of thought. It was refreshing." Palmer is now trying to implement a similar plan in Ghana.

Boyt quickly pointed out some of the similarities her questions engendered. "We have some reoccurring themes: family, experiencing a sponsorship, and seeing the improvements of inclusion first hand," Boyt said. "It's safe to say these managers do not represent the norm in the mining business or most industries for that matter." Boyt asked her next question: What can we do to get more men to understand the need to sponsor women?

"When I think about leadership, we have three tools: the symbolic act, leadership behavior, and the talent management systems we have designed and use every day," Palmer said. As an example of the symbolic act, Palmer said men tend to interrupt women when they are speaking. As a leader, managers need to say, 'Excuse me, but I want to hear what Mary or Jane has to say about this.'"

As far as leadership behavior, Palmer offered the act of giving someone the opportunity to manage that project or supporting people who take a chance with talent on stretch assignments.

"When I meet with my leadership team, we spend about one-third of the time discussing talent management systems with a great deal of emphasis on diversity," he said. "Within Newmont Mining, we have a program, the Business Resource Groups (BRG), where we bring together groups of employees and support them to develop solutions as far as improving diversity and inclusion in the workplace. We have 20 of those BRGs globally and 10 of them are associated with female diversity and inclusion. One of the most powerful things is that it's not a women's business resources group, but a women and allies resources group. It's very powerful to get men to participate in those groups."

Olmsted recommended talking about the subject. "Much of the problem revolves around unintentional bias and the way to break that down is through conversation," Olmsted said. "Walking the talk. It's easy to talk about it, but you must follow through with actions as far as finding and providing opportunities. The men in the organization need to be educated about the value and the benefit of additional diversity and inclusion."

By providing opportunities, such as stretch projects and identifying high-energy individuals, a company can set them up for success, Olmsted explained. "This is important for female professional development and it benefits the organization long term," Olmsted said. "It creates diverse management teams and showcases the successes for everyone to see, not just their areas, but across the entire organization."

Public recognition is very important. "Communications are key — good, bad and ugly — and the more we talk about it openly, the more we improve as an organization," Olmsted said.

Adding to these points, Day talked about heightened awareness and understanding, saying that key performance indicators and other metrics are instrumental from a tangible approach. "If the research numbers are correct, there is a large imbalance and there are things we can do, but men need to lead the charge."

Finding That Sponsor
Summing up the situation, Boyt said executives are looking for potential candidates whose career arcs are still arcing. "The other highly prized trait is a strong brand, which is what people are saying about you when you are not in the room," Boyt said. "Brands vary considerably and that's OK as long as it's strong."

Boyt shard a scenario when a manager pulled her aside and told her that she just did not work well under pressure. She was shocked. That was her brand at the time and, as a production planner, that was not good. But, given that feedback, she was able to improve her behavior.

"Think about how you interact with others when people ask: How you are doing?" Boyt said. "If your answer is 'Oh man, I'm really swamped,' then that's your brand." Boyt suggested asking trusted individuals to give an opinion on your brand, and "if you get that valuable feedback, make the adjustments to improve your brand."

Executives have a limited number of possible sponsorships and they are looking for individuals with drive and ambition. "They want to know you are hungry and you want to go for it," Boyt said. "If they are going to commit the time, they are going to pick a winner. So, they will look at people who raise their hands and deliver. Even if a project gets off track, they will consider how the project was managed after it went off the rails. Did you get it back on track?"

They also demand loyalty to them and the organization. Politics happen within any organization and other executives, their peers, are sponsoring people, too. To develop a sponsor relationship, Boyt recommends striking up a conversation with a mentor. "Let them know that you know some of their achievements," Boyt said. "Discuss your projects and goals and ask if you can check back in with them from time to time." The conversation will evolve over time. Almost all sponsorships begin as mentoring programs.

Boyt also suggested a self-assessment as far as where you stand with brand, loyalty, coachability and results. "Keep a success file," Boyt said. "When you get the recognition, save those emails somewhere. When you achieve that milestone, note it. The next time you meet with your potential sponsor, manage upward and share those recent accomplishments."
---
As featured in Womp 2018 Vol 06 - www.womp-int.com