New Options Will Improve Gyratory Crusher Performance
In addition to major upgrades, suppliers also offer rebuild service and products to extend wear life

By Steve Fiscor, Editor
---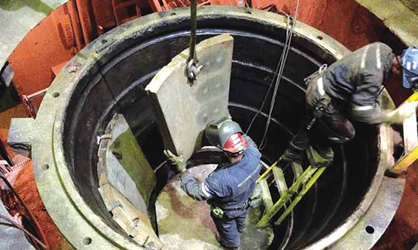 To get the best performance, wear liners need to be properly matched for the application.
Above, workers replace concaves on a crusher. (Photo: Columbia Steel)


Miners today are, on average, processing more rock to produce the same amount of metal. The gyratory crushers used to reduce this material have a great impact on operations, especially downstream processes. Mines rely on them to produce a consistent product. Obviously, taking these workhorses down for maintenance also has a huge impact on operations.

One of the original equipment manufacturers (OEM) for crushers will soon roll out a new gyratory model. The improvements included in it were based on what the OEM and the mines have learned in the last 20 years. Making the decision as far as replace or rebuild is not always easy. Rebuilding these machines requires an investment and time. Knowing this, extending the time between rebuilds is also something many mines desire.

The Mark III Upgrade
Metso is planning for a major gyratory crusher upgrade soon. Historically, the biggest improvement for these machines occurred with the Mark II upgrade in the 1990s. Dusty Jacobson, senior crushing and screening specialist with Metso, said the amount of upgrades the company is planning equates to the leap from Mark I to Mark II, so they are referring to this as the Mark III upgrade. Depending on the size class, the Mark III upgrade will increase the gyratory crushers capacity by 15% to 20%. For a 6110 machine, which are normally used at mines processing 60,000 tons per day (t/d), the capacity would increase from 8,000 t/h to 9,500 t/h or 10,000 t/h depending on the ore."

The top size feed for the machine remains about the same, Jacobson explained, but it will be able to handle more of the coarse, top-size material because of an arched spider design. "Material tends to bridge on a straight spider," Jacobson said. "With the arched spider, the joint is lifted vertically and there is less of a chance for the material to hang up at that point. Customers that have changed from straight to arched spiders have seen a significant decrease in downtime, sometimes as much as 70%, related to bridging."

There are several mechanical upgrades rolled into the Mark II upgrade. "Many of these improvements are best practices learned over the last 20 years," Jacobson said. "They are mostly related to reliability and improved maintenance and the other changes that were required to increase the speed and power of the machine."

From a maintenance perspective, Metso will improve the seals on the pinion shafts. Other improvements are planned for wear components, which require regular maintenance and usually pose the most downtime. "We have a new tool, the Concave Carousel, that allows technicians to remove an entire row of concaves," Jacobson said. "Our new jack-bolt style locknuts are another big improvement."

All these changes are geared toward getting longer life from the concaves and the mantle itself. They do not necessarily improve how the machines are maintained. However, if the mine can get six months life from a mantle instead of five months, that makes a big difference.

Metso has also advanced its chamber optimization program (CHOP), which reviews the material being fed to the machine. "CHOP scans the profiles before and after, generating a wear profile throughout the life of the liners," Jacobson said. "It tags that to the mechanicals along with the tonnage, power draw and forces within the machine to develop better wear profiles, allowing liners to last longer, while keeping the machines within its mechanical limits for longer periods of time."

New tools will also improve safety for maintenance-related tasks. "We have a new hydraulically powered eccentric cart," Jacobson said. "It's a safer, simpler option than a scissor life when dropping the eccentric from the bottom of the machine." And, for wear-component replacement, Metso has redesigned the concave trays lessening the need for technicians to enter the machine. By processing more rock with crushers, which are efficient machines in general, the mill can reduce the downstream load. "For any SAG or primary milling circuit, the more we can do with the crushers on the front end, the more we can improve overall plant efficiency by being able to crush better and finer," Jacobson said. "The material handling equipment between the primary crusher and the plant is directly affected by how many slabs and coarse blocks come out of the machine." The Mark III upgrade also includes a visual analysis system to limit the possible downstream damage.

Gold Mine Retrofit
CMS Cepcor recently completed a major rebuild, conversion, installation and commissioning of a Sandvik CH660 crusher to a CS660 for a large gold mining company. After crushing millions of tons of gold ore, the mine delivered its decommissioned CH660 to CMS Cepcor's Coalville crusher service facility for a major rebuild. According to the company, the mine selected CMS Cepcor because its rebuild and conversion proposal offered significant cost savings versus purchasing a new crusher.
CMS Cepcor recently rebuilt a CH 660 for a gold mining operation.


Following detailed inspection and testing, the bottom shell was deemed serviceable and was then processed through the CMS Cepcor component rebuild program, where it would undergo all the necessary repairs to return it to original factory tolerance for use in the conversion.

Ultimately to convert the crusher from a CH (Hydrocone type crusher) to a CS (Superior type crusher), CMS Cepcor had to supply or rebuild the following parts: a new hopper assembly, reconditioned spider with CMS Cepcor parts, top-shell (including wear pats), main shaft assembly (including wear parts), new eccentric assembly, pinion shaft assembly, reconditioned hydroset assembled with CMS Cepcor parts, new dust collar assembly, reconditioned bottom shell, and a support frame with guards and a new motor.

CMS Cepcor said the entire rebuild and conversion process was completed in accordance with its Lloyd's Register ISO quality system, which included the full assembly of the crusher at the Coalville facility prior to shipping. All of this had to be managed to meet the mine's challenging deadline for expansion of their processing circuit.

Standing more than 5 meters tall once assembled and weighing more than 35,000 kg, the crusher has an imposing presence for a secondary cone crusher. With extensive expertise in rebuilding a wide range of worn components used in crushing equipment, CMS Cepcor said it can offer these services to convert any of the following models from Hydrocone type to Superior type (or vice-versa) using off-the-shelf stock components.

Concaves Engineered for Better Wear
When it comes to selecting concave alloys, Columbia Steel suggests using the hardest alloy that will withstand the specific impacts for the gyratory crushing application. They said concave selection depends on the compressive strength, toughness and friability of the material being crushed. For example, crushing some tough materials demands work-hardening manganese steel. If there is insufficient impacts to cause the surface to work harder, the same liners used for an abrasive, friable ore may wear quickly.

Mine operations are also an important consideration. If tramp iron is encountered regularly, manganese steel is the best choice to avoid breakage, because harder steel and iron could crack or fail.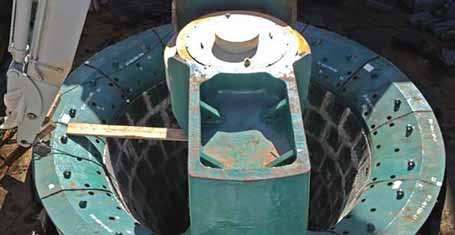 With an arched spider, the joint is lifted vertically and there is less chance for the material to hang up
at that point.


For larger concaves, Columbia Steel also said its important to remember that by handling fewer segments, it takes less time to reline a gyratory crusher. Recognizing the value of fewer, large concave segments, they have manufactured double height, double width, and double height and width concaves for many mines. This approach also offers greater efficiency when ordering and replacing parts. In general, larger parts cost less per pound. There are also fewer seams, an important consideration since these are often the areas of most severe wear. In addition, fewer joints mean less backing material.

Columbia Steel also explained that general-purpose concaves with uniform thickness often wear poorly because wear is not uniform from application to application. By increasing thickness, they have found they can often double or triple wear life. All of Columbia Steel's concaves have side grooves for spacers or keeper dowels.

Hard facing is another important consideration. Columbia Steel said it can supply Xtend wear-resistant overlays for selected concaves made of its H or L series steels. According to the company, mines have reported significant improvement in wear life, as much as double in some applications. So miners not only save wear metal costs, but they can also reduce changeout labor and downtime as well. Xtend can be applied to high wear areas such as under feeders, saving the changeout of an entire worn row or localized worn concaves.
---
As featured in Womp 2018 Vol 06 - www.womp-int.com