Premier Targets 8 Years From Cove
---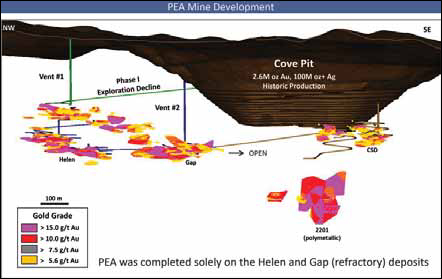 The Cove mine will be accessed from a ramp driven from an open-pit mine previously operated by Echo Bay.


Premier Gold Mines has reported the results of a preliminary economic assessment (PEA) of its 100% owned Cove project 32 miles south of Battle Mountain, Nevada. Production from an underground mining operation is estimated at 92,000 ounces per year (oz/y) of gold over a mine life of eight years. Life-of-mine capital cost is estimated at $114.4 million after pre-development costs of $25.8 million. Mine construction capital is estimated at $46.6 million.

All-in sustaining costs of production are estimated at $897/oz of gold produced. The after-tax payback period is estimated at four years.

The Cove project PEA is based on indicated mineral resources of 1 million short tons (st) at grades of 0.327 oz/st gold and 0.861 oz/st silver and inferred mineral resources of 4 million st at grades of 0.328 oz/st gold and 0.609 oz/st silver.

The mine will be accessed by a single ramp extending from surface (elevation 4,625 ft) to the lowest extent of planned mining (elevation 3,430 ft). The ramp will be large enough to accommodate 30- st trucks. A series of raises will provide secondary egress and ventilation. A mining contractor will extract the mineralization using drift-and-fill mining methods at an average rate of 1,270 st/d.

Northern Nevada hosts three roasting facilities and two pressure-oxidation facilities that could process the Cove mineralization. The PEA assumes toll-milling arrangements with associated over-the-road trucking costs for both process methods.

The Cove project hosts an historical open-pit mine operated by Echo Bay Mines between 1987 and 2001, which produced 2.6 million oz of gold and 100 million oz of silver. The project benefits from significant historic geological datasets; proximity to paved highways and electric power; and pre-existing mine infrastructure.

The project PEA assumes mining of mineral resources in the Helen and Gap deposits only. Potential exists to increase these mineral resources as the deposits remain open for expansion. There is also potential for adding resources from the Cove South Deep and 2201 zones following underground exploration and delineation drilling. These opportunities will be reviewed during an underground development and exploration drilling program.

The Cove project is permitted to develop an exploration ramp, complete underground diamond drilling, and test the mine up to 120,000 st of potentially economic mineralization. Baseline studies, final permitting and a feasibility study are planned for 2019-2020.
---
As featured in Womp 2018 Vol 06 - www.womp-int.com