The latest from the
World Mining Equipment
Video Library
View




Transparency Finally Works for Modern Miners

When the U.S. Securities and Exchange Commission began to enforce the supply chain transparency policies that were introduced by Sarbanes-Oxley in 2002, some in the mining sector were bitter. They thought, rightfully so, that the publicly held side of the minerals extraction business had been forced unfairly to give up access to a share of the world's natural resources. They could no longer compete with state-sponsored actors who did not have to comply with the same set of rules. Publicly held mining companies were essentially barred from doing business in less than desirable areas. This created a vacuum that allowed businesses in developing countries that were paying substandard wages with little environmental oversight to purchase raw materials from dictators and despots with similar standards. Now, it seems the rules are finally imposing their intended effect and the world is .... read more

Steve Fiscor, Publisher & Editor in Chief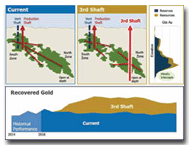 Barrick Outlines Organic Investments
Barrick Gold recently discussed plans for four feasibility-level projects that have the potential to contribute more than 1 millionounces (oz) of annual gold production with initial contributions beginning in 2021. Nevada projects at Cortez Deep South, Goldrush, and Turquoise Ridge(75% interest) have been approved and are in execution. Optimization work on a sequenced project to extend the life of the Lagunas Norte mine in Peru is under way.... read more
Mountain Province Diamonds Buys Kennady Diamonds
Mountain Province Diamonds and Kennady Diamonds have entered into a definitive agreement where Mountain Province will acquire all of Kennady issued and outstanding common shares by way of a court-approved plan of arrangement. The all-share transaction values Kennady at about C$176 million. Upon completion of the transaction, the combined company will be owned approximately 76% by Mountain Province shareholders and 24% by Kennady shareholders. represents .... read more

Top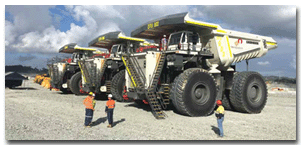 First Quantum Expanding Cobre Panama Project by 15%
First Quantum Minerals announced in mid-February that its board of directors has approved an expansion of throughput capacity at its Cobre Panama open-pit copper project by 15% to 85 million metric tons per year (mt/y), along with upgrades to certain areas of the project to accommodate a further increase to 100 million mt/y after 2022. Altogether .... read more


Rio Tinto Receives Offer for Aluminum Assets
Rio Tinto has received a binding offer from Hydro of $345 million, subject to final adjustments, to acquire Rio Tinto's ISAL smelter in Iceland, its 53.3% share in the Aluchemie anode plant in the Netherlands, and its 50% share in the Aluminum fluoride plant in Sweden. Based in Norway, Hydro is a fully integrated aluminum company that also extracts bauxite, refines alumina and generates energy .... read more

| | |
| --- | --- |
| AROUND THE WORLD - USA & CANADA | |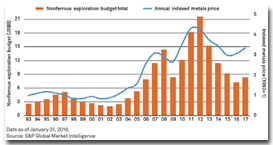 Prospectors Are Feeling More Positive
Mining developers often say the health of the mineral exploration industry can be judged by the number of people on the escalators at the annual Prospectors & Developers Association of Canada (PDAC) convention. This year, the escalators at the Toronto Convention Center were crowded, as was the show floor and the conference presentations. The PDAC reported an attendance .... read more


Ucore Selects Ketchikan as Site for Strategic Metals Complex
Ucore Rare Metals has identified Ketchikan, Alaska, as the location for construction of its first U.S. strategic metals complex. The Ketchikan site is 50 kilometers (km) northeast of the company's Bokan-Dotson Ridge rare earths elements (REE) mining projec ....read more

Top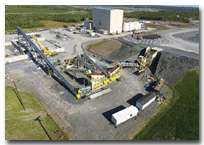 PFS Supports Expansion of Atlantic's Moose River Project
Atlantic Gold has reported the results of a prefeasibility study (PFS) of a proposed expansion of its Moose River Consolidated gold project in Nova Scotia, Canada. Production at Moose River started in October 2017 based on mining the project's Touquoy and Beaver Dam deposits and processing the mined material through a plant at the Touquoy site. Initial design called for production of 87,000 ounces per year (oz/y) of gold in doré over a mine life of 8.5 years .... read more

| | |
| --- | --- |
| AROUND THE WORLD - Latin America | |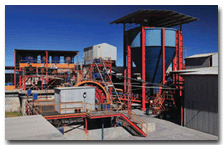 Hecla Secures Second San Sebastian Mill
Hecla Mining announced it has entered into a toll milling agreement with Excellon Resources in which sulphide ore from San Sebastian would be trucked 26 miles to Excellon's Miguel Auza flotation mill facility in Zacatecas Mexico, for processing. Under the terms of the agreement, Excellon will provide 440 tons per day of milling capacity to Hecla and, in due .... read more


Top
Kinross Acquires Power Plants in Brazil to Support Paracatu
Kinross Gold subsidiary, Kinross Brasil Mineraçao, has agreed to acquire two hydroelectric power plants in Brazil from a subsidiary of Gerdau SA for $257 million. This would provide a long-term supply of power for the company's Paracatu mine, resulting in lower production costs over the life of mine, the company said .... read more

| | |
| --- | --- |
| AROUND THE WORLD - Australasia | |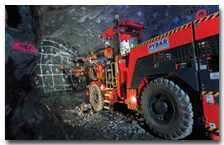 Heron Grants Woodlawn Mining Contract to PYBAR
Heron Resources awarded the contract for underground mining for its Woodlawn zinc-copper project, located near Tarago, New South Wales, Australia, to PYBAR. PYBAR will mobilize to site within the next three months and is expected to commence underground mining operations at Woodlawn in August …. read more
Top

Updated PFS Boosts Economics at Vista Gold's Mount Todd Project
Vista Gold has reported positive results from an updated preliminary feasibility study (PFS) of its 50,000-metric-ton-perday (mt/d) Mount Todd gold project in Northern Territory, Australia. The PFS is based on the results of a comprehensive review of all aspects of the project and re-design of elements of the process flowsheet that incorporate automated sorting and grinding circuit design changes …. read more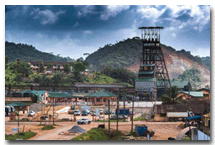 Golden Star Achieves Commercial Production at Prestea Underground
Golden Star Resources reported in early February that it has achieved commercial production at its Prestea Underground gold mine in southwest Ghana. Project construction, including installation of all ancillary infrastructure, was complete and operational. Gold production will continue to ramp up during 2018 …. read more
Top
Iamgold Begins Feasibility Study at Boto in Senegal
Iamgold has initiated a feasibility study at its Boto gold project in Senegal, West Africa, based on the results of a prefeasibility study (PFS) that outlines an economically viable project. The Boto PFS was based on indicated resources of 1.9 million ounces (oz) at a grade of 1.6 grams per metric ton (g/mt) gold, with proven and probable reserves of 1.4 million oz grading 1.64 g/mt gold. Mine life is projected at 13.5 years …. read more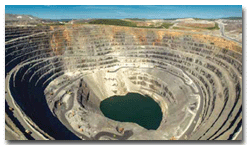 Polyus Increases Gold Production
Russia's largest gold producer, PJSC Polyus, reported a 10% year-on-year increase in gold production, taking total gold production for 2017 to 2.16 million ounces (oz). The company said it also moved 27% more ore (nearly 38 million tons) to do this. The volume of ore processed increased by 8% year-on-year to 28.7 million tons, with higher volumes of ore treated at the company's core assets as a result of …. read more


Top
Nornickel, Russian Platinum Plan JV for PGM Project
Norilsk Nickel (Nornickel), the world's largest producer of palladium and refined nickel, and LLC Russian Platinum have signed a framework agreement for a 50/50 joint venture to develop disseminated ore deposits in the Norilsk Industrial District of Russia, where Nornickel has its key production assets. Contributions to the joint venture will be Nornickel's license for the Maslovskoe deposit and Russian Platinum's licenses for .… read more



| | |
| --- | --- |
| THIS MONTH IN COAL | |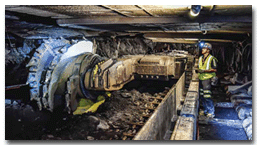 Warrior Met Coal Prepares for 2018
Warrior Met Coal, the leading U.S. exporter for high-quality metallurgical coal, confirmed it has completed three planned longwall moves. It plans to ramp up production in Alabama to meet a tight market for high-quality premium met coal market. Prices for seaborne met coal are expecting to climb higher in the first quarter of 2018 .... read more


Top

Teck Restarts Elkview Dryer
Teck Resources has recommissioned the coal dryer at its Elkview Operations following repairs to address damage that was caused by a January pressure event, which suspended operations. According to the company, full commercial production is expected to resume by mid-March. Lost production due to the pressure event is estimated to be approximately 200,000 metric tons (mt) of clean coal .... read more


MEC Completes Acquisition of Armstrong Properties
Murray Energy Corp. (MEC) announced that its subsidiary, Murray Kentucky Energy, has completed the acquisition of a 51% interest in Western Kentucky Coal Resources, which holds certain assets formerly owned by Armstrong Energy Inc. "Murray Energy and Murray Kentucky are very pleased that we were able to complete this acquisition, ahead of schedule, with the support of the secured noteholders …. read more


-->
| | |
| --- | --- |
| FEATURE - Chilean Copper | |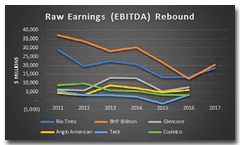 Tracing Copper's Future: Chile's Changing Priorities
Price bull commentary steals the limelight from real growth challenges and responses.

By Jesse Morton, Technical Writer

Observers have described Chile as the Saudi Arabia of copper. And like Saudi oil, Chilean copper is at something of an inflection point. There are indicators suggesting growth on the horizon. There are indicators suggesting otherwise. Ultimately, unlike Saudi Arabia, where oil production has obviously peaked, it appears Chile still has much to say about which prevails .... read more


| | |
| --- | --- |
| FEATURE - Haul Road Design | |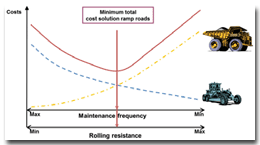 Using Big Data to Predict Haul Road Performance
Knowing which parts of the haulage network require attention, miners can dispatch maintenance resources more effectively

By Dr. Roger J. Thompson

Mining companies today are collecting vasta mounts of data from equipment to monitor and optimize fleet performance. These same techniques could be used to determine how haul roads perform and how they hold up at the mine site. That knowledge could be integrated with day-to-day haul road management to improve the entire network by focusing maintenance resources where they are needed to make the biggest impact on the bottom line ..... read more

Top

For more companies with products in the Loading and Hauling market -
Go Here
| | |
| --- | --- |
| FEATURE - Rescue Equipment | |

Lightening the Load
Studies and technologies focus on making mine rescue physically and mentally less stressful.

By Russell A. Carter, Contributing Editor

Mine rescue differs from other mining activities in several aspects. The need for it is generally sudden and unplanned, contrasting with the schedule-driven routines that govern most other mining functions. It employs specialized personal equipment instead of massive machines. And, perhaps the most important difference of all, its performance and success rests heavily on the human factor — the manner in which decisions are made and actions are taken in stressful situations .... read more


For more companies with products in the Safety market -
Go Here
| | |
| --- | --- |
| FEATURE - Simon's Farewell | |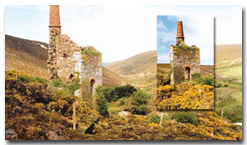 Writing Reflections
After a mining-industry career spanning 50 years, E&MJ's European editor is pulling theplug on his keyboard. This is his personal review of events and technology during that time.

By Simon Walker, European Editor

I arrived on planet Earth at the start of 1950, born — for no particular reason other than my father being stationed at a nearby military base — in the Nottinghamshire coalfields in England. A change in posting soon after meant exchanging pit heaps for the architecture of Cornwall's copper- and tin-mining industry even then slipping into drawn-out but final decline. The view from our window looked out across the countryside, not on ruined engine houses, but to the outline of the waste tips from the china clay pits 10 or more miles away, heaps that in those days rose from the surrounding fields like a row of pointed, off-white volcanoes .... read more

Top

| | |
| --- | --- |
| Video Presentations | |
The latest listings from the World Mining Equipment Video Library - to view the video, click the image.
For more details on the Video Hub -

Go Here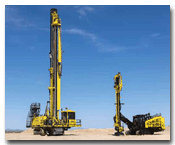 Komatsu Develops Articulating Boom Track Drills
Komatsu announced it is expanding its P&H product line to include articulating boom track drills. The first machine in the series, the 44XT, is in testing at the company's Arizona Proving Grounds and will be released later this year, the company reported .... read more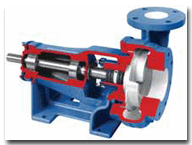 Heavy Duty Pump for Corrosive Liquids
Vertiflo Pump Company unveiled the 1400 series pump, designed for process, pollution control, spray systems, deionized water, waste water, corrosive liquids and chemicals. The pump's heavy-duty cast iron frame design incorporates cast support and ribbed mounting feet. The frame has a back pullout design feature for easy maintenance ....read more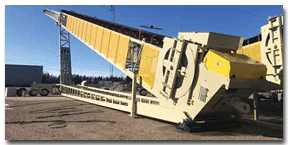 Telescoping Radial Stacking Conveyor
Superior Industries Inc. released the Telestacker Conveyor, a 210-ft road-portable telescoping radial stacking conveyor. It has a stockpiling capacity of 363,000 metric tons (mt), 30% more than any other telescoping conveyor on the market, the company reported. Applications include ship loading and large tonnage stockpile building and moving. The Telestacker will fill a vessel .... read more


Top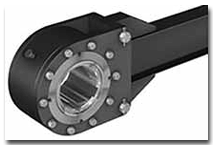 Redesigned Backstop
Tsubaki Power Transmission launched the BS-F backstop line that it reported represents an upgrade to predecessor technology and incorporates customer feedback. The labyrinth seal design extends the life of the product by minimizing the ingress of dust and contaminants, the company reported. Use of synthetic grease instead of oil eliminates the need for oil level checks ....read more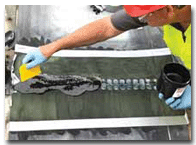 Repair Kit for Rubber Conveyor Belts
ITW Polymers Adhesives North America announced the Devcon R-Flex Belt Repair Kit for coating splice clips on styrene-butadiene rubber conveyor belts, protecting them from damage and preventing them from catching on wiper systems. The kit enables rapid repairs to damaged heavyweight conveyor belts, allowing their return to service in 90 minutes, the company reported .... read more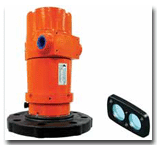 Laser Diode Measures Reflective Liquids
Hawk Measurement introduced the Optio-Laser S300 for measuring highly reflective, clear, or even turbulent liquids. Due to its narrow beam divergence, it can be used to measure through grates and narrow passages, and even next to flat walls. The OptioLaser S300 uses an infrared, low-gain laser diode, with a light energy of .... read more

Graphic Terminals for Small Applications
Allen-Bradley announced the PanelView 5310 family of graphic terminals, which perform similarly to the PanelView 5500 terminals but are instead scaled for smaller applications. The terminals are available in 7-in., 9-in., and 12-in. display sizes. A 6-in. display option will be available later this year .…. read more


Top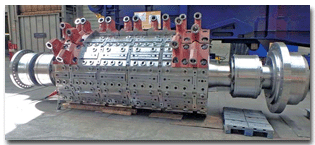 Tenova TAKRAF Introduces New Extreme Class Crushers for Oil Sands Operators
Tenova TAKRAF claimed it has developed a crushing solution for Canada's oil sands industry that could enable producing companies to sustain profitability in a low oil-price environment. This advance in crushing technology, said TAKRAF, not only can provide a boost in production, it also permits recovery improvements in the ....read more
APRIL 10-12, 2018: EU-Latin America Mining & Exploration Convention and Trade Show (METS), Madrid, Spain. Contact: Web: www.mets2018.eu

APRIL 17-19, 2018: MiningWorld Russia, Crocus Expo, Moscow, Russia. Contact: Web: www.miningworld.run/en

APRIL 23-27, 2018: Expomin 2018 Espacio Riesco, Santiago, Chile Contact: Web: www.expomin.cl

>

MAY 6-9, 2018: Canadian Institute of Mining (CIM 2018), Vancouver, British Columbia, Canada. Contact: Web: www.cim.org

MAY 19-28, 2018: ALTA 2018 Nickel-Cobalt-Copper, Uranium-REE-Li & Gold-PM Conference & Exhibition, Perth, Australia. Contact: Web: www.altamet.com.au/conferences/alta-2018/.

JUNE 5-8, 2018: Ugol Rossii & Mining, Novokuznetsk, Russia. Contact: Web: www.ugol-rossii.com/

>

June 12-14, 2018: Euro Mine Expo, Skellefteå, Sweden. Contact: Web: www.euromineexpo.com

March 10-13, 2019: Haulage & Loading, Hilton El Conquistador Resort, Tucson, Arizona, USA. Contact: Web: www.haulageandloading.com

For a full calendar of mining industry conferences and events - click here
| | |
| --- | --- |
| WHO'S MOVING WHERE | |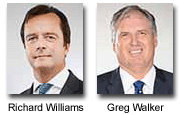 Richard Williams will take on a new role with Barrick as chairman's executive envoy to Tanzania. Williams has been leading ongoing discussions with the government of Tanzania that aim to resolve outstanding issues facing Acacia Mining. Responsibility for Barrick's operations group will go to Greg Walker, senior vice president, operational and technical excellence. Walker is a seasoned operational leader with 30 years of international mining industry experience.

UC RUSAL appointed Alexandra Bouriko, previously CFO, as CEO. Vladislav Soloviev, who previously held this position, has been appointed CEO of En+. He will also become the president of RUSAL. Bouriko has been RUSAL's CFO since October 2013.

Boliden has appointed Mikael Staffas as president and CEO of Boliden. He will assume the position on June 1. Staffas has been at Boliden, and a part of group management, since 2011. First, he held the position as CFO, and from 2015 he has been the director of business area mines. The recruitment of a new director for business area mines will be commenced immediately.

Wheaton Precious Metals Corp. appointed Marilyn Schonberner to the board of directors. Schonberner is the CFO and senior vice president, and an executive director, of Nexen Energy ULC. Schonberner has also served as a director of New Gold Inc. since June 2017.

Rio Tinto has appointed Moya Greene as an independent non-executive director. Greene is the chief executive officer of Royal Mail Group. The Hon. Paul Tellier, a non-executive director since 2007, has indicated his intention to step down from the board in May.

Atlas Copco appointed Gisela Lindstrand as senior vice president of corporate communications and governmental relations, and member of group management. Lindstrand will start at the latest on May 31. Previously, Lindstrand was senior vice president of corporate communications and public affairs at Securitas.

Metso appointed CFO Eeva Sipilä as interim president and CEO. Former President and CEO Nico Delvaux left the company on February 2. The search for a new president and CEO is under way.

Union Pacific named Cindy Sanborn regional vice president of transportation for its Western Region. She succeeds Richard Castagna, who will retire after nearly 25 years of service. Sanborn was the first woman to hold an executive operating leadership role at a Class I Railroad, recently serving as executive vice president and chief operations officer at CSX.
About - providing an abreviated version of the current print edition of E&MJ, WOMP is distributed throughout the world to decision makers in the global mining industry, the last week of every month.

Subscribe to E&MJ - To receive your own copy of the print edition of E&MJ, click here , and complete your details. E&MJ is available free of charge to qualified readers.

Contact - if you have views, opinons or comments or editoral that you would like to submit, we would be delighted to hear from you - click here

Top