Warrior Met Coal Prepares for 2018
---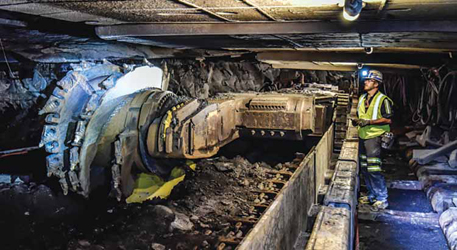 Alabama's Warrior Met coal completes three longwall moves.


Warrior Met Coal, the leading U.S. exporter for high-quality metallurgical coal, confirmed it has completed three planned longwall moves. It plans to ramp up production in Alabama to meet a tight market for high-quality premium met coal market. Prices for seaborne met coal are expecting to climb higher in the first quarter of 2018, reflecting resilience in global steel production, as well as the effects of met coal supply disruptions in Australia and supply side reforms in China, the company said.

"Warrior's results in the fourth quarter were even better than expected, enabling us to exceed our full year guidance in our key sales and production metrics," said Walt Scheller, CEO of Warrior. "The fourth quarter also saw the timely and successful back-to-back completion of all three longwall moves, which will help to strengthen our operational base in 2018."

Warrior produced 1.6 million tons of met coal in the fourth quarter of 2017, 52% more than in the fourth quarter of 2016. For the full year of 2017, the company produced 6.7 million short tons, which exceeded its guidance and expectations as it ramped up its operations toward full capacity of the mines.

"Moving one longwall operation is challenging by itself and when combined with the normal difficult geological conditions near the end of a panel, three moves back-to-back could have been overwhelming," Scheller said. "However, our success was the result of good planning, preparation, communication and outstanding work by our employees, and we thank them for the significant effort and success."

Warrior's total mining revenues for the fourth quarter of 2017 were $228.8 million, which consisted of met coal sales of 1.4 million tons at an average net selling price of $168.89/ton, net of demurrage and other charges. Sales volume increased 42% over the fourth quarter of 2016, reflecting both strong continued production and strong demand from customers. Warrior capitalized on the strong pricing environment in the quarter by selling its met coal at 101% of the quarterly Australian premium low-volatility hard coking coal index average price. Total revenues for 2017 were $1.2 billion on sales volume of 6.5 million tons.
---
As featured in Womp 2018 Vol 03 - www.womp-int.com