Polyus Increases Gold Production
---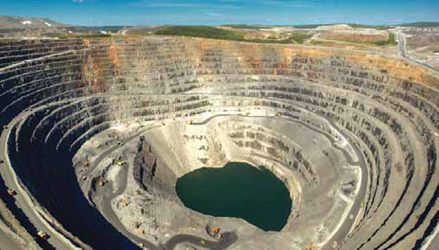 Polyus produced 170,000 oz of gold from the Olimpiada mine in 2017.


Russia's largest gold producer, PJSC Polyus, reported a 10% year-on-year increase in gold production, taking total gold production for 2017 to 2.16 million ounces (oz). The company said it also moved 27% more ore (nearly 38 million tons) to do this. The volume of ore processed increased by 8% year-on-year to 28.7 million tons, with higher volumes of ore treated at the company's core assets as a result of the ongoing execution of expansion projects.

"The strength of our assets and the focus on efficiency have enabled Polyus to deliver production numbers above our official guidance of 2.08 million to 2.13 million for the fourth year in a row, at 2.16 million, or 3% higher," said Pavel Grachev, CEO of PJSC Polyus. He said the company has decreased total cash costs by 6% compared to the previous year to $364/oz, despite the Russian rouble gaining 13% against the dollar during the year.

For 2017, Polyus reported 2.16 million oz in gold sales, a 13% year-on-year increase, which included 170,000 oz of gold contained in concentrate from the Olimpiada mine. Production continues to ramp up at Natalka, Polyus' newest gold mine. Natalka has successfully completed the hot commissioning stage and Polyus currently anticipates production to be fully ramped up in the second half of 2018.

"In early 2017, we won the tender for the development of Sukhoi Log, one of the largest undeveloped gold deposits in the world," Grachev said. "We are now proceeding with a scoping study and believe that obtaining the Sukhoi Log license is a fundamental achievement that gives us a great position to grow in the coming years."

Polyus expects 2018 production of 2.38 million oz to 2.43 million oz, and in the second half of the year, it said Natalka will achieve nameplate capacity.
---
As featured in Womp 2018 Vol 03 - www.womp-int.com