The latest from the
World Mining Equipment
Video Library
View




A Trustworthy Voice

As this edition of Engineering & Mining Journal (E&MJ) was going press, the top lawyers from Google, Facebook and Twitter had testified before a U.S. Senate Intelligence Committee. They were trying to explain how internet trolls had used their social media platforms to spread misinformation in the months leading up to the 2016 U.S. presidential election. The spectacle in a lot of ways resembled the antitrust movement that took place 100 years ago and led to the formation of the Federal Trade Commission. The difference this time is that it's not commodities, such as oil and steel, but information.
Social media has become a time suck that many people can no longer ignore. In addition to answering an inbox full of email, many people also familiar .... read more

Steve Fiscor, Publisher & Editor in Chief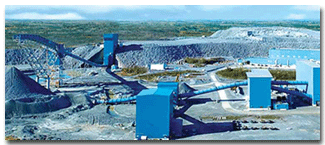 North American Palladium Reports Positive Developments
North American Palladium Ltd. recently reported positive exploration results from the Offset South Zone at its Lac des Iles mine property in Thunder Bay, Ontario, Canada. Offset South is located adjacent to the sub-level shrinkage (SLS) mining zone and has the potential to significantly add to the resources currently being mined in that zone. The company has also made significant progress exploring other targets on the property and reported record production last month.... read more
AEM Reports Record Quarterly Gold Production
For the third quarter of 2017, Agnico Eagle Mines (AEM) reported strong operational performance from its mines. Payable gold production was 454,362 ounces (oz), compared to 416,187 oz in the prior-year period. The higher level of production in the 2017 period was attributed to higher grades mined at LaRonde, Meadowbank and Canadian Malartic. "We continued to see strong operating performance in the third quarter, culminating in record gold production and strong cash flow generation," .... read more

Top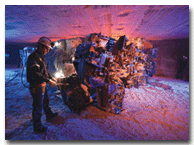 Rocanville Expansion Creates World's Largest Potash Mine
PotashCorp has completed an expansion at its Rocanville potash mine in southeast Saskatchewan, more than doubling nameplate capacity from 3 million metric tons per year (mt/y) to 6.5 million mt/y and creating the world's largest potash mine. The $3 billion project included the first new mine shaft built in Saskatchewan since 1979, a new mill, a new 500,000-mt storage facility, new rail and rail loadout equipment, and .... read more


Boliden's Production Suffers
In its recent earnings report, Boliden said the third quarter could be characterized by extensive maintenance in the mines and other production disturbances. At the same time, they announced that the company's president and CEO, Lennart Evrell, will resign halfway through 2018 and they are starting the succession program. "Maintenance work in all of the mines, coupled with production disturbances, resulted in production levels falling from the .... read more

| | |
| --- | --- |
| AROUND THE WORLD - USA & CANADA | |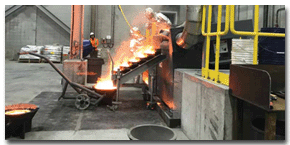 Rainy River Pours First Gold
New Gold has completed its first gold pour at its Rainy River mine, and the company's commissioning plans remain on schedule. The first pour yielded approximately 500 ounces (oz) of gold and 600 oz of silver. "Our team is proud to have delivered on all of the key project milestones since the beginning of 2017 .... read more


Sibanye-Stillwater Begins Processing Blitz Ore
Sibanye-Stillwater began processing palladium-platinum ore from its Blitz project adjacent to its underground Stillwater mine in south-central Montana on September 29. Completion of a secondary escape-way system at the Blitz 10 stope block concluded the fi nal infrastructure required for production to begin. Approximately 1,360 mt of ore excavated during Blitz development and stockpiled on the surface is now being processed. Based on muck sampling along the entire 115 ft of ore width intersected ....read more

Top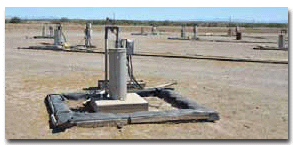 Taseko Building Test Facility at Florence Copper
Taseko Mines is proceeding with construction of a production test facility (PTF) at its Florence in-situ copper recovery project in south-central Arizona. The go-ahead for the PTF followed final project permitting approval by the Environmental Protection Agency. Estimated remaining costs to construct the PTF stand at $25 million. As outlined on the project website .... read more

| | |
| --- | --- |
| AROUND THE WORLD - Latin America | |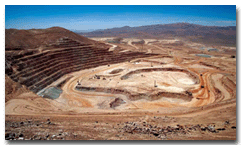 Escondida's Copper Production Ramps Up
Minera Escondida has finally shaken off the effects of a labor strike that impacted production at the mine for 44 days between February and March. The mining company, which is owned by BHP, reported that copper production had increased by 23% to 268,000 tons during the third quarter of 2017. According to the company, the increase was due to the start of the operation of the Los Colorados Extension project during .... read more


Top
Fortuna Starts Building Lindero Gold Project
Fortuna Silver Mines has started construction of its 100% owned Lindero gold project in Salta province, northwest Argentina. Gold recovered to doré will average 96,000 ounces per year (oz/y) over a mine life of 15 years, with peak production in the first two years of about 137,000 oz/y. All-in sustaining costs of production are estimated at $802/oz. Initial capital required to develop the Lindero project is estimated at $239 million, including $19 million for an owner- operated mining fleet and $24 million .... read more

| | |
| --- | --- |
| AROUND THE WORLD - Australasia | |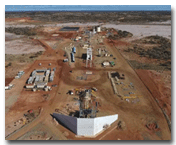 First Ore Mined at Mount Morgans Beresford Underground
Dacian Gold has achieved another key development milestone at its Mount Morgans gold project, located 25 kilometers (km) southwest of Laverton in Western Australia, with underground mine development at Beresford intersecting first ore on October 4, four weeks ahead of schedule. Underground mining commenced at Beresford in mid-May and, by the end of September, 1,837 meters …. read more


Top

Proposed WA Royalty Increase Blocked in Parliament
A plan to increase the royalty on gold produced in Western Australia announced in early August by the state's Labor government, was voted down in the Western Australia Parliament on October 10 by a coalition of the opposition Liberal party and several minority parties. The government had planned to raise gold royalties from 2.5% to 3.75% from January 2018 in an attempt to raise almost A$400 million for use in curtailing the state's debt, which, according to a report in WAtoday, is …. read more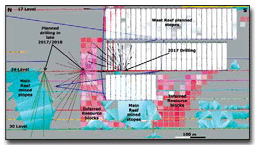 Golden Star Begins Stoping at Prestea Underground
Golden Star Resources began stoping at its high-grade Prestea Underground gold mine in southwest Ghana in late September. Successful blasting of initial ore from the first stope in the West Reef orebody took place on September 27. The first stope is being mined using mechanized shrinkage, utilizing Alimak raise climbers. The ore is hauled to surface via the mine's Central shaft …. read more
Top
Kibali Prepares to Complete Underground Mine in the DRC
The Kibali gold mine remains on track to achieve its production target of 610,000 ounces (oz) this year as its underground operations, and the integration and automation of the vertical shaft enters the final commissioning and automation stage, according to Randgold Resources CEO Mark Bristow. The mine is anticipating a significant increase in production once the final shaft commissioning, which remains on a tight schedule, has been completed …. read more



Eldorado Lowers Guidance on Kişladağ
Citing lower recoveries, Eldorado Gold has revised its 2017 guidance for the Kişladağ gold mine in Turkey to 170,000 ounces (oz) to 180,000 oz at cash costs of $500/ oz to $550/oz. At the beginning of the year, the company was expecting Kişladağ to produce 230,000 oz to 240,000 oz. Guidance for 2018 and beyond, according to the company, is currently under review. Kişladağ is a low-grade, bulk-tonnage, open-pit …. read more


Top
| | |
| --- | --- |
| THIS MONTH IN COAL | |

MEC, Bowie Partner to Create Canyon Consolidated Resources
Murray Energy Corp. (MEC), Bowie Resource Partners, Javelin Global Commodities, and Grupo CLISA have agreed to form a strategic partnership called Canyon Consolidated Resources (CCR), which will produce approximately 13 million tons per year (t/y) and own 214.8 million tons of coal reserves. CCR will combine the assets of Bowie, the marketing and logistics platform developed by Bowie, MEC's management and operational expertise and coal from MEC's Lila Canyon mine, and the coal marketing expertise of Javelin and CLISA to create a western U.S. bituminous coal .... read more


Top

Gardner is Nominated to Lead OSM
U.S. President Donald Trump nominated Steven Gardner to be the director of the Office of Surface Mining, Reclamation and Enforcement (OSM) at the U.S. Department of the Interior. U.S. Secretary of the Interior Ryan Zinke hailed Gardner's nomination. "When confirmed, Steve will be an unbelievable asset to coal country and the entire team at the Department of the Interior," said Secretary Zinke. "Steve is highly regarded in the mining industry for his extensive experience and insight." .... read more


SEC Files Complaint Against Rio Tinto Over RTCM
The U.S. Securities and Exchange Commission (SEC) filed a complaint in relation to Rio Tinto's disclosures and timing of the impairment of Rio Tinto Coal Mozambique (RTCM). The impairment was reflected in Rio Tinto's 2012 year-end accounts. Rio Tinto said it intends to defend itself against these allegations. In the civil complaint filed in the U.S. District Court for the Southern District of New York, the SEC alleged that Rio Tinto committed fraud by not accurately …. read more


-->
| | |
| --- | --- |
| FEATURE - Excavators | |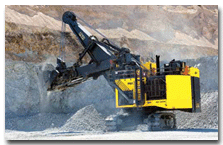 Excavation Options
While rope shovels and hydraulic excavators still form the mainstream when it comes to primary earthmovers, other options continue to nibble away at the market.

By Simon Walker, European Editor

In many ways, excavating concepts have changed little since the introduction of the first steam shovels into mining in the late 1800s. And, while that was revolutionary in terms of how mines were designed, and the types of orebody that could be mined profitably, developments that have come since have essentially been focused on the technology used rather than the concepts. Rope shovels and draglines, the key mining machines up to the 1970s, were then joined by the first generation of large hydraulic excavators — some of which worked, while others did not. Bucket- wheel excavators also came into their .... read more



For more companies with products in the Excavators market -
Go Here
| | |
| --- | --- |
| FEATURE - Data Networks | |
Bit Players
The pace of digital technology implementation and innovation is quickening throughout the industry. Here's a quick scan of what leading producers, suppliers and service providers are doing.

By Russell A. Carter, Contributing Editor

The speed, volume, quality, and nature of information collected and distributed over mine data networks is evolving at a rate that more closely resembles speedof- light rather than speed-of-business — which in itself is a fast-lane traveler on the technological highway. At one end of the data spectrum, it's now routine for a major mining operation to receive as much as five terabytes of equipment health and performance data daily from each of its large mining trucks. At the other end, it's also technically possible for mine management to quickly determine the physical status of workers ..... read more

Top

For more companies with products in the Computer Services market -
Go Here
| | |
| --- | --- |
| FEATURE - Operating Strategies | |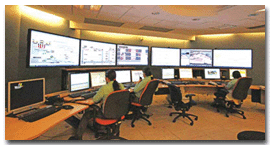 Vale Predicts $70M in Savings From New IT System Initiative
In a bold initiative that reflects the modern mine-as-a-factory concept, Brazil-based Vale is in the latter stages of deploying a new Manufacturing Execution System (MES) for its Brazilian iron and manganese ore units, replacing 17 legacy systems previously in use. Overall, 38 mines, plants and warehouses will be included in the new system, called Vale Production Management-Mining (GPV-M). The implementation has been completed at 20 units in Minas Gerais, Maranhão and Pará, with final installations scheduled for completion by the end of 2017. According to Vale, the initiative will save the company roughly $70 million in the next few years. machines .... read more

| | |
| --- | --- |
| FEATURE - Iron Ore Report | |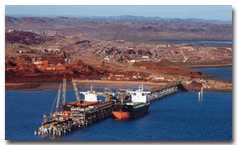 Iron Ore Market Report 2017
Prices and demand for high-quality iron ore increases. Future over capacity could threaten lower quality and high cost iron ore operations.

By Anton Löf and Magnus Ericsson

Iron ore prices have held up surprisingly well in 2017. The strong U.S. dollar in early 2017 helped many miners operating in countries with weaker currencies to additional income. Producers in the high-quality end of the iron ore market further benefitted from large and growing premium paid for these products. Economic growth strengthened somewhat in developed countries and in China in 2016. World crude steel production also increased in 2016 by 0.6%. The increase in production was an improvement compared to the decline of 3% in 2015. Noteworthy is the increase in crude steel production in point .... read more

Top

| | |
| --- | --- |
| Video Presentations | |
The latest listings from the World Mining Equipment Video Library - to view the video, click the image.
For more details on the Video Hub -

Go Here
Easy Integration With AutoMine Tele-remote
Sandvik recently debuted its AutoMine Tele-Remote for underground loaders, described as a new smart entry-level addition to its AutoMine product family. AutoMine Tele-Remote, according to the company, provides a useful introduction to the full potential of Sandvik equipment automation while improving productivity, safety and cost efficiency in mining operations .... read more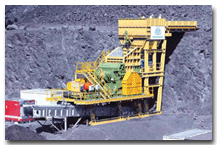 New Crusher Design Combines Low Profile With High Output
A new crusher recently unveiled by thyssenkrupp is expected to "revolutionize" material processing in both underground and surface operations, according to the company, which describes its ERC25-25 series model as a quantum leap in primary crushing. thyssenkrupp said the first model to be released can provide throughput of up to 3,000 metric tons per hour ....read more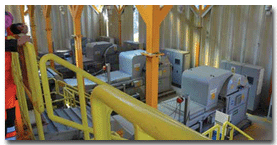 Ore Sorting Tests Point to Process Efficiency
Dalradian Resources, a Canadian junior exploration and development company, announced positive ore sorting test results based on a bulk sample of mineralized development material from several of the veins at its Curraghinalt gold project in Northern Ireland. Testing was carried out by Outotec at their TOMRA sorting .... read more


Top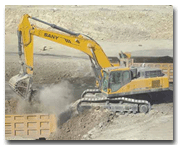 Large Excavator Design Extends Service Life by Half
SANY launched the SY395H and the SY750H large excavators, designed for mine construction. The two models improve efficiency by 8%-10% over predecessor competition, and drop fuel consumption by 10%, the company said. The strengthened working devices and wear-resistant bucket enhance the digging force, the company reported. The design ....read more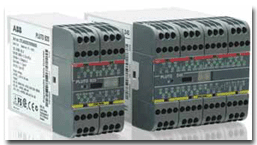 Logic Controller Enables Hot Swapping
The new ABB Jokab Safety Pluto programmable logic controller (PLC) is designed to enable hot swapping for replacement with just the removal of the old terminal caps and a push of a button. If wired correctly, the PLC maintains a Performance Level e, Category 4, for up to 10 devices on the same input circuit. It can also work with traditional .... read more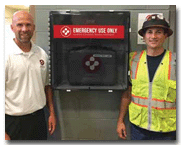 First Aid and Trauma Technology
American Rock Salt, the largest producing salt mine in the U.S., has gone above and beyond compliance to improve safety — by installing the life-saving Mobilize Rescue System throughout its facilities. American Rock Salt's environmental manager, Joe Bucci Jr., explained that the mine has a safety program that is "both proactive and effective." "That being said, if an accident does occur, having the right life-saving training, supplies and equipment is vital," Bucci said .... read more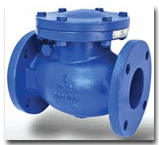 New Valves for Canadian Market
NCI Canada Inc. announced a new line of commercial iron body valves for the Canadian marketplace. The line consists of iron body butterfly, gate, globe and check valves. All meet all industry standards and are registered in all Canadian Provinces and Territories, the company reported. The gate, globe, and commercial check valves have bolted bonnets and are bronze mounted with renewable discs and seats, and upgraded graphite packing and body .…. read more


Top

Fifth Generation
SPECTRO Analytical Instruments introduced the SPECTRO MIDEX MID05 spectrometer. The spectrometer is a fifth-generation, fast, accurate, smallspot energy-dispersive X-ray fluorescence (ED-XRF) analyzer for precious metal testing, the company reported. It incorporates the latest developments in EDXRF detector technology using high count rate and high resolution. loading ....read more
DECEMBER 3-8, 2017: American Exploration & Mining Association's Annual Meeting and Exposition, Reno, Nevada, USA. Contact: Web: www.miningamerica.org
JANUARY 28-31, 2018: 44th Annual Conference on Explosives and Blasting Technique, San Antonio, Texas, USA. Contact: Web: www.isee.org
FEBRUARY 2-5, 2018: Mining Indaba, Cape Town, South Africa. Contact: Web: www.miningindaba.com
FEBRUARY 25-28, 2018: 2018 Society for Mining, Metallurgy and Exploration (SME) Annual Conference & Expo, Minneapolis, Minnesota, USA. Contact: Web: www.smenet.org
MARCH 4-7, 2018: Prospectors & Developers Association of Canada's annual meeting, Metro Toronto Convention Centre, Toronto, Canada. Contact: Web: www.pdac.ca
APRIL 17-19, 2018: MiningWorld Russia, Crocus Expo, Moscow, Russia. Contact: Web: www.miningworld.run/en
APRIL 23-27, 2018: Expomin 2018 Espacio Riesco, Santiago, Chile. Contact: Web: www.expomin.cl
MAY 6-9, 2018: Canadian Institute of Mining (CIM 2018), Vancouver, British Columbia, Canada. Contact: Web: www.cim.org
For a full calendar of mining industry conferences and events - click here
| | |
| --- | --- |
| WHO'S MOVING WHERE | |

Lennart Evrell has decided to resign from the position as CEO for Boliden effective halfway through 2018. The recruitment of his successor will begin immediately.

Compañia de Minas Buenaventura S.A.A. announced the retirement of Carlos Gálvez, vice president and CFO, after almost 40 years with the company. Leandro García, Buenaventura's controller, will succeed Gálvez, effective December 1. Gálvez has served as Buenaventura's vice president and CFO since 2001, when he was promoted from deputy manager of finance and information systems.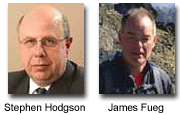 Northern Dynasty Minerals Ltd. announced that the Pebble Ltd. Partnership has filled two senior technical positions to lead engineering design and regulatory permitting for southwest Alaska's Pebble project. Senior Vice President of Engineering and Project Director Stephen Hodgson will lead Pebble's engineering and project development team. Hodgson has led the engineering group at Northern Dynasty and Hunter Dickinson Inc. since 2005. He will be supported by Vice President of Permitting James Fueg . He was most recently seconded from Barrick Gold Corp. to serve as technical services manager for the Donlin Gold project. Africa.

Condor Gold appointed Aiser Sarria as general manager Mina La India, Nicaragua. Sarria joins Condor Gold from B2Gold where he was the projects and mines superintendent at the El Limon gold mine, one of the largest operating gold mines in Nicaragua.
Adex Mining Inc. appointed Wong Kwok Keung to the board of directors filling a vacancy left by the resignation of Joseph Lau Ying Kit. Separately, the company also appointed two new executive officers: Linda Lam Kwan as CEO and Olga Balanovskaya as CFO. Keung joined the board as a representative of Great Harvest Canadian Investment Co. Ltd. Lam Kwan previously served as interim CEO of the company from 2011 to 2012 and returns to that role in place of Yan Kim Po, who has served as interim CEO since 2012. Lam Kwan and Kim Po have served on the board of directors of the company since 2011 and both will remain on the board of directors. Balanovskaya assumes the role from Doug Bolton, who had served as interim CFO of the company since 2013.

The Timken Co. named Eric Pressley vice president of sales of drives and belts. In addition, Dennis McCambridge, vice president of sales and marketing for Timken Belts, has announced his retirement.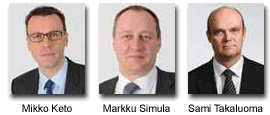 Metso made several new appointments, including Mikko Keto as president, Minerals Services business area. He is currently senior vice president, spare parts business line. Markku Simula has been appointed president, aggregates equipment business area. He is currently senior vice president, aggregates business line. Sami Takaluoma has been appointed president, minerals consumables business area. He is currently vice president, Nordics market area. All three business area presidents will be members of Metso's Executive Team.

The Board of the VDMA Construction Equipment and Building Material Machinery Association unanimously elected Franz-Josef Paus, executive director of Hermann Paus Maschinenfabrik GmbH in Emsbüren, as their new chairman for the next three years during their General Assembly in Düsseldorf.
About - providing an abreviated version of the current print edition of E&MJ, WOMP is distributed throughout the world to decision makers in the global mining industry, the last week of every month.

Subscribe to E&MJ - To receive your own copy of the print edition of E&MJ, click here , and complete your details. E&MJ is available free of charge to qualified readers.

Contact - if you have views, opinons or comments or editoral that you would like to submit, we would be delighted to hear from you - click here

Top