Excavation Options
While rope shovels and hydraulic excavators still form the mainstream when it comes to primary earthmovers, other options continue to nibble away at the market.

By Simon Walker, European Editor
---
At MINExpo last year, Joy Global (now part of Komatsu Mining) launched the P&H 2650CX
hybrid shovel, designed to be more cost-effective than comparable large hydraulic excavators.


In many ways, excavating concepts have changed little since the introduction of the first steam shovels into mining in the late 1800s. And, while that was revolutionary in terms of how mines were designed, and the types of orebody that could be mined profitably, developments that have come since have essentially been focused on the technology used rather than the concepts.

Rope shovels and draglines, the key mining machines up to the 1970s, were then joined by the first generation of large hydraulic excavators — some of which worked, while others did not. Bucket- wheel excavators also came into their own in the right conditions, and again, it sometimes took a lot of rather expensive experimentation to discover whether a machine was indeed suitable for the task it had been set. In addition, technology advances have often overtaken tradition, such as the replacement of the initial bucket-wheels in the Canadian oil sands by conventional excavators once the operating cost balance tipped in their favor.

Today, the market for mining excavators is wider than it has ever been, with continuous cutting technology having been transferred successfully from the construction industry. What is more, manufacturers are now pushing the boundaries with systems that have been confined to soft-rock applications, bringing closer the possibility of high-volume continuous production in harder material.

Liebherr's Australian Coal Successes
In July, Liebherr announced the sale of its most recent R9800 mining excavator to the Australian contractor and service company, Downer Mining. The largest machine in Liebherr's nine-model range, capable of carrying a 42-m3 bucket in both shovel and backhoe configurations, the new backhoe has joined Downer's fleet at the BMA Goonyella coal mine in Queensland. The company already has four R9800 backhoes and four R9400s that it uses in coal and iron-ore contracting operations.

Meanwhile in March, Liebherr supplied Glencore's Bulga mine with its third excavator in the space of 12 months, with the delivery of an R9100 — the smallest in its mining excavator range. Equipped with a 7-m3 bucket, the 100 mt-class machine was selected specifically to win coal in a difficult, sloping coal seam in Bulga's East Pit. Liebherr also noted that this machine is equipped with its new Z 100 tooth system, which offers a hammerless solution to tooth changes.

And less than a year ago, Liebherr reported that its remanufacturing plant in Adelaide had successfully delivered the first repowered R996B mining excavator in New South Wales' Hunter Valley coalfield. Undertaken for Moolarben Coal, the project cut the machine downtime for major end-of-life component replacement from 14 to six days, allowing a critical production machine to be repowered much quicker than for a traditional engine change. Liebherr noted that in addition to the engine itself, all components used in the power packs, such as the splitter boxes, radiators and hydraulic pumps, were rebuilt at its Adelaide plant.

The Wirtgen 4200SM surface miner that was put through four months of field trials at the New Acland coal mine in
Queensland. The machine proved to be effective in cutting production costs and improving resource recovery.


While new machine models are only introduced infrequently, Liebherr took the opportunity of the 2016 bauma show in Germany to unveil its R9200 mining excavator. Designed to be matched to trucks up to 140-mt capacity, the R9200 has a standard bucket volume of 12.5 m3 in both shovel and backhoe forms. It has an 810-kW (1,086 hp) Cummins QSK38 engine, with Liebherr's Litronic Plus power-management system for improved electrical, mechanical and hydraulic power distribution. Combined with a closedloop hydraulic swing circuit, this means the R 9200 cycles faster and consumes less fuel, the company claimed.

Accurate Excavation With GPS
According to U.S.-based Vermeer, more stringent regulations are having a significant impact on productivity in the mining industry at a time when it is already running on thin margins. However, the company said, there are options that can help a mine increase production while at the same time adhering to drill and blast regulations, addressing sound and vibration abatement, and reducing dust to minimize the effect on air quality.

Vermeer's T1255III Terrain Leveler surface excavation machine (SEM) features an optional dust-suppression system, GPS steering and grade control, as well as a cutting-head attachment that can create an 80° high wall. The machine has a fully hydrostatic motor mounted to the side of the cutting head, providing direct drive power to the cutting drum, which uses a top-down cutting action that can dig up to 533 mm (21 in.) deep and 3.65 m (12 ft.) wide in a single pass. As the unit travels forward and the drum rotates, the teeth on top of the drum advance over the top of the mineral surface.
A Cat 6020 hydraulic excavator loading a Cat 777F hauler. The company has recently developed
new pump flow allocation technology for the 6020B.


Operators can also control the size of the material excavated by increasing or decreasing the tooth penetration to produce a minus 200-mm (8 in.) product. Having a uniform product size also allows more efficient settings on secondary and tertiary crushing systems, Vermeer pointed out.

Companies using a Vermeer machine for mining, haul-road construction and site preparation have the option of adding GPS-guided steering to help improve cutting accuracy and operator consistency. Developed in collaboration with Trimble, the system provides a cutting overlap of 150 mm (6 in.), helping to enhance productivity with each pass. "Companies have used a variety of methods to steer their surface excavation machines," explained Chris Lynch, sales manager at Vermeer. "Also, different operators use different methods, meaning steering methods might change between the day-shift operator and the night-shift operator. GPS steering technology helps bring enhanced consistency to the process."

Tied in to the GPS technology, the tilting cutting head allows the operator to control the cutting head depth and pitch, which allows the machine to cut to the mine plan — producing a flat surface, a grade for drainage or a sloped haul road. When it was first offered last year, the GPS steering option was available on new machines, with the company working on a system upgrade that would allow it to be retrofitted to Terrain Levelers already in the field.

Tenova Takraf: High-capacity Excavators
While shovel-and-truck mining dominates as the preferred method for much of the industry worldwide, there remains a place for alternatives, especially where high volumes of material have to be moved. As Germany-based Tenova Takraf pointed out to E&MJ, continuous excavating, conveying and dumping/stockpiling always offers the potential to be the mining solution with the lowest life cycle cost where, of course, conditions are right. This is one of the principal reasons why many of these systems continue to operate to this day, and why they are still the preferred solution, despite higher initial investment costs to many mining operations. And, the company noted, new systems are still being developed and installed worldwide.

Having been in the business for many years, Takraf draws on its experience when it comes to undertaking new projects. This experience includes that gained during the 1970s and 1980s when the company designed and delivered 13 SRs(K)2000 bucket- wheel excavators for use in the Ekibastus coalfield in Kazakhstan. Most of these machines were designed for hard overburden, interburden and coal, with high-speed wheels fitted buckets capable of handling materials with a UCS of up to 40 MPa.

More recently, in 2015, the company delivered two 5,460 lcm/h (loose cubic meters per hour) bucket-wheel excavators to the Neyveli lignite mines in southern India where the problem was not one of hard rock to excavate, but where the overburden is extremely variable — ranging from soft and sticky at the one extreme to hard and very abrasive at the other. The story was covered in detail in E&MJ's sister publication, Coal Age, in its July 2015 edition (pp.46-48).

Tenova Takraf's other recent supply contract, to the Zhahanaoer lignite mine in Inner Mongolia, China, was also covered by both E&MJ and Coal Age. The 56th SRs2000-type machine to be delivered by the company, it has a design capacity of 6,600 lcm/h, and was specially designed and built to handle the harsh climate and the complicated geotechnical conditions with relatively flat, partly very wet and unstable slopes.

And, while rarely seen outside eastern Europe and the CIS countries, Tenova Takraf believes that bucket-chain excavators can offer an interesting technical solution to some of the specific requirements of various mining operations. The most significant advantage of these excavators is their low cut capability, the company told E&MJ, so mining or removing material from below the machine's working surface allows it to operate independently from wet and/or uneven bottom surfaces.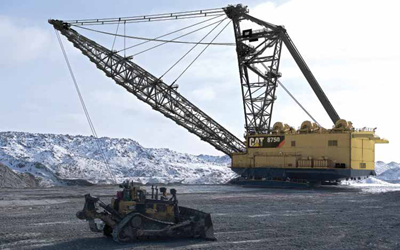 One of the two Cat 8750 draglines in use at TransAlta's Highvale mine in Alberta, Canada. Cat
acquired its dragline product line through its US$7.6 billion purchase of Bucyrus International
in 2011.


Today, Takraf bucket-chain excavators are being used in a number of coal mines in Germany and Russia, cutting the coal seam closest to the pit bottom, as well as being used in reclaiming dried-out ash ponds. Given the recent focus within the industry on efficiency and cost-reduction, bucket-chain excavators are becoming increasingly popular for re-mining partially wet tailing dumps and ponds for reprocessing, the company added.

Planning for Selective Mining
The German manufacturer of continuous surface miners, Wirtgen (which in June agreed a US$4.88 billion acquisition deal by Deere & Co.), has a three-model range, of which the 4200 SM is the largest. The company recently published a case history on introducing its continuous mining technology to an existing operation where traditional mining methods were in use, looking at the adjustments that needed to be made to the mine plan as well as the benefits claimed for the new system.

The study focused on the New Hope Group's New Acland mine in Queensland, which has an output of around 5 million mt/y of thermal coal. In operation since 2002, the mine has to work within strict environmental limitations, with noise and dust emissions of particular concern.

The deposit consists of stacked seams ranging from 900 mm to 3 m in thickness, with similar thickness partings, making selective mining very important. The mine was designed as a dozer-assisted shovel-and-truck operation, and while the dozer operators achieved good loss and dilution figures, the company wanted to improve coal recovery there.

The 4200 SM began work at New Acland in mid-2014, selectively mining coal and partings. However, before it could do so, some adjustments were needed to the traditional mining system, which used 150-m × 150-m blocks. Given the need to turn the surface miner at the end of each cutting pass, Wirtgen recommended that a 4200 SM should be put to work in blocks that are at least 300 m long, so the mine plan was altered to create 600-m-long runs for the machine.

Wirtgen reported that the 4200 SM demonstrated reduced overall mining costs, reflecting the need for fewer machines for the same output, and hence lower fuel and labor costs. On average, the company said, the 4200 SM operated at around 60% lower unit costs throughout the range of operating conditions, while the continuous surface mining system also achieved better deposit recovery, so providing additional cashflow.

Elsewhere in the world, Wirtgen has recently highlighted another operation where a 4200 SM has proved very successful. Cutting to a depth of 830 mm using a 4.2-m-wide milling drum and operating in an up-cut direction, the machine is used to selectively mine sub-bituminous coal at North American Coal's Eagle Pass operation in Texas, which provides power-station fuel for export to Mexico.
thyssenkrupp Industrial Solutions' Barracuda compact bucket-wheel shown in truck-loading
configuration. The first Barracuda unit is scheduled for delivery to China next year.


The 6-m-thick horizon being worked contains four seams, some parts of which are only 150 mm (6 in.) thick. Mining and loading about 95% of the mine's coal output directly, the surface miner also crushes the coal to a maximum size of 100 mm while minimizing fines that could cause blockages in materials-handling equipment. Thus the mine does not need to do any blasting, nor has a primary crusher installed, Wirtgen noted.

Hitachi Excavators for Coal and Gold
With six models in its mining excavator fleet, Hitachi Construction Machinery can offer the full range from the 112-mt EX1200-6 to the 830-mt EX8000-6. Available bucket sizes start at 3.4 m3 for denserock backhoe applications for the EX1200- 6 right up to 43 m3 for the EX8000-6 in backhoe configuration.

Not long ago, the company reported on the arrival of an EX1900-6 excavator at the Usibelli coal mine in Alaska, which joined the operation's fleet of O&K and Caterpillar machines. Usibelli produces around 1.36 million mt/y of sub-bituminous power-station fuel, most of which is used by utilities in the state.

Having identified the need for a new excavator, the company located a suitable machine in-state, at Nome. With only 5,000 hours recorded, of which just 700 were at work, the EX1900-6 was in near-new condition, according to Hitachi. Transporting it from Nome to the mine site involved barge-shipping to the port at Seward, then breaking it down into parts for onward delivery by truck. Re-assembly at the mine took just three days, with the machine being recommissioned in mid-2015.

Alterations for use at the mine included the addition of a fire-suppression system and a winterization package, while the existing bucket was switched to one with pointed teeth that was better able to handle coal digging. The EX1900-6 is now matched with a fleet of Cat 785, 150 st-capacity haulers.

On arriving at the Usibelli coal mine in Alaska two years ago, the Hitachi EX1900-6 was retrofitted with a winterization package to allow it to work normally
during the months when utility demand for power-station fuel is highest.


Across the other side of North America, Hitachi has also reported on one of its larger EX5600-6 excavators that has been working at the Canadian Malartic open-pit mine in northwestern Québec since being commissioned there mid-last year. Now owned by a joint venture between Agnico Eagle Mines and Yamana Gold, Canadian Malartic has a nameplate capacity to produce 600,000 oz/y of gold from resources overlying old workings that themselves produced 8.7 million oz during the period from 1935 to 1983.

And the presence of the old workings is one of the factors that spurred the mine's management into buying the new excavator, according to Hitachi. "The open pit is right above underground mines, so there are many cavities we need to work around," said Éric Lecomte, Canadian Malartic's mine operations director. "As a result, we operate machines remotely in those areas – it's really a matter of health and safety. We had a smaller, diesel shovel that was operated remotely, but we wanted to improve production, so we decided to add the Hitachi machine to enhance productivity."

At the corporate level, early last year, Hitachi introduced electric versions of five of its mining shovels for the Northand Latin-American markets. All five are available with the company's SkyAngle system, which gives the operator better peripheral vision of ground-level obstacles around the excavator on a single monitor.

Adding P&H to Komatsu
With the company still in the process of assimilating the assets that came with its acquisition earlier this year of the Joy Global portfolio, it is perhaps timely to review what its new Komatsu Mining division can supply in the way of surface mining excavating equipment.

Joining the existing range of mining hydraulic excavators, made in both Germany and Japan, the acquisition has brought the P&H brand name to Komatsu with its focus on electric rope shovels and draglines. Encompassing five models, the hydraulic excavator range runs from the PC3000 to the PC8000, offering loading compatibility with trucks from 77 mt (85 st) right up to 363-mt (400 st) capacities. P&H offers eight rope-shovel models, from the 1900AL with a 10.7-m3 (18 mt) nominal dipper capacity up to the 4800XPC with its 65.7- to 70.3-m3 (123 mt)-capacity dipper, while its 9010 and 9020 draglines are available with a variety of boom lengths and bucket sizes to suit specific mine criteria.

While still independent, Joy Global launched its P&H 2650CX hybrid shovel at last year's MINExpo. The concept, which, the company said, combines the availability of rope shovels with the mobility and flexibility of a hybrid excavator, was introduced at MINExpo in 2012 as an alternative to 550- to 700-mt-class hydraulic excavators that will reduce the total cost of ownership by 10%-15%. This cost advantage is made up of lower fuel consumption and maintenance costs, as well better overall availability, Joy Global explained at the time.

These savings are enabled in large part by the switched reluctance hybrid drive system used, which captures the energy regenerated in swing deceleration and hoist lowering and feeds it back into the systems powering the machine's main motions. This in turn reduces the use of hydraulics and significantly decreases diesel consumption, the company claimed.

The 2650CX has a 59-mt/31.1 m3-capacity hydraulically articulated clamshell bucket that allows the machine to dig in low benches. The shovel is four-pass matched to 220-mt-capacity trucks, while able to handle those from 135-mt to 360-mt capacities.

thyssenkrupp: The Barracuda Concept
With its Barracuda concept, thyssenkrupp is aiming to extend the capabilities of current compact bucket-wheel excavators from working successfully in materials with a UCS of up to 20 MPa to as much as 40 MPa, with the equipment designed to work in materials such as coal, limestone, phosphate rock and potash as well as hard overburden.

With a redesigned bucket wheel, the Barracuda enables a compact bucket-wheel machine to cut as well as to dig, the company said, describing it as a mass-cutting, high-throughput machine for harder materials. It can also help eliminate the need for drilling and blasting, with resulting environmental and economic benefits.

Able to operate with bench heights from 3.5 m (11 ft. 6 in.) to 7 m (23 ft.), the Barracuda can be operated in any of four different configurations: as a stand-alone mining machine that dumps cut material behind it for subsequent loading using wheel loaders; direct-loading into haul trucks; fully continuous using a bench conveyor; or as a high-capacity miner linked to an integrated overburden-handling system. Using the equipment to load haulers directly involves the addition of an intermediate hopper, which acts as a buffer to allow the Barracuda to cut continuously.

To provide a bucket-wheel with greater "bite," thyssenkrupp has redesigned it with higher input power, a stronger structure, more buckets and more teeth. A key research concept was to identify the cutting configuration with the lowest energy requirement, which led to setting a maximum cutting depth per pass of 100-200 mm. A typical Barracuda wheel could be fitted with as many as 60 cutting blades and more than 500 individual teeth, with the option of changing the wheel fitments to conventional buckets if the cutting conditions within a deposit are variable.
Liebherr launched its R9200 mining excavator at the last bauma exhibition in Germany. The machine is
designed to operate with trucks of up to 140-mt capacity.


In May, the company announced the sale of its first Barracuda system to the China Huaneng Group for use at its Yiminhe open-pit coal mine in Inner Mongolia. Scheduled for commissioning next year, the 6,700 lcm/h machine is part of an integrated system that also includes a belt wagon, a conveyor system and a spreader. It will be used to mine both overburden and coal, while helping to reduce operating costs and mining-related CO2 emissions.

Cat Focuses on Operator Assistance
With both rope shovels and hydraulic excavators in its surface-mining portfolio, Caterpillar is pushing ahead with systems that will make them more productive. Its most recently introduced shovel technology is Operator Assist — Enhanced Motion Control, which protects the machine from making movements that could cause damage or undue wear — without sacrificing production. The company is also developing additional software as building blocks for the semi-autonomous operation of electric rope shovels.

Caterpillar has developed the Latch- Free Dipper for its 7495 shovel, helping to eliminate what the company stated as being the biggest cause of rope shovel downtime. The components are designed and tested for a service interval of 3,000 hours, rather than the daily maintenance that is often currently needed.

For its hydraulic excavators, Cat told E&MJ that some of the most significant recent design advances have come in relation to fuel efficiency — such as the dedicated pump flow allocation technology on the 6020B, and the integrated engine control technology on the 6015B. The former manages the flow of hydraulic oil to the attachment during dig/load cycles, preventing flow sharing during simultaneous control inputs, like hoist and swing, to improve fuel efficiency, with Cat claiming that the 6020B has shown a more than 25% fuel efficiency advantage over the leading hydraulic shovel in its class.

The Cat MineStar System includes the Terrain capability set, which in turn includes the Terrain for loading system for shovels and wheel loaders. Recently upgraded to improve functionality and ease of use, Terrain for loading uses GNSS, data radios, digital mine maps and in-cab displays to guide the machine operator. It provides productivity improvements by showing profile and plan views of the orebody to allow accurate bucket positioning. It also automatically identifies the material, allowing material tracking and production reporting.

Meanwhile, Cat Command for hauling technology includes a truck spotting system that is used in Caterpillar's autonomous truck system and will be available for manned trucks in 2018. Truck Spotting enables the shovel operator to digitally designate the spot where a truck should park for loading. The display in the truck shows the operator the location and provides a target display to guide the operator as the truck backs into position.

According to Cat, the system reduces truck exchange times by enabling the shovel to mark the spot and dig and fill the bucket as the truck "spots up." Having the truck at the right angle and location improves the loading efficiency and helps ensure good load distribution for less wear on the truck, the company added. Truck Spotting can also reduce the opportunity for collisions between haul trucks and loading units, and is of special benefit in terms of improved safety and efficiency at night and during poor weather.
---
As featured in Womp 2017 Vol 11 - www.womp-int.com