North American Palladium Reports Positive Developments
---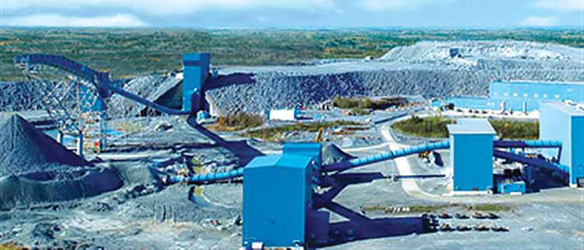 North American Palladium recently reported record underground production from the Lac des Iles mine in Thunder Bay, Ontario, Canada.


North American Palladium Ltd. recently reported positive exploration results from the Offset South Zone at its Lac des Iles mine property in Thunder Bay, Ontario, Canada. Offset South is located adjacent to the sub-level shrinkage (SLS) mining zone and has the potential to significantly add to the resources currently being mined in that zone. The company has also made significant progress exploring other targets on the property and reported record production last month.

"We are encouraged to see the positive drill results from the Offset South Zone," said Jim Gallagher, president and CEO of North American Palladium. "This large target has the potential to significantly increase the resources currently being mined as part of the low-cost SLS mining zone.

"We have started a follow-up exploration drilling program to establish and evaluate the continuity, average grade and true thickness of the newly discovered palladium mineralization in the Offset South Zone."

Gallagher said recent exploration programs have shown that numerous opportunities exist for higher-grade underground palladium resources on the property and extending the life of the operation and improving the average head grades to the mill at very low capital costs remains an important strategic priority for the company.

Since June, the company has completed 3,050 meters (m) in six underground exploration drill holes, targeting the southern portion of the Offset Zone. The objective of the program is to determine if the higher-grade palladium mineralization present in the central portion of the Offset Zone extends to the south of the current SLS reserves and below the shaft bottom. The recent deepening of the underground ramp system to below the 1,000-m level, coupled with major improvements in the 3-D geological model for the Offset Zone, provided the impetus for the current program.

In September, North American Palladium also reported that its Lac des Iles mine had met and exceeded the targeted underground production rate of 6,000 metric tons per day (mt/d), ahead of the original 2017 production plan, and has also returned to full-time mill operations several weeks ahead of schedule.

During the five-week period ending September 17, underground production at LDI averaged more than 6,400 mt/d, including 10 days of more than 7,000 mt/d, and a new underground production record of 7,991 mt/d set on August 30. This higher level of output reflects the initiation of production from several additional mining areas in the upper part of the mine, including the new B2 zone, and to the continued success of the sub-level shrinkage mining method in the lower part of the mine. The company reiterates its previous stated 2017 guidance of between 180,000 ounces (oz) and 190,000 oz.
---
As featured in Womp 2017 Vol 11 - www.womp-int.com