The latest from the
World Mining Equipment
2nd Hand Market
View





Set Challenging, Yet Attainable Goals



The takeaways from the keynote session at this year's Society for Mining, Metallurgy and Exploration (SME) annual meeting, which was held during February in Phoenix, were clear and informative. Outgoing SME President Steve Gardner was the emcee, and prior to the keynote, he introduced Phillips S. Baker Jr., CEO, Hecla Mining. Celebrating its 125th anniversary, Hecla sponsored the session.
Baker kicked off his presentation with an impressive video that can be viewed at: www.hecla-mining.com. Hecla Mining Co. was founded in 1891 to acquire and trade mining claims in northern Idaho's newly discovered Silver Valley, a district that has so far produced more than 1.2 billion oz of silver. Today, Hecla is the largest primary silver producer in the U.S. "This milestone causes us to consider our priorities and the path of our longevity," Baker said. "Our first priority is safety. We are constantly looking for ways to engineer risk out of the equation." What's the secret to longevity? "You have to start with great, long-lived, low-cost assets ......... read more


Steve Fiscor, Editor in Chief



Roy Hill Ramping Up Production to 55M mt/y of Iron Ore
Roy Hill Holdings took control of its Roy Hill iron-ore project in Western Australia from EPC contractor Samsung C&T on February 1 and is ramping the project up to its designed capacity of 55 million metric tons per year (mt/y). The fully integrated mine, rail and port project is mining a low-phosphorus, Marra Mamba iron-ore deposit 115 km north of Newman, Western Australia. Defined mineralization totals more than 2.2 billion mt of +50% Fe ore, of which 1.2 billion mt will support the currently planned mine life of 17 years. The Roy Hill mine is a conventional ..... read more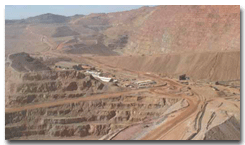 Sumitomo Adds to Morenci Interest
Freeport-McMoRan (Freeport) has entered into a definitive agreement to sell an additional 13% interest in its Morenci joint venture to Sumitomo Metal Mining for $1 billion in cash. Morenci is currently owned 85% by Freeport and 15% by Sumitomo Metal Mining Arizona. The open-pit copper mining complex is located 200 miles east of Phoenix, Arizona. The companies expect the transaction to close in mid-2016. Following completion ..... read more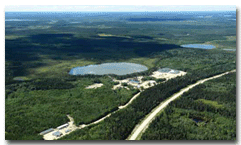 Royal Nickel Buys Into 2 Producing Mines
Royal Nickel agreed in early February to acquire a 100% interest in VMS Ventures in Canada and a 67% interest in Salt Lake Mining in Australia in separate cash-andshares transactions. Prior to the acquisitions, Royal Nickel's primary asset was its advanced-stage, open-pit Dumont nickel development project in western Quebec. VMS Ventures is a public company whose main asset is a 30% interest in the Reed copper mine in the...... read more

Top
African Gold Group Targets Kobada Project Development
African Gold Group (AGG) reported that a completed definitive feasibility study of its Kobada gold project in southwest Mali supports development of an open-pit project producing 50,000 oz/y of gold over a mine life of eight years. All-in sustaining costs are estimated at $788/oz. Proven and probable reserves in two pits total 12.7 million mt grading 1.25 g/mt gold and containing 511,000 oz of gold. Total pre-production capital expenditure to develop the Kobada project is estimated at $45.4 million, with an additional $15.7 million of sustaining capex and $21 million of capitalized waste mining over the life of the project ..... read more


| | |
| --- | --- |
| AROUND THE WORLD - USA & CANADA | |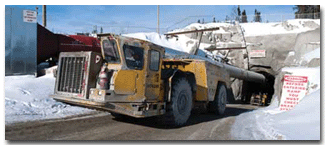 Tahoe Resources Acquiring Lake Shore Gold
Tahoe Resources has agreed to acquire Lake Shore Gold in an all-share transaction that values Lake Shore at about $C945 million. Upon completion of the transaction, existing Tahoe and Lake Shore Gold shareholders will own approximately 74% and 26%, respectively, of the pro forma company. Tahoe is headquartered in Reno, Nevada. The company owns and operates the underground Escobal silver mine in Guatemala and the La Arena .... read more
Detour Gold Reworks its Mine Plan
Detour Gold has announced a new life-ofmine plan for its Detour Lake property in northeast Ontario. The company initiated production from the Detour Lake open pit in January 2013 and poured its first gold on February 18, 2013. Commercial production was declared in September 2013. From 2013 to the end of 2015, the Detour Lake mine produced 1.2 million oz of gold from 49 million mt of ore processed at an average grade of 0.85 g/mt gold. Detour Gold's new mine plan calls for near-term development of the relatively shallow West Detour deposit immediately west of the currently mined Detour Lake open pit, along with processing .... read more

Top
Golden Summit PEA Predicts 24-year Mine Life
Freegold Ventures has reported positive results from a preliminary economic assessment (PEA) of its Golden Summit project 32 km northeast of Fairbanks, Alaska. The PEA evaluates a two-phase, 24-year openpit mine generating separate oxide and sulphide gold ore streams, each operating at 10,000 mt/d. Processing operations for the oxide and sulphide materials are heap leach and bioxidation, respectively. Golden Summit's peak annual gold production is estimated at 158,000 oz, while average annual production is estimated at 96,000 oz. Life-of-mine doré production is estimated at 2.34 million oz. Total cash costs are estimated .... read more


| | |
| --- | --- |
| AROUND THE WORLD - Latin America | |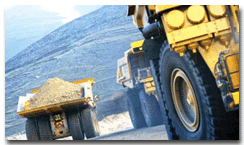 Las Bambas Begins Shipping Copper Concentrate
MMG Ltd. began commissioning the Las Bambas copper mine in southern Peru in the fourth quarter of 2015 and started shipping copper concentrate in mid-January as part of the commissioning process. Project construction was essentially complete as of late January, with remaining activities largely associated with the molybdenum concentrator and new facilities at the Port of Matarani. MMG expects Las Bambas to produce 250,000-300,000 metric tons (mt) of copper in concentrate in 2016 as commissioning .… read more

Top
| | |
| --- | --- |
| AROUND THE WORLD - Australasia | |
Golpu Studies Support Two-stage Block Cave Development
Harmony Gold has reported the results of feasibility and prefeasibility studies for Stages 1 and 2, respectively, of its jointventure Golpu gold-copper project in Papua New Guinea. Harmony and Newcrest Mining each currently own 50% of Golpu through their Wafi-Golpu joint venture. The Papua New Guinea government retains the right to purchase for its pro-rata share of historical costs up to a 30% equity interest at any time before the commencement of mining. If the government chooses to take up its full 30% interest, the interests of Harmony …. read more


Top

Saracen Restarting Thunderbox Operations
Saracen Mineral Holdings began commissioning its refurbished Thunderbox gold processing plant in Western Australia in early February. The company acquired the idle open-pit mine and plant from Norilsk Nickel in a transaction that was completed in May 2014. Norilsk had held the operation on care and maintenance since 2007. Thunderbox is located 45 km south of the town of Leinster in central Western Australia, about 940 km northeast of Perth. Saracen completed a Thunderbox redevelopment feasibility study and initiated an A$65 million redevelopment program in March 2015. Refurbishing of the gold processing …. read more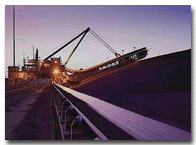 Budget, Job Cuts Ahead for South32 African Manganese Operations
South32 Ltd. recently announced the results of its South Africa Manganese strategic review and its intention to substantially reduce cash costs at a number of operations. Citing poor forecasts for commodity demand and prices, South32 said it expects to take a pre-tax, non-cash impairment of $1.7 billion when it reports its December 2015 half-year financial results. Most of that relates to the Australia Manganese and South Africa .…. read more

Top
Hope Dims for Workers Trapped in South African Mine Collapse
The fate of three missing workers who disappeared following a ground collapse that occurred weeks ago at Lily gold mine in South Africa remains uncertain, as rescuers sought to stabilize the site before continuing efforts to get to them. On February 5, a surface crown pillar collapsed, trapping 87 workers inside the mine. At the same time, a container on the surface converted into an office was swallowed by the resultant sinkhole. The miners were soon freed without loss of life or significant injury, but three clerical employees remain trapped in the container now below ground. Lily is owned by the Australian company Vantage Gold …. read more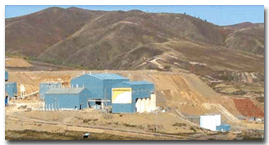 Parliamentary Resolution Advances Centerra's Gatsuurt Gold Project
Centerra Gold reported in early February that the Mongolian Parliament has passed a resolution setting the state ownership interest in Centerra's proposed Gatsuurt gold project at 34% and authorizing the government to complete negotiations with Centerra on the terms of such ownership. Final agreements will include a deposit development agreement and an investment agreement. Assuming successful completion of these …. read more


Top
CSH Mine Output Will Boost China Gold's 2016 Production Estimate
China Gold International Resources reported that it expects to increase total gold production from its Chinese operations to about 235,000 oz while copper production is expected to be steady at about 38.6 million lb. Most of the increase in gold production will be from the Chang Shan Hao (CSH) gold mine in Inner Mongolia. Consolidated gold production at CSH and Jiama during 2015 was 228,508 oz, which was 26% more than the 180,674 oz produced in 2014. The 2015 total also surpassed the company's guidance of 226,000 oz. CSH gold production increased by 25% to 204,471 oz in 2015 and the mine is expected …. read more


| | |
| --- | --- |
| THIS MONTH IN COAL | |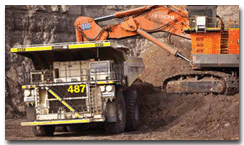 Rio Tinto Completes the Sale of its Interest in Bengalla JV in Australia
Rio Tinto has completed the sale of its 40% interest in the Bengalla coal joint venture (JV) in Australia to New Hope Corp. Ltd. for $616.7 million. Rio Tinto has now announced or completed $4.7 billion of divestments since January 2013. A change to the ownership structure of Coal & Allied completed in early February helped enable this transaction. As 100% owner of Coal & Allied, Rio Tinto receives …. read more

CONSOL Energy Sells Buchanan Mine
On February 29, CONSOL Energy entered  into an agreement to sell its Buchanan mine in southwestern Virginia and other metallurgical coal reserves to Coronado IV LLC for $420 million, including $398 million cash payable at the closing. "This is another significant event in the execution of CONSOL Energy's strategy, as well as a meaningful step in continuing to strengthen our balance sheet," said Nicholas J. DeIuliis, president and chief executive officer. "The Buchanan mine fits into Coronado's portfolio as a pure play metallurgical coal producer, and, in the end, this transaction bolsters the strategic position of both companies …. read more

Top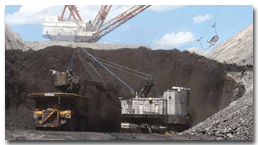 Arch, Wyoming DEQ Agree to Self-bonding Deal
After being given a brief extension by the federal government, the Wyoming Department of Environmental Quality (DEQ) and Arch Coal have reportedly agreed upon the troubled producer's self-bonding and will accept about $75 million instead of the company's bonding obligations tab of $486 million as Arch continues through its bankruptcy. According to the Casper Star Tribune, the documentation to formalize the agreement …. read more
| | |
| --- | --- |
| FEATURE - E&MJ 150 Years | |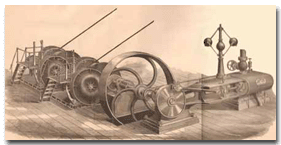 E&MJ Documents Discovery and Early Development
As more rich mineral discoveries are made in the 1880s, miners begin to improve their methods for recovery.

By Steve Fiscor, Editor-in-Chief

By the mid-1880s, Engineering & Mining Journal (E&MJ) was hitting its stride as it approached its 20th anniversary. Readership was growing. The newspaper was still a 16-page weekly with engravings. Much of the coverage was dedicated to news items related to the American mining scene developing in the western frontier. Many of the reports were written by editors who were dispatched to document mining districts. They, however, also regularly published stories explaining what was happening abroad. These reports often carried a detailed history of those regions as well. The editors also routinely offered opinions, providing an American perspective …. read more

Top

| | |
| --- | --- |
| FEATURE - Safety Systems | |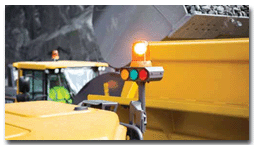 Mine Safety: Working Within the System
Safety oriented technologies from simple to sophisticated can offer valuable assistance in accomplishing the crucial mission of keeping workers and equipment secure from harm.

By Russell A. Carter, Managing Editor

A recent study by a leading mobile mineequipment supplier pins the blame for worksite accidents on two main causes: bad conditions and bad behavior.
The actual wording used by Caterpillar in its white paper Enhancing Safety— What Safety Concerns Keep You Up at Night? is "uncertain or unsafe operating conditions" and "risky operating behavior," but the existence of either generally leads to a bad outcome.
What is surprising, the paper pointed out, is that only 10% of accidents can be attributed to unsafe conditions—the majority are due to equipment operators or other mine-site personnel acting in an unsafe manner ..... read more

Top


For more companies with products in the Safety market -
Go Here
| | |
| --- | --- |
| FEATURE - Heap Leach | |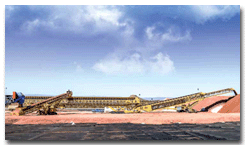 Follow the Flow
Heap leaching has always offered a low-cost extractive solution with minimal environmental impact. Building on its inherent flexibility to accommodate new challenges, techniques and technologies, it shows no signs of lagging interest from producers or suppliers.

By Russell A: Carter, Managing Editor

Since its commercial introduction to the mining industry in the late 1960s, heap leaching of low-grade ores to recover valuable commodities—mostly gold and copper, but also nickel, uranium and to a lesser extent, vanadium and other metals—has grown steadily and proven to be a flexible and less-capital-intensive approach that appeals to both ends of the industry's corporate spectrum, from new or smaller companies looking for a way to get a property into production as quickly and cheaply as possible, to established producers that want to monetize marginal mineralization. It's a steadily evolving technology that has been able .... read more

Top

| | |
| --- | --- |
| FEATURE - Gold | |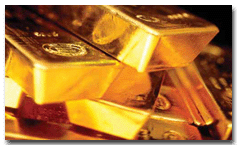 Gold Marks  Time
While mine production mostly remained stable throughout 2015, other factors were in play in the gold market. E&MJ looks at the influences on supply and demand, and the developing trends.

By Simon Walker, European Editor

According to initial estimates from Thomson Reuters GFMS, published in the organization's fourth quarter update to its annual Gold Survey, world new-mined gold production totaled 3,126 metric tons (mt) last year, only marginally changed from the 3,120 mt reported for 2014. Total supply, which includes reprocessed scrap and net hedging, was 4,274 mt, compared with 4,375 mt the previous year, largely the result of what GMFS described as "a shift to net de-hedging."
Looked at on a quarterly basis, total gold supply fell by 7% during the last three months of 2015, GFMS said, with the quarter "marking six of the past seven in which the gold market was in surplus." Mine supply was down 4% on a year-onyear basis, representing the largest quarterly ..... read more

Top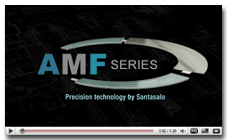 Santasalo - AMF Series
Santasalo is pleased to announce the launch of our AMF Series for agitation, mixing and flotation applications offering more advanced solutions for customers with vertical applications which have high external forces ..... watch the video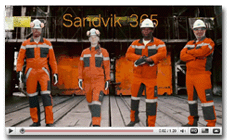 Sandvik 365 - Parts and services you can count on.
When you can predict your productivity you predict profitability. Sandvik 365 service programs are about optimizing performance 365 days a year. It's about removing risk from your operations from the minute equipment is delivered through it's operating life to make it run as efficient as possible. Welcome to watch our Sandvik 365 movie .... watch the video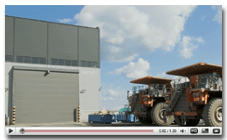 Champion Door - Vertical lifting fold-up doors


Vertical lifting fabric fold-up doors and partitions are the best alternative for large-scale door locations requiring high-quality heat and noise and dust insulation. Examine the various alternatives and our wide selection of colours. Manufactured from standardised components according to customers' specifications our doors are extremely dependable and have minimal servicing needs

.... watch the video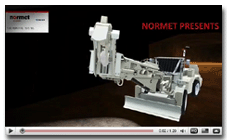 Normet - Concrete Spraying and Scaling simulator overview
Normet provides a simulator offering for concrete spraying (shotcrete) and scaling..... watch the video


| | |
| --- | --- |
| 2nd HAND MARKET | |
The latest listings from the World Mining Equipment Market - for more details click the image
For more details on the WME - Market -

Go Here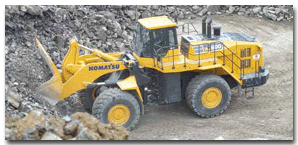 Wheel Loader Features Larger Bucket, Lower Fuel Consumption
Komatsu America has introduced the WA600-8 wheel loader, equipped with features that allow the loader to use up to 13% less fuel than its Tier 3 predecessor by optimizing control of engine power, and improving power train and hydraulic efficiency. Standard bucket capacity has been increased to 9.2 yd3. Standard equipment on the WA600-8 includes a 23-liter …. read more
Dragline Chain Repair Link Installs Quickly and Easily
ProLink mechanical dragline chain link from ESCO is designed to reduce costs by extending the service life of a mine's hoist and drag chain. The product provides a hammerless and hot work-free installation and removal for rapid replacement in any strand location. The link can be rotated quickly into four different positions for increased duty cycles, lowering total operating costs. The product is available in multiple sizes covering a range of dragline chains on the market today, including 3, 3.5, 4, 4.5 and 5 in. According to the company, field trials at .… read more

Versatile Crawler-mounted DTH Rig
Atlas Copco said its new SmartROC D60 is a versatile Down-The-Hole (DTH) rig designed for drilling 110- to 178-mm-diameter (4-5/16- to 7-in.) holes, and can be used in a wide variety of applications and challenging drilling conditions. The new model's hole navigation and auto positioning systems ensure that the rig will locate the exact position of each hole and then accurately collar and drill them to precisely the required depth and inclination, according to the company—providing better blast fragmentation and improving both the loadability and crushability of the blasted ore …. read more

Top

Cement Resurfacer Kit Solves Repair Problems
Sherwin-Williams Protective and Marine Coatings has launched Dura-Plate 2300, an epoxy-modified cementitious resurfacer for patching and filling voids and bugholes in concrete and masonry structures. Dura- Plate 2300 is claimed to provide a hard, durable surface with excellent adhesion that minimizes the potential for pin-holing and outgassing problems typically associated with coating concrete. The abrasionresistant coating is part of a complete three-component kit that contains Portland .… read more

Vehicle-mount LED Light Combo is Rugged and Bright
Finland-based Nordic Lights said its new Nordic Sculptor LED N60XX is the world's first all LED, ECE-approved combination vehicle headlight in ongoing production. Developed for demanding working environments such as mining and construction, the unit provides head light, park light and 180° indicator functions in one package. With external dimensions of 233 x 161 x 134 mm, the light is extremely compact, and with the supplier's proven Quake dampening system integrated into the design, it offers superior durability .…. read more



Design Variations Meet Wide Range of Mixer Applications
Nord Drivesystems now offers several variations of its VL heavy-duty, spread-bearing designs for mixers, all which have specific features and advantages based on the specific mixing and agitating application requirements. The first variation (VL2) offers reinforced output shaft bearings with increased bearing distance. This design accommodates high overhung thrust loads and allows for longer bearing service life. Included with the VL2 design is a grease fitting for the lower bearing and a removable plug to allow excess grease to purge …. read more

Simulator Trains Operators on Cat Off-highway Truck
Simformotion has introduced a new Cat Simulators off-highway truck system, featuring authentic controls combined with simulated applications designed to teach controls familiarization, how to perform a machine walkaround, systems testing, driving, hauling, braking, two loading methods, unloading, full production cycle and a special open training mode that allows users to practice any technique or application learned in other exercises. Exclusive to Cat Simulators is SimU Campus, the software that records and .…. read more

Top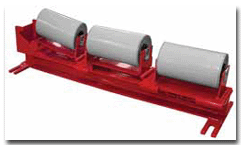 Innovative Replacement Idler for Restricted-access Conveyors
ASGCO's One-Sided Slide-lers provide the ability to change idler rolls under a conveyor loading skirt area without having to remove adjacent belt idlers. The unit is a modularly designed product that allows workers to remove the wing and center roll hangers for easy replacement of idler rolls. The One-Sided Slide-ler minimizes downtime; for environments with extreme access limitations, the One-Sided Slide-ler can be maintained from just one side of ….read more
APRIL 4–6, 2016: World Copper Conference; Santiago, Chile. Contact:.Web: www.coalhandlingshow.com
APRIL 10–13, 2016: GeoAmericas 2016-the 3rd Pan-American Conference on Geosynthetics, Miami Beach, Florida, USA. Contact: 001 (561) 768-9487 Web: www.GeoAmericas2016.org
APRIL 11–17, 2016: bauma, Messe Munchen, Munich, Germany. Contact: Web: www.bauma.de/
MAY 25–27, 2016: Coal Prep 2016, Kentucky Exposition Center, Louisville, Kentucky USA. Contact: Web:www.coalprepshow.com
JUNE 07–10, 2016: Ugol Rossii Mining 2016, Kuzbass Fair Exhibition Center, Novokuznetsk, Russia. Contact: Web: www.ugol-mining.com/
JUNE 14–16, 2016: Euro Mine Expo, Skelleftea, Sweden. Contact: Web: www.eurominexpo.com
JULY 12–14, 2016: International SAP Conference for Mining and Metals, Frankfurt, Germany. Contact: Web: www.tacook.com/sapmm
SEPTEMBER 26–28, 2016: MINExpo INTERNATIONAL 2016, Las Vegas Convention Center, Las Vegas, Nevada, USA. Contact: Web: www.minexpo.com
| | |
| --- | --- |
| WHO'S MOVING WHERE | |

Barrick Gold Corp. appointed Kelvin Dushnisky to the board of directors. He joined Barrick in 2002 and was appointed president in August.

Pilot Gold Inc. appointed Cal Everett president and CEO. Everett has also been appointed as a director of the company. From 2008 to 2015, he was president and CEO of Axemen Resource Capital.

Latin American Minerals appointed Basil Botha as chairman and CEO. Botha was initially appointed to the board in September 2015. Botha has held a number of executive appointments with companies including president and CEO of Northern Iron Corp., president and CEO of G4G Resources, president and CEO of Pitchblack Resources (formerly Cash Minerals Ltd.) and chairman of Lithium Americas Inc.

Cindy Chesney has joined CAMESE as director of business development. Chesney has been an active member of CAMESE's board and most recently was the second vice president.

Monument Mining appointed Klaus Eckhof as an independent senior geological adviser to acquire, develop and review potential gold property transactions within the Democratic Republic of Congo. Eckhof is a senior qualified and experienced geologist with extensive understanding of the African continent, particularly within the DRC.

Dr. Jessica E. Kogel has assumed  the position of associate director for mining in the Office of the Director of the National Institute for Occupational Safety and Health (NIOSH). She will lead NIOSH's Office of Mine Safety and Health Research, which also coordinates the Pittsburgh Mining Research Division and the Spokane Mining Research Division.

Eeva Sipilä has been appointed Metso's CFO starting August 1. Sipilä will be a member of Metso's executive team. She joins Metso from Cargotec Corp., where she was executive vice president and CFO. Metso's current CFO Harri Nikunen will continue in his role until the end of July. Sipilä has been a member of Metso's Board of Directors since 2012.

Robert Nogaj has been named COO of Martin Engineering. Most recently, he was the vice president of operations.
About - providing an abreviated version of the current print edition of E&MJ, WOMP is distributed throughout the world to decision makers in the global mining industry, the last week of every month.

Subscribe to E&MJ - To receive your own copy of the print edition of E&MJ, click here , and complete your details. E&MJ is available free of charge to qualified readers.

Contact - if you have views, opinons or comments or editoral that you would like to submit, we would be delighted to hear from you - click here

Top