Haul Trucks
Cat Unveils New F Series.......read more

Apatite Mining
Phospate Mining in the Northern Dimension.... read more

Crushers
Crusher Suppliers Optimize Product Value......read more

Underground Haulage
Electric Truck Haulage in North America......read more






To update your details or renew your current print subscription or to receive your own edition of the print version of E&MJ -

CLICK HERE

Rare Earth Metals Regain Lost Luster

- Fears are growing that China may limit the export of rare earth metals. China accounts for 97% of the global production of rare earth metals, a majority of which are produced at the massive Bayan Obo mine in Inner Mongolia. By definition, REMs are oxides of a series of 15 metallic elements, from lanthanum to lutetium, and two other elements, yttrium and scandium. The Chinese government has tried to allay these concerns, however, as it is with many commodities, China is quickly turning from an exporter to a net importer to support its needs. The popular green push for energy efficiency, hybrid cars and renewable energy sources is one of the driving forces......... read more

Steve Fiscor, Editor in Chief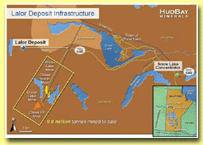 HudBay Fast-Tracking Lalor Underground Gold-Zinc Project - HudBay Minerals announced on October 8, 2009, that it will fast-track construction of an C$85-million ramp to provide initial access to the multiple zones of mineralization at its proposed underground Lalor mine near Snow Lake, Manitoba. The ramp represents the first phase of what HudBay anticipates will be a C$485- million, three-phase process to develop North America's next big, underground, hardrock mine......... read more
Freeport Reactivating Some Project Development

- Freeport-McMoRan is resuming some project development activity that was placed on hold in late 2008 due to collapsing copper prices. Possible restart of curtailed production at its existing operations is under review; however, Freeport President and CEO Richard Adkerson said during a conference call announcing the company's third-quarter 2009 financial results, a return to full-scale production would require evidence of recovery in copper demand in the United States and Europe, and that evidence has not yet been seen....... read more

Top

Vale Budgets $12.9 Billion for Capital Spending in 2010

- Vale announced on October 19, 2009, that it had received board approval for an investment budget totaling $12.9 billion for 2010, up from the $10 billion invested during the 12-month period to June 30, 2009. Geographically, Brazil will account for $8.2 billion of Vale's capital spending during the coming year; Canada will account for $1.2 billion; and Argentina, Australia, Chile, China, Indonesia, Malaysia, Mozambique, Oman and Peru, among others, will account for the remainder.
Here are brief summaries of eight of the largest projects that will draw on Vale investment funds..... read more

Top
Power Supply Issues Block Planned Coega Smelter

- Planning by Rio Tinto to develop a 720,000-mt/y aluminum smelter at Coega, on the Indian Ocean coast of South Africa's Eastern Cape province, was halted in mid- October 2009 when it became apparent that future availability of electricity would be insufficient to power the smelter. South Africa's Department of Trade and Industry, the power utility Eskom, state-owned Industrial Development Corp., and Rio Tinto Alcan jointly announced that a long term electricity supply agreement signed in November 2006 had been terminated.... read more

Terrane Moving Mt. Milligan Toward Construction Decision

- Terrane Metals reports encouraging results from a feasibility study update of its Mt. Milligan gold-copper project in north-central British Columbia and, subject to financing and receipt of certain permits and approvals, now anticipates a first-quarter 2010 construction decision. The new study, prepared by Wardrop Engineering, is based on 482 million mt of proven and probable reserves averaging 0.39 g/mt gold and 0.20% copper. Gold in reserves totals 6 million oz, and copper in reserves totals 2.1 billion lb..... read more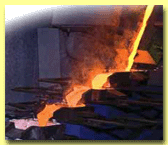 Sleeping Giant Awakens

- North American Palladium poured its first gold bars at its reactivated Sleeping Giant mine on October 6, 2009, and is ramping up to a commercial production rate of 50,000 oz/y of gold during the fourth quarter of 2009. The restart of production at Sleeping Giant is North American Palladium's first step toward its corporate goal of becoming a diversified, mid-tier precious metals producer.The Sleeping Giant mine is located 80 km north of Amos in the Abitibi region of Quebec and is typical of the narrow-vein gold mines.... read more

Top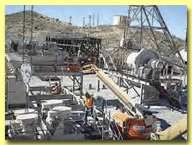 Santa Fe Gold Advances Summit Project

- Santa Fe Gold Corp. reported in October that the New Mexico Office of the State Engineer has issued a permit required to proceed with construction of the tailings dam impoundment at the Banner mill located near Lordsburg, New Mexico. The company expects to complete construction of the tailings impoundment during the current quarter and to begin processing operations shortly thereafter. "With this important permit now in hand, we are moving full speed ahead in executing our plan.... read more
| | |
| --- | --- |
| AROUND THE WORLD | Latin America |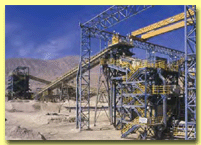 Xstrata Developing Lomas Bayas II

- Xstrata Copper has received approval from the company's board to proceed with a $293-million investment to increase the life of its Lomas Bayas mine in Chile by eight years through the development of the Fortuna del Cobre satellite ore deposit, 3 km from the existing operation. The project, known as Lomas Bayas II, will extend the Lomas Bayas mine life to 2020 and sustain production capacity at the recently expanded rate of 75,000 mt/y of copper cathode…… read more
Aquiline Agrees to Friendly Takeover by Pan Am Silver

- Pan American Silver and Aquiline Resources announced on October 14, 2009, that Pan American, with the support of the Aquiline board, would make a take-over bid for Aquiline valued at C$626 million in Pan American shares and warrants. Pan American has eight operating mines in Mexico, Peru, Bolivia and Argentina. Aquiline's primary asset is its huge Navidad silver development property in Chubut province, Argentina, with 639 million oz in measured and indicated resources. Pan American currently has 224 million oz of silver in proven and probable reserves, plus 82 million oz of measured…. read more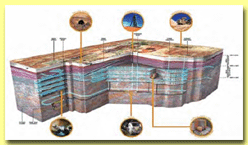 Shaft Accident to Impact Olympic Dam Production

- n October 6, 2009, a loaded ore skip dropped in the main hoisting shaft at BHP Billiton's Olympic Dam mine in South Australia. The falling skip heavily damaged shaft infrastructure, and an empty, counterbalanced skip shot into the headframe, damaging the headframe and hoisting equipment. No one was injured. On October 21, in a brief statement included in its production report for its fiscal first quarter (ended September 30, 2009), BHP Billiton said it expected the damaged shaft to remain out of production until sometime during its fiscal…. read more



Bass Starting Hellyer Development

- Bass Metals plans to "kick-start" development of its Hellyer mine project in northwest Tasmania by producing a total of 851,000 mt of ore from the project's Fossey deposit over a two- to three-year period. The Fossey production is expected to pave the way for larger-scale development at Hellyer through conversion of the existing 2.3-million-mt resource to reserves, providing scope for increase in production rate and mine life…. read more

Top

Oyu Tolgoi Gets Investment Agreement - After years of negotiations, the government of Mongolia, Ivanhoe Mines and Rio Tinto on October 6, 2009, signed a comprehensive investment agreement for the development of the Oyu Tolgoi copper-gold complex in Mongolia's South Gobi region. The agreement provides for the government of Mongolia to take a 34% interest in the Oyu Tolgoi operating company and license holder, Ivanhoe Mines Mongolia Inc…. read more

Citadel Nearing Construction Start at Jabal Sayid - Citadel Resource Group, a Melbournebased Australian junior company, has awarded SNC-Lavalin the EPCM contract for the Jabal Sayid underground copper project in Saudi Arabia and is planning to begin construction in January 2010. The Jabal Sayid project is a 50:50 joint-venture between Citadel and CMCI, a Saudi company. The project is located about 300 km northeast of Jeddah and will produce about 60,000 mt/y of copper contained in 225,000 to 240,000 mt/y of concentrate. Capital cost to develop the project is estimated at $249.5 million, and cash operating costs are estimated at $0.94/lb of copper produced .…. read more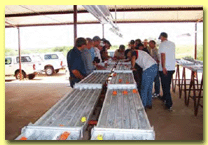 Prefeasibility Study Completed for Kalplats Platinum Project

- Platinum Australia has received a completed prefeasibility study of its Kalahari Platinum project (Kalplats) in South Africa's North West province from GRD Minproc, the lead engineers for the study. The study demonstrates a commercially and technically viable project able to generate a return of 25% on the base case assumptions and assuming open-pit mining of only four of the project's seven known deposits. Platinum Australia is developing Kalplats under a joint-venture agreement with African Rainbow Minerals that provides for Platinum …. read more

Northam Advancing Booysendal PGM Project - Northam Platinum reported in early October 2009 that the feasibility study for its Booysendal platinum group metals (pgm) project in South Africa is complete and that final board approval for project development is expected in early 2010. The project is located near Lydenburg in Mpumalanga province on the eastern limb of the Bushveld Complex, adjacent to the existing Everest and Mototolo pgm operations. Mine planning for Booysendal assumes sequential development of two production modules. The first module will be based on mining at a rate of 150,000 mt/m…… read more

Top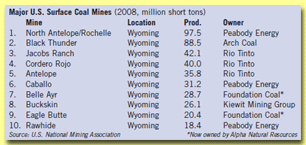 Arch Coal Completes Jacobs Ranch Acquisition - Arch Coal announced that it has completed the acquisition of Rio Tinto's Jacobs Ranch mine for a purchase price of approximately $764 million, which is about $3 million more than the initial announcement and includes an estimate for working capital adjustments. In 2008, Jacobs Ranch produced 42.1 million tons of high-quality sub-bituminous coal. "This transaction further expands Arch's size, scale and strategic position in the Powder River Basin," said Steven F. Leer, chairman and CEO, Arch Coal. "Arch plans to integrate Jacobs Ranch, which is the third largest coal mine in the United States based on 2008 production …. read more
Indonesia Seeks to Increase Coal Production

- Indonesia expects to increase coal production by up to 20 million metric tons (mt) next year as lawmakers insist that the government must book higher non-tax revenue from the mining sector in 2010. According to The Jakarta Post, the country expects to produce 230 million mt of coal during 2009. Indonesia's coal production has already reached 72 million mt in the first half of this year. In the same period, the coal sales volume reached.…... read more

Top
Mechel's Mines Cuts Coal Output 47% in Russia's Kuzbass Region

- Mechel coal and steel group Yuzhny Kuzbass or Southern Kuzbass Coal Co. cut coal production 46.5% year-on-year in January to July to 5 million metric tons, Interfax reported. A sharp drop in coking coal production, by 2.6 million mt to 2.2 million mt was mainly responsible for the overall reduction in output. Demand for coking coal started to plummet in the fourth quarter of last year. As a result, Southern Kuzbass produced just less than 15 million mt of coal last year as a whole including 7.8 million mt of steam coal and 7 million mt of coking coal.…... read more

Top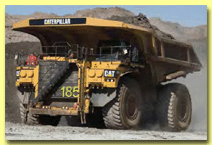 Cat Unveils the New F Series Haul Trucks


The latest line includes an electric drive option and higher horsepower engines for the mechanical drives.t

By Steve Fiscor, Editor-in-Chief

Despite the many company-wide changes that Caterpillar announced last fall to realign its business, the company is still moving forward in a big way with the new large mining trucks showcased in autumn 2008. In fact, the $200 million F series haul truck program represents the company's largest investment ever in new mining technology. Today, the Cat 793F and 797F mechanical drive trucks and the 795F AC electric drive truck are all achieving milestones. "Our investment in the F series truck is monumental, even for Cat," said Al Frese, product support manager, Cat Global Mining. "Never before have we updated an entire truck line in such a short period of time and brought so much value to the customers……. read more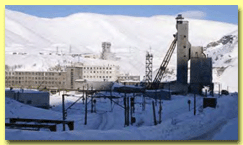 Phosphate Mining in the Northern Dimension


Sub-level caving with electric-powered LHDs and drill rigs has helped Apatite JSC stabilize operations in the Kirovsk area of Russia

By Kyran Casteel, European Editor

The Northern Dimension is a joint venture between the European Union, Iceland, Norway and Russia. It was established in 2006 to promote economic well-being in Northern Europe. However, the Russian and Scandinavian mining sectors had already recognized the considerable value of Northern international commercial and technological cooperation. A case in point is the Apatite Joint Stock Company (JSC), one of Russia's main producers of phosphate raw materials for fertilizer manufacture both in Russia and on the international level. This large operation has been using Scandinavian mining technology for several years in order...... read

Top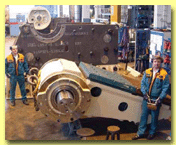 Crusher Suppliers Optimize Product Value


OEMs apply new products, streamlined plants and close customer attention to gain the last ton of throughput

By Russell A. Carter, Managing Editor

If a mineral processing operation can be thought of as a kind of mechanical opera, the crushing stage would be the overture, establishing the pace, volume and overall scheme for all of the parts that follow. And as with opera, some crushing overtures are more well-composed than others; some barely make it past the opening performance. For example, how common is it to read in corporate quarterly and annual financial reports that "problems with the crusher at [name of newly opened mine] during the reporting period adversely affected production?" With correct crusher selection, installation and maintenance in place, material generally flows from the mine through the plant efficiently and without excessive trouble. Get any of those factors wrong— or err in specifying …... read more

Electric Truck Haulage in North America



For Kiruna truck customers in Canada and the U.S., it's something old and something new

During 2009 and early 2010 Sweden's GIA Industri, in partnership with ABB, is scheduled to deliver six new Kiruna electric trucks to three mines in North America. Two of these, both owned by Vale Inco in Canada, have considerable experience with the Kiruna electric truck hoisting technology; the other—Stillwater in Montana— is a new customer. Produced in Sweden by GIA in collaboration with ABB as regards the electrical engineering, Kiruna electric truck systems are sold, installed and serviced by ABB in Canada..... read

Top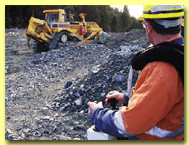 Remote Control Dozer Systems Make Life Safer - Thousands of dozer operators will likely face a certain degree of personal risk when they go to work today, from possible unintended machine movements, repetitive strain, shifting ground, fatigue, rock fall, constant vibration and possible impact with other machines. And, once in the cab, due to lack of visibility operators often have to steer the dozer by watching the corners of the blade. An alternative approach—avoiding most personal-risk and visibility problems …. read more
Higher Capacity Drill Air Compressor Improves High-Altitude Performance - Bucyrus International recently commissioned a 49HR rotary blasthole drill equipped with a 3,800 cfm (107 m3/m) air compressor at a high-altitude copper mine in Chile—the first of two Bucyrus 49HR Drills with the high-capacity air compressors that will be delivered to the mine in 2009. According to the company, since the mine is situated at an elevation of 14,763 ft (4,500 m), it's an ideal environment for these specially equipped drills. Air compressors de-rate at high elevation and in high-temperature environments…… read more
Outotec Arranges Takeover of Filter Builder Larox - Finnish mineral processing and metallurgical specialist Outotec, intent upon increasing its global business through the acquisition of complementary technologies, said it has reached agreement with certain major shareholders to acquire their A and B shares of filter manufacturer Larox. The purchase price for the shares is to be paid in the form of new Outotec shares. Upon completion of the share transactions, Outotec will make a public tender offer for all the remaining Larox series…. read more

Top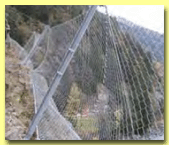 Rock-Fall Protection Barrier - Geobrugg AG claims its GBE-500A is the first rock-fall protection barrier to achieve an official European Technical Approval. The product was developed and tested in compliance with the new ETAG 27 guidelines. The Switzerland-based company says GBE-500A has an energy absorption capacity of more than 500 kJ. and also is significantly lighter and easier to install .…… read more

In-Vehicle Video Unit Records All Events - Safety Vision has introduced the SafeDrive MiniDVR mobile digital video recorder (MDVR) system for fleet vehicles. Installed directly to the windshield and incorporating both a forward-facing roadview camera and a rear-facing cabin-view camera, the MiniDVR records video, audio and metadata to a removable memory card securely housed within each unit. According to the company, the MiniDVR is capable of simultaneously…. read more
Quicker, Easier-to-Handle Ventilation Seal Products - Minova Americas announced expansion of its family of ventilation seals to include a new material that can be placed and obtain the required 120-psi strength in just three days. "This new product will be a significant advantage for our customers," said Steve Tadolini, director of research and development. "It is common for coal mines to experience rapid build-up of dangerous gasses behind sealed-off areas. To overcome potential safety hazards associated with these build-ups, and to enable work to continue more quickly…. read more
Dust-Free Haul Roads - EarthZyme and Dust Stop are ideal for heavy industries that require strong reliable roads that are also friendly to the environment, says Cypher Environmental Ltd. The Winnipeg, Canada, company reports that these products have been successful in pilot operation at a major coal mine in Colombia where, to extract nearly 2 million mt/y of coal the mine moves approximately 15 million m3/y of material using Caterpillar 793 and 777 trucks on double truck lanes, normally creating a large volume of dust.…. read more

Top

Safety Shower Stands Up to Harsh Conditions - Built with an insulated fiberglass structure, fire ratings, and reliable chemical and corrosion resistance, Bradley's new enclosed safety shower is claimed to provide superior wash down capability in emergency situations, while withstanding harsh chemicals and frigid weather conditions as it resists freezing up to -58°F.….read more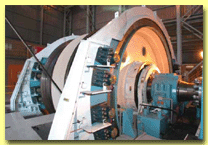 Brakes for Mine Hoist Applications - Twiflex has launched a larger, enhanced version of its VMS-2-SP safety brake, aimed specifically at the mine hoist market. Similar to the VMS-2, the VMS- 3 is a spring applied, hydraulically released safety brake, but offers faster operation and superior performance, delivering a maximum static brake force of 300 kN (with 1-mm air gap), and 230 kN (with 3-mm air gap) of dynamic braking force, with the added benefit of infinite fatigue life…. read more
DECEMBER 2–4, 2009: PROCEMIN 2009—VI International Mineral Processing Seminar Santiago, Chile. Contact: Fabiola Bustamante; Tel: 56-2 6521555; E-mail: info@procemin2009.com; Web: www.procemin2009.com
FEBRUARY 28–MARCH 3, 2010: 2010 SME Annual Meeting & Exhibit, Phoenix, Arizona, USA Contact: Colorado School of Mines; Tel: 800- 446-9488; E-mail: space@mines.edu; Web: www.inside.mines.edu/Outreach/cont_ed/econeval.shtml
MARCH 7–10, 2010: PDAC2010, Toronto, Canada. Contact: Prospectors & Developers Association of Canada; Tel: 416-362-1969; Fax: 416-362-010; E-mail: convention@pdac.ca; Web: www.pdac.ca
APRIL 12–16, 2010: Expomin, Santiago, Chile FISA S.A.; Tel: 562 530-7000; Fax: 562 530-7272; E-mail: info@fisa.com
APRIL 19–25, 2010: bauma Mining, Munich, Germany Contact: Messe Muenchen; Tel: 011-49-89-949-1348; Web: www.bauma.de
MAY 7–8, 2010: MineTECH'10, Seminar on Mining Technology - Extraction, Beneficiation for Safe & Sustainable Development, Bhubaneswar, India Contact: Indian Mining & Engineering Journal and IME Journal Readers' Forum; E-mail: i.me.journal@hotmail.com or sjayanthu@rediffmail.com
MAY 24–29, 2010: ALTA Nickel-Cobalt-Copper, Uranium & Gold Conference, Perth, Western Australia. Contact: ALTA Metallurgical Services; Tel: 61 3 5472 4688; Fax: 61 3 5472 4588; E-mail: alantaylor@altamet.com.au; Web: www.altamet.com.au
For a full calendar of mining industry conferences and events - click here

Mines Management has appointed Michael G. Rasmussen vice president-exploration.

Top
Boliden has appointed Pierre Heeroma director, group strategy and business development.

Pangea Diamond Fields announced that Boris R. Kamstra has been named CEO.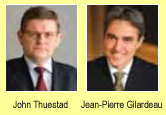 Alcoa has elected John Thuestad and Jean-Pierre Gilardeau as vice presidents. Thuestad is COO for Global Primary Products Worldwide, focusing primarily on reducing the cost of aluminum production. Gilardeau is president, Global Primary Products, North America and Iceland. In this role, Gilardeau strengthens coordination and best practices across Alcoa's extensive primary operations in the U.S., Canada and Iceland. The company also announced that CEO Klaus Kleinfeld was named chairman of the U.S.- Russia Business Council (USRBC). A Washington-based association representing approximately 250 companies, the USRBC's primary mission is to promote trade and investment between the U.S. and Russia.

Fred George is retiring as president and chairman of Gammon Gold. Rene Marion, current CEO, will be appointed president and will continue as CEO.
Paul F. Nelson has been appointed president and CEO of Adanac Molybdenum Corp. Christopher C. Kirby, the company's former president and CEO, resigned to pursue a new career opportunity.

KBR announced that Colin Elliott has been appointed president of its infrastructure and minerals business unit.
About - providing an abreviated version of the current print edition of E&MJ, WOMP is distributed throughout the world to decision makers in the global mining industry, the last week of every month.

Subscribe to E&MJ - To receive your own copy of the print edition of E&MJ, click here , and complete your details. E&MJ is available free of charge to qualified readers.

Contact - if you have views, opinons or comments or editoral that you would like to submit, we would be delighted to hear from you - click here

Top