Arch Coal Completes Jacobs Ranch Acquisition
---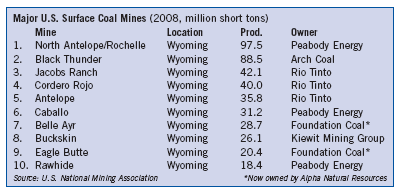 Arch Coal announced that it has completed the acquisition of Rio Tinto's Jacobs Ranch mine for a purchase price of approximately $764 million, which is about $3 million more than the initial announcement and includes an estimate for working capital adjustments. In 2008, Jacobs Ranch produced 42.1 million tons of high-quality sub-bituminous coal.

"This transaction further expands Arch's size, scale and strategic position in the Powder River Basin," said Steven F. Leer, chairman and CEO, Arch Coal. "Arch plans to integrate Jacobs Ranch, which is the third largest coal mine in the United States based on 2008 production, into the company's existing Black Thunder mine, creating what we believe will be the largest single coal-mining complex in the world."

The acquisition includes 381 million tons of low-cost, low-sulphur coal reserves that are contiguous to Arch's Black Thunder mine. Other assets acquired in the transaction consist of a high-speed rail loadout, an overland conveyor and near-pit crushing system, a 120-yd3 dragline, eight electric shovels, more than 40 haul trucks. Additionally, Jacobs Ranch has 35 million tons of production committed and priced in 2010—and 21 million tons of production committed and priced in 2011— under existing sales contracts.

Once integrated, the enhanced Black Thunder mine will control six draglines, 22 shovels, more than 130 haul trucks, three rail loadouts and 20 train landing spots. The combined mine also will have assigned coal reserves of 1.6 billion tons and productive capacity of more than 140 million tons per year should market conditions warrant.
---
As featured in Womp 2009 Vol 09 - www.womp-int.com