Santa Fe Gold Advances Summit Project
---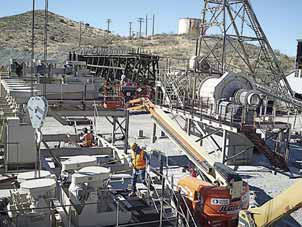 Work under way earlier this year on Santa Fe Gold's Banner mill in New Mexico.
The company says commercial production from the mill, fed by ore from its
Summit underground mine, should begin in 2010. (Photo courtesy of Santa Fe
Gold Corp.)

Santa Fe Gold Corp. reported in October that the New Mexico Office of the State Engineer has issued a permit required to proceed with construction of the tailings dam impoundment at the Banner mill located near Lordsburg, New Mexico. The company expects to complete construction of the tailings impoundment during the current quarter and to begin processing operations shortly thereafter.

"With this important permit now in hand, we are moving full speed ahead in executing our plan to begin processing of ore from the Summit mine," said Pierce Carson, president and CEO. "Contractors are mobilizing to begin construction of the tailings dam and to install the plastic liner in the containment area."

Issuance of the permit also was a condition to drawdown of $3.5 million of the $4-million provided under a gold sale agreement with Sandstorm Resources Ltd. announced September 14, 2009.

Summit is an underground silver-gold mine being developed on an epithermal vein deposit. For the past several months, in connection with mine development, Santa Fe has been mining and stockpiling ore. Ore from the Summit mine is transported to the Banner mill, where a marketable gold-silver concentrate will be produced. According to the company, the mill is fully operational and will begin processing ore upon receipt of final permits and construction of the tailings dam impoundment. Santa Fe anticipates that the project will achieve commercial production in 2010.
---
As featured in Womp 2009 Vol 09 - www.womp-int.com